The Decent Butcher Block | Self-healing end-grain Hard Maple | Embedded structural support | Innovative Silicone juice groove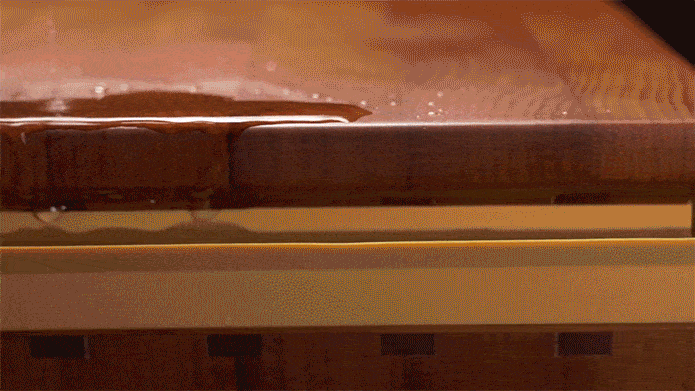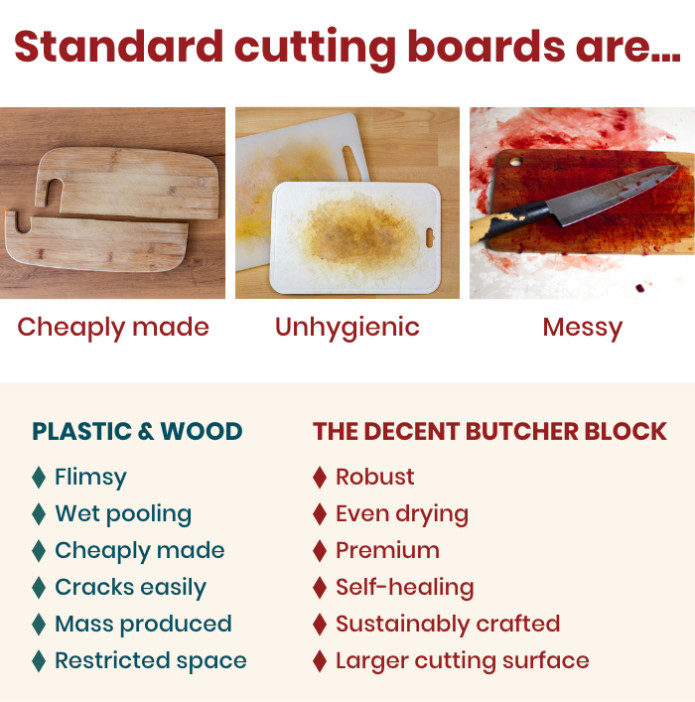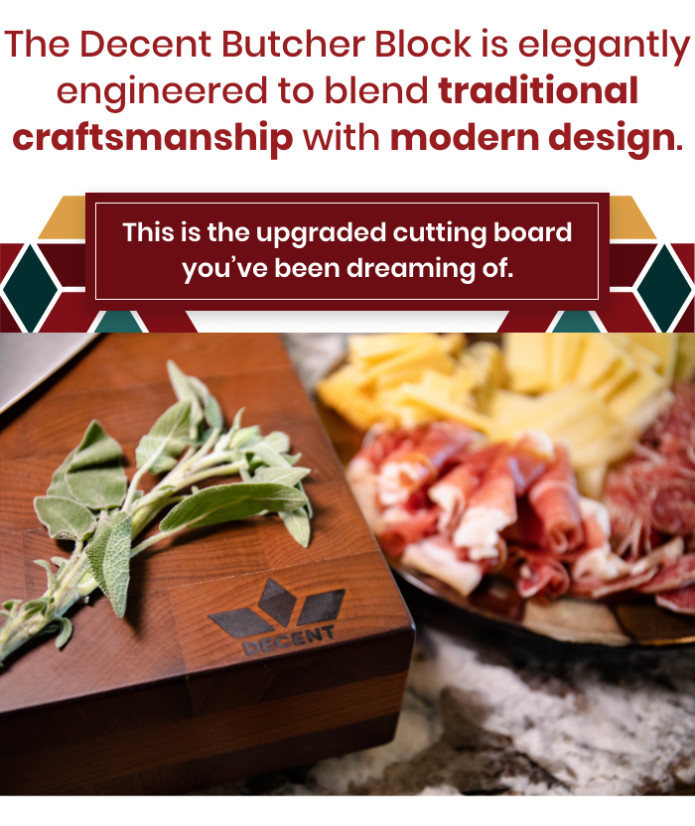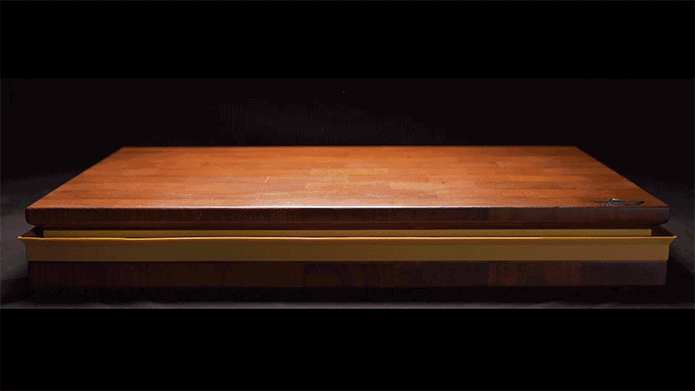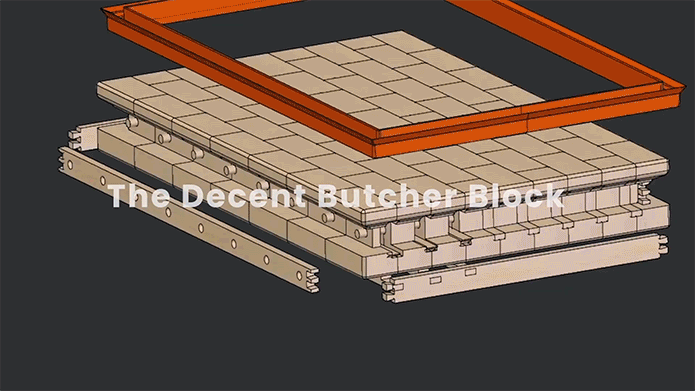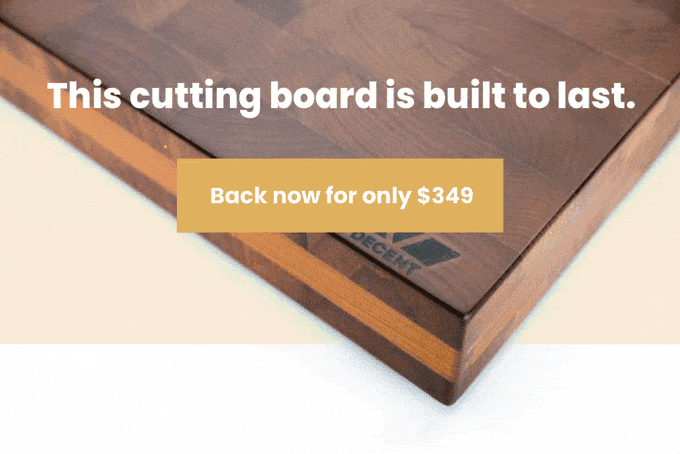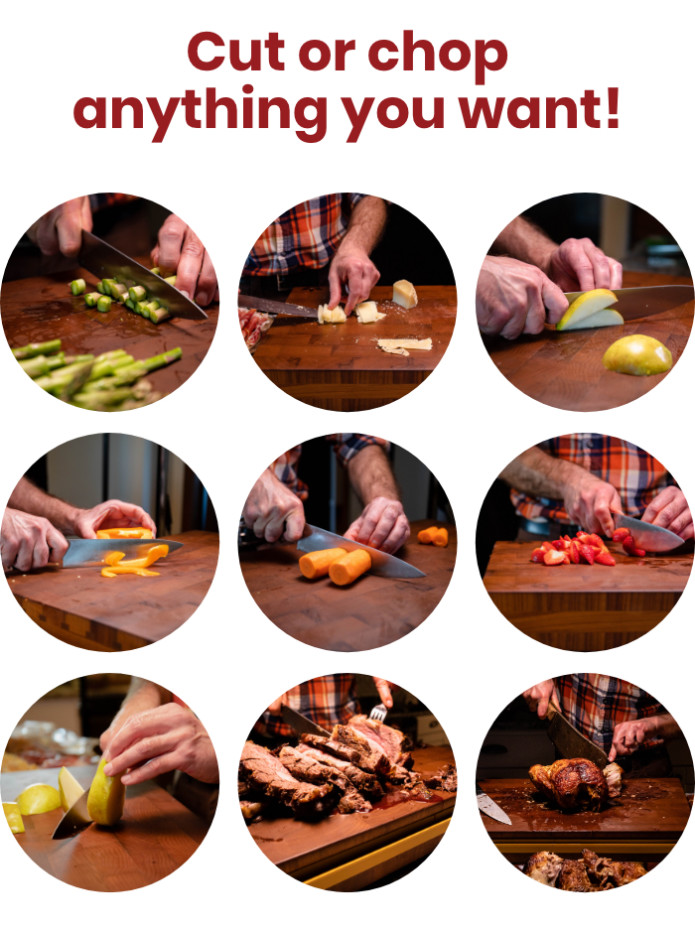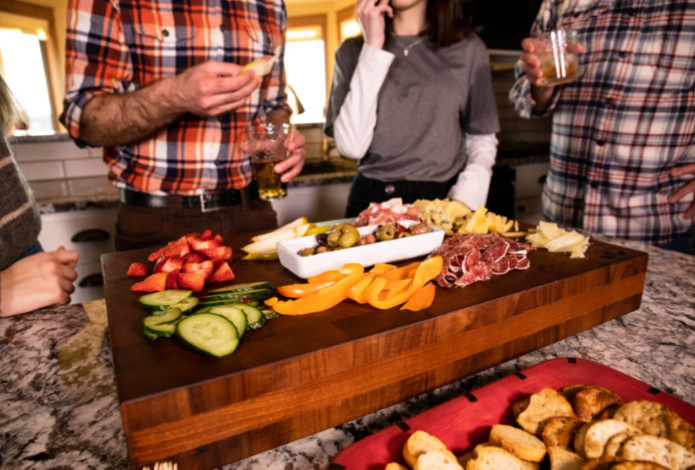 Whether you use The Decent Butcher Block as an elevated cutting board or as a kitchen design piece, the durable cutting board is built to last a lifetime.
We believe that a cutting board should be something cherished, something you'll use every day, and something that gets passed down through your family for generations to come.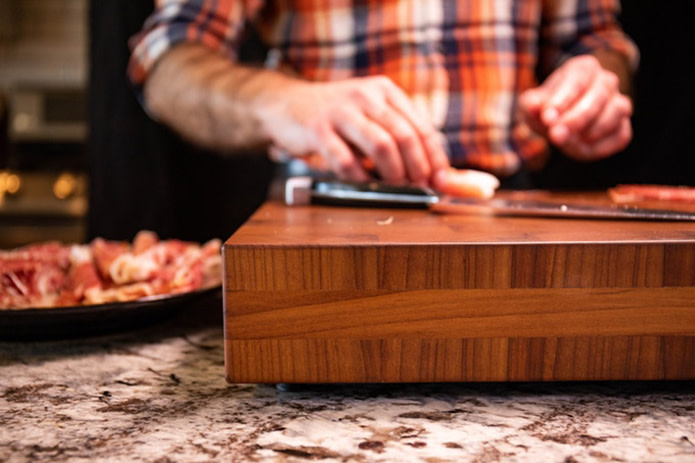 Constructed with Northern Hard Maple wood from local, sustainable forests, the design is very high quality and engineered to resist warping.
Northern Hard Maple is the perfect balance of hardness to last a lifetime, while not so hard as to quickly dull your knives' blades.
Unlike plastic cutting boards, naturally occurring chemical compounds in the wood kill bacteria creating a much more hygenic cutting surface than plastic.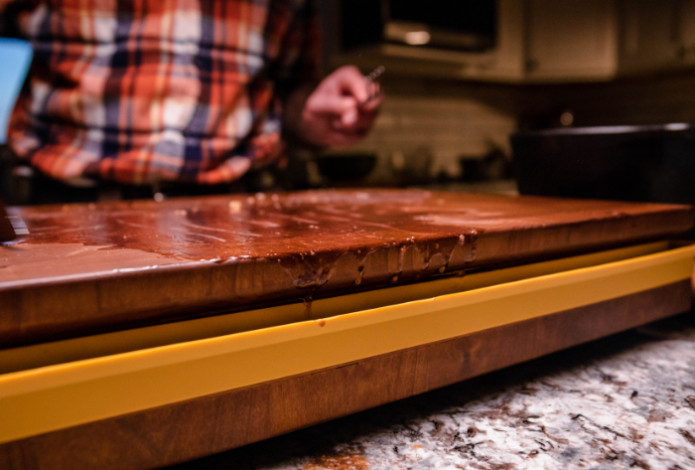 The Decent Butcher Block+'s functional silicone juice groove is built into the sides of the board to prevent spillage while letting fluids gently flow over the edge of the board, like a calm infinity pool.
By moving the juice groove to the side, the user is given full use of the cutting surface and does not interfere when sliding food off the edge.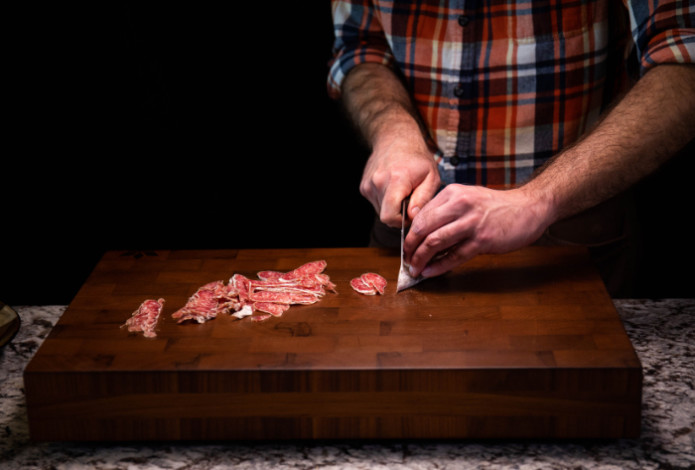 With The Decent Butcher Block, you can cut evenly between the grain without damaging the board.
When cutting on an edge-grain or face-grain surface, the fibers are severed and flake off which irreperably damages the board and shortens its lifespan. With our end-grain surface, the knife edge simply displaces the board's vertically-oriented fibers, which later close back up as if the board is "self-healing". Additionally, when cutting into the fibers some of the shock is absorbed, which creates a softer and more pleasant cutting experience.
The vertically oriented wood grains wick moisture away from the surface promoting quick drying, and further enhances the product's antimicrobial properties.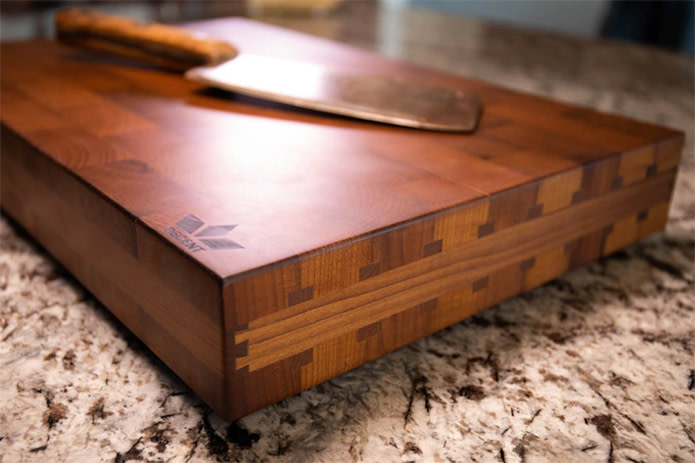 The Decent Butcher Block is manufactured with a unique support structure embedded within the body of the cutting board, which resists warping and makes the product extremely strong.
This ensures that it is strong enough to take some abuse and stand the test of time, setting it apart as the premier butcher block on the market.
Additionally, this allows the product to be raised up on rubber feet without bowing in the middle like other end-grain blocks would normally do. This promotes even air circulation and quick drying, which is critical to prevent wood from warping.
Note: Users should not remove the feet.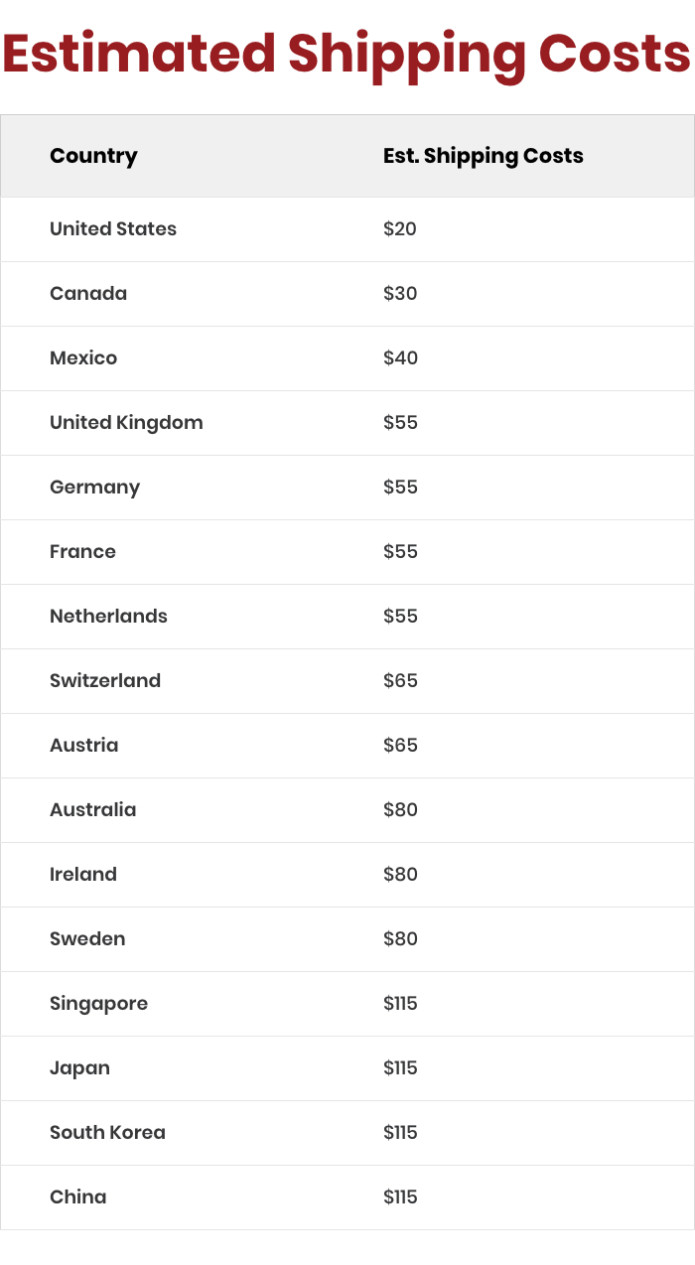 This is just a small sample of the most common destinations. If you don't see your country listed, feel free to send us an email at "[email protected]" for your estimated shipping price! 
Please understand that shipping a large, heavy item like this is reeealllly expensive. We've been talking to logistics providers for months trying to get the best prices possible for you, and will continue to explore options and hope to improve those prices! Please note, all shipping, tax, and duties will be charged after the campaign ends, through our pledge management partner, Crowd Ox. You will be contacted post-campaign via email.
International backers, as you are likely aware, the tax man wants to be paid on international shipments. We can pre-pay any duties/taxes/VAT to ensure smooth delivery without any holdup at customs. To get an estimate of what those might be, use Easyship's calculator. Change the destination to your country, use "Home Decor for the category, enter the cost for your pledge level, and hit "calculate". You'll be prompted for an email, so feel free to use our email ([email protected]).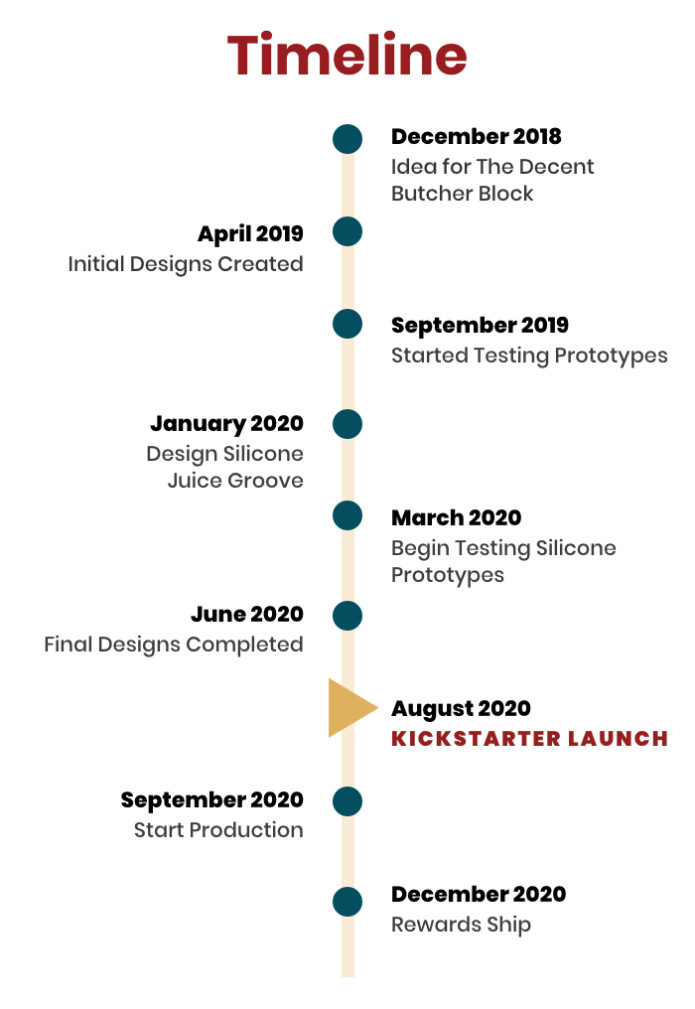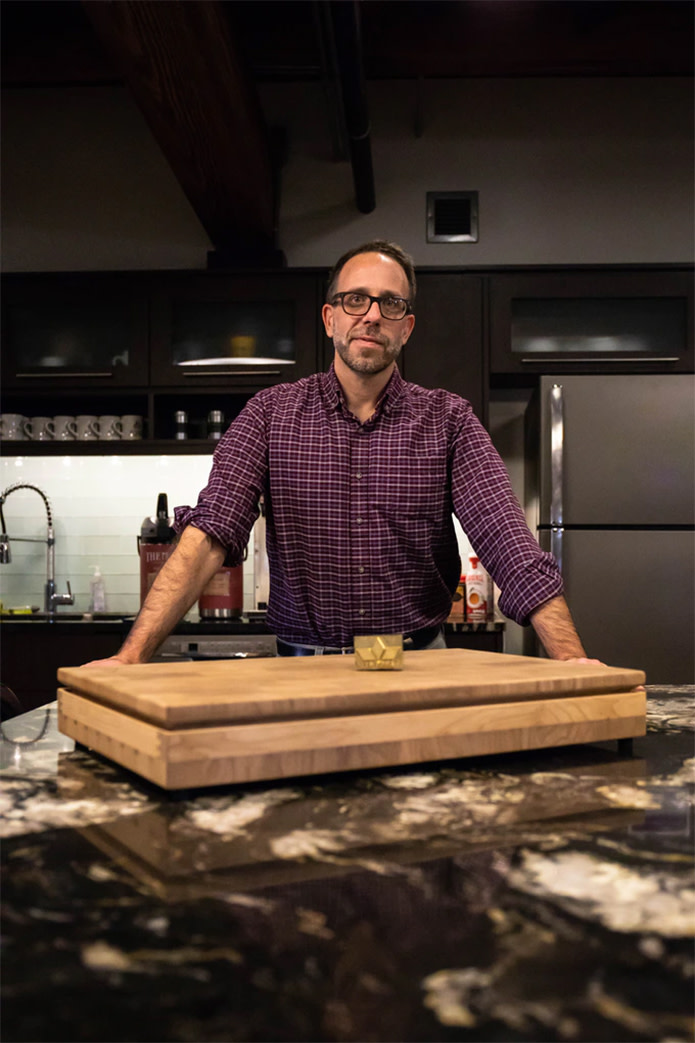 Since founding The Decent Co., Matt Adams has been on a mission to create The Decent Butcher Block, a sustainable and durable cutting board built to last a lifetime. He believes that a cutting board should be something cherished, something you'll use and enjoy every day, and something that one day you can hand down to your kids. To turn his vision into a reality, Matt collaborated with experts in design, engineering, woodworking, and materials to solve the most common problems with existing cutting board design. Together, with this team of experts, Matt designed The Decent Butcher Block.

As one of the first crowdfunding marketing agencies, Enventys Partners has brought more than 750 crowdfunding projects to life through lead generation, campaign page creation, public relations, email marketing, Facebook Advertising, campaign management and more.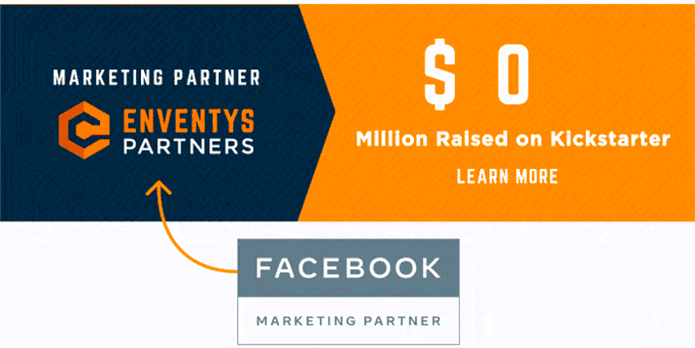 We can't thank you enough for checking out our project and helping us make The Decent Butcher Block a reality.
We know not everyone will be able to support us with a pledge, so even if you can't give a dollar or pre-order one, if you're a supporter of The Decent Butcher Block, you can help us spread the word on Twitter, Facebook, Reddit, Instagram and anywhere else you can think of!




This project is promoted by Jellop, the ad tech power behind the best Kickstarters with 1,100+ successful Kickstarter projects with over $460M raised between them.