The Great American Waffle Iron | Producing the Iconic Cast Iron Waffle Maker featuring a Patriotic Design.


EDIT:    The Great American Waffle Iron Is In Production at The Foundry.  All further sales are conducted on our website.
Thank you for your interest and support.  Several other great products are on the website. 
This multi-generational cook piece pays homage to the 100+ year old waffle makers still in use around the country.
Lifetime warranty covering materials and workmanship. 
It has a patriotic eagle on the exterior and a unique star pattern on the  interior.   
Waffle Iron backing levels start at $135.
We acknowledge that our prototype is rough.  Our production foundry has provided a much, much better fit and finish than our prototypes.   Please see our many updates on facebook under Appalachian Cast Iron.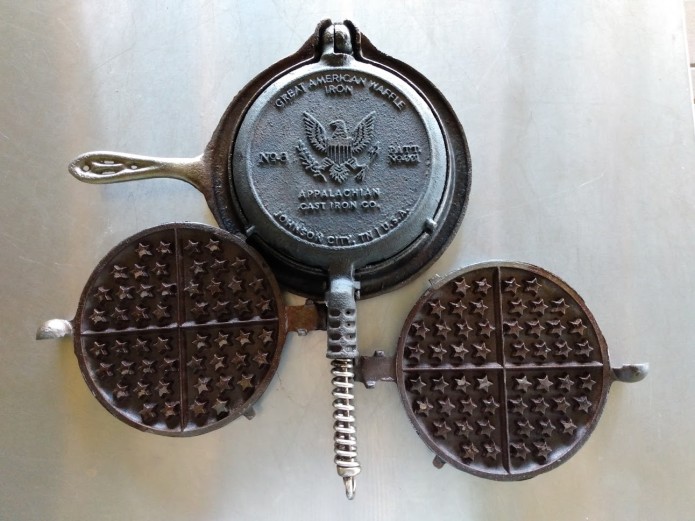 For the past 30 years I have been fascinated by antique waffle irons and have collected many.  After cooking with my very first one, I immediately reached into my cabinet, pulled out my electric waffle iron, and dropped it into the trash bin.  It was only a few years old and already had damage to the non-stick coating and I knew the plastic legs weren't going to last either.  However, now I had a real, permanent, cast iron waffle maker, a 160 year old North, Hamilton and Chase. There was no turning back. 
Making waffles quickly became a tradition in our house.  As my children grew up, it was a special privilege to be the one to pick which waffle iron we would use that Saturday morning, taking turns from week to week. Our antique waffle irons feature a variety of artwork and everyone has a favorite.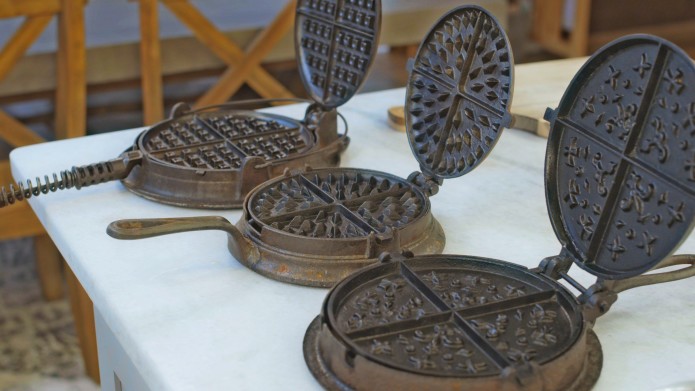 The person whose turn it was to choose the waffle iron for that morning would often try to remember which one had not been used in a while.  We found ourselves treating the waffle irons like special guests that deserved to be used, even if its particular design wasn't an absolute favorite.  Granted, I knew they were just waffle irons, but they were also like revered, older relatives that had stories to tell. 

When guests were in town for the weekend, they often were given the opportunity to pick which waffle iron would be used for breakfast.  This meant that each waffle iron had to come out of the pantry and be presented.  My children would excitedly tell our guests about all the details and cooking characteristics of each.  It is a wonderful thing to see your children explain to another person in great, animated detail about the many technical and artistic nuances of a practical and cherished object like our waffle irons.   I knew more families would benefit from this simple experience . . . from this, a dream was born.  
As a family, we began to imagine how we would bring a cast iron waffle iron to others.  We looked at the features and art on our antique waffle irons and knew we wanted to do this right!  I am a military veteran, former EMS pilot, and small businessman that has had the honor to work with people from all walks of life.  With wonderful friends from the military, EMS, police, and our small community, we wanted to produce a waffle iron that symbolized America's greatness.  A United America.   After countless hours, many ideas were fully developed and retired as better ideas came forth.   We eventually chose to place a patriotic Eagle on her front.  The interior proudly displays a field of stars.  We are a patriotic family, grateful for the many opportunities we've had, and want to share our waffle maker with you.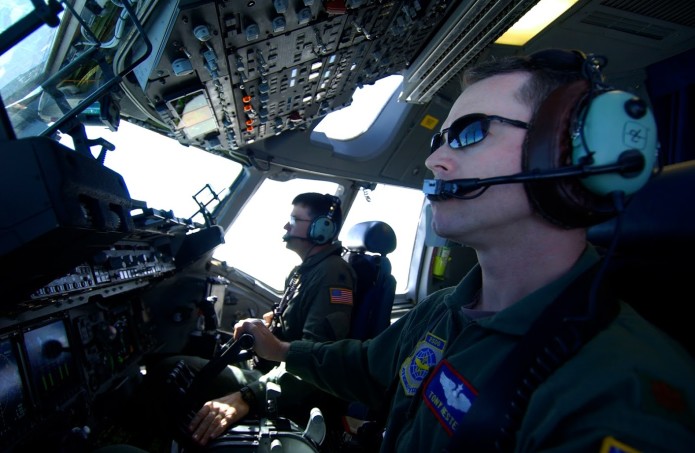 We bring to you the Great American Waffle Iron.  She shines with patriotism and cooks with tempered authority.  While many cookware manufacturers boast about how thin they can make their wares, we want to brag about our waffle maker's mass.  She is slightly thicker than our antique examples for a reason.  When cooking a waffle, you need to get heat into the batter quickly.  With plenty of stored heat in the cast iron paddles, she cooks evenly, and quickly.  With an extra pound in each paddle, she outperforms our antique examples hands-down.   We also chose to go with the classic ball and socket joint.  This makes flipping the paddles easy, as well as fun.   Our prototype was cast in a small batch foundry using a course sand.  Our production foundry uses a finer sand mix and assures us a superb level of fit and finish.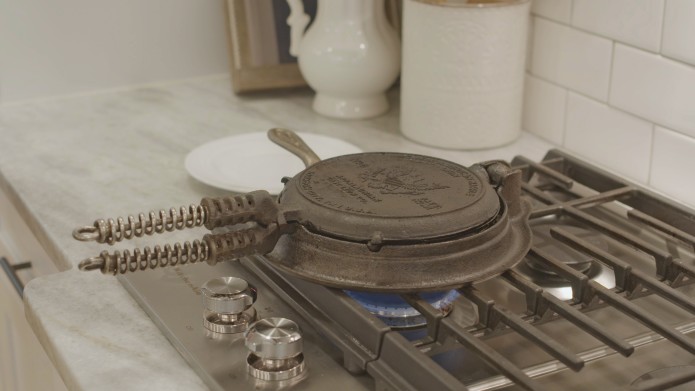 We have cooked on gas, coil top, and glass top stoves with excellent results.  (At my wife's urging, we are pursuing the production of a silicone pad for our glass top customers, should they have any reservations.)  
We produced our first prototype of the Great American Waffle Iron in August 2019.  Since that time, we have cooked over 400 waffles with it and have never had a waffle fail to release.  I didn't take it easy on her, either.  Her very first waffle was made from cooked oatmeal combined with a beaten egg and zero added oil or fat.   I doubt there are more difficult trials for a waffle iron than that combination.   It was a trial by fire, so to speak.  She met the challenge and patiently shrugged it off, waiting for more.  I was so thankful.  Her geometry is perfect.  She gives a beautiful release and cooks evenly.  

We have invested a great deal of time and resources to get this far.  Our prototypes are a result of a lot of labor by numerous professionals with several skill sets. They were poured in a small batch foundry. 
We are now ready to come to you to give you the opportunity to be part of the story.  Even though we have invested quite a bit to get this far, we have established our budget with a conservative minimum to fund re-working our pattern into a production capable match plate design and a first casting run.   To accomplish this, we need to raise $48,000 to have our patterns re-worked into production capable patterns and perform a first casting run.   We have several backing levels ranging from a simple donation, to pre-production purchase of multiple waffle irons.    You will love cooking with your Great American Waffle Iron. 
During this development phase we have achieved a patent pending status and have proven the geometry works in cooking a great waffle.  The Great American Waffle Iron really catches the eye of all who see her.  Our prototype is  admittedly a little lacking in fit and finish. By re-working the patterns, though, with a CAD capable pattern shop, fit and finish of production pieces will be very high.  Furthermore, she will be made right here in America by American tradespeople.    Please, join us in backing the Appalachian Cast Iron Company so we can bring you the Great American Waffle Iron.  Your family will have the same blessing of memories of waffle making for years to come. 
Lastly, we need your help.  Pledge what you can, but please
catch the vision for this instant heirloom.  Tell your friends in person and online and be a part of the story that brings the Great American Waffle Iron to life. 
Several foundries we have approached have been honest about not being able to produce on the scale and detail we require.  We have recently made contact with a foundry that is very excited to produce the Great American Waffle Iron and help bring her to market.  We are working together to make minor changes to the design that will aid in sand mold release from their equipment which will allow efficient production.  These changes from the prototype do not affect the geometry of the stars, eagle or ball and socket joint.  Cooking performance will not change. Regardless of  backing levels, our foundry assures us that they can meet production.  Based on their equipment, I have zero doubt in their ability to perform.
Our biggest challenge will be packing and shipping units to our backers.  Thankfully  my wife is a high school teacher and we know plenty of enthusiastic young adults that have seen our waffle iron in action and are excited to help ship this to you.   Final international shipping rates will be handled individually with backers after campaign.  We will pass on shipping at cost.  Backer is responsible for any taxes / fees / duties. 
Long lasting design: This product is made of Cast Iron.  It will last well beyond your lifetime, and likely your grandchildren's lifetime.  All of our historic examples are at least 100 years old.  Our oldest is 160 years old and running strong.  How many plastic bodied, non-stick coated waffle irons last 20 years?  Coatings flake off, plastic parts break, heating elements fail, etc. We offer a lifetime warranty to the original purchaser for material and workmanship.  You take care of it, and it's covered.
Environmental Responsibility:    Modern casting foundries in the USA are highly regulated by the Environmental Protection Agency.   Many foreign foundries operate with impunity.   By having these produced stateside we are dedicating our efforts to American jobs and environmental responsibility.