The Jül: Heated Smart Mug for Coffee & Tea | A USB tumbler that keeps hot drinks at the perfect temperature from the first sip to the last drop.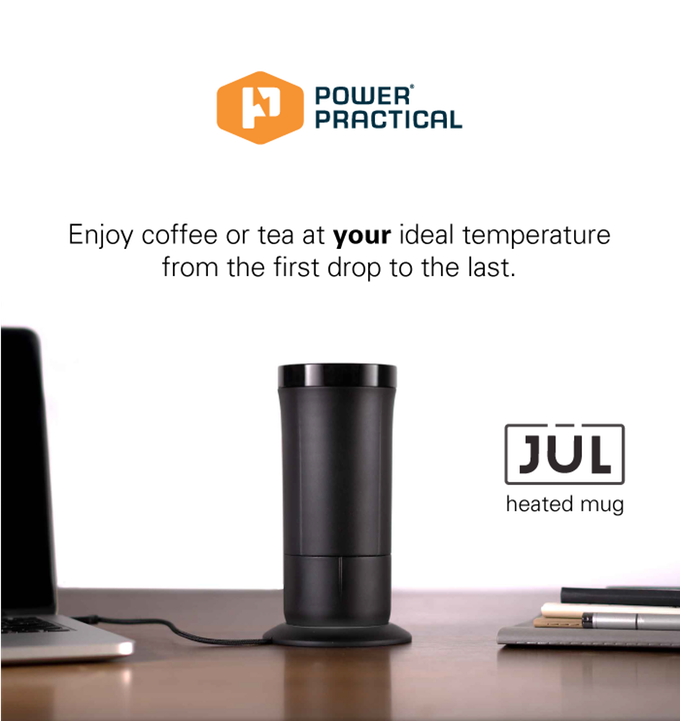 The Jül™ is a heated mug which keeps hot beverages at your perfect drinking temperature for as long as it takes you to enjoy every last drop.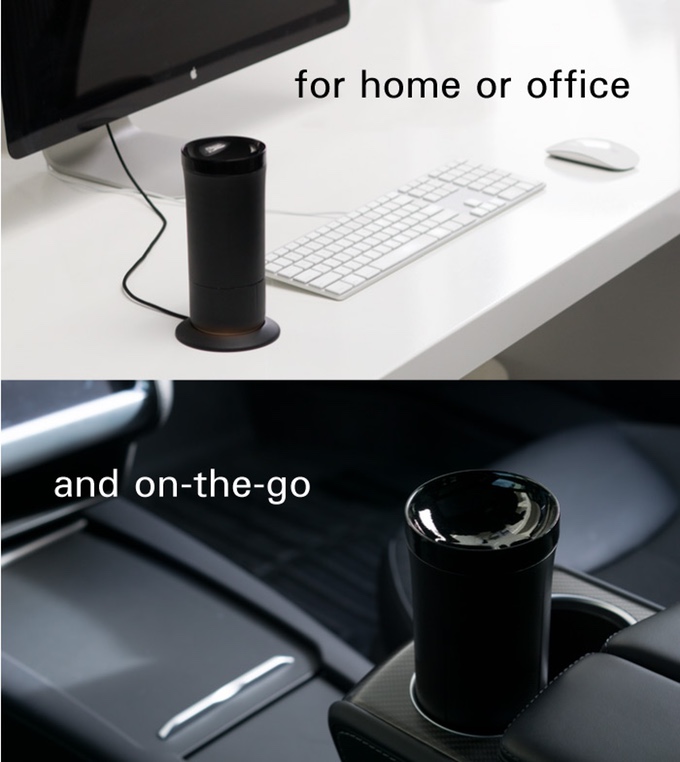 There's nothing like the perfect sip of coffee; not too hot, not too cold, full of flavor and body–completely satisfying. Unfortunately, those perfect sips aren't as common as we'd like.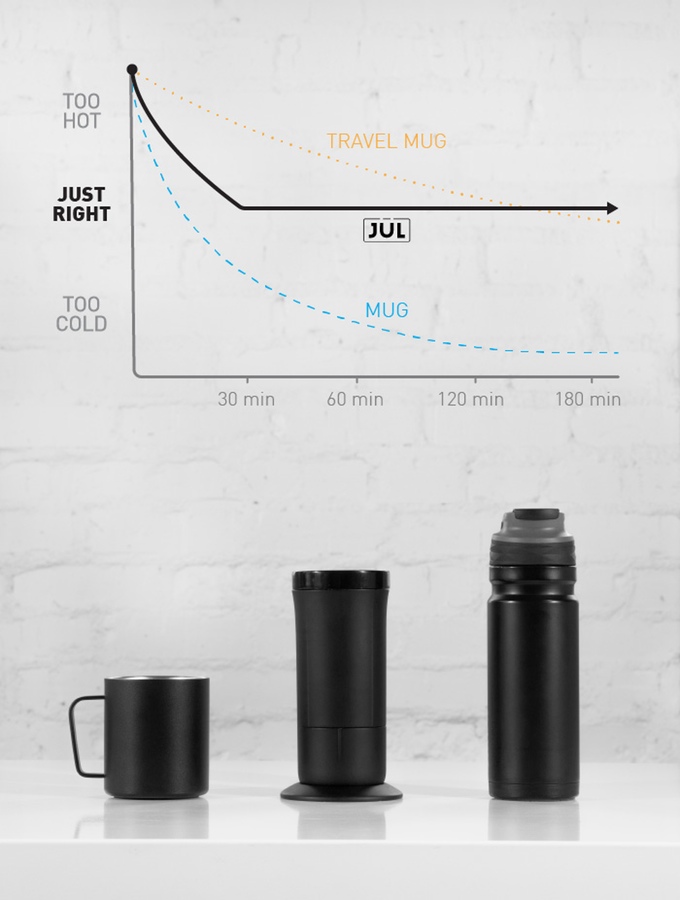 Traditional mugs and paper cups cool too quickly, giving you only a few minutes in that perfect temperature range. Insulated mugs keep your drink dangerously hot for hours. The Jül is the best of both worlds: it looks and feels like your favorite tumbler but cools quickly to your desired temperature and stays there.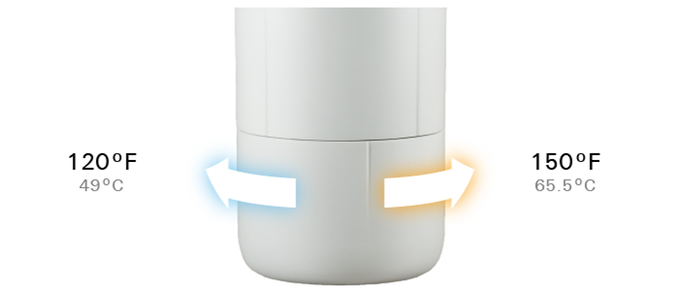 With a quick twist, the Jül lets you control your preferred drinking temperature with precision and maintains it while on it's USB-connected coaster.

The patent-pending technology inside the Jül knows the temperature of your drink and tells you when it's just right, while the integrated heating system will ensure it stays there.
Simply…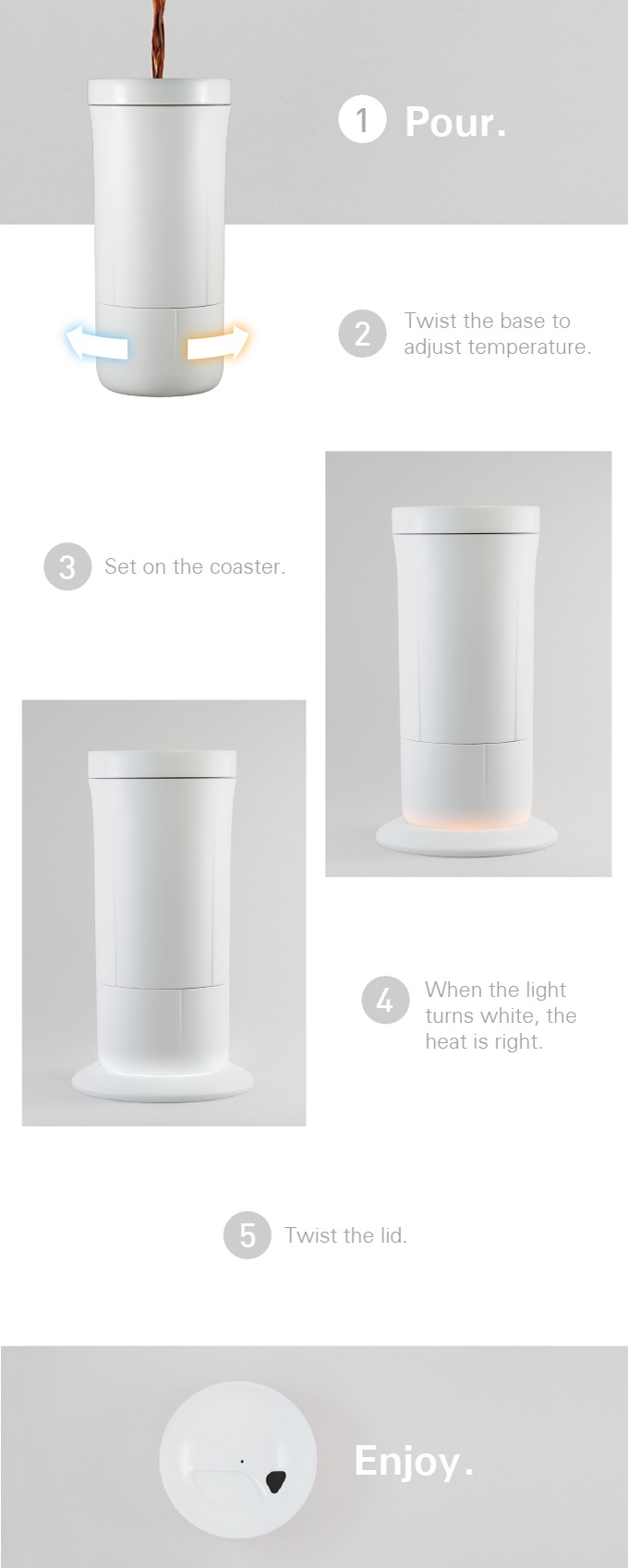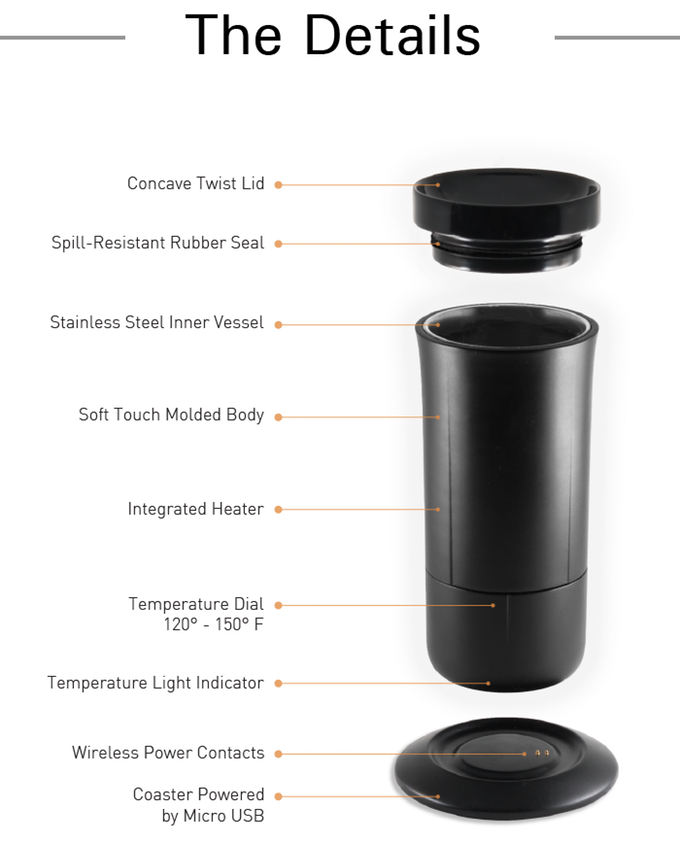 The Jül's heating technology is elegantly built-in between the inner and outer walls of the mug. Its interface is made up of clever, analog dials and subtle light indicators to let you know when your drink is just right. It is wirelessly powered by setting it onto it's compact, USB-powered coaster, so you can use it anywhere. To save valuable space for coffee and extend it's lifespan, the Jūl is battery-free. This not only helps keep it lightweight, but easier on your wallet.
The marks on the side of the mug indicate the Jül's minimum (120°F) and maximum (150°F) temperature. Within this range, the subtle tones and flavors of the coffee are revealed, while the temperature isn't so high that it makes it difficult to taste the coffee itself. Twist the cup to pick the temperature you prefer.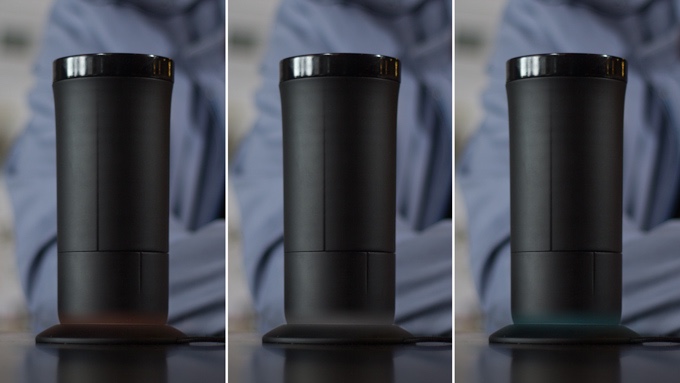 Once you've selected your perfect temperature, set the Jül on the coaster, and watch it light up. 
If your drink is hotter than the temperature you chose, it will glow amber. 
If it is colder, it will glow blue. 
When the Jūl's base glows white, its just right. Enjoy.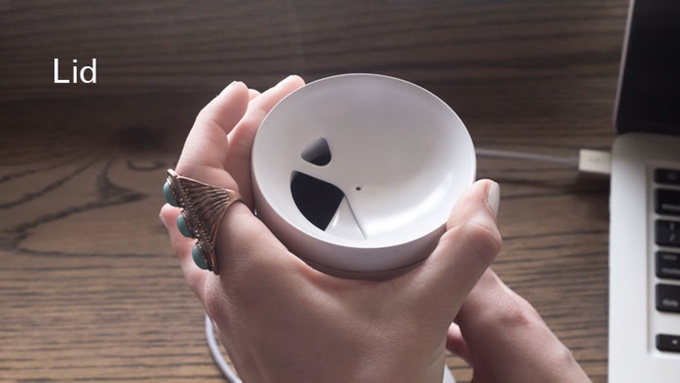 When designing the Jül, we wanted a lid that made drinking comfortable, could close to maintain heat, and allow a drink that is too hot to cool down. The concave design allows for easy sipping with no pesky nose-to-lid contact.
The Jül's lid offers three settings: vent, seal or sip.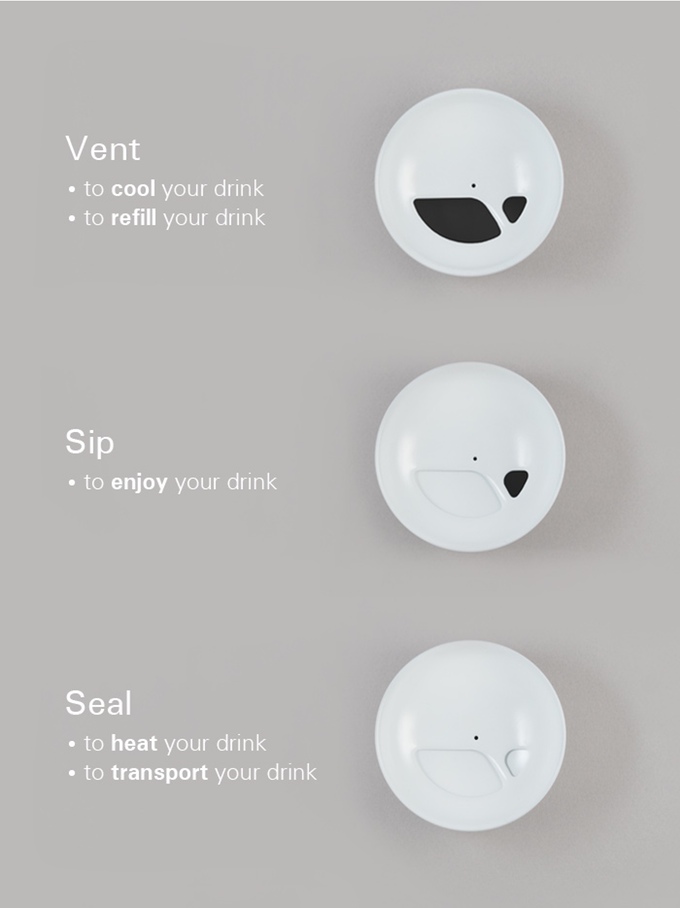 Simply twist the lid to vent for quick cooling, seal to keep things hot, and sip when you're ready to drink.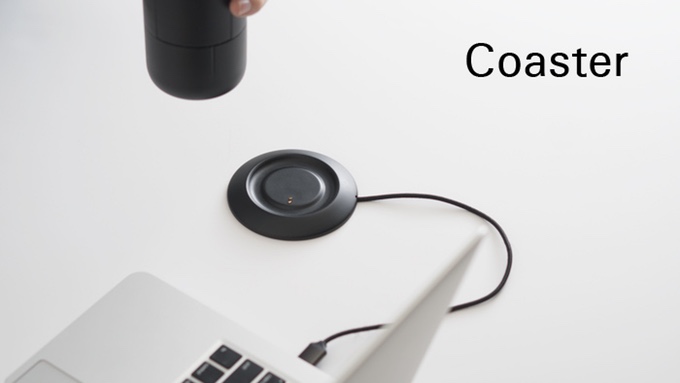 You drink coffee where you live and work, so we designed the coaster to unobtrusively integrate into your space, whether on your desk or counter. It's powered by any 2A USB port, which means you can power it with most computers or the included wall adapter.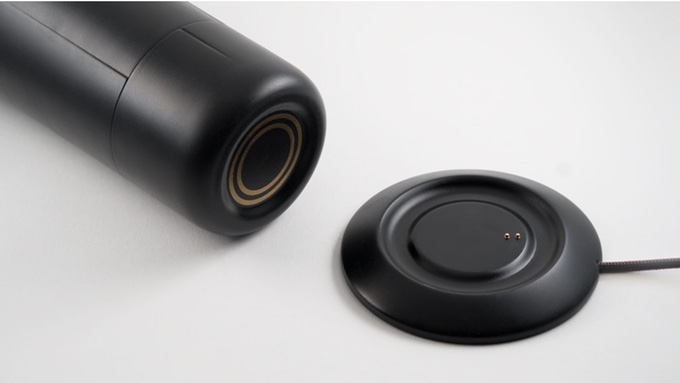 The bottom of the Jül has two electrically conductive rings that align with the coaster's power pins to provide seamless, wireless power.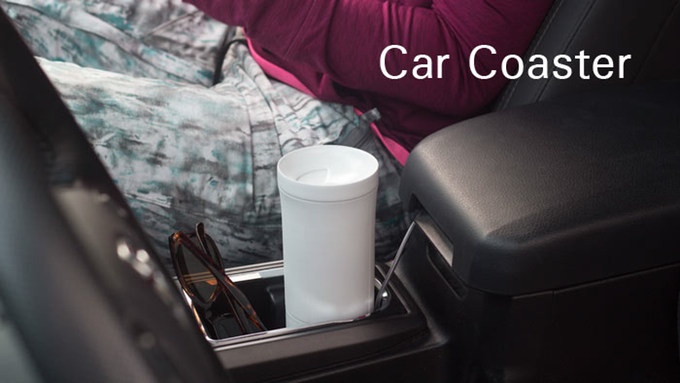 Spend some time in the car? We didn't forget you! We developed a car coaster that fits into most standard cup holders and is powered by USB which can plug into your car's USB port or the included auto cigarette lighter adapter. Whether you're commuting to work, adventuring around in your van, or spending your workday in and out of your car, you don't need to live with lukewarm coffee any longer.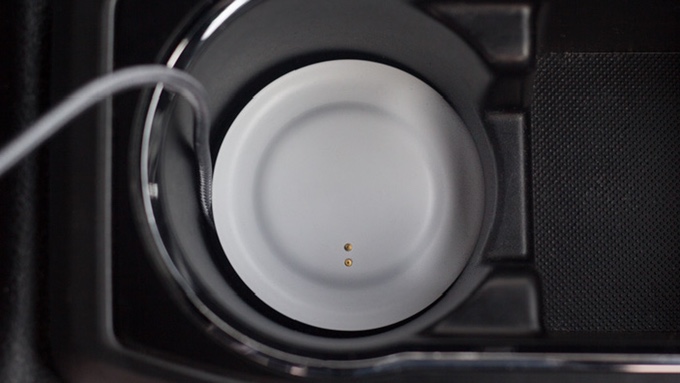 You shouldn't need an app or WiFi connection to have a great cup of coffee. With the Jül, all you need is a USB port to keep the coaster powered and a smooth turn of the base to control the temperature. No apps, no in-your-face digital screens and no WiFi required; the Jül keeps things simple and easy.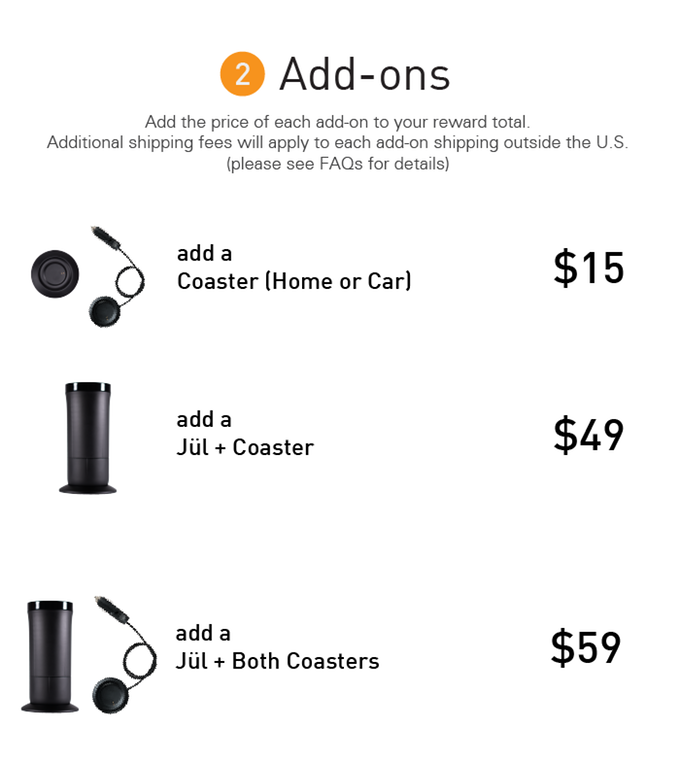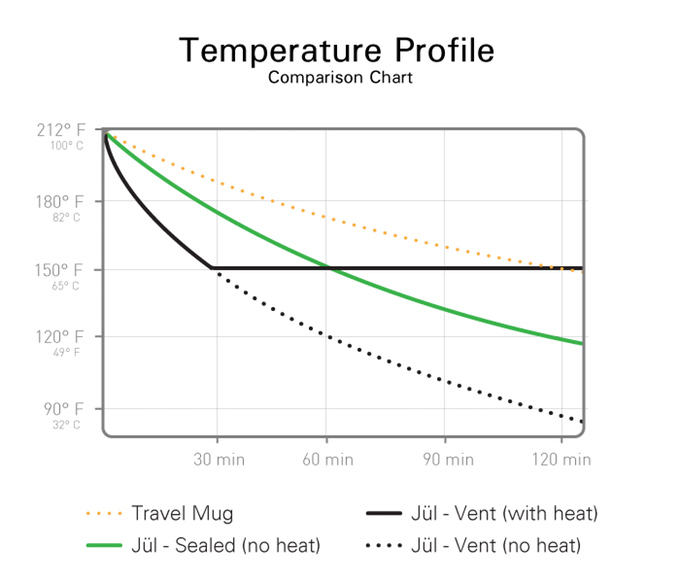 At Power Practical, we're constantly brainstorming new product ideas. An integral part of our process is coffee consumption. We drink it for pleasure, we drink it for energy, we drink it to keep our minds sharp. If there's one thing that chaps our khakis, it's missing those few opportunities to drink our coffee at the perfect temperature.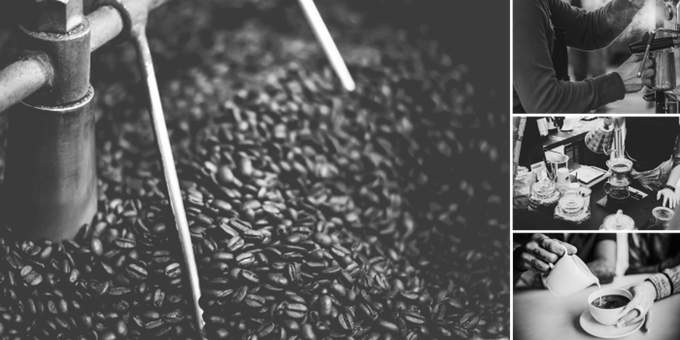 There is so much calculated effort in turning a raw unprocessed coffee bean into the delicious beverage that we enjoy on the daily. Controlling temperature is essential in both the roasting and brewing process, yet once we get to drinking our coffee, temperature control is lost and neglected.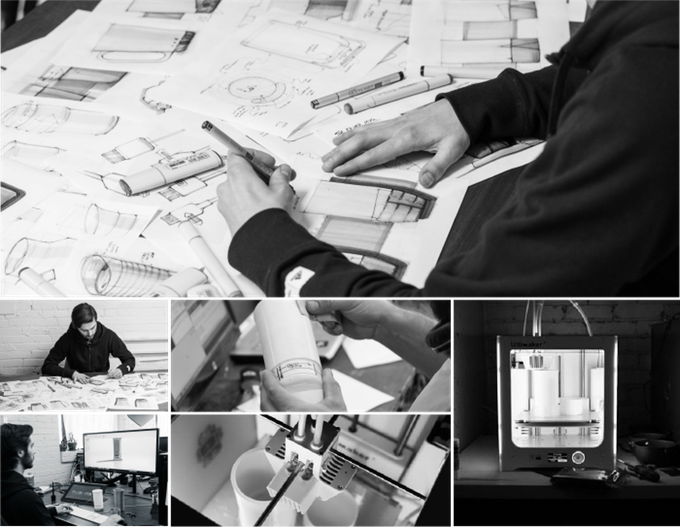 Power Practical Co-Founder, David, started working on the Jul in the summer of 2015. Initially, the idea was to create a coffee cup powered through wireless induction, similar to how cell phones and toothbrushes wirelessly charge. After extensive testing, however, we made the decision to switch to pin connectors. Due to efficiency losses, the power just isn't there to maintain 150°F indefinitely using wireless USB charging.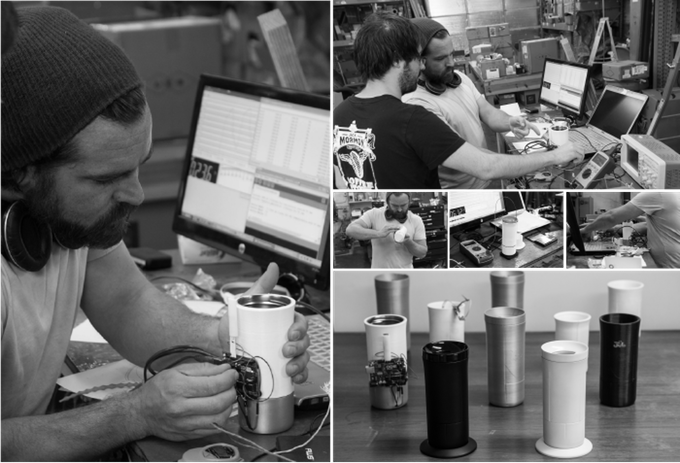 We've gone through many iterations of all the features of the Jul. Multiple 3D prints were made, revised, redrawn, reprinted, and the process repeated to finely tune all the details. We've recorded hundreds of hours of temperature data, with tests ranging from 30 minutes to 96 hours. To test the temperature control and LED display we used an arduino and tried out different methods of heating until we were satisfied with the temperature stability. We are now ready to take all this prototyping to full production and begin manufacturing the Jül.