The NEO: Delicious, affordable espresso at home | An all-manual espresso maker that uses no pods and makes espresso brewing simple and affordable
The NEO: Delicious, affordable espresso at home
The NEO makes delicious, in-home espresso easily and affordably. We designed this product knowing that Moka pots, many pod machines, and other in-home brewers claim to make espresso, but really only provide you with a cup of strong coffee, unless you want to pay hundreds or even thousands of dollars.
We created the NEO to be simple, environmentally friendly, cost-effective, and fun, all while producing delicious espresso.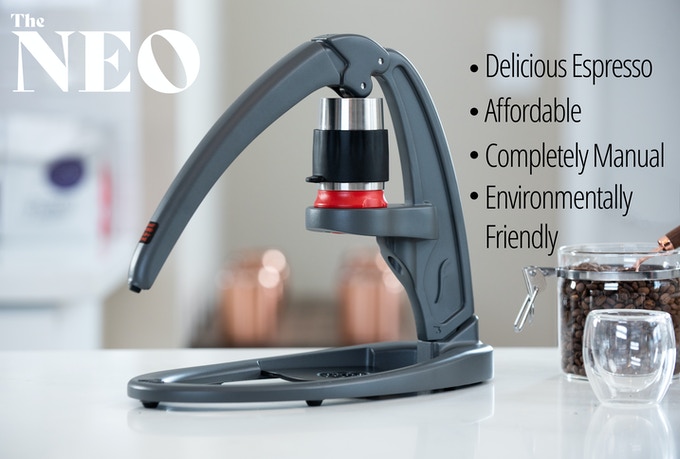 Flow-Control Brewing for Simple Espresso Shots
The NEO features a flow-control portafilter, which simplifies the brewing process by controlling the flow of your brew water through your coffee grounds to ensure proper espresso extraction. This means that you can use any whole beans you want and grind them with any grinder you have — from high end burr grinders to less expensive bladed grinders.  The result will be the same. Beautiful, delicious shots of espresso topped with a thick layer of crema.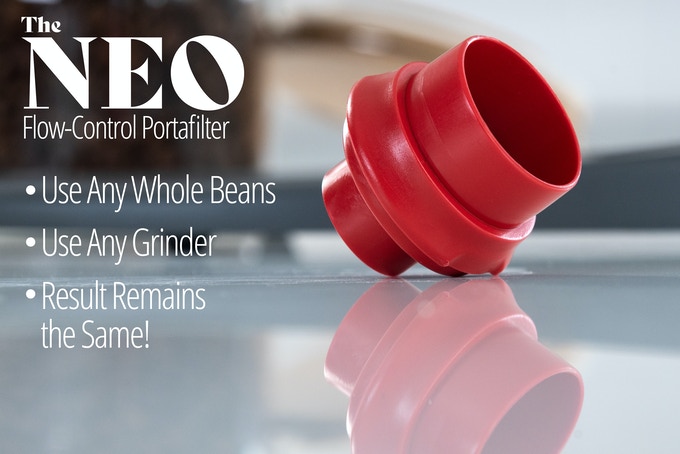 Delicious Espresso. Just Check the Crema.
Crema, that thick, delicious foam on the top of a shot of espresso, is a great indicator of a well-extracted shot. If you've been missing this in your morning routine, the NEO has what you need and more. Lower the lever, and just watch as your espresso blooms in your cup.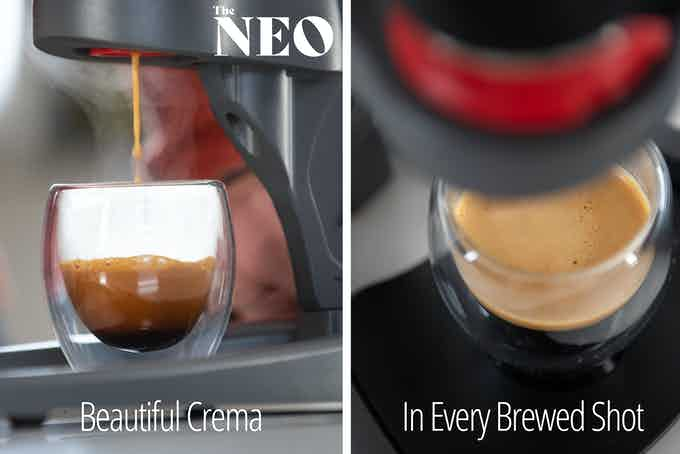 Built to Last with Durable Metal Components
People say that Flair Espresso Makers are built like tanks, and the NEO is no different. Reinforced, die-cast aluminum is used for the base and lever, which can withstand forces that far exceed those needed to make good espresso. Our brewing cylinder, meanwhile, is stainless steel, which unlike plastics and polycarbonates, does not expand under normal operating pressures, so all that force on the lever can be immediately converted into pressure for brewing your espresso.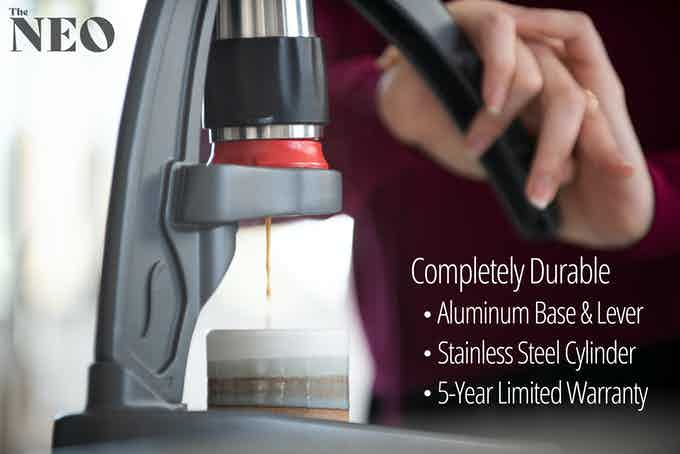 Fully Manual and Environmentally Friendly Espresso
The NEO requires no electricity, and is a fully manual lever press. There are no pods to be wasted and thrown into a landfill with this espresso maker; only real coffee beans, ground by you. This means that each time you manually lower the lever, with you own hands, you're contributing to a healthier world. Feels good doesn't it?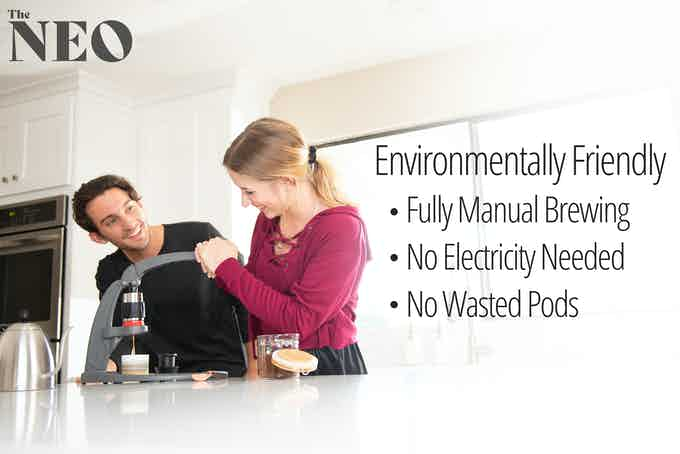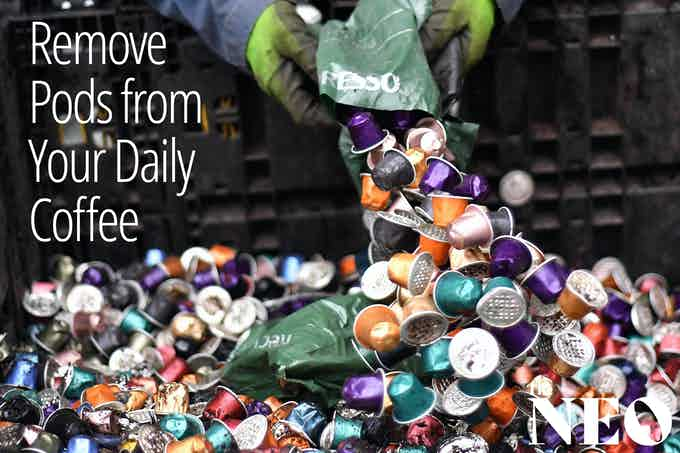 A Simple, No-Fuss Brewing Process
The NEO is meant to make brewing espresso fun and easy. In fact, there are only four major steps for brewing with the NEO, and the entire process can be done in less than two minutes. This process is simple and easy, leaving you more time to enjoy your daily dose each day.    
First, grind your beans with ANY grinder, and fill the flow-control portafilter with grounds using the funnel. Tamp with the tamper. Add the screen on top!
Don't forget to preheat your brewing cylinder! Use just boiled water and a small bowl. Let the cylinder sit for at least 30 seconds. Then it will be ready to use.
Assemble the brewing head by first placing the filled portafilter onto the Flair. Then remove your preheated cylinder and affix to the top of the portafilter. You can now fill with your brew water just off the boil.
Lower the lever and watch as the NEO brews beautiful, crema-topped shots of espresso into your cup. It takes a bit of force, so you might want to use two hands!
Savings in Your Pocket with the NEO
The NEO, with a low retail cost of just $119, is not only affordable, it's also extremely cost effective, especially when compared to visiting your local cafe for your daily dose. If you brew your espresso every day with the NEO, you will be saving at least $500 per year…and this includes the cost of your NEO!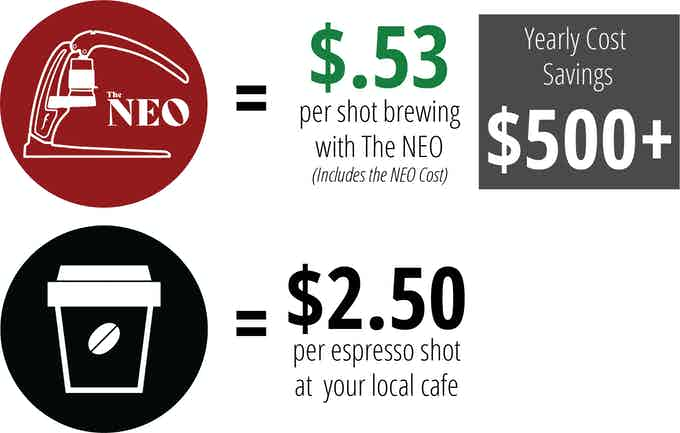 Choose Your Own Brewing Aesthetic 
With the NEO, you don't have to settle for just one color. No matter if your coffee station or kitchen has a dark or light theme, we've got you covered. Choose between our standard gun-metal grey version of the NEO, or brighten things up a bit by selecting our white color.  No matter your preference, you can be sure you've made a great choice.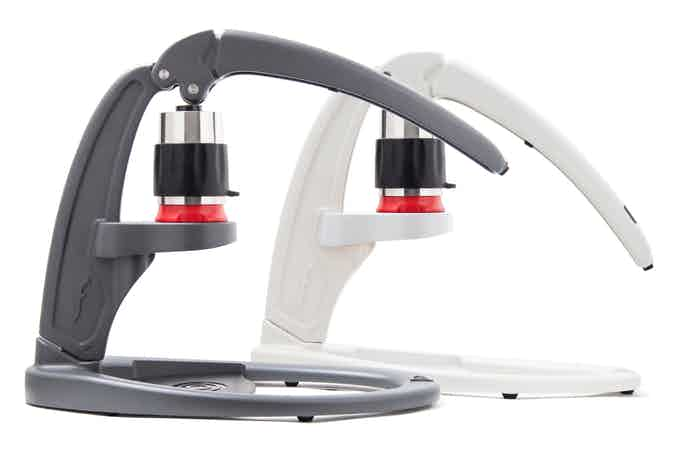 What's Included in The NEO
The NEO comes with everything you need to start brewing delicious, espresso right from the box. Included is the post and lever, the base, the full NEO brewing head which includes the cylinder, flow-control portafilter, piston and stainless steel screen, as well as a funnel, dosing cup & tamper, and the drip tray.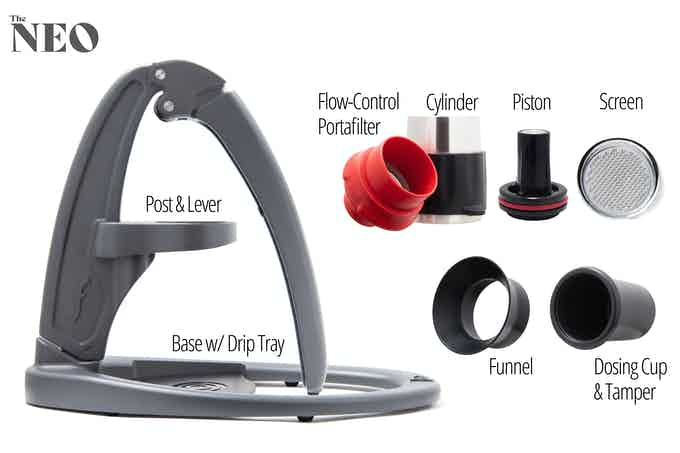 In addition, the NEO can be upgraded, and fits snugly into our custom carrying case, offered separately or as part of our Second Shot Travel Kit Perk, which includes the carrying case and an additional Flow-Control Portafilter for brewing two shots one after the other.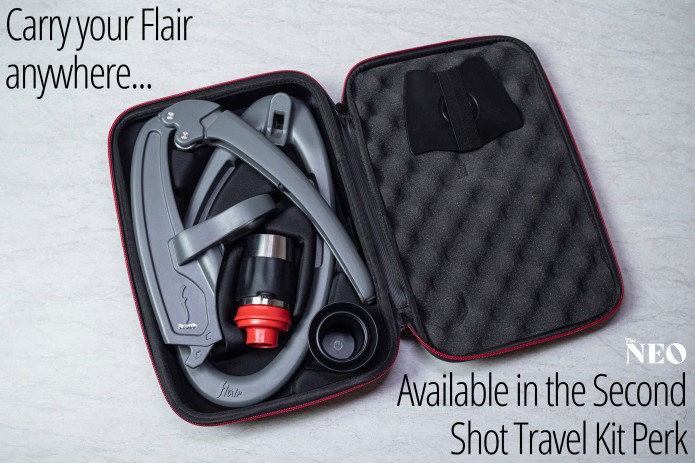 Finally, the NEO post and lever also fits our Bottomless 2-in-1 Portafilter and Pressure Gauge, so that when you are ready to upgrade and challenge your espresso making skills, these are available to you. 
How Big is the NEO?
The NEO is roughly 12 inches long, 6 inches wide, and 10 inches tall (31.5 x 15.5 x 26cm). It fits comfortably onto most counters without taking over and with or without the case The NEO weighs under five pounds. Each shot from the NEO will be roughly 1.5 ounces or 45 milliliters. In terms of a single and double shot, when measured by volume the NEO produces roughly a shot and a half with each lever pull.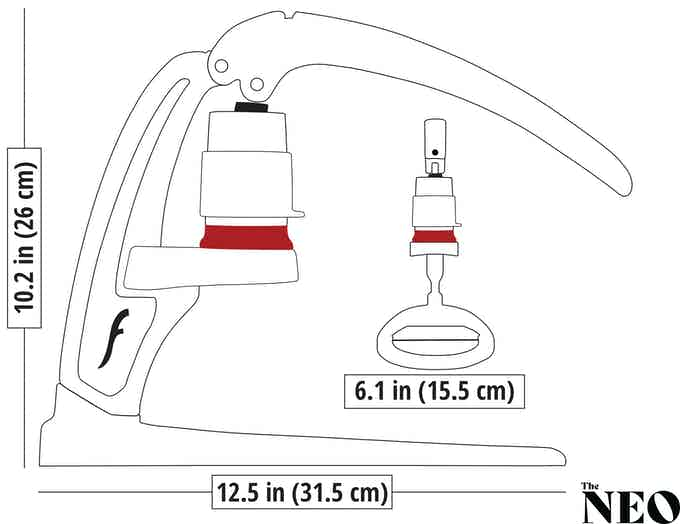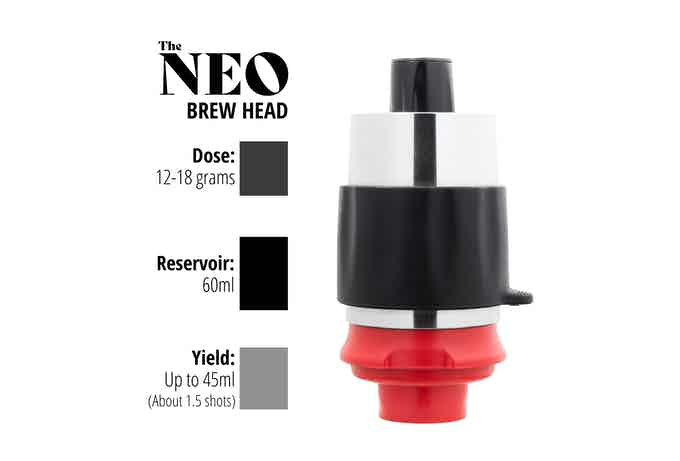 To see how The NEO stacks up against our other Flairs, you're more than welcome to visit our Buyer's Guide on our webstore!
How Do The Experts Feel About The NEO?
At Flair Espresso, we are lucky enough be surrounded by the best of the best in coffee. Take Lem Butler and Kyle Ramage for example. They are back-to-back U.S. Barista Champions in 2016 and 2017, and they now jointly own Black + White Roasters in North Carolina.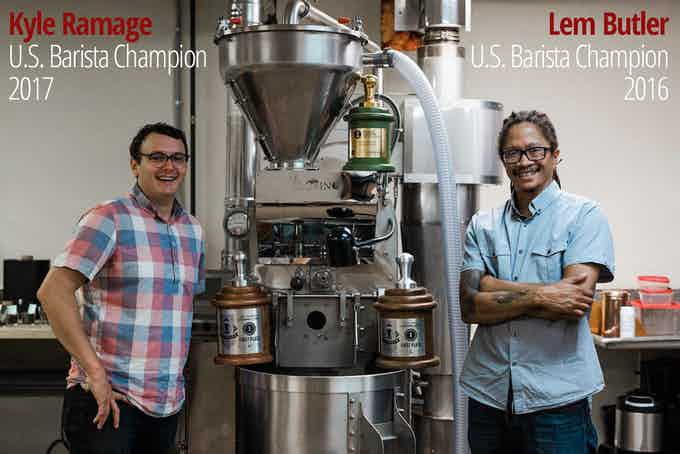 We asked them what they thought of the NEO, and the response was extremely positive.
From Lem Butler, 2016 U.S. Barista Champion – "The many variables that go into preparing a delicious shot of espresso make the process challenging for home baristas just getting started. The NEO helps beginners and professionals focus on the many other variables in manual espresso at home.
The Flair NEO's flow-control portafilter will improve the home barista experience by delivering consistent extraction regardless of grinder capabilities. Steady pressure during coffee and water contact time is key for proper extraction."
From Kyle Ramage, 2017 U.S. Barista Champion – "Everyone is on a coffee journey, and this could be the start quite a few people need. I feel the NEO is a helpful tool for those just getting into espresso exploration. Maybe you don't have a quality grinder yet. The NEO allows you to make better coffee at home or on the go. Everyone starts somewhere and this lowers the barrier to entry, and sets you up with a piece of kit that can be upgraded as you wish to dig deeper. I wish I could have had something like this back when I was drinking Lavazza from the grocery store." 
Who is Flair Espresso? Our Story
Flair Espresso was born from the heart of an espresso lover and inventor who asked the question, "What is the minimum needed to make a great espresso?" 
Thirty years of experience as an engineer in the bio-medical industry were applied to the development of the original Flair. Everything extraneous was eliminated leaving a simple, elegant, and affordable design that had one purpose: handcrafting cafe-quality espresso. 
So why trust us? Our Flair Espresso Makers have been leading the market for the last three years, and we started right here on Kickstater raising more than $58,000 in our first campaign. Our machines are used globally across more than 20 countries, we've won awards at global expositions like the World of Coffee. We are now bringing all that experience to the NEO, and we need your help to bring this project to life.
Flair Espresso in the Media
 We've been featured globally by some of these respected organizations!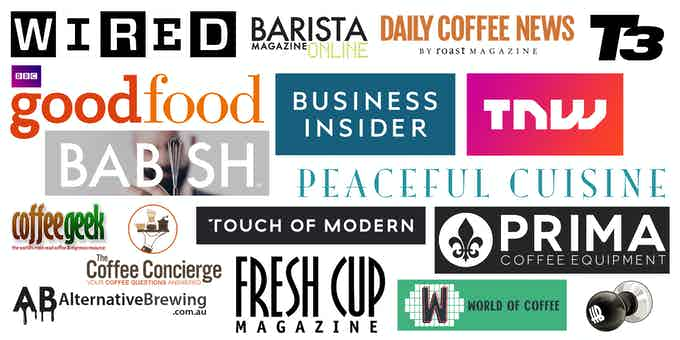 Be Social With Us
At Flair, we love to share, so follow us on Facebook and Instagram for news, updates and juicy brewing videos. 


Why We Are On Indiegogo
We invested heavily through the research and development process to create a Flow-Control portafilter that will meet everyone's needs. We've successfully completed a Kickstarter campaign, raising close to $200,000 USD. While we work to fulfill those orders, we need to justify that demand for the NEO will continue to be high. Now, we need your help in the way of continued orders to ensure demand levels and continue normal production!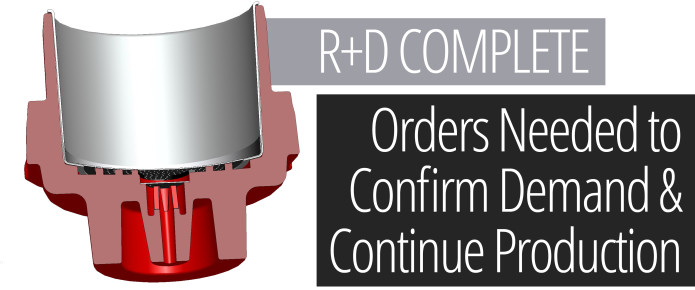 Timeline for Delivery to Backers
Flair Espresso is fully committed to delivering the first production lot of The NEO to backers during the month of May 2020. We've set ourselves up for success in terms of production, all so that those that trust in us enough to support this project are rewarded within 30 days of full funding!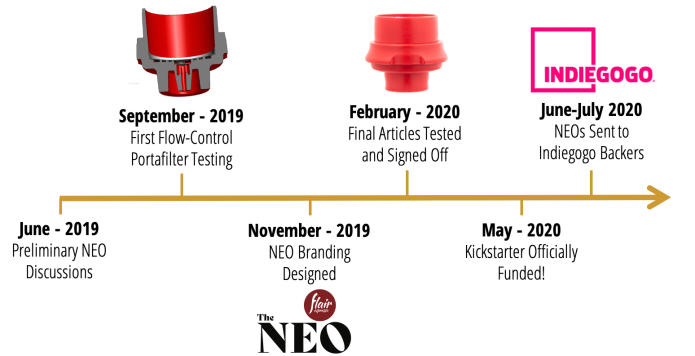 *Backers who select the Second Shot Travel Kit Perk will have their NEOs delivered in July of 2020.
Love What You Brew, with The NEO
With the NEO, you've got joy at your fingertips, the ability to handcraft your espresso at home, for yourself and your loved ones. 
Come brew with us.