The String of Pisces – A Kinetic Art Lamp | Create beautiful waves of color and light with Art & Science.


Pisces ♓ – A Kinetic Art Lamp
In western astrology, the story of Pisces involves 2 fish (Venus and Cupid) that tie each other with a string to swim away from the mythological monster Typhon. I represent this story in my kinetic sculpture that uses a single nylon string bound between 2 motors creating beautiful standing waves.  As the string spins endlessly, it is illuminated by stroboscopic LED lights creating beautiful displays of colors and shapes that are both mesmerizing and therapeutic to look at.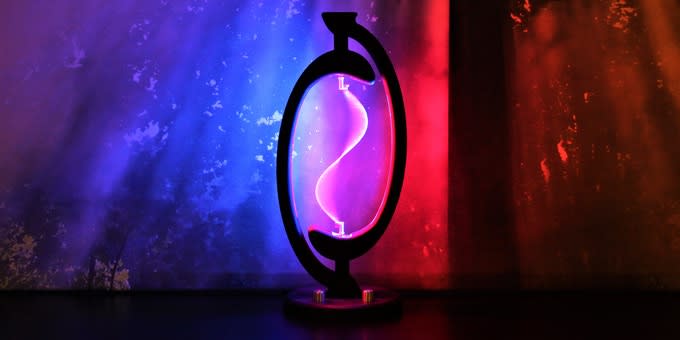 Lamp in Black color (Volcanic Lightning mode)
I take advantage of 3 main scientific principles in this creation: Standing Waves, Persistence-of-Vision, and the Stroboscopic Effect.  As Wikipedia defines it:
Standing Waves are waves which oscillate in time but whose peak amplitude does not move in space
Persistence-of-Vision is the optical illusion that occurs when visual perception of an object does not cease for some time after the rays of light proceeding from it have ceased to enter the eye
The Stroboscopic Effect is a visual phenomenon caused by aliasing that occurs when continuous motion is represented by a series of short or instantaneous samples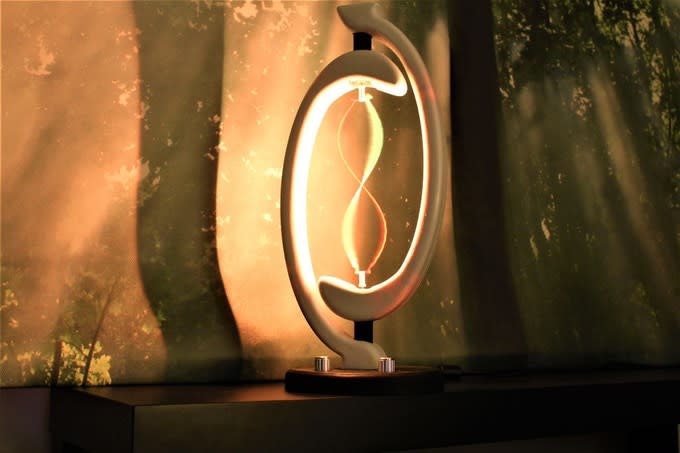 Lamp in White color (Tango mode)
The LEDs strobe (turn ON and OFF) to illuminate the spinning string at regular intervals.  By capturing periodic points in time of where the string was and wasn't, it creates an illusion of the string taking on many different colors, or splitting into many strings, or dancing erratically, and many more effects.
The string rotates 60-90 times per second and the lights strobe at specific intervals to create unique patterns
Each lamp has been programmed with 11 different color patterns, each one vividly unique from the others:
"Northern Lights" creates a custom show of colors to evoke a calming presence of dancing auroras in your own home
"Carnival" brings you back to your childhood visits to the circus, a past-time that is slowly going away in this modern age
"Tango" is an illusion of 2 strings dancing back and forth endlessly
"Pride" celebrates diversity and inclusion with colors of the rainbow
"Classic" is a simple demonstration of standing waves illuminated in warm white
"Volcanic Lightning" simulates lightning strikes in the midst of a volcanic color palette
"Chameleon" changes colors in many spots over time to create a mesmerizing gradient
"Mossy Forest" lets you walk through moist moss with your eyes and not your feet 
"Eclipse" demonstrates the fading in and out of slices of standing waves
"Glacier" makes you feel like you're standing in an ice cavern
 "Northern Lights" mode simulates auroras
 "Tango" mode creates 2 strings that dance together endlessly
The lamp also generates a gentle draft current for circulating air around a small room.  A faint hum (similar to a small fan) surrounds the lamp as the string rotates 60-90 times per second creating a white-noise and ASMR-like ambiance.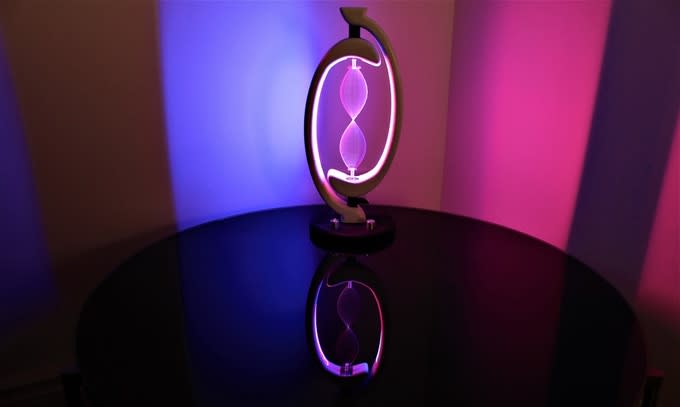 Table setting
Taking into consideration the aesthetics, I've designed it such that it fits in a variety of settings that can normally fit a traditional lamp.  At 16x6x6 inches, it's not too big nor too small to be placed in a bookshelf, on a nightstand, on a fireplace mantle, on a work desk, on a side table, as a centrepiece, in a cubby, in a reception area, etc.  The ambient light show illuminates the surroundings in an innovative way that is sure to draw eyes and start conversations in any setting.
Headstand setting and random cycling of colors allows for a wide variety of ambient mood settings
"Pride" mode creates a rainbow
With the 2 aluminum dials, users can change color patterns and motor speeds. Users can also gently touch the rotating string disturbing the natural ebb and flow resulting in vastly different forms and shapes. The aluminum dials are available in black, silver, or copper at no extra cost.

Black, silver, copper dial choices
Feeling is believing
The specifications are as follows (but do note they are subject to change over the lifetime of the campaign and manufacturing, but not by much):
ABS High Polish Glossed Frame (Injection molded)
Pine or Baltic Birch Wooden base (not shown on campaign photos/video)
Nylon Mason Line String
2x DC Motors
50x APA102C (or SK9822) RGB LEDs
Dimensions of 16in x 6in x 6in
11 selectable color patterns
Adjustable frequency
1 set of replacement motors and string
12V 2A Wall Adapter (US/UK/EU/AU)
Digital STL files included
Source code (Arduino) included
Choice of white or black lamp
Choice of black, silver, or copper colored aluminum dials
When man meets machine… potentially NSFW 😉

DESIGN & MOTIVATION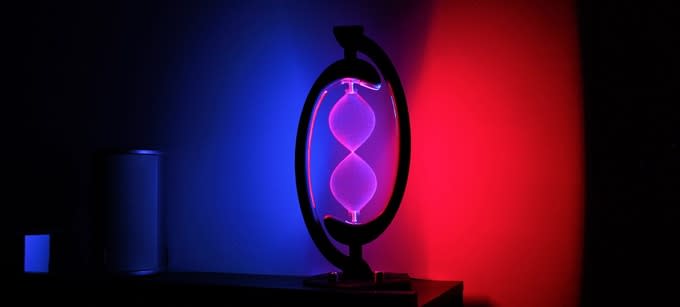 Dual tone color caused by "Volcanic Lighting" mode
When my first campaign, Aquarius, was created, I had already set up a plan on launching 11 more products (each one based off a Western Zodiac symbol).  I was reminded of a childhood toy which demonstrated the standing waves concept and thought to myself that it can be a fitting representation of the story of Pisces.  If anyone is curious, here's a look at the toy that inspired this (you might still be able to get one on eBay for about 100-200 USD if you're lucky):
However, times have changed and technology has advanced significantly.  The original product did not use strobes, was not intended to be a lamp, had problems with string winding, was limited in the modes it provided, and was not home-decor friendly.  I adapted the idea into a product that can be situated in a home setting and also applied what I learned from Aquarius regarding stroboscopes.  The end-result was a kinetic sculpture that acts as an innovative lamp, a symbolic representation of Pisces, and a beautiful demonstration of art & science.

APA102C LEDs, not the standard WS2812B LEDs as those cannot strobe fast enough to activate Persistence-of-Vision effects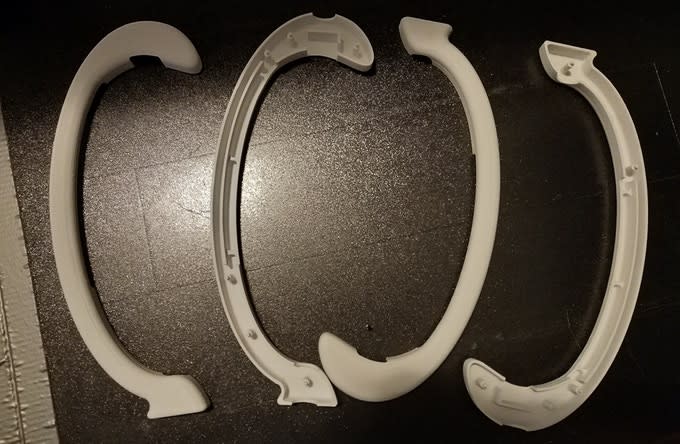 Freshly 3D printed ABS filament (prototype), final version will be injection molded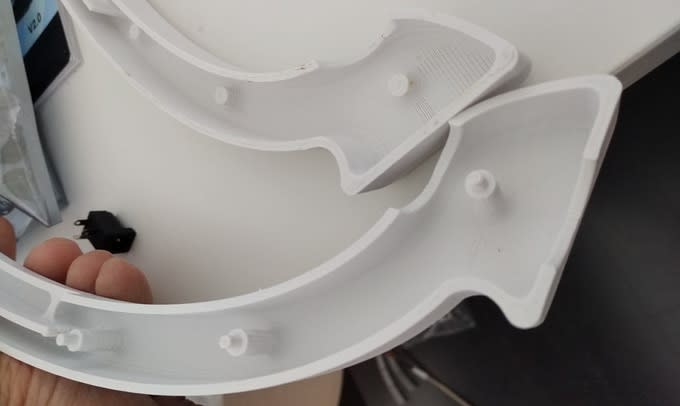 Close-up of the 3D printed prototype
Over the past year, I've worked through countless iterations, prototypes, and tweaks to perfect it for hand-production. As the project is already funded, exposing it on Indiegogo will help spread it further into the hands of people all over the world to enjoy and appreciate the wonderful possibilities that art & science can create.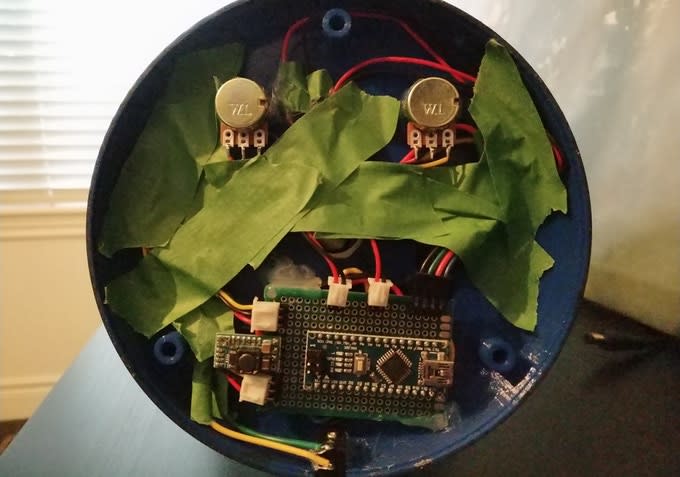 Prototype hand soldering of electronics (Arduino Nano shown!). Final version uses a properly manufactured PCB.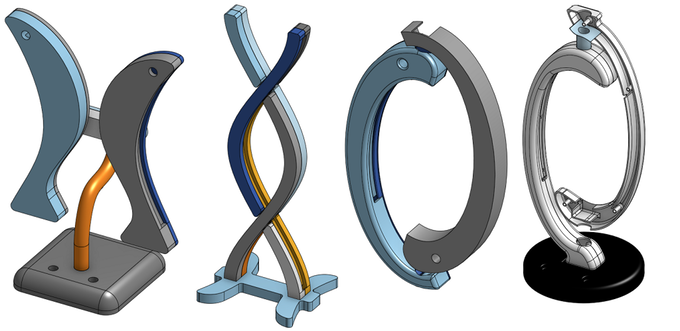 Some of the early prototypes (with the final one on the right)

HOW WILL FUNDING BE USED?
As the majority of funding has already been met on a previous crowdfunding platform (Kickstarter), the funds raised here will go directly to capital expenditure spending.  You can visit our campaign page on Kickstarter for how the funds raised there were used.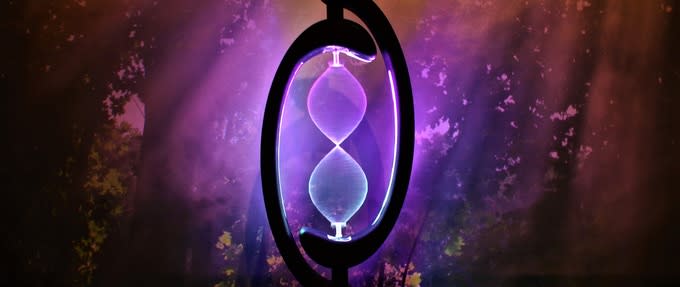 Carnival Mode with strobing frequency at maximum setting

WHO WE ARE
Northern Circuits Inc. is a 100% Canadian corporation founded in 2017 by Stephen Co, a computer engineer by trade but a lifelong maker by heart.  I've designed and verified ASICs (Application Specific Integration Circuits) for hardware companies for over 10 years and continue to do so till this day.  Outside of that, I dabble with woodworking, metalworking, CAD, microcontroller programming, and more (anything to do with the maker scene).  My first crowdfunded project, the Aquarius Fountain Lamp ♒, won MakerFestival 2018's Best In Show award.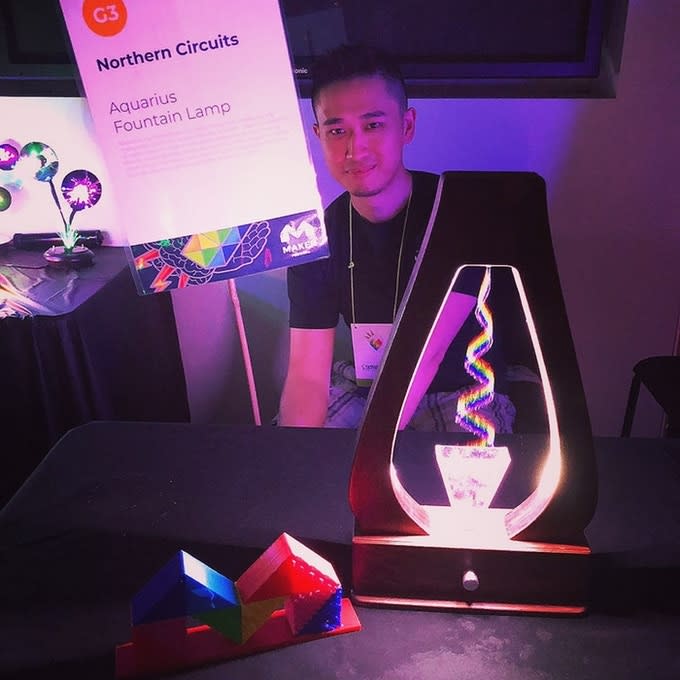 That's me after accepting the Best In Show award!
I have company social media pages on Facebook, Instagram, and Twitter.  Feel free to Follow/Like to keep up to date with all my projects!




TIMELINE SCHEDULE
I expect early deliveries to begin in February/March 2020 in several "waves".  As I assemble/test every single one in-house, I am limited by the number that I ship out per day.  This is preferable over shipping everything in one big batch as it delays the earlier backers in receiving their reward.
This is the proposed timeline schedule which I will try my best to stick to:
Mid-October 2019: Kickstarter Campaign ends, awaiting fund disbursement, Indiegogo InDemand begins
Late-October 2019: Electronics purchase (overseas), package design and purchase (overseas), final injection molding review and purchase, finalize PCB design and purchase, user guide design and purchase, begin 3D printing non-injection molded parts
Mid-November 2019: User guide arrival, PCB arrival, design files delivery
Late-December 2019: Packaging arrival, mold arrival
Mid-January 2020: Assembly and test begins
Late-February 2020:  Initial shipments begin (in waves)
Mid-March 2020: Aquarius combo orders begin shipping (in waves)
April 2020: Continuation of shipment
The above timeline is only an estimate and may be slightly earlier or slightly later.  Any changes to the timeline will be communicated promptly. 

Unstable waves can sometimes be created by nudging/touching the string

PERK/REWARD DETAILS
I offer the standard Pisces Kinetic Lamp reward perk in your choice of black or white and your choice of AU/EU/US/UK wall adapter.  Each lamp comes with an extra set of replacement motors, extra string, wall adapter, user manual, and the lamp itself.
I also offer a combined Aquarius and Pisces reward perk which will save significantly on shipping by combining the costs.  As a result, they will both be shipped in 1 large box instead of 2 separate packages.
If you wish to build Pisces yourself, I offer a lower cost reward perk where all the digital design files are provided which include:
STL models (for 3D printing)
PCB gerber (for manufacturing the bare circuit board)
Source code (for loading onto the Arduino Nano microcontroller)
BoM (Bill-of-Materials) to source various parts
Note that the digital reward tier has NO physical reward items, they are strictly files that you can use at your own discretion to build a personal version of Pisces (not for commercial).  If requested, I can sell sell any individual parts as necessary.
Some backers may be presented with VAT/customs invoices of which I have no control over.  The packages will be declared as "Novelty Art Sculpture" so please check with your local post office for exact duty rates.
If you were a previous Aquarius customer, you can share a picture or video of your lamp on social media and tag it with #aquariuslamp or #aquariusfountain to receive a $10 CAD rebate upon Pisces reward delivery.  The rebate will be in the form of PayPal and will be sent after confirming the social media posting.  All it takes is less than a minute of work to share your post to receive $10 CAD, easy! 
The effect is even visible in moderately lit rooms

FINAL NOTES, THANKS, & CONSIDERATION
I'm currently a solo act (relying on help from my wife and 1.5 year old as much as possible!).  Because of that, you can expect that all communication comes directly from me.  I hope I can build a personable relationship with all my backers through constant communication, transparency, and responsiveness.  To have my backers experience the hypnotic, mesmerizing, visual sensations of Pisces is my goal and I will do my best to achieve that just as I did with my Aquarius backers.
Aquarius, my first Kickstarter campaign
Here are some media links for my previous Aquarius campaign if you're interested:
Also, a special thanks to the following who (indirectly or directly) helped with Pisces:
Mark Kriegsman, Daniel Garcia, and Sam Guyer for their wonderful work on the FastLED libraries (https://github.com/FastLED/FastLED)
The FastLED community
Edmond for lending me his camera to film
Everyone @ 3DHubs, OnShape, ProtoLabs, CustomPrototypes.ca
Burning Man
Microsoft Paint
The Maker community
My wonderful and supportive wife Gloria
And of course, my son Ronan, who is non-coincidentally a Pisces 🙂
Support us today and help bring the Pisces ♓ Kinetic Lamp to life!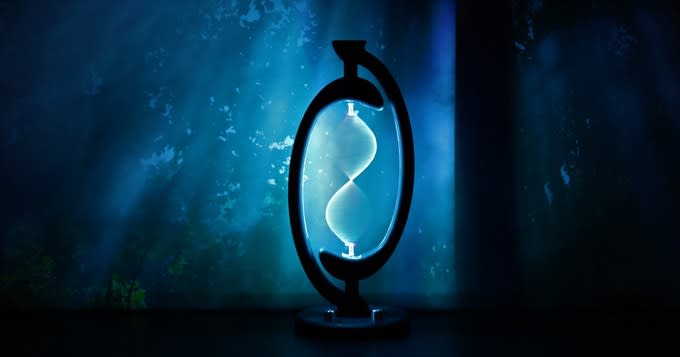 "Glacier"

#stringofpisces #kickstarter #aquariuslamp #standingwaves #stroboscopiceffect #kineticart #art #stem #steam #science #crowdfunding #leds #lamp #lights #fish #pisces #aquarius #zodiac #indiegogo