The Superleaf to Nourish Your Body | Your body will thank you.
Hi! My name is Jacquelyn and I started FERA because I wanted to create a lifestyle brand to help others dealing with debilitating diseases. In high school I was diagnosed with Crohn's Disease and it changed my life. I was rail thin, ghostly white, and had no energy. Eating food was too painful. I was put on medication which covered up my disease, but didn't work for long term. I felt helpless.
It wasn't until I changed my lifestyle and started incorporating Moringa into my diet that I could see a light at the end of the tunnel. Through implementing meditation, yoga, a paleo-like diet and lots of moringa, I was able to heal myself and remain in remission for the past 10 years. I want to share my story in the hopes of helping others by providing natural energy and profound nutrition through FERA. 
Your NATURAL All-in-One 
Nutritional Superfood
         

Because NUTRITION = ENERGY
What is Moringa?
Moringa is one of the most nutrient dense plants on the planet. Moringa powder comes from the young dried leaves of the Moringa tree. Just one serving provides all your nutritional needs including a complete plant protein.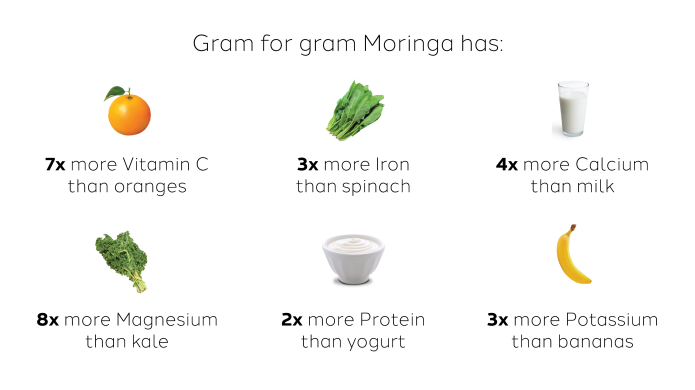 Why should you worry about your nutritional intake?
Because the average American is missing out on 6 essential nutrients. A shocking 90% of Americans are deficient in Potassium.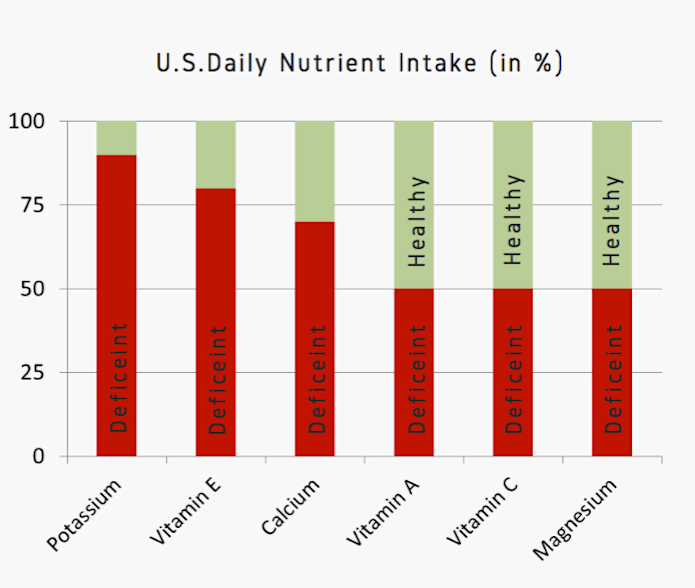 FERA Moringa contains high levels of these 6 essential nutrients and over 80 more!
What's everyone else saying about Moringa?
"THIS SUPER GREEN IS A STRONGER ANTI-INFLAMMATORY THAN TURMERIC" 
"WE TASTED THE NEXT SUPERFOOD (IT'S NOT WHAT YOU THINK)"
"THE BLOOD SUGAR-BALANCING INGREDIENT THAT WILL TAKE YOUR SMOOTHIE TO A WHOLE NEW LEVEL"
Why am I so passionate about FERA Moringa?
This incredible superleaf helped me overcome my Crohn's Disease 10 years ago and has allowed me to remain in remission due to it's powerful and abundant anti-inflammatories and antioxidants. I want to be able to share the power of the Moringa tree and provide deep nutrition and natural energy through FERA.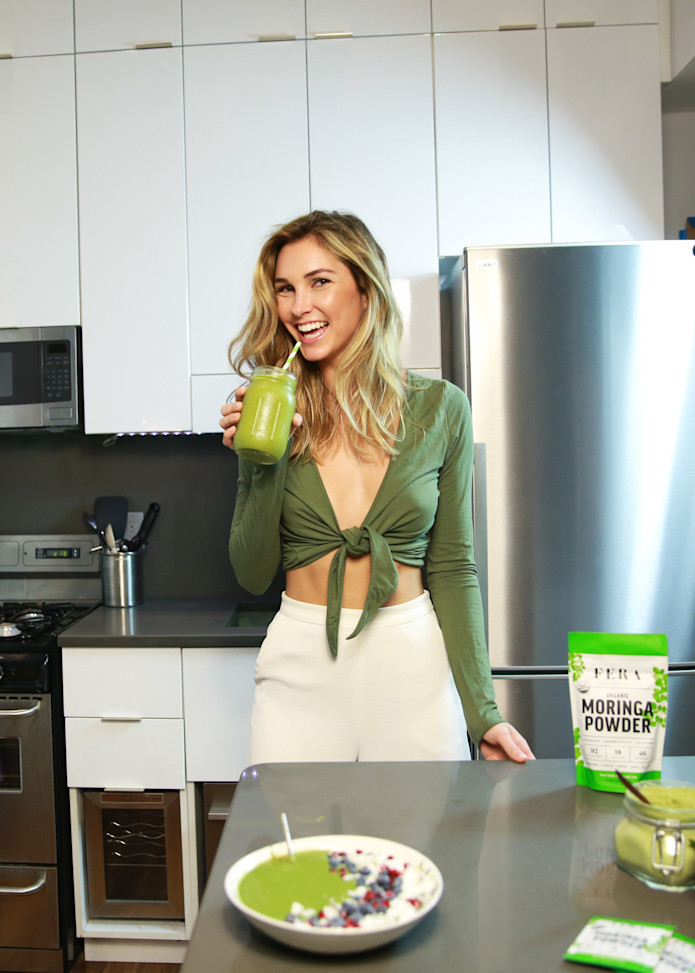 Why FERA Vitality?
FERA Moringa powder was so well received I was inspired to do more. I want to create a Moringa based blend that dissolves in water, adds more benefits to the body and is flavorful. While FERA Moringa is an excellent additive to smoothies and shakes, I want to create an even more powerful ready-to-drink powdered blend that dissolves in any water temperature. I need your help to develop and refine those recipes.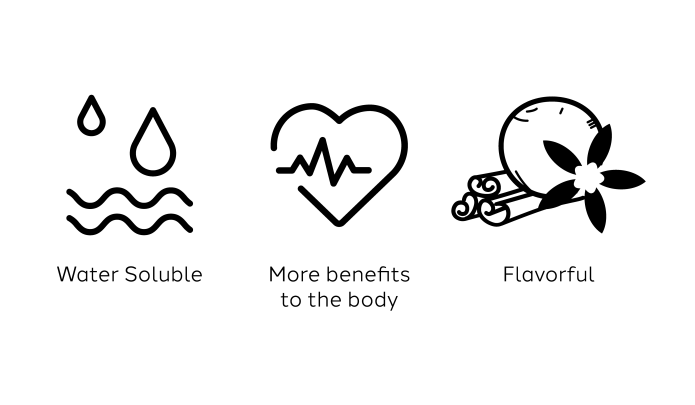 What's in FERA Vitality?
In addition to all the incredible benefits of FERA Moringa, FERA Vitality will contain two other powerful adaptogens called ashwagandha and rhodiola that help us stay energized and sharp. Adaptogens are special herbs that strengthen and stabilize the body while also providing stamina and stress relief. The Vitality blend will enhance focus with less stress, improve memory and help concentration, and stimulate sexual prowess. Because of our busy lifestyles today we need to incorporate FERA Vitality into our diet. 
Below are some benefits of each adaptogen.
Rhodiola Benefits
Energy enhancing
Brain boosting
Fat burning
Ashwagandha Benefits
Lower cortisol
Strengthen immune system
Balance hormones
Together this blend has even more impressive results and stronger benefits. Below are some compelling benefits of the vitality blend.
FERA VITALITY BLEND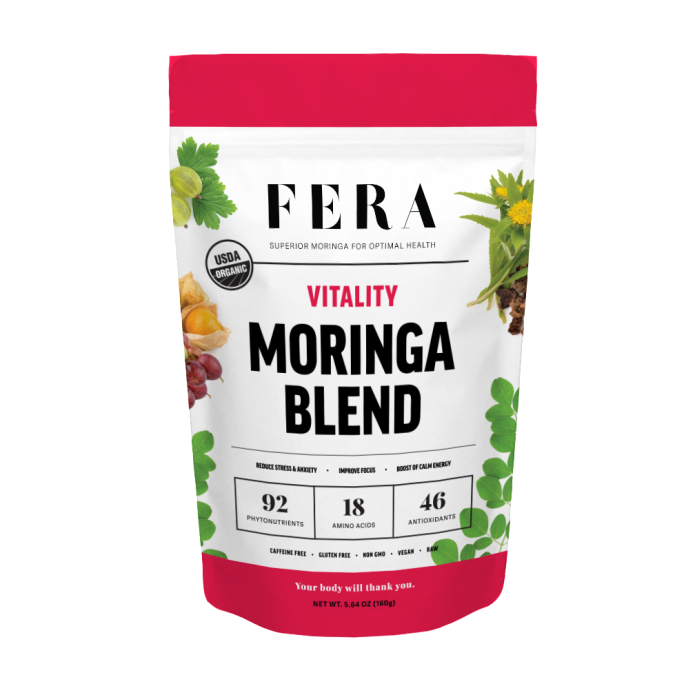 What's the money for?
Creating a new product from scratch is a substantial and expensive undertaking. FERA needs your support to share the power of moringa and make FERA Vitality a reality. 
FERA needs YOUR help to raise $30,000.
With these funds, FERA will be able to source the best organic ingredients and lab test them to ensure the highest quality nutrition and maximum absorption into the body. This nourishing blend will be developed and refined to ensure instant solubility with a delicious yet natural flavor. No synthetic and artificial ingredients here.
All funds exceeding $30,000 will go towards distributing to the U.S. market to reach you faster and more efficiently. FERA wants to nourish and supercharge the world with deep nutrition. 
Below is the process of how the funds will be used for the first production of FERA Vitality.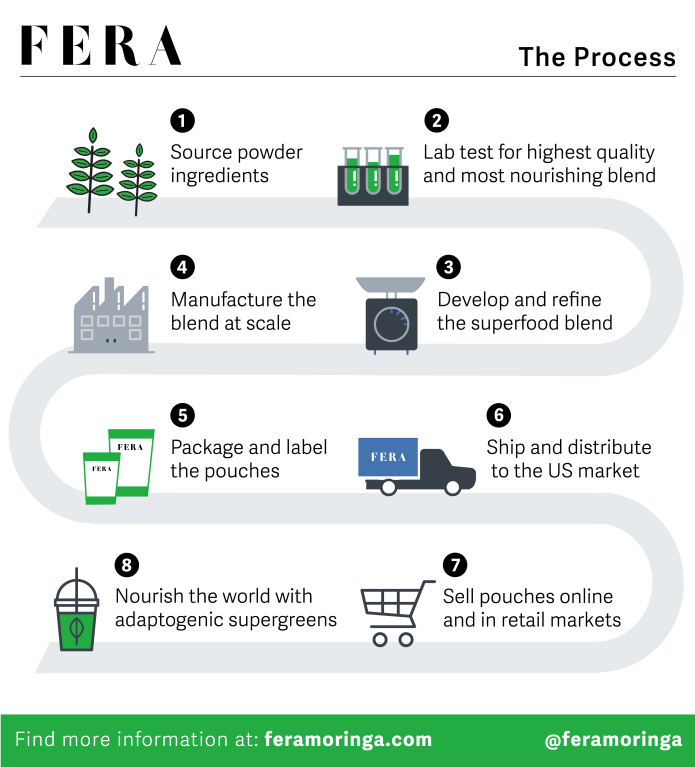 What people said about FERA Moringa Powder…


I've been incorporating moringa in my food on a daily basis for years now and it's been SO difficult to find a quality product in stores that's just as potent and rich in nutrients as the real moringa leaf. Finally I found FERA! Fera is pure, rich and very potent. You can even smell the powerful moringa scent before opening the bag! I've been adding Fera to my daily smoothies since I discovered it and I definitely feel the benefits of being more energized and less inflammation in my stomach. What's great is that you only need to use a teaspoon a day to benefit from it.

This is an amazing product!
Delicious and easy to use!
Add to your morning smoothie or smoothie bowl and "Your Body WILL Thank You!!!"
Mild spinach like flavor.
Vegan! Gluten Free! Plant based protein!
You do not have to be a health nut to enjoy this. The boost of energy from the 100% Moringa Leaf Powder will keep you coming back. This is a must-have in my kitchen!!!

FERA MORINGA is by far the best Moringa on the market as it's green color is rich and not brownish in color as you get from some other Moringa brands. I've been using it for some time now and my energy level has been amazing as it gets me thru the day without ever needing anything but a healthy diet and exercise.

My mom was diagnosed with stage 4 lung cancer. She is having side effects from the treatment and the moringa has been a miracle medicine. Helps with so much!! She is still early in treatment but I have read articles online that claim moringa has anticancer properties.

Fera Moringa Powder is new to me, but I love it. I used it for the first time yesterday and I could not believe how much energy it gave me. I worked outside in the yard and my energy level was high. It is a very natural energy, no shakes or headache, and I could stop and relax when I got too hot, but I was never exhausted from the heat.

I was impressed by all of the health benefits of this product, however was scared it was going to taste gross or have an overpowering taste or smell. I added to my smoothie and the taste of this item was flavor free. Looking forward to making more healthy and yummy smoothies in the days to come.

Awesome powder! Super fresh and with a great smell! Very good for a morning workout! It helps me maintain my day without a crush like coffee does! Highly recommended!
What can FERA Vitality be used for?
FERA Vitality should be used daily to help you manage life's daily stressors while allowing you to stay focused and energized.
Staying focused as work.
Concentrating in a meeting.
Memorization for an exam.
Stimulating your love life.
Assisting performance while exercising.
Improving adrenal function.
Reducing anxiety and stress.
Stabilizing blood sugar levels.
FERA MORINGA ORIGINAL
Eager to try FERA and want something NOW?!? Visit the FERA website here and try FERA Moringa Original. You are just days away from feeling the energizing and stimulating effects of this incredible superfood. Your body will thank you.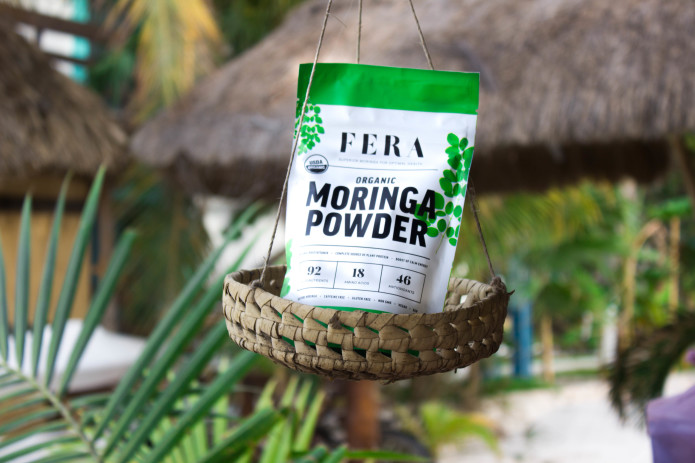 Follow FERA!
Facebook: FERA
Instagram: @FERAMoringa
Twitter: @FERAMoringa
Pinterest: FERA
Website: http://www.feramoringa.com