The Undercover V2 – Mobile Changing-Room Backpack! | We're back with a new and improved Undercover Version 2.0!
With over $150,000 previously raised and 2,500 units shipped – we're back with a new and improved Undercover Version 2.0!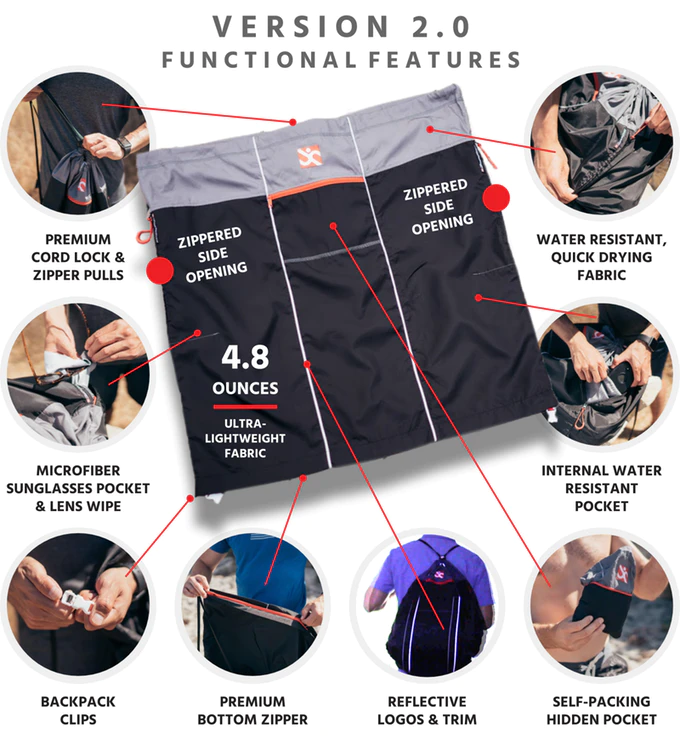 If you're still using a towel to change clothes outdoors, listen up!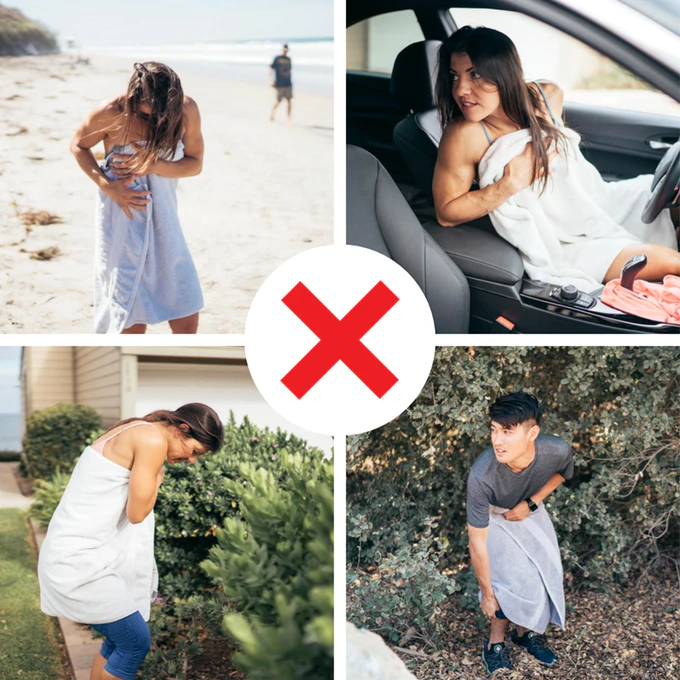 There comes a time in every active person's life where they run into this problem: How to change clothes after your workout if you don't have access to a clean, or a private place to change (which happens often, sometimes every workout for some. The struggle is real.)
Say goodbye to changing in the back seat of your car, awkward towel changing in public, and public restrooms. 
The Undercover Version 2.0 is FASTER, QUICKER, and more convenient – saving you time, hassle, and frustration.
The Undercover V2 was designed to solve the problem of having to do outdoor wardrobe changes. This amazing patent-pending design is not available anywhere else, take a look.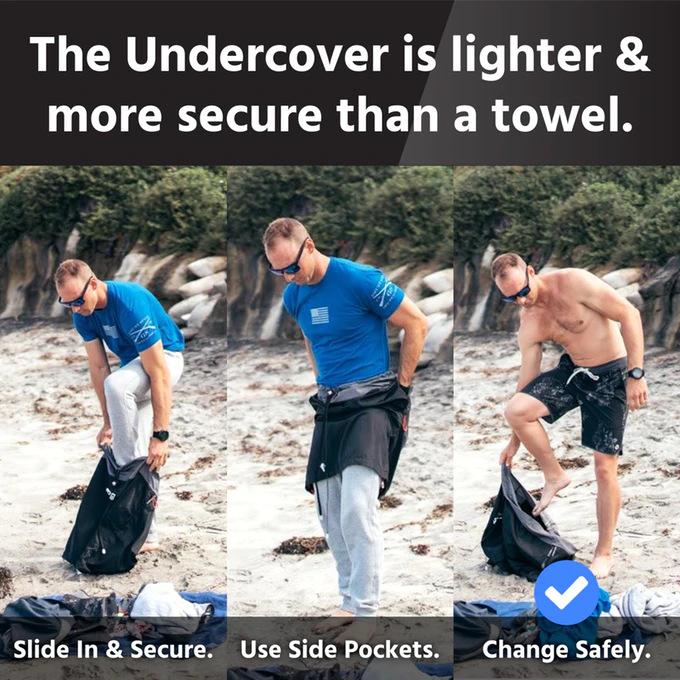 How it Works (for bottoms): The Undercover V2 is designed to cover you up securely by a drawstring, and with it's featured patent pending Side Access Openings, it allows you to access anything you need to remove. To redress, reverse the process. Slip out. Bam. That simple. You know you need it.
It's perfect for the ladies too!
Change into and out of sports bras, shirts, bikinis, and more with ease!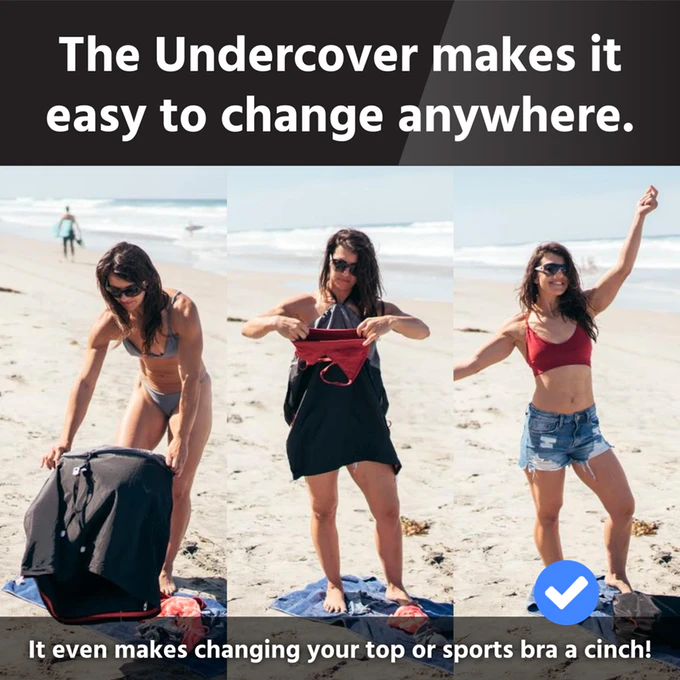 How it Works (for Tops): Ladies, you can now change your top without any embarrassing slips!
To start, slide The Undercover over your head and loosen the cord lock.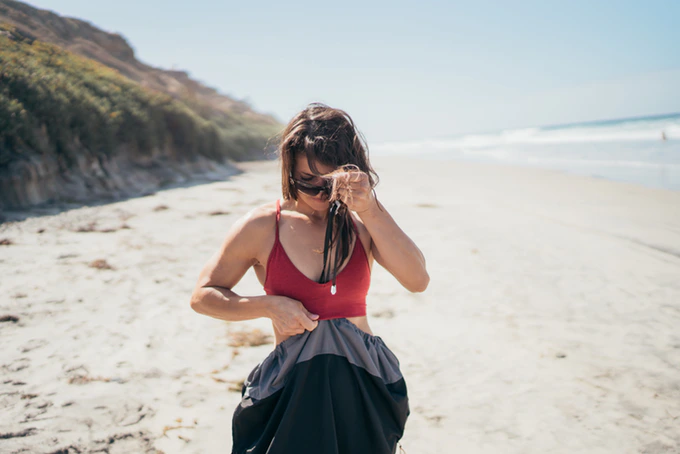 Next, slip your head into the strap loop and cinch the cord lock behind your neck to secure.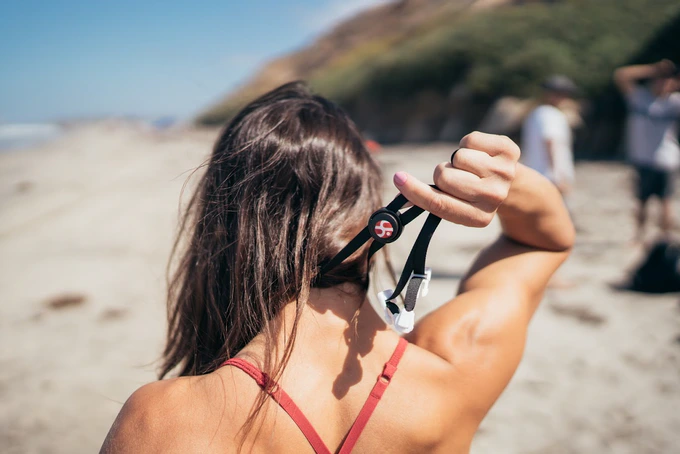 Then, you can remove your top or bra from the top or from underneath using the Side Access Openings (best for bikini tops and traditional bras).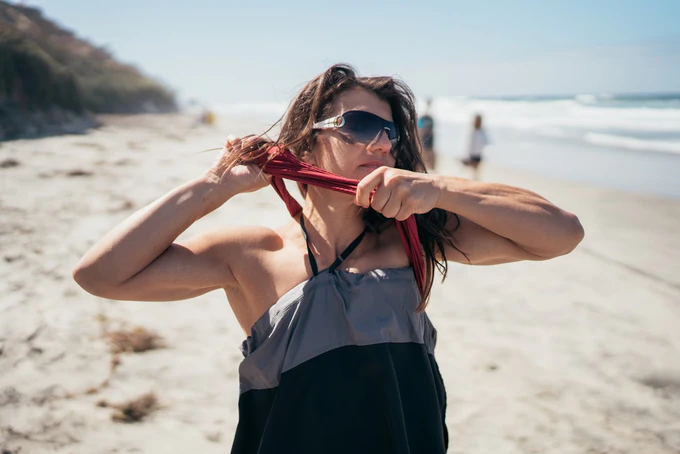 Reverse the process to wear a new top. Bam. Faster and more secure than a towel.
It also converts to a backpack! (Yes, really!)
When your change is complete, zip it up, attach the clips, adjust to fit, and The Undercover 2.0 becomes a convenient Backpack.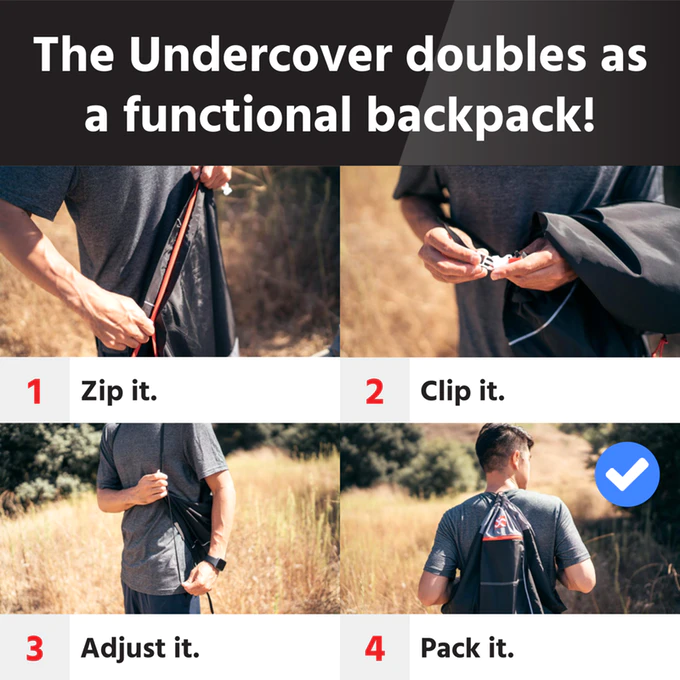 You'll wonder how you ever "adventured" without it.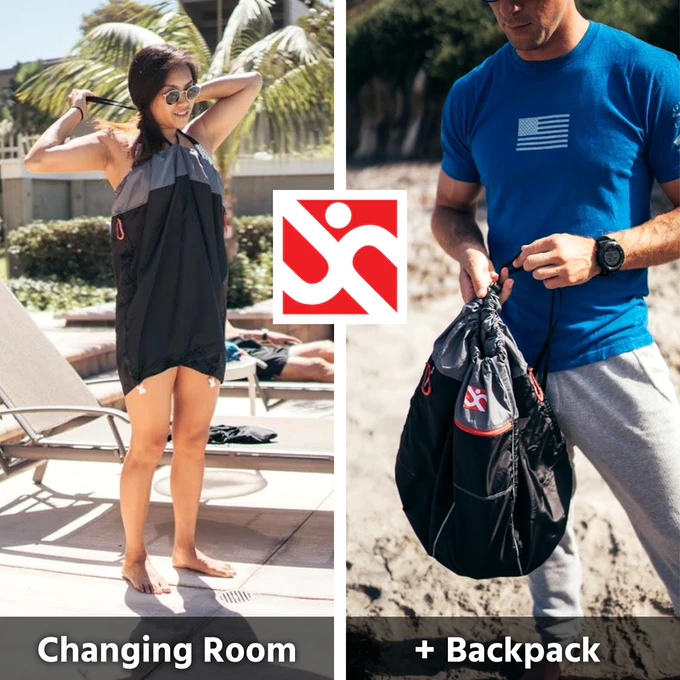 With The Undercover, you're ready for anything! 

New and improved!
NEW technical fabric is even more durable, water repellent and moisture resistant. It's machine washable. It's perfect for people of all shapes and sizes. Now weighing in at approximately 4.8 ounces, it's 1/3 the weight of the original, and half the size – you'll hardly notice it's there. Easily tuck The Undercover 2.0 in your luggage, glove compartment, or clip it to your pack and take it with you.    
The Undercover is the world's first mobile "changing room" of it's kind.  Use it for instant privacy, so you can change clothes anywhere with ease.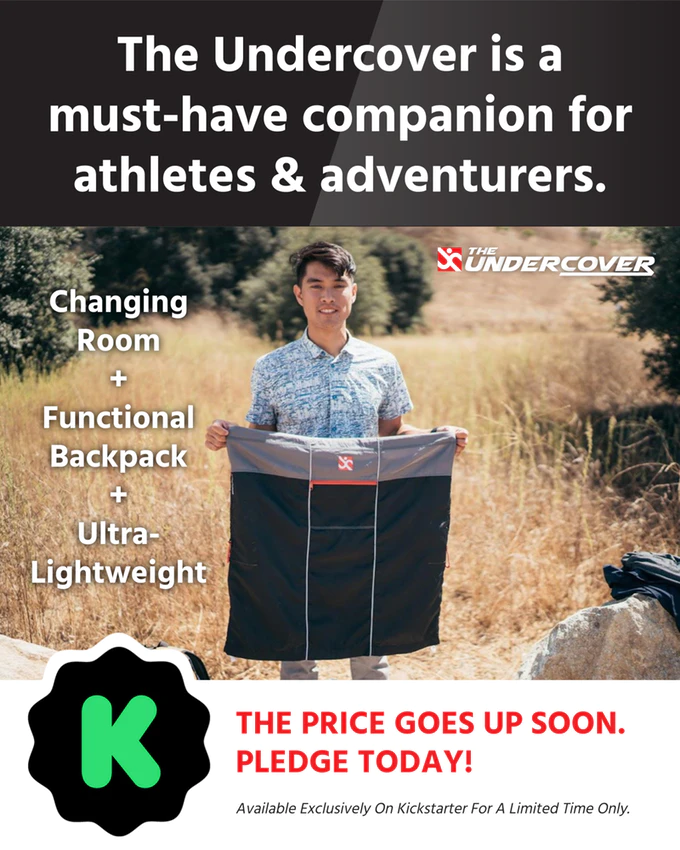 Version 2.0 Includes 9 Brand New Features + Upgrades!
NEW ONLY 4.8 OUNCES!  (73% Lighter than Version 1!)
NEW Ultra-Lightweight Water Resistant, Quick Drying Fabric
NEW Reflective Trim
NEW Reflective Logos
NEW Internal Pocket
NEW External – Self Packing Pocket with Double-Sided Zipper
NEW Branded Cord Lock
NEW Premium Zipper Pulls
NEW Extendable and Improved Microfiber Lens Wipe
NEW Backpack Clips
UPGRADED Premium Bottom Master Zipper
UTILITY: 2 x Hidden Key Loops
UTILITY: 2 x Side Pockets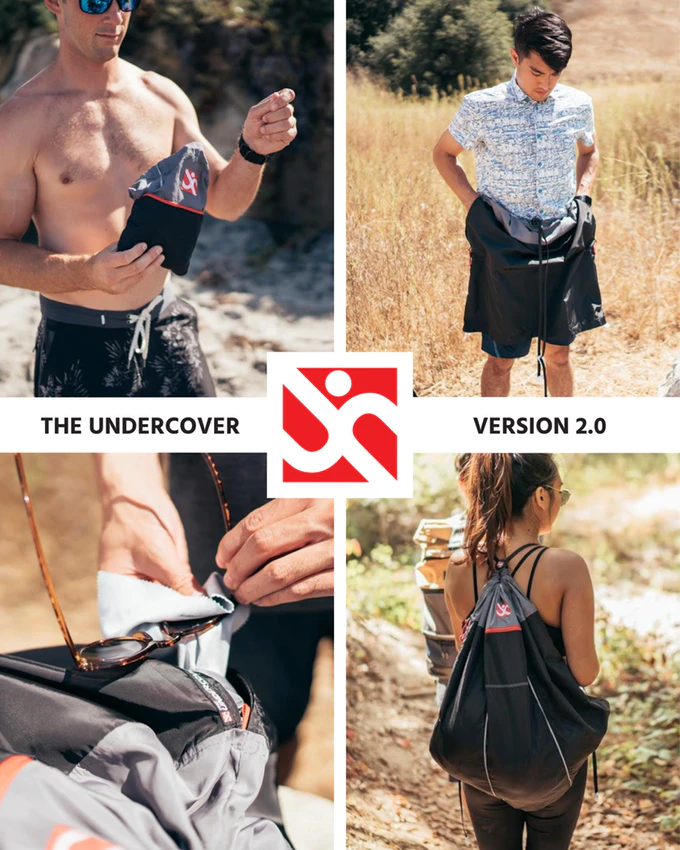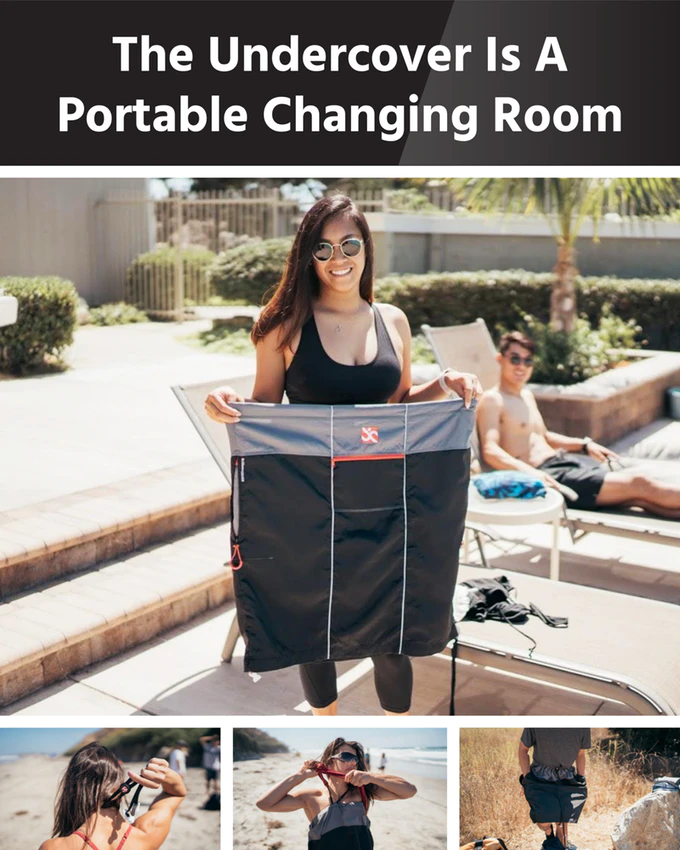 Perfect for anyone who is active – runners, yogis, cyclists, triathletes, swimmers and surfers, yogis, hikers, campers, and more!  
The towel is the enemy!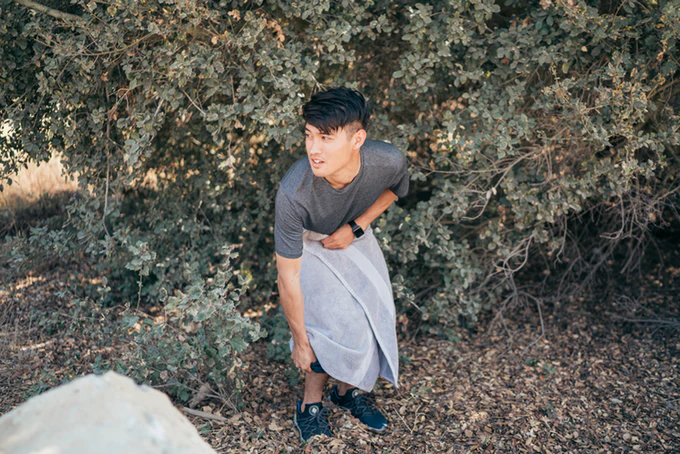 Change the way you change!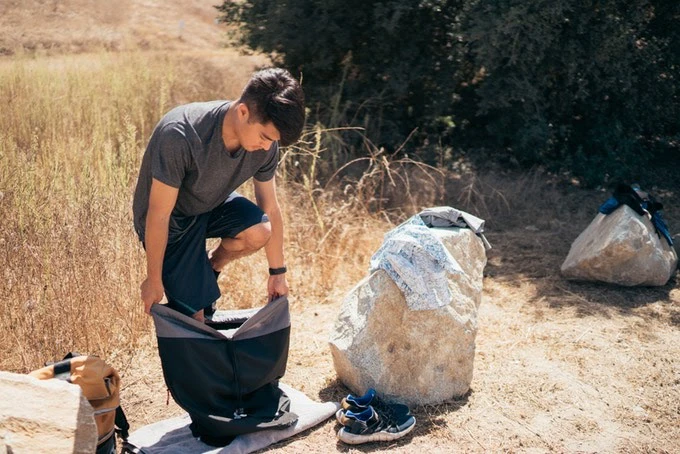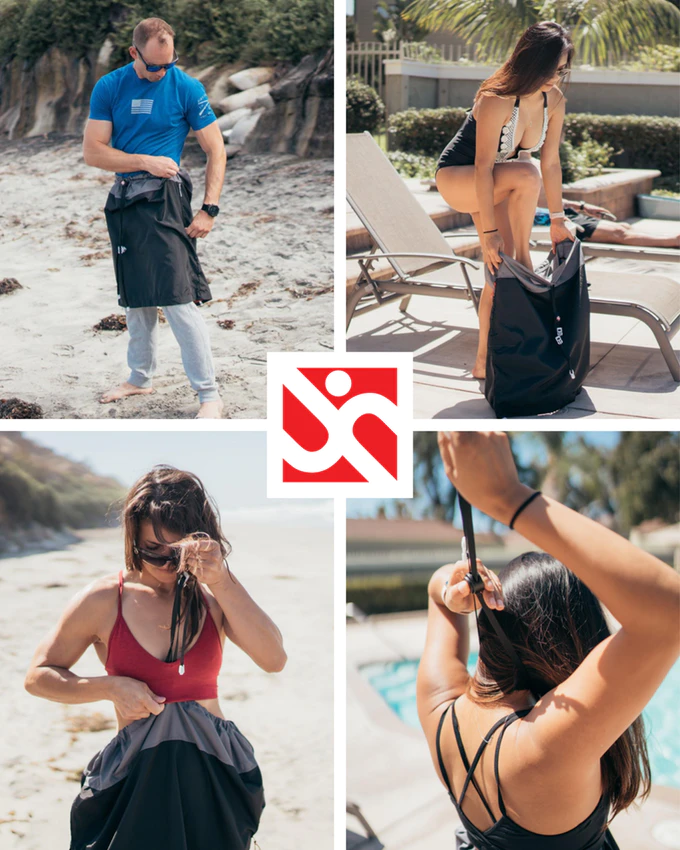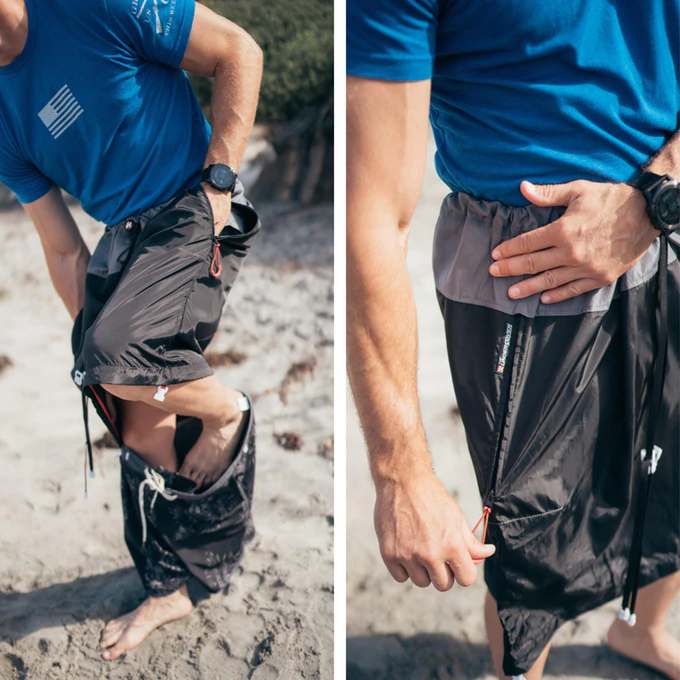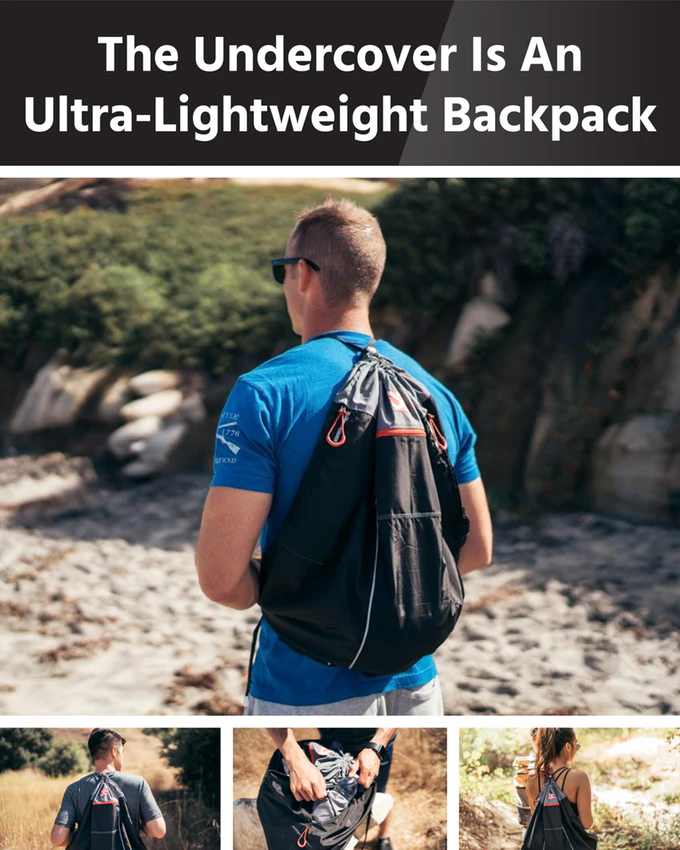 Yes, you can even use The Undercover as a Backpack so you can store your gear to and from your destination.  Zip it & Clip it, adjust the straps for fit, and boom- it's a Backpack.  You know you'll need this!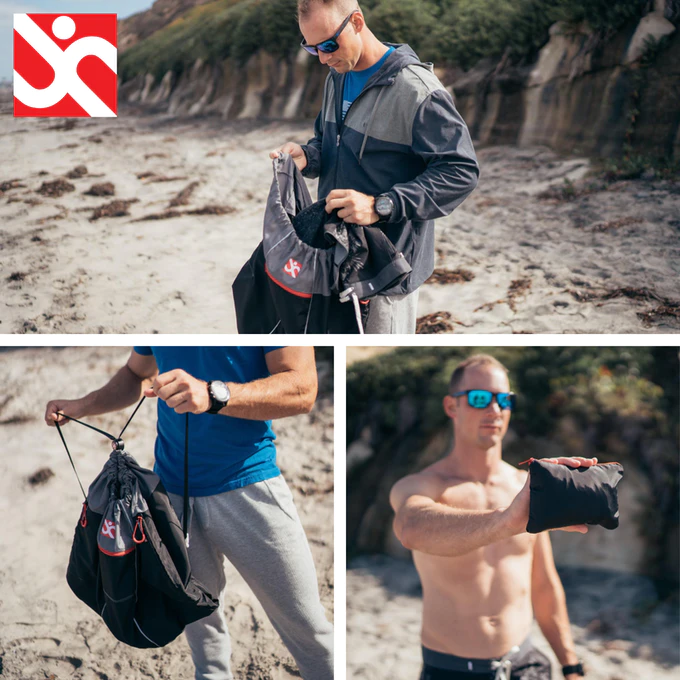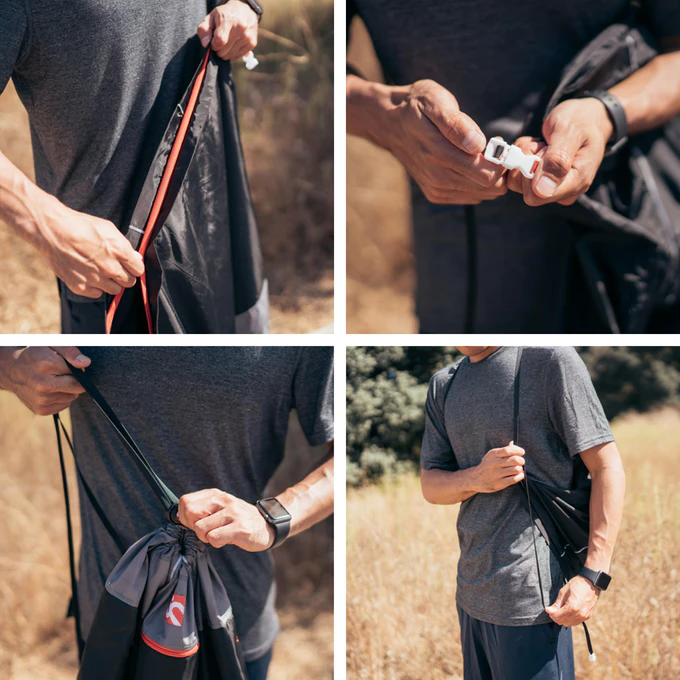 Cross the straps across your chest for added security.  Holds 10 lbs safely!  It's legit!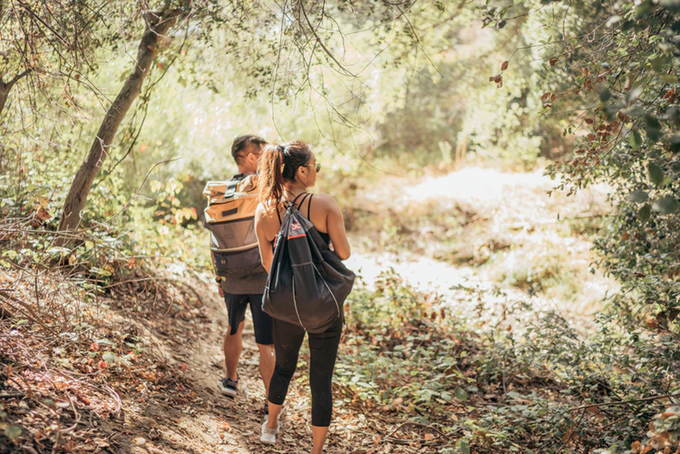 Water-Resistant Pocket
The NEW separate Water Resistant Pocket can store your wet or soiled items while keeping your other valuables protected.
2 Key Loops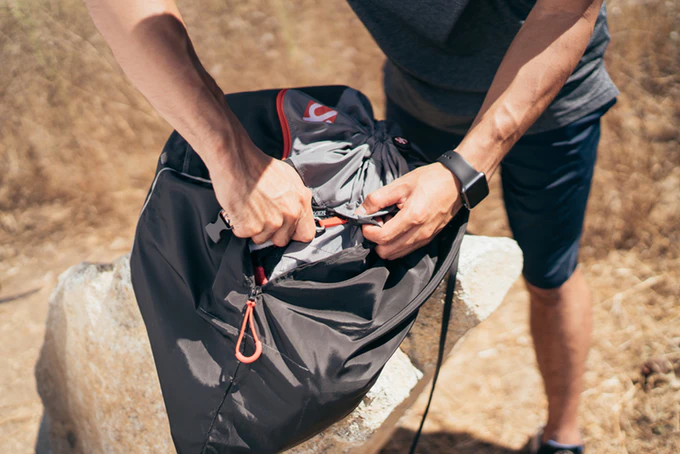 New Reflective Details
The new reflective piping and logos give an added level of safety when you're on the go. Convert The Undercover into a backpack and take on the night with ease!
Stealth Pockets
Store Small Stuff +  Pocket for your Sunglasses. Two top-secret side pockets! Store a water bottle, phone, wallet and more in one pocket.  The second side pocket is designed to store your Sunglasses, and is has a NEW Micro Fiber Lens Wipe fabric so you can keep them clean anytime!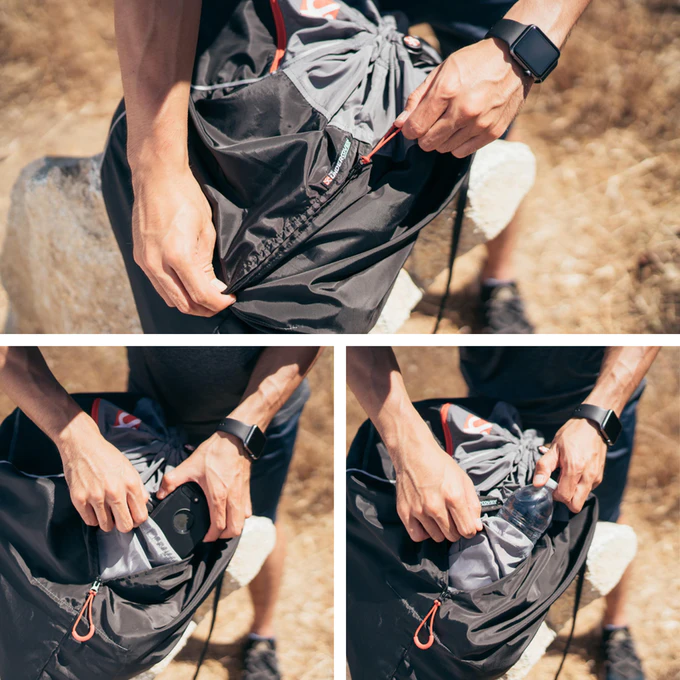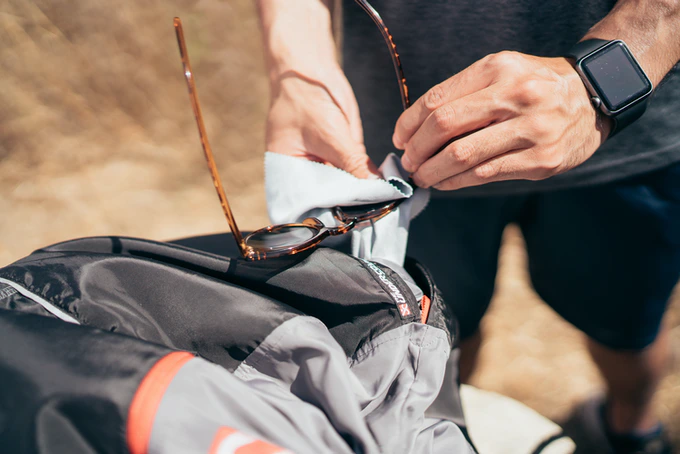 Dry/Wet Pack:
Protect Your Stuff: Use the 4th pocket, an Internal Moisture Resistant pocket, to keep your wet shorts, kit, mankini, or bikini away from everything else in the bag. You can also use the pocket to keep the contents drier.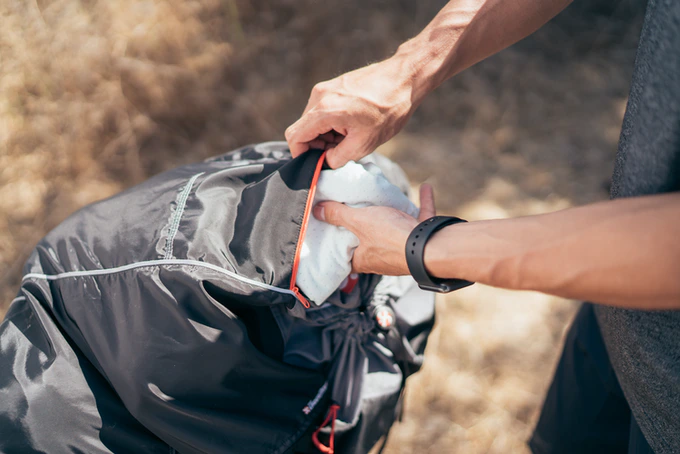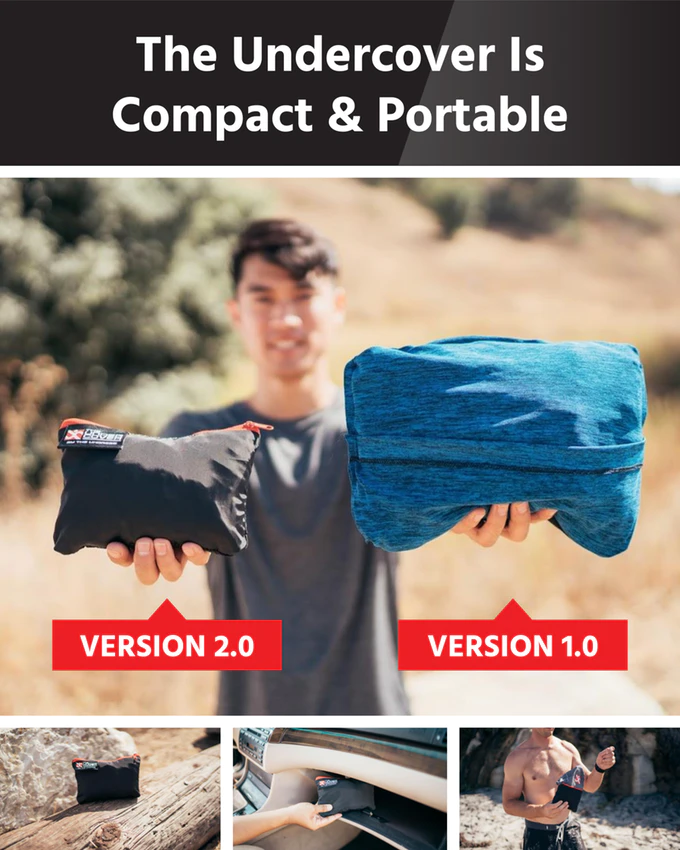 Quick & Easy Self-Packing:
PACK IT UP! The Undercover V2 is self-packing and SUPER compact. You can use the same Internal Pocket to fold it into itself! The Undercover V2 only weighs 4.8 ounces (Less than half a can of beer!) and is much smaller and compact than a bulky towel. Keep one in your gear bag, glove compartment so you are ready for anything.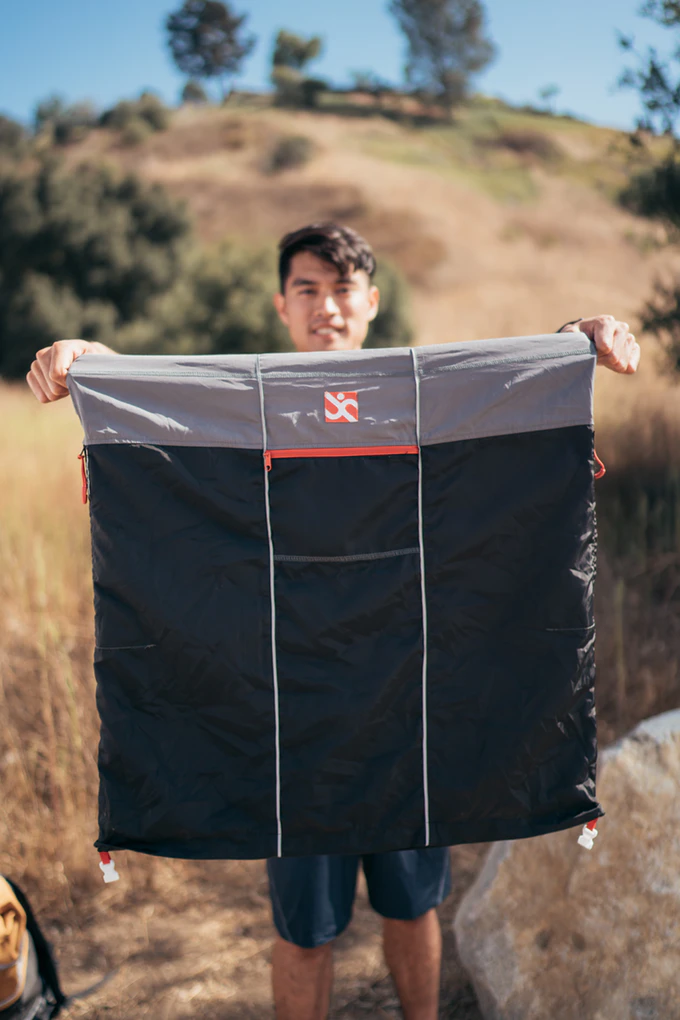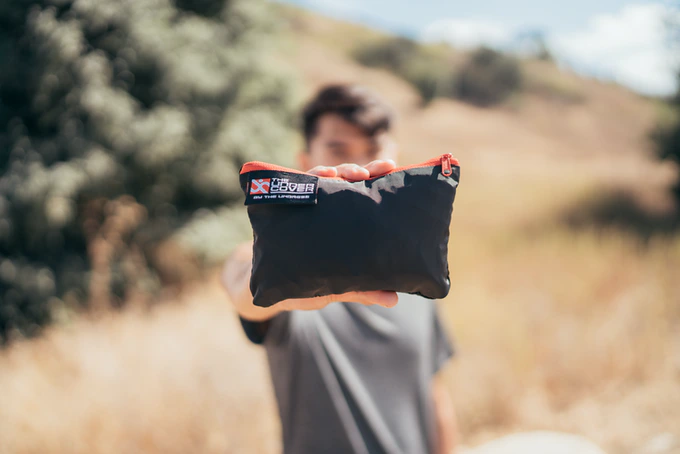 Ultra-Lightweight:
NOW 73% LIGHTER, AND MORE COMPACT than the original version!  PERFECT FOR TRAVEL!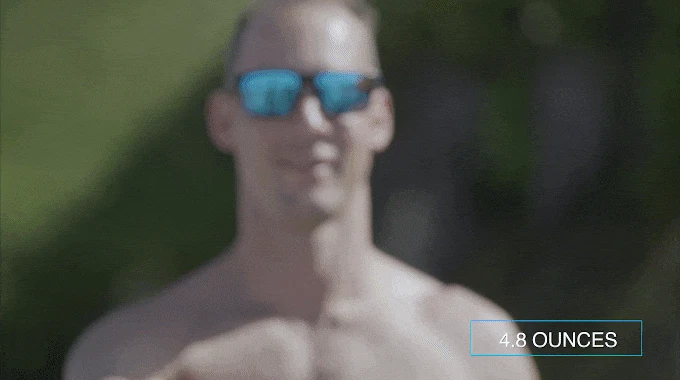 More compact than a bulky Towel:
Better than one, too. The Undercover is much smaller than trying to lug your big bulky fluffy beach towel around just to do your clothing changes. Smaller is sometimes better.

Everyday Carry:
Keep The Undercover in your gear bag, locker, or car at all times – You'll be using The Undercover more than you think, which is a good thing because that means your outdoors, killing it, and not stuck behind a desk.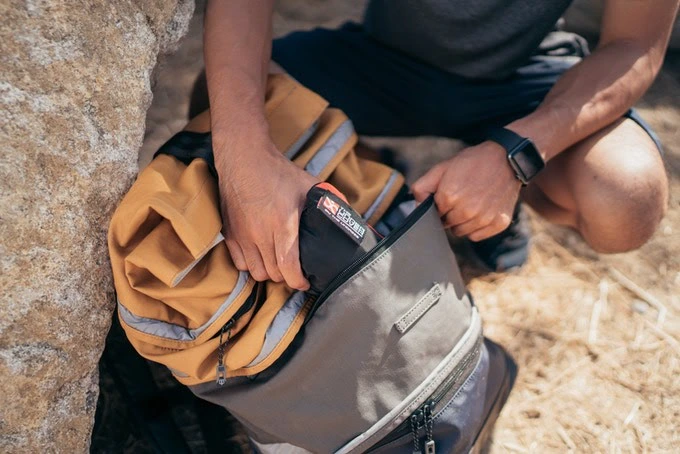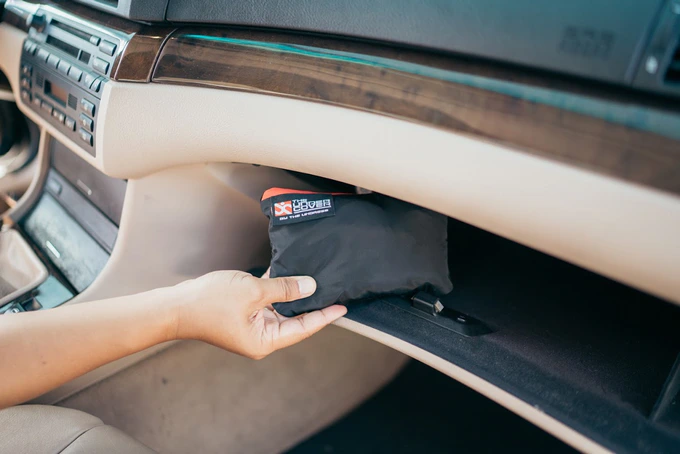 In conclusion, our Super-Scientific Research has concluded that The Undercover is:
3x faster than a Towel Change
140.6% percent easier
300% more secure than a Towel
1,567% Cleaner than a public restroom
8000% cooler than changing with a Soiled Napkin
75% of all statistics are made up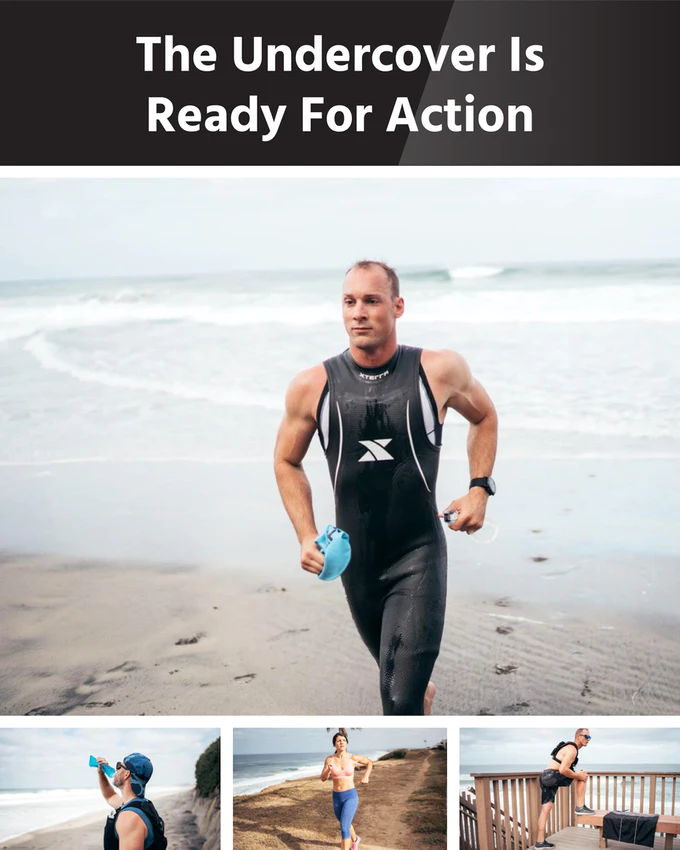 The Undercover is perfect for: 
Athletes, Adventurers, Team Sports: Use it everywhere (Don't leave home without it)- Imagine: Pack up The Undercover with your gear, change into your gear, and pack up all your stuff and strut home, easy-peasy style.
Runners, Cross-fit, Triathletes, Soccer Players, Swimmers, and more- we all change in odd places!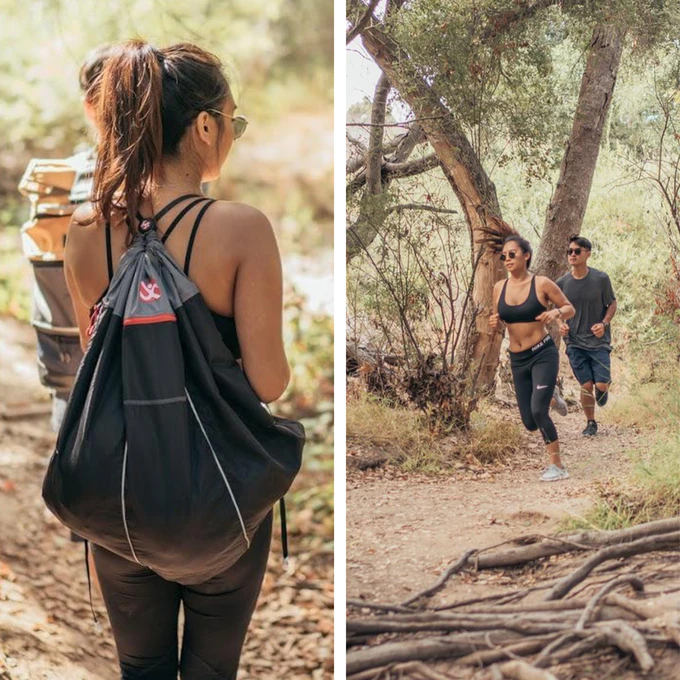 Teenagers and School Kids:  Let's face it – NO SCHOOL KID enjoys being forced to change in locker rooms or summer camp.  Do your son/daughter a favor and give them The Undercover so they have an option that gives them better security, and peace of mind.
Little Kiddos:  Instead of jamming your little kiddo in a cramped public restroom stall, while trying to squeeze between your stroller and the toilet, you can easily use The Undercover to avoid all of that headache.  Heck, there are literally a billion ways The Undercover can save you pain and suffering of raising a small child!  We know!  The struggle is real!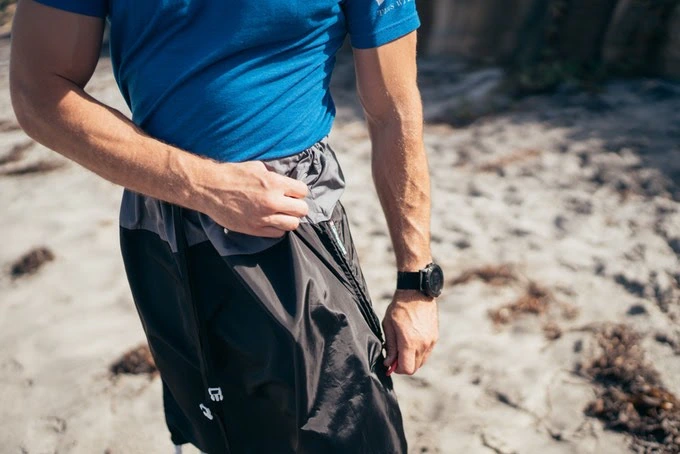 Sizing: One Size Fits Most!  (Max waist size 45 inches)  It might even be great for your kids! Share it with others. It's a perfect gift.
Colors: Comes in 1 color – Black and gray!

Select Your Perk Now:
With your pledge you are supporting us in a dream of making The Undercover, Version 2 and ending the "post-workout-flashes" forever! With enough pledges we will have enough money to launch this product, produce the orders, design a new website, and more.
We're not new to Indiegogo. With our huge success with our Undercover Version 1, and our women's product called The Undress, we had an overwhelming response to create a new Undercover Version 2. 
We are a company born in crowdfunding and we will continue to develop and launch new ideas with you in this community that we love and believe in.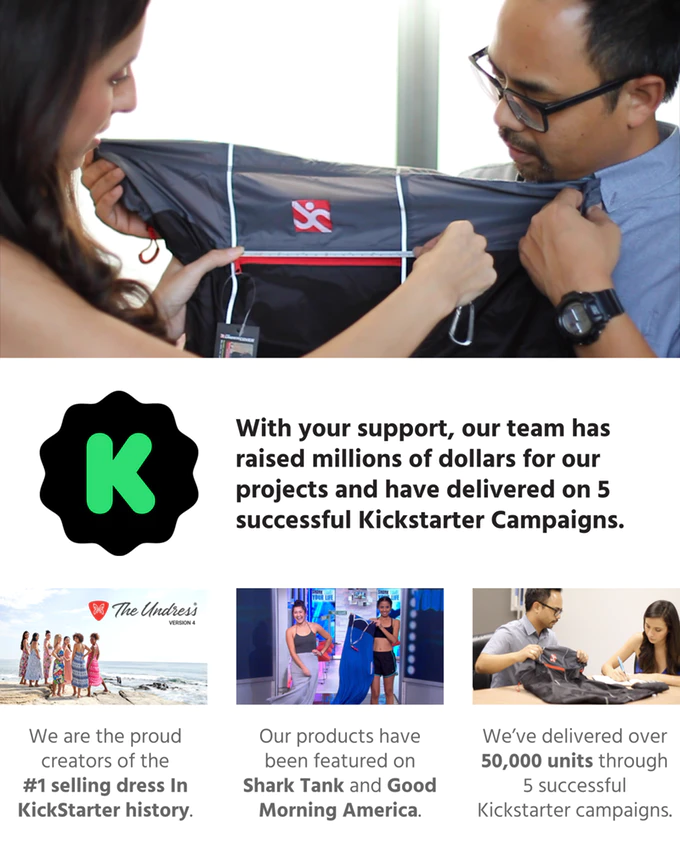 Thank you for your support!
Be a Founder of The Undercover V2 and contribute today by selecting the perk you wish to receive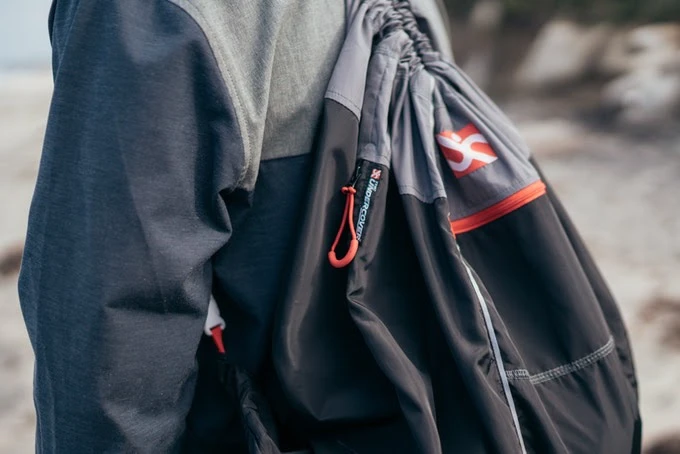 Built to go the distance:
The Fabric fabric used for the body is durable, water resistant, lightweight, and feels high quality to the touch (because it IS high quality).   The fabric is also:
Quick-drying
Sweat-wicking
Water-Resistant
Machine Washable
"I've seen my swimming coach's butt enough for a lifetime so he gets one now. " -Diana S.D.L.
"If you don't think you need this, then you don't work out hard enough." – Danny W.
"I can put chamois cream on underneath that thing before putting bibs on?! SOLD!" – Logan H. Bass, CAT 1 Cyclist
"A product this good doesn't need Testimonials. That's my testimonial."- Allan B.
"I will seriously wear this around town with nothing else." – Doug S.
Production Schedule:
July 2019: Finalize Design of The Undercover V2
August 2019: First Test Production of V2 (Cont.)
April 2020: Launch Indiegogo
June 2020: Ship The Undercover to all Indiegogo contributors
And then, WE Celebrate!
How we came up with the design of The Undercover:
The design of The Undercover was a natural evolution of The Undress, which Dennis invented and developed with April in 2013. (Yes, a dude invented a dress.)
The Undress was the first portable changing room of it's kind for women, and naturally, our community wanted us to design a version with men in mind.  Men don't need the top portion of The Undress, so The Undercover is essentially The Undress "skirt" with a zipper at the bottom hem to close it and allow it to hold items (thus, creating a backpack). So yes, The Undercover has a woman's dress DNA in it, but we know you're man enough to handle that.
The first Undercover was a success, raising over $100,000!
Now, we're finally launching The Undercover V2 as a response to many years of requests for a new design!  We dig it.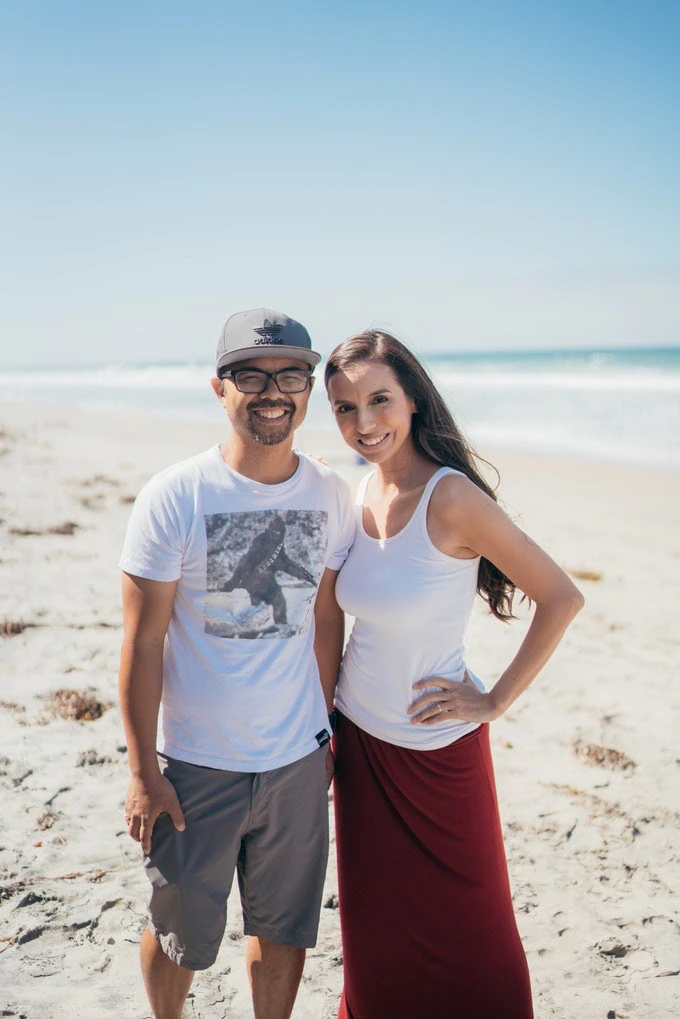 Meet the Founders & Team!
Dennis Caco – Co-Founder, Inventor, Runner, Cyclist, Triathlon, Dad
April Estrada – Co-Founder, Product Development, Genius
Marat Zabelinskiy – Customer Service and Fulfillment Technology
Nestor Pecache – Photo
Mark & Ricardo – Video and Editing
Andew Nguyen – PR & Strategic Alliances
Andrew "Freedom" Lane – Design Hacker
Jerry & Margerita Estrada – #1 Fans
Ben Arena – Mr. Money Bags
Mimi – Ms. Money Bags.  And Marc!
Test Fit Team and Athletes: Tyler, Stephanie, Ysabel, Raymond
Ross Huguet – "The Voice"
Cross Promo Partners
Special Thanks:
Rachelle and Drake Caco – For being an awesome wife (and mom), and amazing son who keeps Dennis inspired to live his dreams!  And my Mom!
Hi Everyone! We have units coming very quickly, and our intention is to ship these as soon as possible after the campaign ends. We're very confident about this first shipment that we have added a guarantee we have never seen before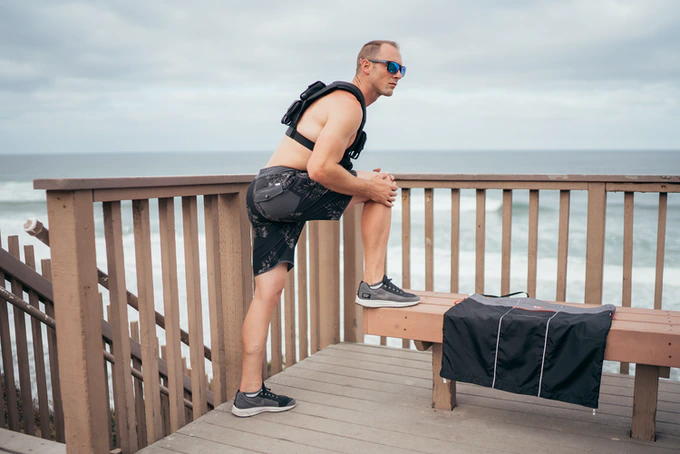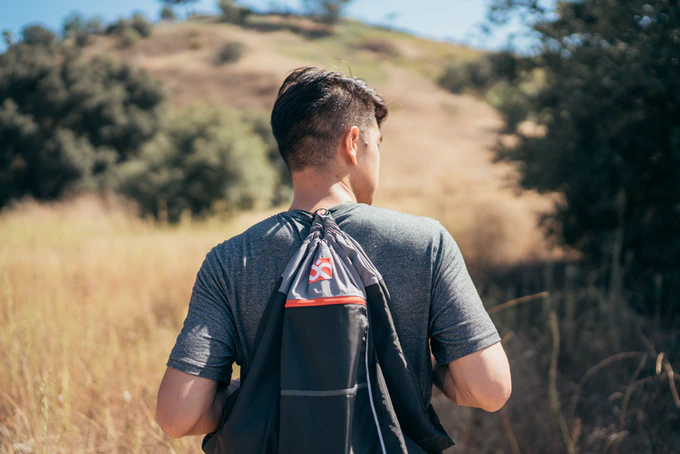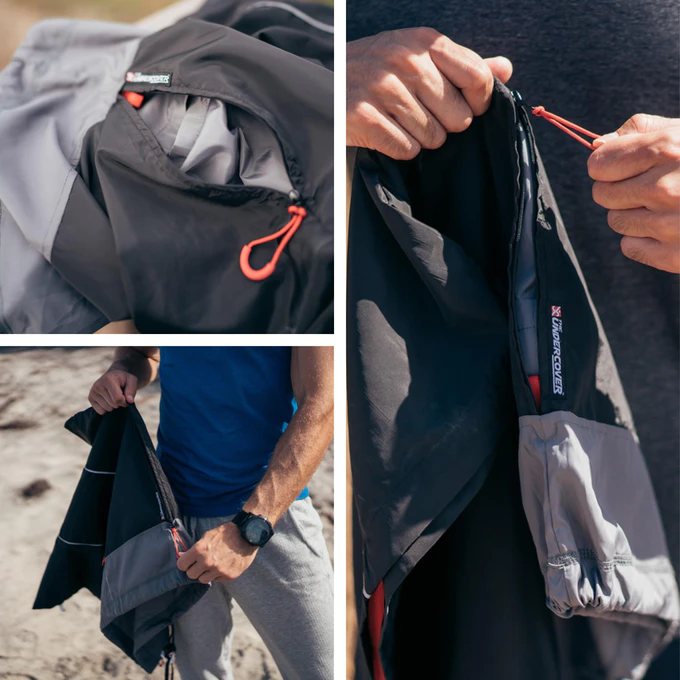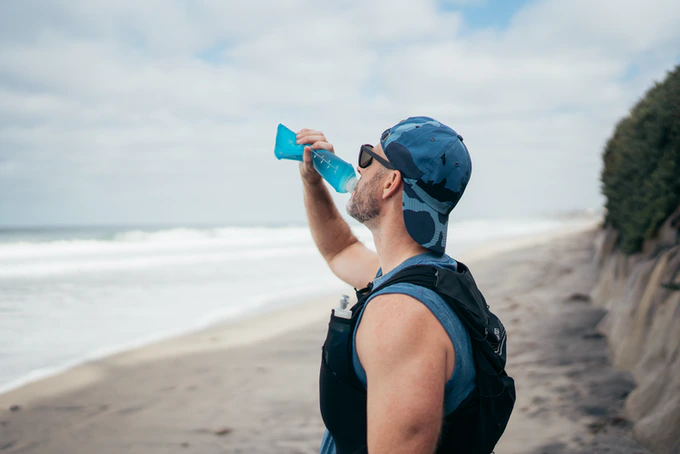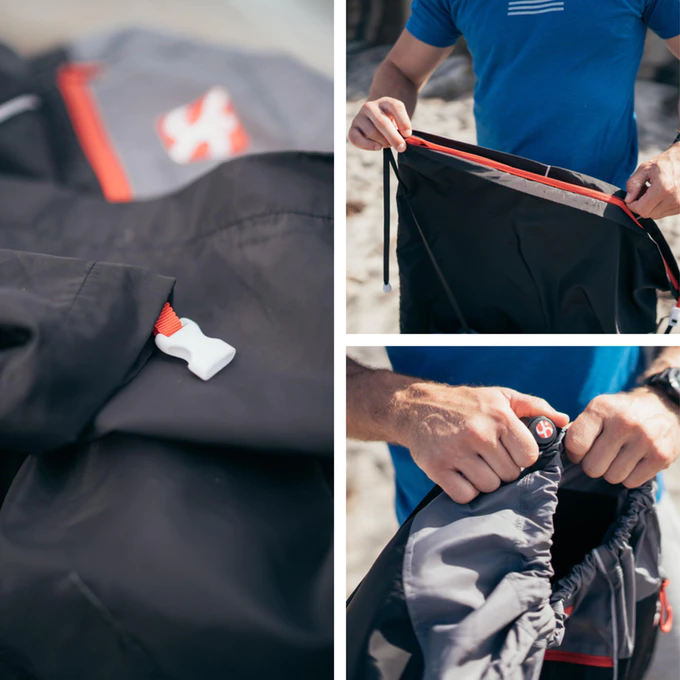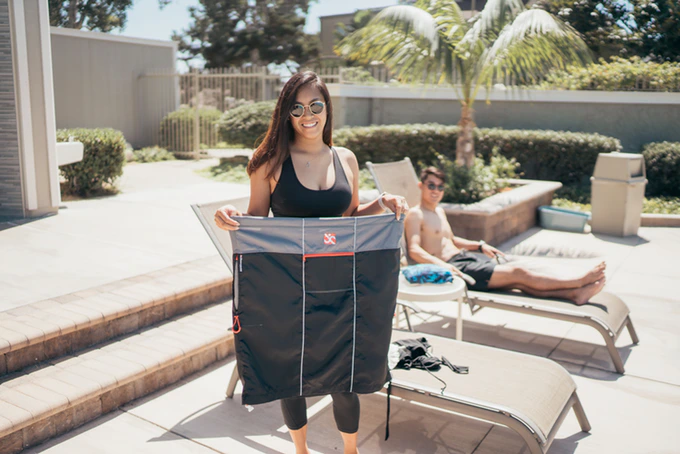 SHIPPING:  Some perks qualify for FREE USA Shipping.  For the lower perks that do not include free USA shipping, they will be charged after the campaign is over to take advantage of bulk shipping rates to benefit everyone.  Expect the average shipping fee in the USA to be $5 per unit which is reasonable, and your cost may be lower or higher depending on your address.  However, we still suggest you get a higher tier reward level so you get free USA shipping anyway! 🙂
INTERNATIONAL SHIPPING PRICES – Is EXPENSIVE!  We don't make money on shipping, and yes, we hate it too!  We suggest buying 3 or more units to cover the initial cost of shipping (Bulk shipping is more cost effective)
Prototypes shown – design, spec, weight, colors, etc. subject to change without notice.  Est. Total MSRP is calculated with $5 Shipping per unit calculated. The Undercover™ and The Undress™ 2016-2020 ©Copyright The Undress, Inc.  Patent Pending.