The World's First Low-Calorie IPA | Help us create an IPA-flavored beer with under 100 calories using natural flavor additives.
Update – We Made Our Goal, Now Take Our Poll
Take the poll here – 
Tastes Great, Less Calories
The past 20 years have seen an explosion of creativity in the beer industry as thousands of small breweries have emerged with a passion to serve their local communities with full-flavored beers that bring a uniquely American character to Old World recipes.
However, one goal has eluded the best efforts of every brewmaster: to create a "light" craft beer for health-conscious beer drinkers who are counting their calories. Mad Hops is trying to change all that by creating an IPA-flavored beer with under 100 calories.
Launched late last year with six varieties – Pale Ale, Irish Porter, Cherry Wheat, Apple Amber, Mexican Lime and Wild Blueberry – Mad Hops Flavored Beer Drops enhance the flavor, aroma and color of any pale American lager, including light beers like Bud Light and Michelob Ultra. And it only adds 5 calories per 12-ounce serving.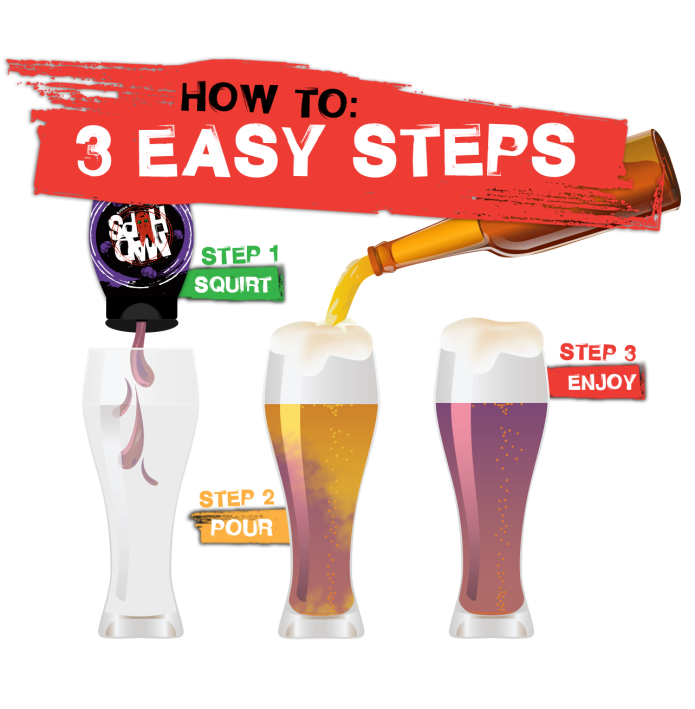 We're not saying we can turn a Bud Light into a craft beer, but it's the next best thing. But don't take our word for it! Watch the crew at Beerded Adventures as they test the 4 major light beer brands and are amazed at how Mad Hops transforms them into something tastier. (The Mad Hops stuff starts about 4 minutes in.)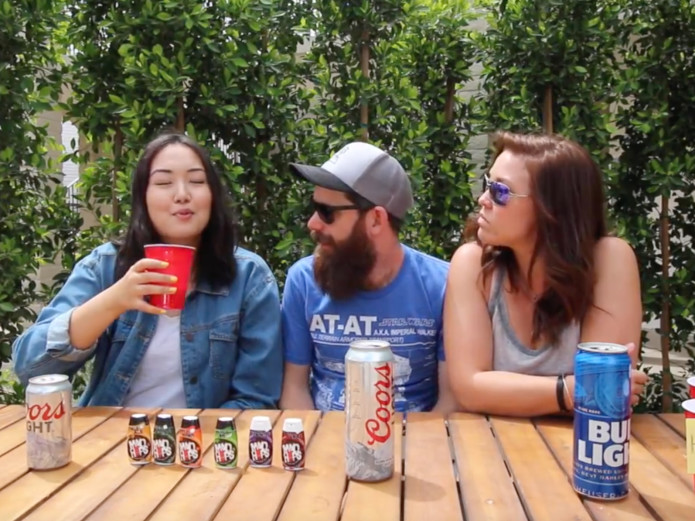 We Need Your Help
Creating an IPA flavor will be our ultimate challenge. We're going to work closely with our partners in the craft brewing world to find the right combination of genuine beer ingredients like hops, malts, bitters to add the depth and complexity of an IPA to a light beer. Proceeds from the Indiegogo campaign will be used to defray the cost of this extensive development process.
We're going to need your help too. Participants in the campaign will get to help us choose what type of IPA to imitate; then during the development process we'll send samples to our Indiegogo Taste Testers for evaluation. We'll compile the results and feed them to our development team. That will keep us on track!
The Impact
BeerAdvocate featured Mad Hops in an article in their May issue – The Power Is Yours: Customizing the Drinker Experience. A lot of people today want to personalize their beer-drinking experience. The explosion of new craft varieties has raised our expectations of how a beer should taste, and we are taking matters into our own hands and changing the flavor of our not-so-flavorful store-bought brews.
Mad Hops' mission is to enable beer lovers to "have it your way." Want to splurge on the latest IPA from that local microbrewery you heard about? Go for it! Got a thirst for a plain and simple pale American lager on a hot day? We're not judging you. Feel the need to pursue some hoppiness and add a squirt of Mad Hops to your Bud Light? God bless you!
Let's ask Shana Martz, a 33-year-old beer lover from Columbus, Ohio, what she thinks. BeerAdvocate did, and she told him she always carries a bottle of Mad Hops Wild Blueberry and Cherry Wheat in her purse for when she feels like drinking something more flavorful. We love you too, Shana!
Please Help Us!
If you agree that people should be able to enjoy a light beer flavored any way they want, please share this campaign with your friends. Creating an IPA-flavored beer with under 100 calories is an ambitious goal. Some would say it can't be done, but with your help, we know we can do it.
Let's make some history! 🙂
Cheers!