The World's Most Advanced Self-Warming Mug | Featuring a charging base that warms your mug and wirelessly charges your cell phone
Already in Production!
The KOPI Mug is a smart, all-in-one self-warming mug + brew system. It is the only mug of it's kind on the market today. Made from super durable ceramic, KOPI's base is inlayed with metallic particles that respond to an electric charge. 
When KOPI is placed on its wireless (water/spill resistant) charging pad, the particles react via electromagnetic energy and heat your beverage to the perfect sipping temp. Plus KOPI uses wireless Qi technology, so it can juice up all your smart devices too!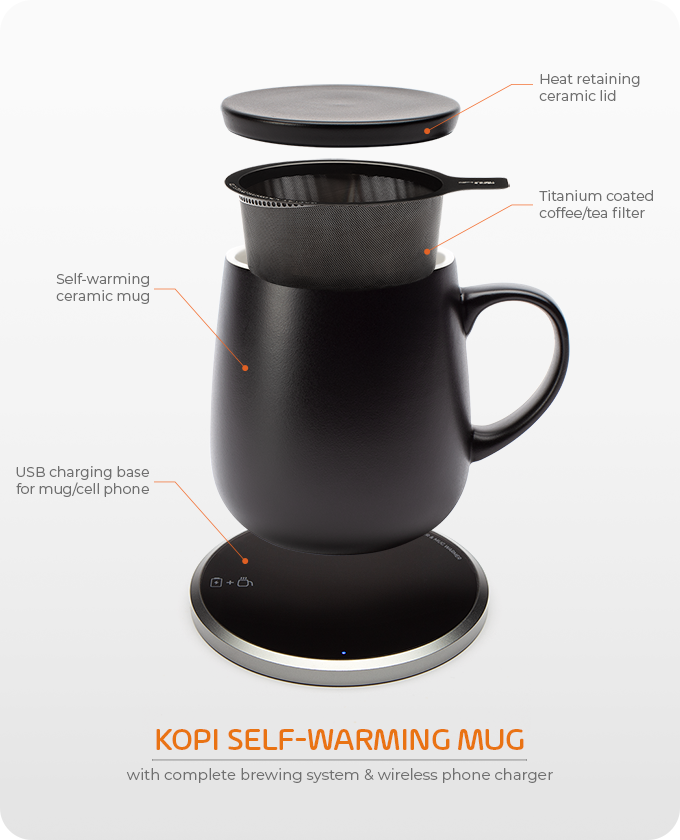 The next step in mug evolution…
Born out of disappointment with current offerings, we decided to design the next step in mug evolution. This is the only naturally sourced, porcelain ceramic self-warming mug on the market – eco-friendly and very durable.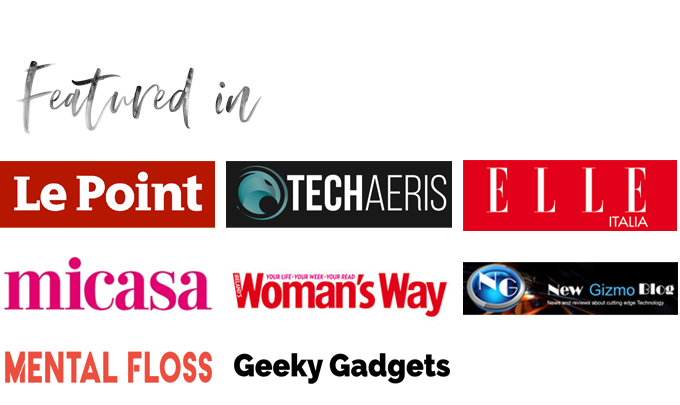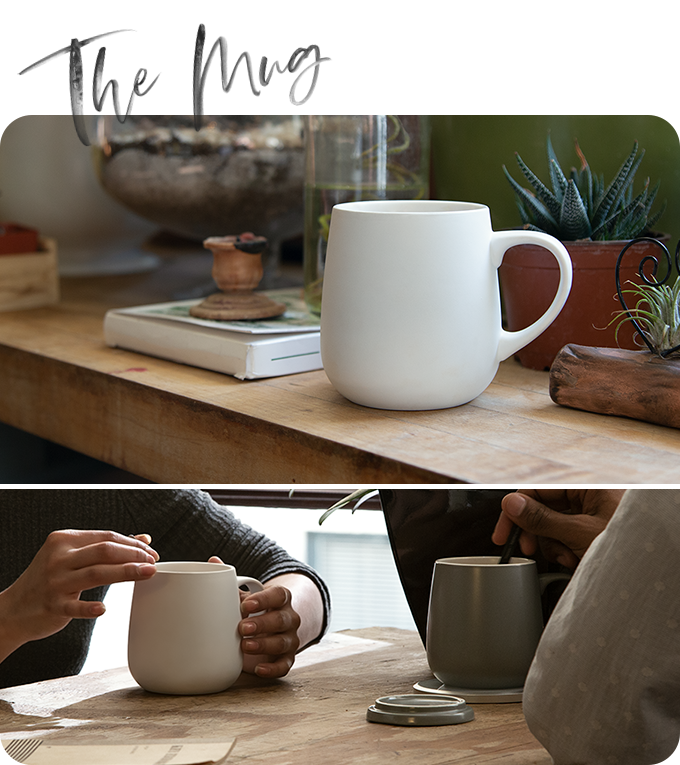 The KOPI Mug is a two part system, featuring the mug itself and a heating coaster that doubles as a top-of-the-line wireless cellphone charger. 
The mug itself is strong: crafted out of high quality ceramic and hand fired by skilled artisans, the KOPI Mug has been exactingly designed to guarantee a long future of usage.
Every mug comes with a lid included, designed to fit snug on the top of the mug and help it retain its internal temperature. 
No more cold coffee…
Through the aid of electromagnetic energy, inlaid metallic particles within the base of the mug heats up. Thanks to this process, your drink will stay warm for a much longer amount of time than with traditional mugs, retaining its heat and maintaining enjoyable quality of your beverage.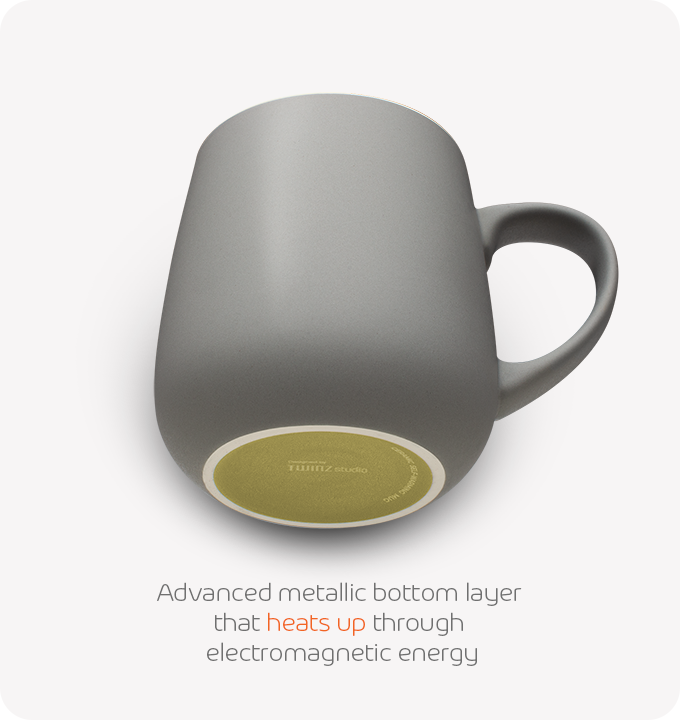 Keeps your coffee/tea at the perfect drinking temperature
The key aspect of an enjoyable coffee or tea drinking experience is the prolonged warmth of the drink itself. Scientifically speaking, the optimal temperature which to enjoy hot beverages is 130°F/54°C. The KOPI Mug is designed to maintain this average temperature for a prolonged period of time, allowing the flavor and freshness of the drink to be preserved. Included with every mug, the lid also helps to ensure maximized warmth for the longest time possible.
Heating Performance Analysis
Performed in room temperature 68°F/20°C for four hours, both with and without the lid. Demonstrates the capacity for the mug/coaster combo to keep your drink at or above an enjoyable temperature (120°F/49°C) for at least four hours.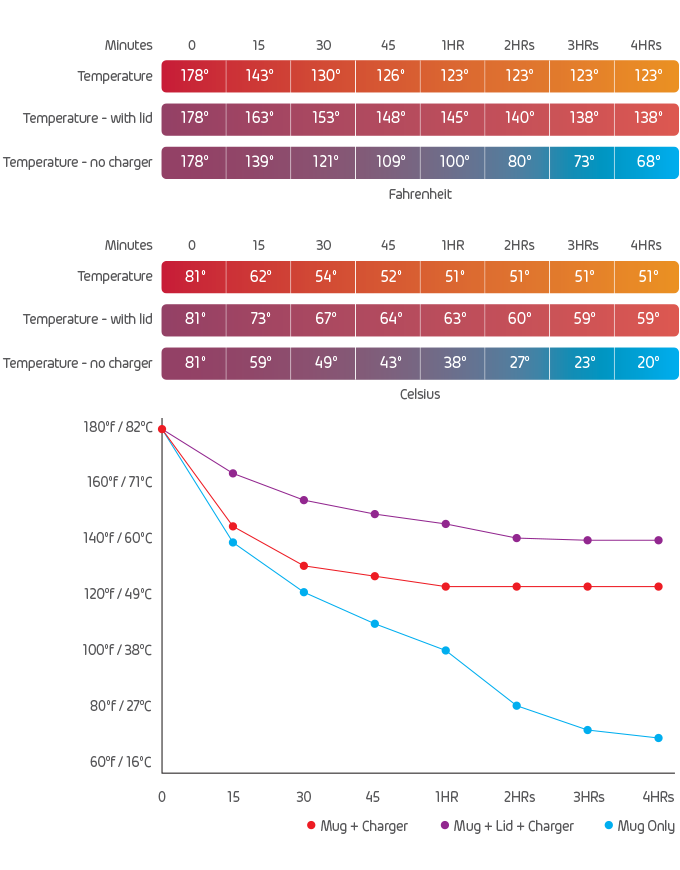 On Porcelain Ceramic:
With a well managed, heat-efficient kiln using non-toxic materials, there are few materials in the world that can match the durability and eco-friendliness of ceramic. Not only this, but ceramic offers unlimited variety in molding shape and form – in other words, ceramic offers us to perfectly fine tune the mug design to be the most ergonomic option available.
Not only is porcelain more dense than basic ceramic, but due to its through-body composition, it is considered more durable and better suited for heavy usage than basic ceramic. Because of this higher density, porcelain is less porous and therefore more suited to handling liquids, especially hot ones. 
Color Options:
The mug is currently offered in white, black, and gray.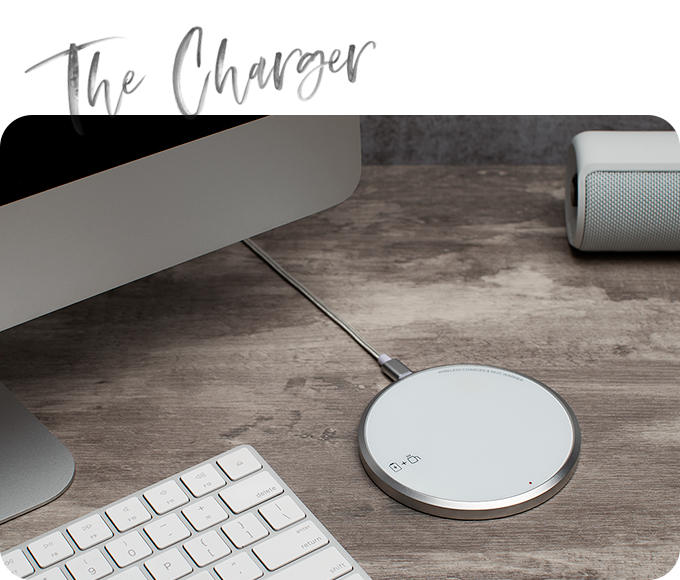 Not only does it heat your mug, it also charges your phone
While the heating coaster provides the function of warming the mug, it offers another utilitarian purpose: wireless cellphone charger.
In designing the charging base, we knew it needed to have multiple functions: anything that goes on your desk or countertop needs to be worth the space it takes up. Because of this line of thinking, we decided to not only ensure quality mug-warming capabilities, but add the included functional versatility of a wireless phone charger. 
Since the unit does not actually heat up, rather providing an electric charge to heat the inlaid materials within the mug, it will remain cool to the touch, allowing your phone to be place on top without risk of damage.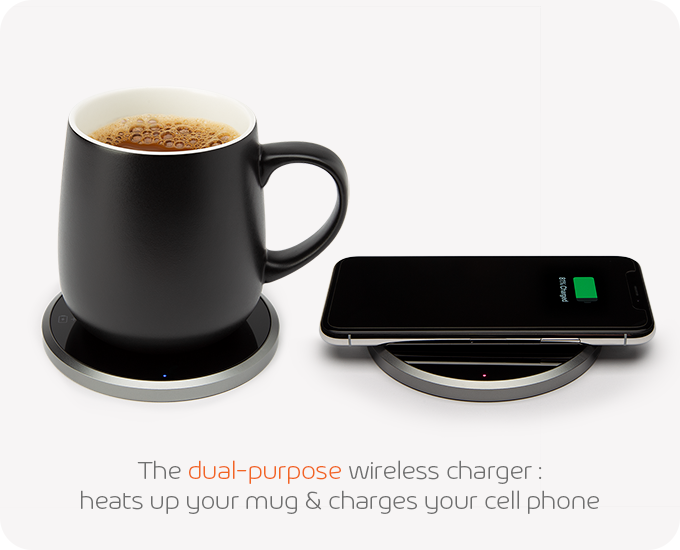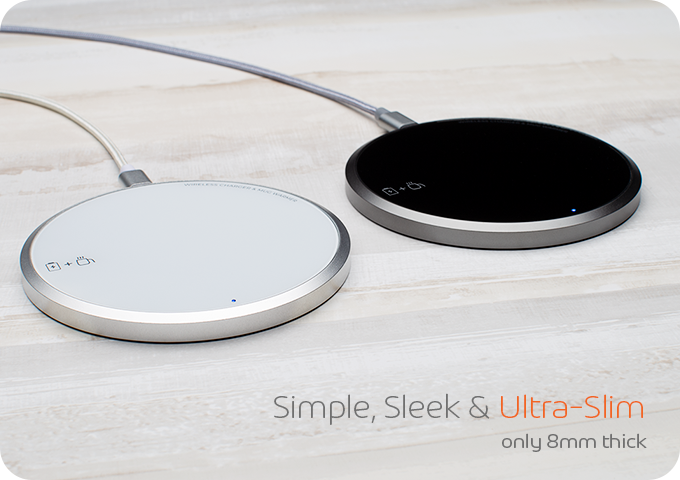 Sleek and stylish
The charger unit, while a wholly functional piece of technology, looks absolutely gorgeous. Offered in both white and black, it offers a modern aesthetic touch to any space, whether in the office or at home. It's footprint is minimal, only 8mm thick, meaning it won't take up a lot of room and can be transported easily.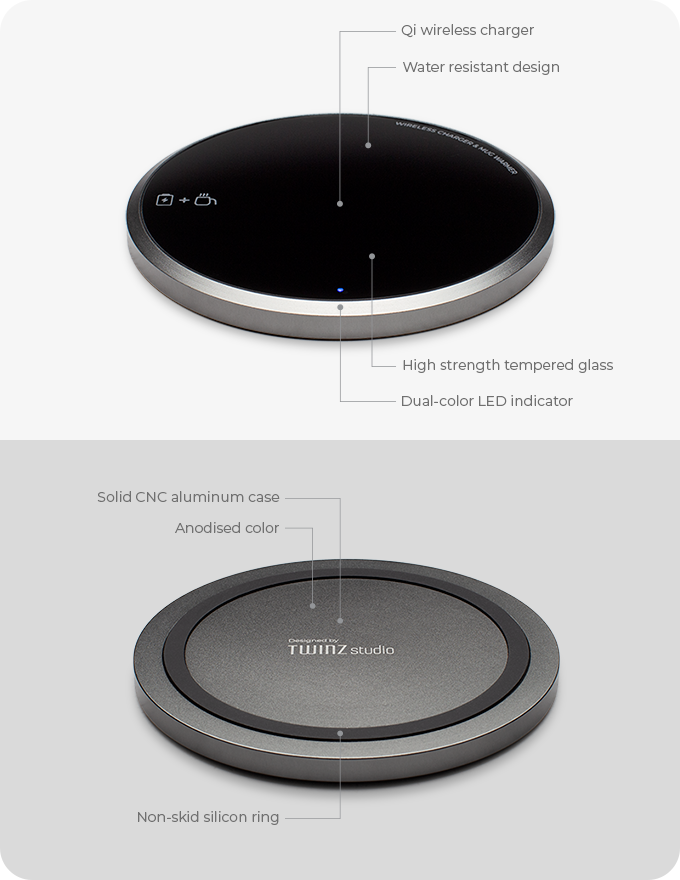 Boasting an extremely solid CNC machined aluminum body with anodized color as well as a strong tempered glass surface, the charger is built to last. With a water resistant design, this unit will never become susceptible to the occasional spill. Also included in the design, the LED indicator lights offer activation confirmation.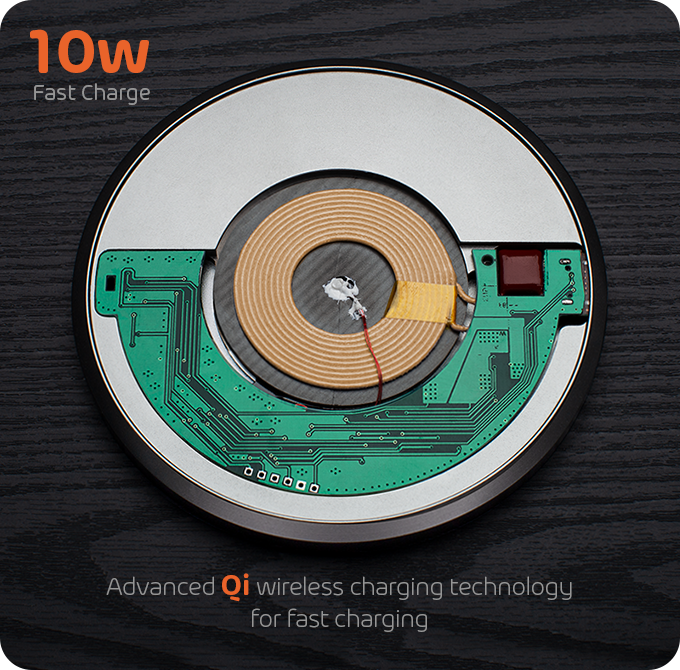 Qi wireless charging technology
Qi wireless technology uses electromagnetic induction to provide the fastest available wireless charge for all modern smartphones. State-of-the-art coils allow for flawless connection, every time. 
Even without the ability to heat the KOPI Mug, the charging base is among the best wireless chargers available on the market today. Quality materials, attentive design, and solid technology  blend together to create this fantastic device.
This charger has been specifically designed to be compatible with the mug – no other charger can guarantee the same results capable with our optimized version. 
Safety

Because the inlaid metallic particles within the mug are the only things reacting to the wireless power, the charger itself does not actually get hot (there are no heating coils) and, therefore, reduces the risk of being burned. Safety is of our outmost concern, and the KOPI Mug has been rigorously designed to meet our standards.
Color Options:
Currently offered in both White Glass/Light Gray Aluminum and Black Glass/Dark Gray Aluminum.

How to add Add-Ons to KOPI Mug
1. Choose reward level
Everybody can choose one (and only one) reward level to back our project. You will receive all the items included in the reward level you select. 
2. If you want to add something, check out the add-on menu.
If you want to add something additional to your selected reward level, simply select the item from the add-on menu below and increase your pledge by the amount specified in the menu. You can add more than one add-on – in fact, there is no limit to how many you can add.
For example:
If you choose the $60 Self-Warming Mug & Charger and want to add one more mug + one stir stick
Click the $60 reward and make a pledge of $83 ($60 + $15 + $8)
3. Relax, you're all set!
All additional necessary details, such as shipping information, color preference, and add-on specifics, will be collected via our end-of-campaign survey. At this time, you will still be able to add-on additional items if you didn't get the chance to do so.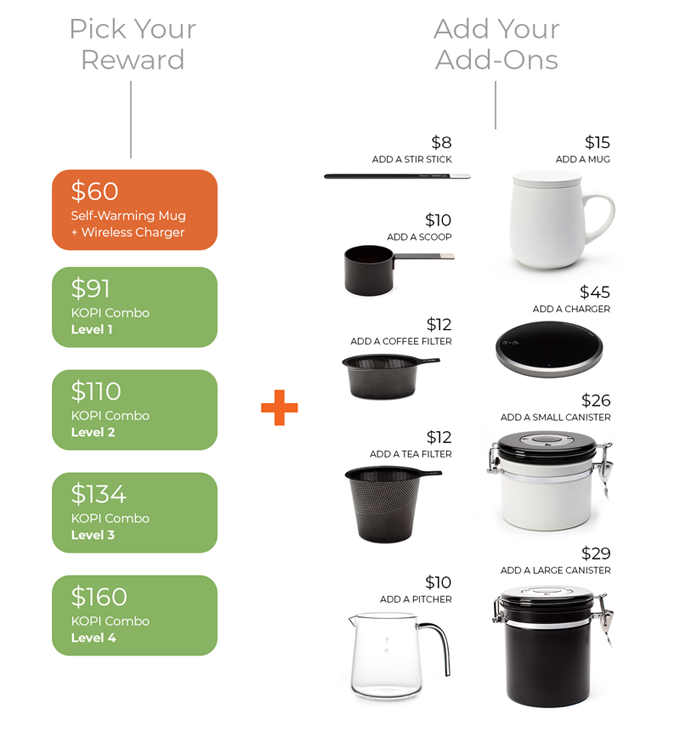 The KOPI Mug comes with all the tools you need for a perfect cup of your favorite hot beverage – i.e. glass pitcher, titanium stirrer, reusable coffee/tea filters and an air tight canister to keep everything fresh.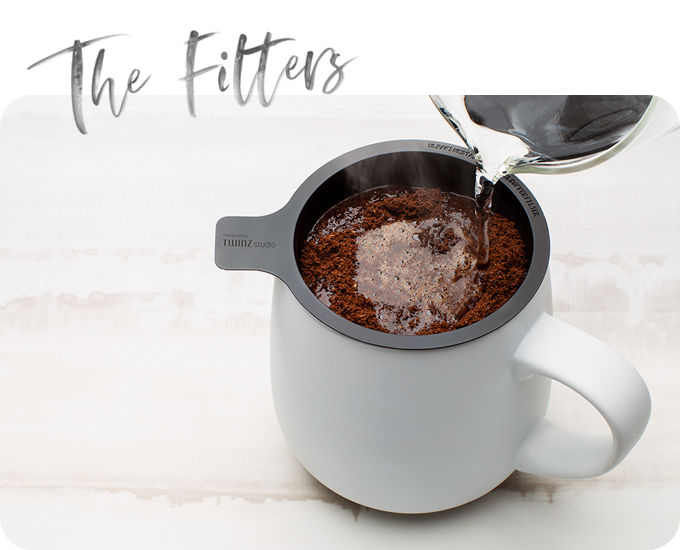 Make your own gourmet coffee and save money
Experts and aficionados agree that brewing with the "pour-over" method produces the best possible cup of coffee or tea – this process helps to emphasize natural oils and flavors, bringing out the full potential of every cup. Our titanium filters offer the ideal vehicle to use during this brewing procedure. 
Needless to say, you'll never need to use another disposable filter again. Easily washable, compact, and extremely strong, these filters will last for years to come.   
Offered in both coffee and tea varieties, each is specially crafted to perfect each individual style of brewing (drip coffee method vs. steep tea method). While coffee benefits from the slow drip method, exposing the infused coffee for a short period of time to decrease potential bitterness, tea tastes best when steeped for a longer interval.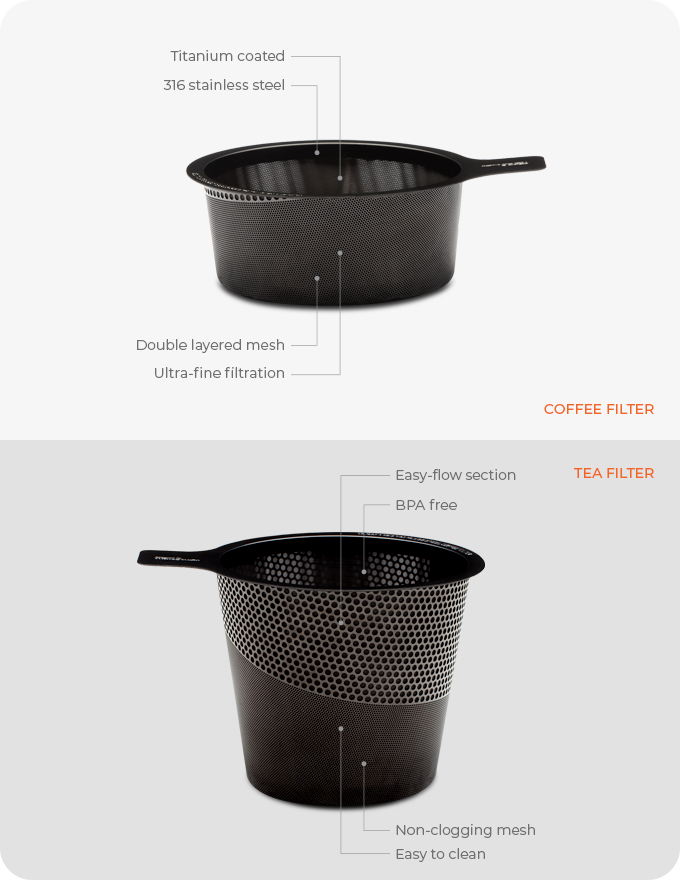 The filters are made out of high-quality (316) stainless steel, coated with a layer of resilient titanium. They feature laser cut, micro filtration technology: a double layer mesh ensures that nothing but the pure brewed liquid makes it through without clogging.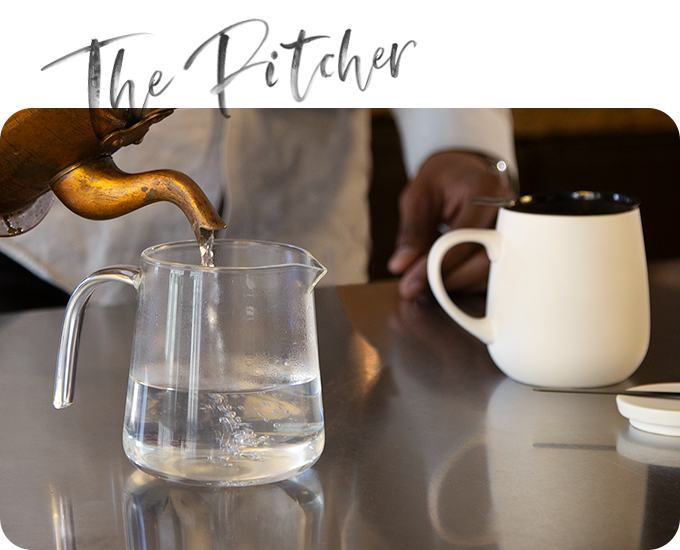 Need hot water? Simply Microwave it!
Preparing the water for the brew process is as easy as filling the pitcher, popping it into the microwave, and, depending on the strength of your microwave, heating it for three minutes (until the water is about to boil – roughly 200°F/93°C). From there, start brewing! 
The exact amount of water…
When it comes to brewing coffee and tea, many elements of the process require scientific rigor and attention to detail: none more so than the proper ratio of liquid to coffee/tea. In order to simplify the process of measuring out the right amount of water for the KOPI Mug, we are offering a top-of-the-line pitcher with both coffee and tea fill-lines.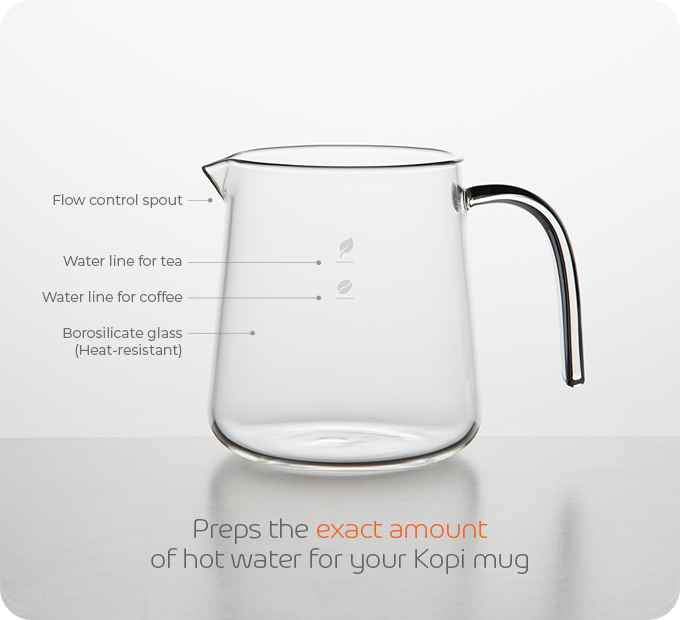 By crafting the pitcher out of thick, heat-resistant and non-porous Borosilicate glass, we ensure that the glass itself will remain in pristine condition instead of absorbing residues and odors over time.  
Compact, lightweight, extra-strong: this pitcher adds another necessary tool to your brewing toolkit, not to mention the fact that it has a beautiful, simple, modern design.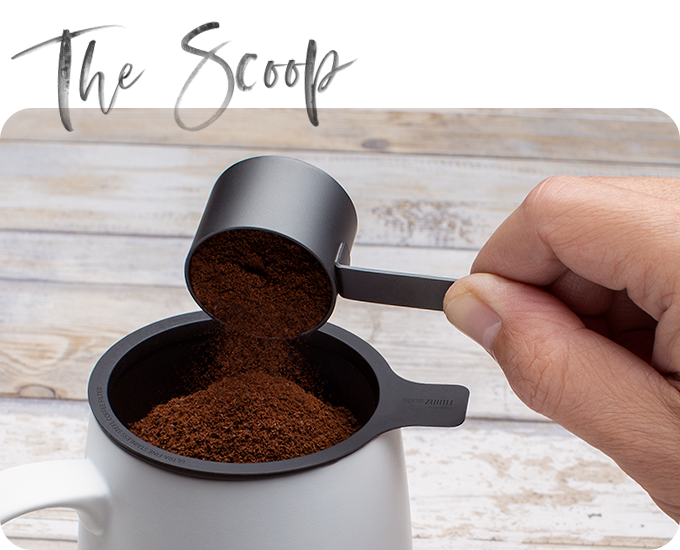 No more guessing: the exact amount, every time
Continuing with measuring process, we have included a optimally proportioned scoop in order to properly allot the correct amount of coffee or tea for the brewing process. 
Crafted out of anodized, high-grade titanium, the scoops strength will ensure a long lifetime of use.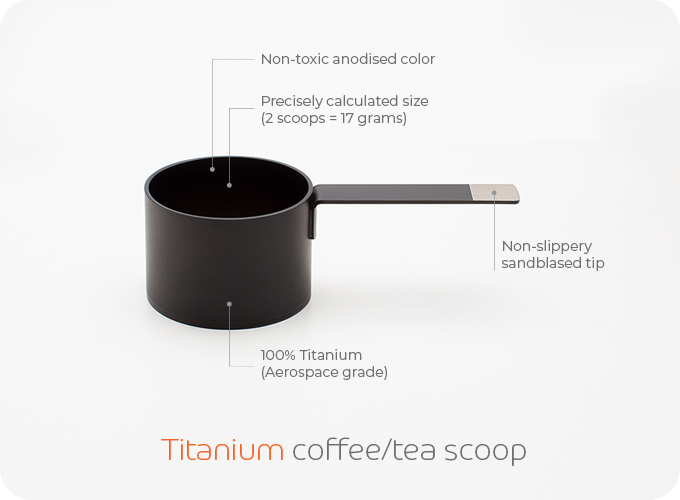 The golden-ratio for brewing
The perfect balance of coffee/tea, water & mug
By preparing the scoop to work in conjunction with the fill-lines on the pitcher and the size of the mug, we've cracked the code for the ideal cup of coffee or tea.
For coffee, two leveled off, packed scoops (equal to 17g of coffee) should be brewed with 300ml of near-boiling water (coffee fill-line on the pitcher). 
For tea, one loose scoop (roughly 7 or 8 grams of loose tea) should be steeped with 350ml of near-boiling water (tea fill-line on the pitcher). 
Included with ever purchase of the brewing system, we will provide a helpful guide to get you started with brewing perfect beverages in no time!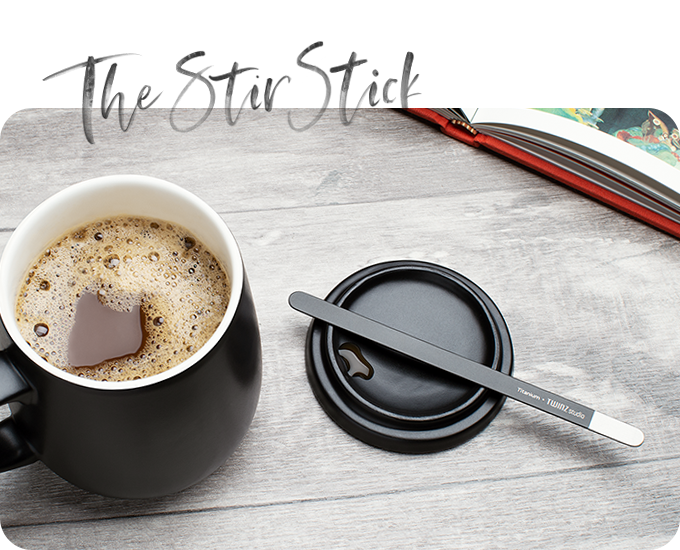 One good stir stick is all you need
Stop the unnecessary waste of disposable alternatives. With this stir stick, you won't need another one for years to come. Durable and sleek, this is a much higher quality product than those cheap wooden versions. 
Made from aerospace-grade titanium with non-toxic anodized color, this is probably the nicest stir stick you'll ever own. Over engineered to ensure unparalleled longevity and measured specifically to fit the KOPI Mug.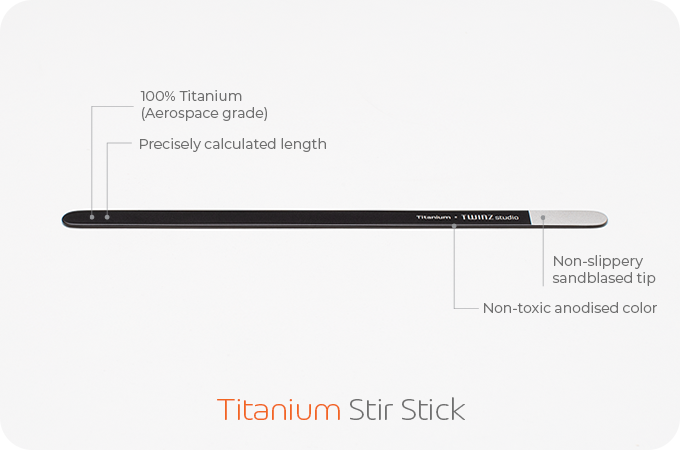 Enjoy your coffee/tea with milk, sugar or whatever suits your taste: the stirring stick is ideal for making sure everything is combined into a perfect blend.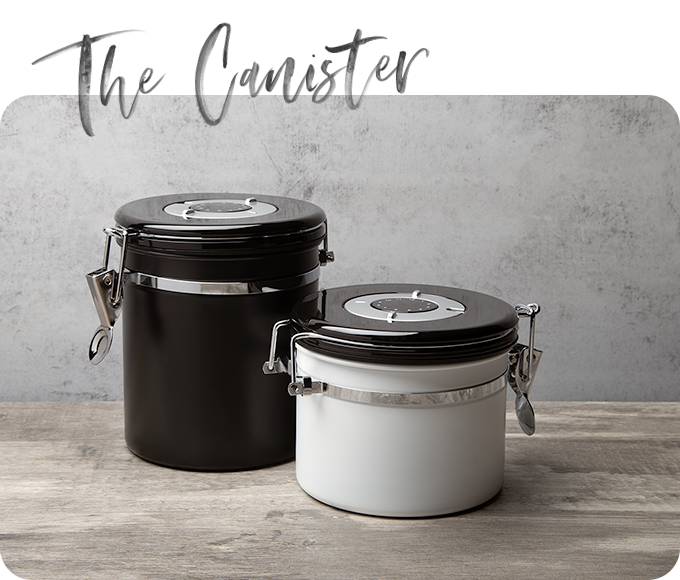 For a premium, high-quality drinking experience, your coffee or tea has got to be as fresh as possible. With the canister, you can ensure that the quality will last for a long period of time.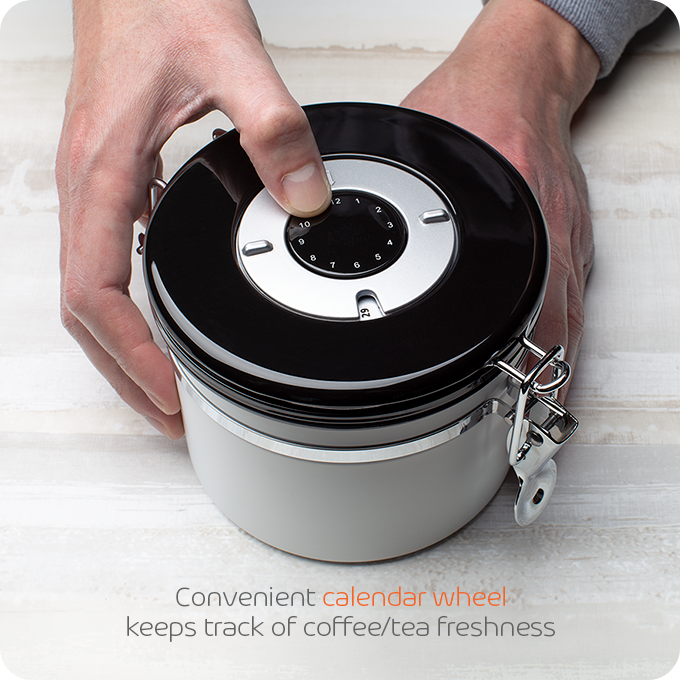 Say goodbye to stale coffee…
Integral  to the design of the canister is the one-way valve: while coffee ages, it releases CO2, which can contaminate the grounds, leaving them stale. By releasing this gas via a one-way exit, no oxygen can get back into the canister, stalling the aging process and maximizing freshness. 
Whether you are using tea or coffee, whole beans or ground, you can count on the ceramic coated canister to provide ample freshness-preserving technology.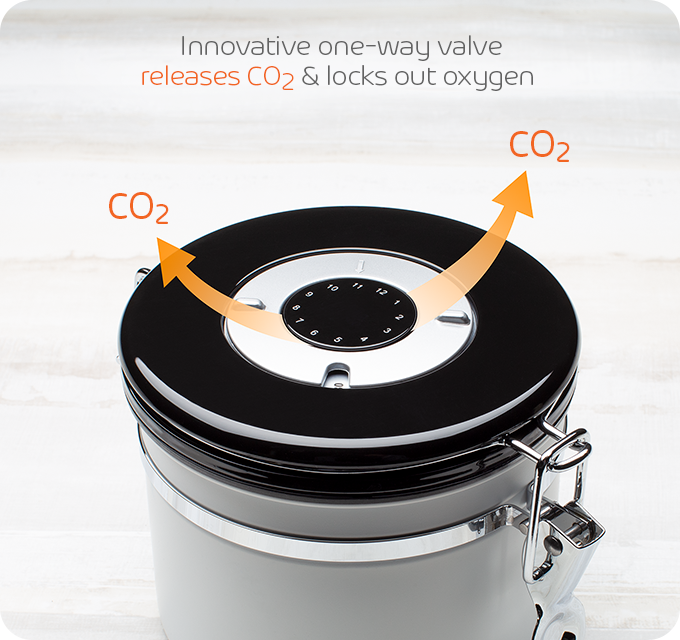 It is easy to clean and very solid: the ceramic coating also makes it so any odors or residue cannot seep into the body of the canister itself. 
Color/Size Options:
Currently offered in both white and black, with both a larger and smaller version available. 
Small canister capacity: 1.4 lb / 640 g of coffee beans
Large canister capacity: 2.1 lb / 960 g of coffee beans 
KOPI Coffee Brewing Guide: 
Here is a simple, step-by-step guide to brewing your own fantastic coffee using the KOPI Mug and Brewing System. While the coffee brewing process is slightly more time consuming than the brewing process for tea, the results are worth the wait. 
A bright future…
Since ancient times, coffee has brought people together. Today, coffee culture has blossomed into something beyond imagining. People, more than ever before, care about a quality brew. With our meticulously perfected brewing system, we aim to bring ease and convenience to high-standard coffee making. 
Not only are we here to improve the quality of coffee being consumed, but also the processes by which we brew. By doing away with wasteful practices and replacing them with extremely resilient alternatives that will, in the end, result in a HIGHER quality outcome, we are attempting to reduce waste and make coffee/tea consumption more sustainable. 
We have already diverted capital to fund our design process as well as consumer research, so now all that is left to do is to push to product to full-scale manufacturing! With your help, we can make this a reality! 
Here at TWINZ, we hope to continue this longstanding human tradition with a unique inventiveness you will appreciate. To the next cup! 
Cheers,
The TWINZ Team
Product Dimensions: 
Self-Warming Mug
Material: Non-toxic High Grade Porcelain Ceramic
Specs: 3.5W x 3.7L inch / 90W x 94L mm
Weight: 10oz / 290g (Mug only)
Weight: 14oz / 390g (with lid)
Volume: 12 fl oz / 355 mL
Dishwasher safe, do not microwave
Wireless Charger
Material: Aluminum alloy, tempered glass
Specs: 4.1W x 0.3L inch / 105W x 8L mm
Weight: 5.2 oz / 149 g
Max output: Android 10W(max), Apple 7.5W(max), Mug heating 24W(max)
Safety Protections: Temperature control, surge protection, short-circuit prevention
LED Indicator: Multi-colored LED, Red LED indicates cell-phone charging, Blue LED indicates mug warming
Works with all Qi compatible smartphones including the Samsung Galaxy S8, S8+, Note 8, Apple iPhone 8, iPhone 8 Plus, iPhone X
The Fast Charge feature is compatible with Galaxy Note5 and Galaxy S6 edge+ and later models of the Galaxy S and Galaxy Note series. Standard charging speed applies to other Qi enabled devices.
 
Glass Pitcher
Material: Borosilicate Glass
Specs: 3.5W x 3.9L inch / 90W x 98L mm
Weight: 6oz / 170g
Volume: 14 fl oz / 414 mL
Dishwasher safe, microwave safe
Coffee Filter
Material: Titanium Coated 316 Stainless Steel
Specs: 3W x 1.2L inch / 76W x 30L mm
Weight: 0.8oz / 24g
Dishwasher safe, do not microwave
 
Tea Filter
Material: Titanium Coated 316 Stainless Steel
Specs: 3W x 2.4L / 76W x 61L mm
Weight: 1oz / 32g
Dishwasher safe, do not microwave
Stir Stick
Material: Aerospace Grade Titanium
Specs: 5.5 x 0.3 inch / 140 x 8 mm
Weight: 0.2 oz / 8g
Dishwasher safe
Scoop
Material: Aerospace Grade Titanium
Specs: 1.5W x 1L inch / 38W x 26L mm 
Weight: 0.7oz / 20gVolume: 0.8 fl oz / 25 mL
 
Canister (Small)
Material: Ceramic Coated 316 Stainless Steel
Specs: 4.6W x 4L inch / 118W x 103L cm
Weight: 12.2 oz / 248 g
Volume: 27 fl oz / 800 mL
 
Canister (Large)
Material: Ceramic Coated 316 Stainless Steel
Specs: 4.6W x 5.7L inch / 118W x 145L cm
Weight: 14.3 oz / 407 g
Volume: 40.6 fl oz / 1200 mL