This Campaign Closed. Go to S'moltimate FB Page | Copy & paste for our Ultimate Urban S'more Bars:Traveler&Lynk. https://www.facebook.com/smoltimate/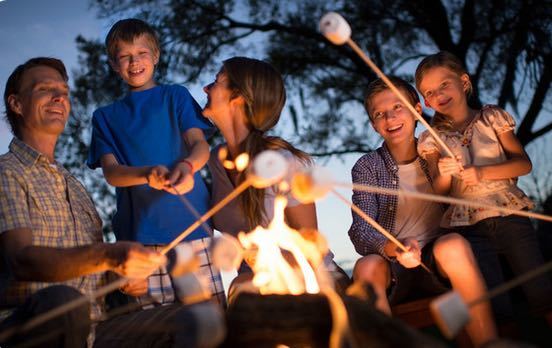 The great American tradition of sitting around a fire hearkens back to the days of yore, when people connected over a meal, a story, or a song. While it's not as common these days to sit fireside in the great outdoors, we firmly believe that this tradition makes any gathering a bit more magical. We know we are not the only ones who love bonding around a fire, telling stories, laughing, roasting marshmallows, and making new memories, but what exactly is so magical about those moments? For us, it's the whole experience. Whether it be a family gathering, a planned event with guests, or a party with friends, we want to help you recreate this warm and unforgettable tradition. So how do you safely create that experience with ANYONE, ANYTIME, ANYWHERE?
That's where we come in. To help you take this tradition on the go, we've created the ultimate urban s'more bar… the S'moltimate!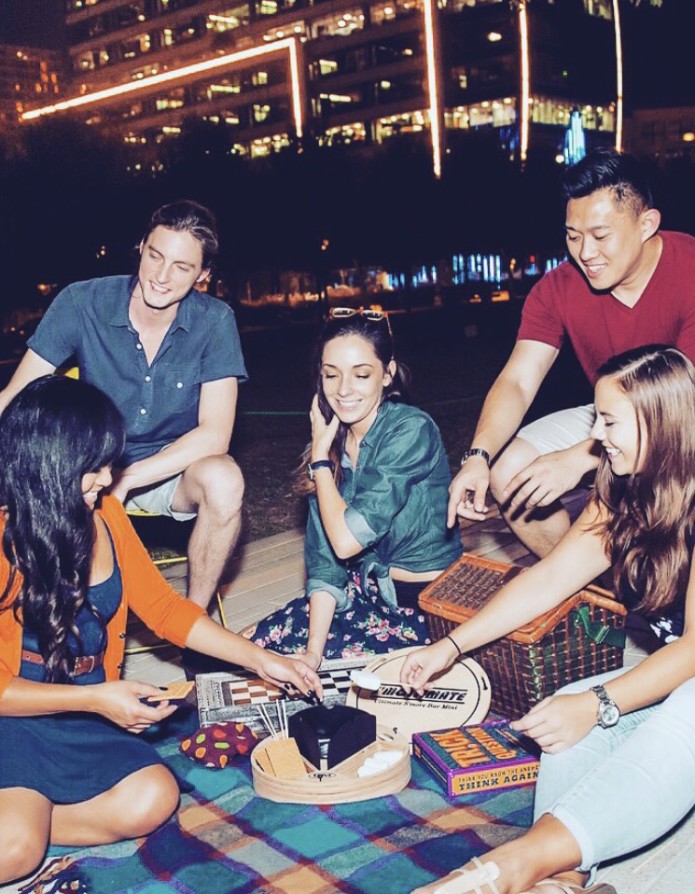 With a combination of your stories & games, bonded with the ultimate s'more bar, S'moltimate makes quality time warmer, sweeter, and unforgettable.
Perfect For:
Tailgates | Sporting Events | Urban Outdoor Adventures | Holidays | Community Events  | Weddings | Gifts |  Entertaining | Corporate Events | Picnics | Road Trips | Outdoor Movie Nights | Indoor Movie Nights | Festivals | Date Night | Family Gatherings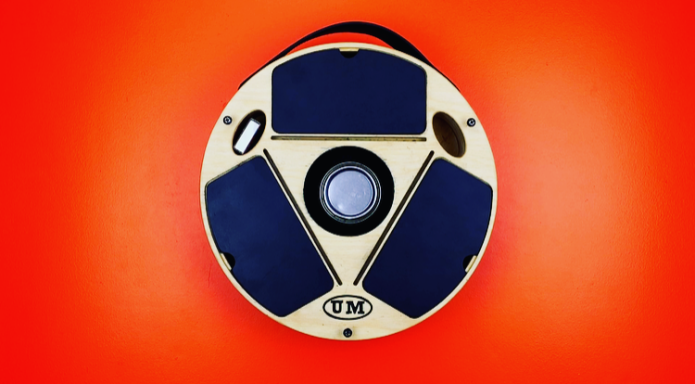 We took an eclectic approach when designing the look of the S'moltimate. We wanted something new, but with nostalgic elements that resonate with urban culture.  We also allowed for a little variety with the dark walnut and natural stain choices .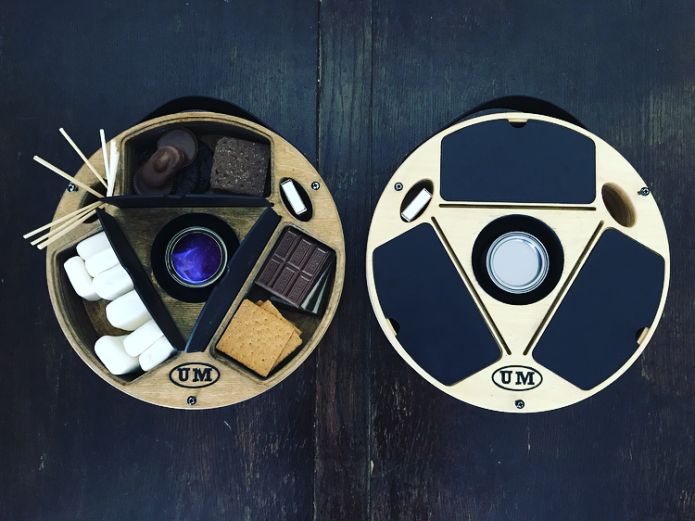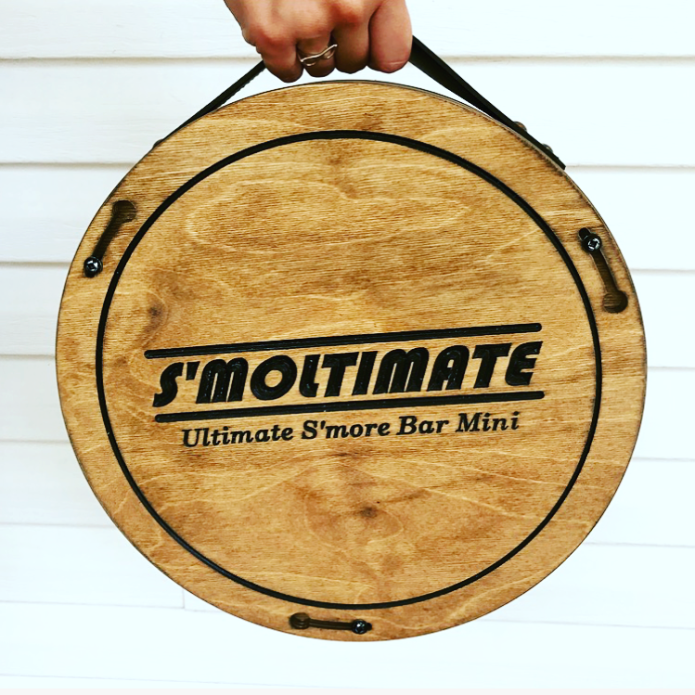 Carrying the S'moltimate is stylish & comfortable and requires only one hand, using the flexible strap handle. 
Each S'moltimate is hand painted and consists of a beautiful, uncommonly engineered wood billet incorporated with carved storage pockets, food-safe burner, heat shields and a twist lock lid that doubles as a turntable.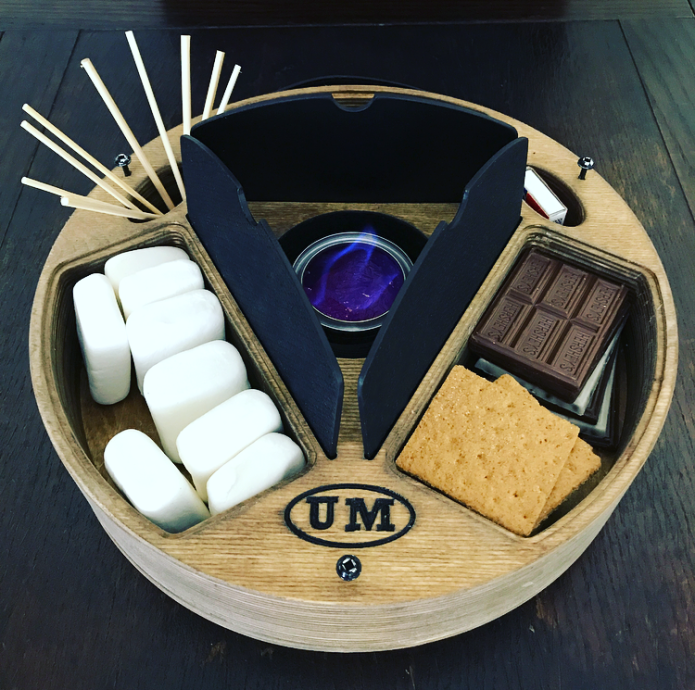 The S'moltimate fire pit reaches approximately 200 degrees with the lit burner, but the specialty coating resists heat of 2,000 degrees. The heat shields have the same specialty coating, creating a barrier of protection from the open flame. Each can of food grade fuel (Ethanol) will burn for 45 minutes, leaving no smell or taste during consumption.
The separate magnetic handgrip attaches to the burner's lid, creating a safe flame snuffer to put out the flame once finished before easily storing within the S'moltimate.The complimentary burner opener makes for easily opening the fuel container  and storing away once finished. Small holes on the outer rim provide temporary storage for skewers and matches – allowing quick access for roasting marshmallows.
The S'moltimate travel tote is made of solid Baltic Birch hardwood and sealed with food-grade sealer, the same used on butchers blocks and the cutting boards you probably have in your kitchen. Considering each person's taste preference, the individual pockets can be filled and mix matched with various ingredients of choice and the smokeless fire can roast the marshmallows, all packaged neatly within the S'moltimate. 

With an approximate diameter of 12″ and height of 2.75″ , the slim design makes for easy storage, standing upright or laying down. Easily stack atop one another or side by side for tight spaces. One S'moltimate will make eight s'mores- Having more than one S'moltimate is perfect for larger group settings.
 The typical S'more recipe consists of graham crackers, chocolates and roasted marshmallows over fire. This three ingredient system is why the three storage pockets and built-in smokeless fire pit are essential to the S'moltimate's purpose. After multiple prototypes, testing and continually tweaking, we have well-thought-out every practical and visual detail of S'moltimate.

 Use the S'moltimate over and over. It's made in-house by us, right here in America. Since each S'moltimate is made in our workshop, we have full control over quality, design, and customer satisfaction.  We're not relying on an overseas manufacturer to preserve our American traditions.  Bridging old-world craftsmanship with new era technology, you can take comfort that it will withstand the test of time. You'll consider it an heirloom in the years to come and a key part of those wonderful memories, especially with the option to personalize. For a unique personalization, you can have each of your family members or friends sign it on the back. Years down the road, you'll be saying "Oh, wow, this brings back memories!" Then you turn it over and see everyone's signatures on the bottom, along with dates.
*All designs seen on this campaign are prototypes and are subject to change*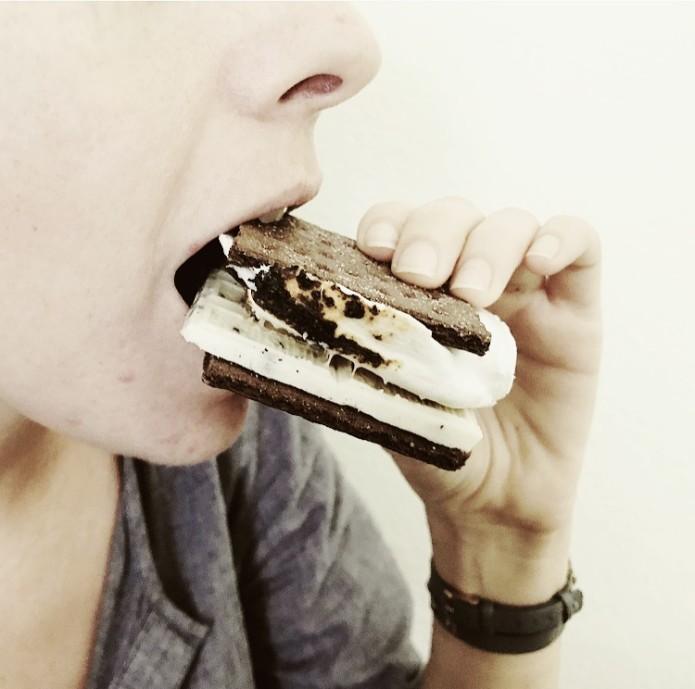 IS YOUR SWEET TOOTH A PROBLEM?
Chill-out and join in – S'moltimate's healthy & tasty recipes will list all of the calories and nutritional information so you can snack within your dietary needs. Our vast collection of e-recipes make creating your s'mores effortless and fun.  We're partnering with chocolatiers, bakers, nutritionists and (hopefully) you to make a list of the yummiest s'more recipes to fit your taste and diet. Of course, pre-packaged goodies are always a great go-to option. Our goal is to measure the recipes to fill the storage pockets perfectly, keeping your experience fun and effortless by creating less waste and cleanup. You're not in this alone – from our Twitter feed, to Facebook, to our website, we will be there for you with recipes, suggestions, game ideas and more, creating a memorable experience for you and your loved ones or guests. We'll do the bummer work so you can do s'more of the fun stuff!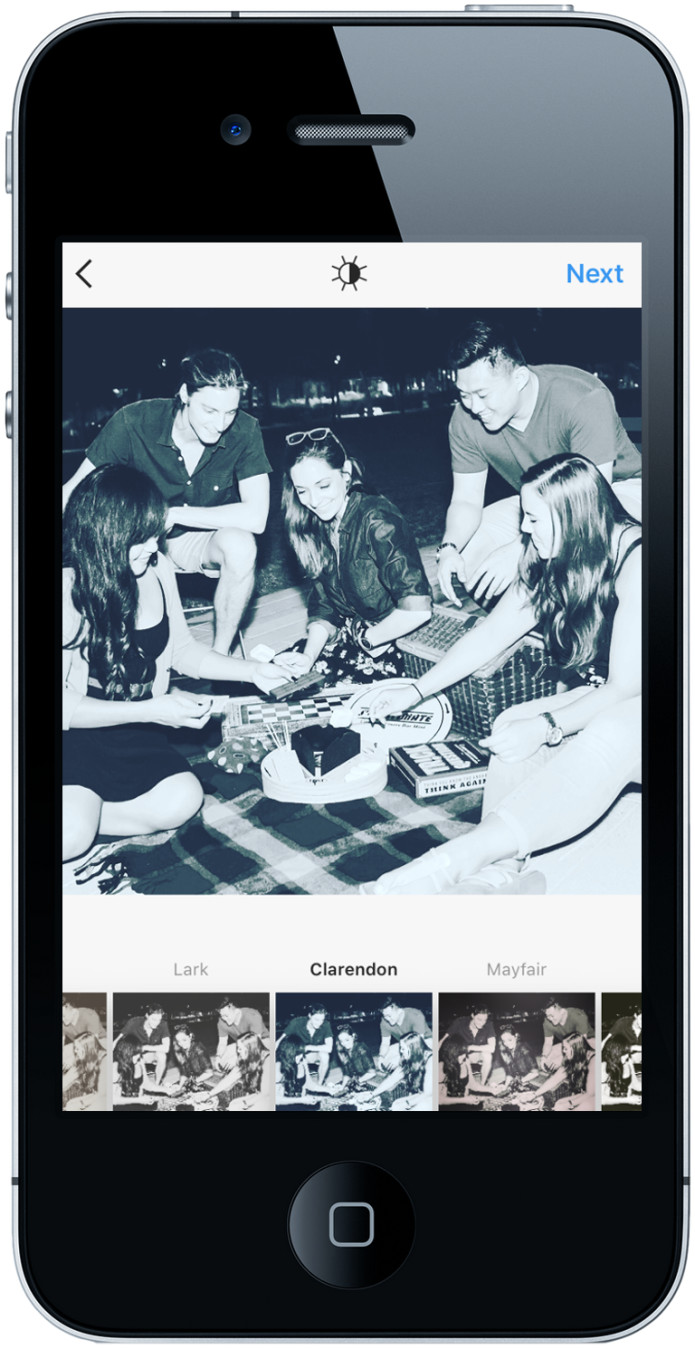 SHARE YOUR CREATIONS
Becoming friends with S'moltimate's social community allows you to connect and share ideas with like-minded, fun people – an internet neighborhood hangout of sorts, to just drop by and borrow a cup of sweetness. Unannounced at that! After stopping by, feel free to browse the pantry of recipes, supplies, games and more to go along with those fun memories you will be making.

We are father & daughter co-founders and a team of  award winning product designers, patent holders, makers and strategic planners with a like-minded focus to make gatherings more fun, enjoyable and easy by applying uncommon design.
Interested in writing about us? Our press kit is available for download here. Also, please feel free to email us directly at [email protected] or leave a message if you have any questions.