THREE GIRLS VEGAN CREAMERY To Open PlantBased Cafe | Opening a cafe and expanding our wholesale capability of meatless meats and dairy free cheeses!

                                

In October of 2016 we introduced our fermented and cultured cashew Mozzarella to a local health food store. They loved it and added us to their lineup. We then attended our first farmer's market and sold out weekly! On July 30th, 2017 we opened the first Vegan Cheese and Butcher Shop in Connecticut. The response was overwhelming. We had over 1000 people turn up on opening day and we sold out within hours. We had to close down the shop for a week just to restock.
Since then we've been hard at work scaling up our production so that we can meet the demand for our products.
We have some pretty big plans for expansion which is why we've turned to Indegogo (and awesome people like you) for help.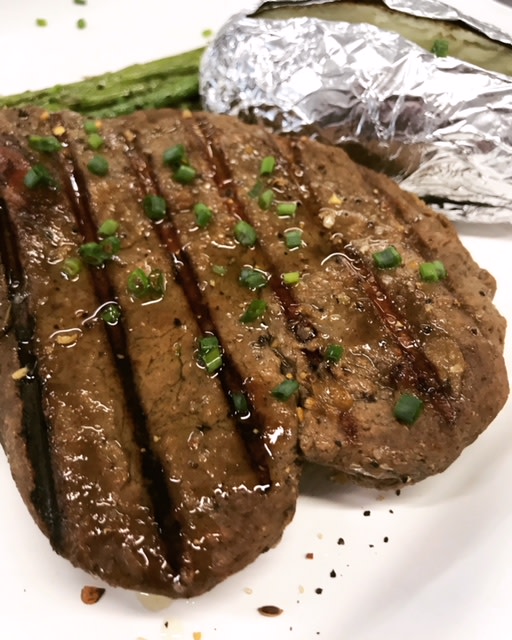 Our objective at Three Girls Vegan Creamery is to produce organic, wholesome, real food without tricks or gimmicks, of course using our Italian roots. We make healthy planet friendly meat and cheese alternatives that are accessible to omnivores, vegetarians and vegans. We simply want to provide wholesome Italian food for everyone to enjoy. 
We are currently unable to produce enough product to meet demand. We are looking for capital to help scale up our business and increase our production capacity.
Our lineup now includes 15 meat varieties and 15 cheeses. All the recipes are created by us!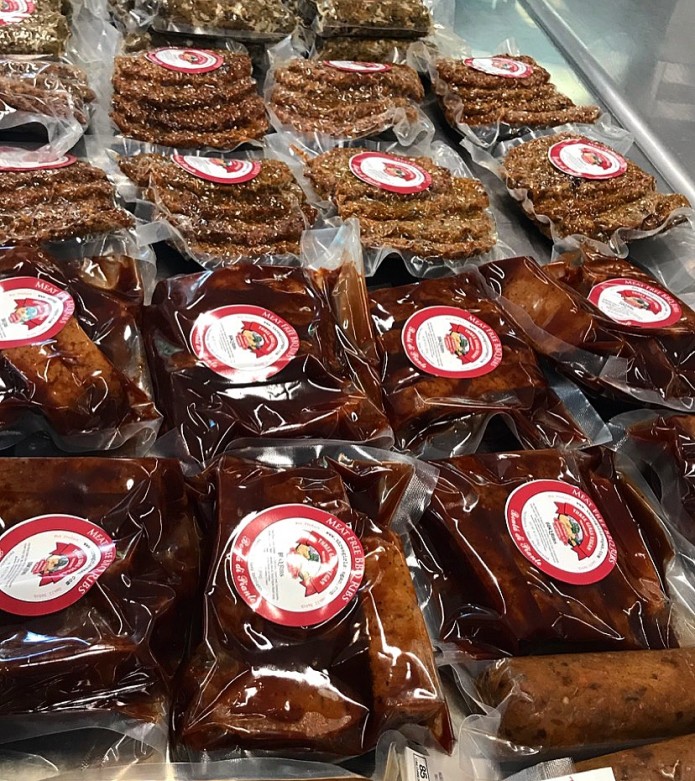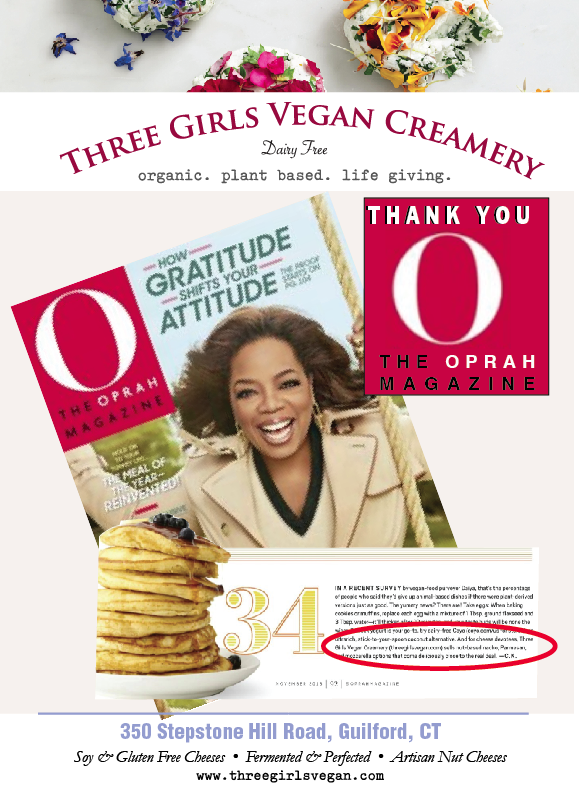 December 2018 – Animals Voices (Upcoming)
December 2018 – Seasons of New Haven ( Winter Issue)
November 2018 – So You're Dating a Vegan (Upcoming)
November 2018 – O Magazine  (On News Stands Now)
October 2018 – Film with VeganEats (Upcoming)
July 2018 – WNPR Faith Middleton's The Food Schmooze
June 2018 – The Animals Voice Magazine – Positivity in Participation
June 2018 – WTNH – Ann Nyberg – Guilford Company Selling Variety for Vegans
May 2018 – CTNOW Best of New Haven Readers Poll  2nd – Best Chef
May 2018 – CTNOW Best of New Haven Readers Poll  2nd – Best Vegan/Vegetarian Restaurant 
May 2018 – CTNOW Best of New Haven Readers Poll  3rd – Best Lunch
May 2018 – CTNOW Best of New Haven Readers Poll  2nd – Best Locally Made Cheese
May 2018 – CTNOW Best of New Haven Readers Poll  2nd – Best Restaurant in Guilford
April 2018 – So You're Dating a Vegan – You Tube
April 2018 – Vegan.com
March 2018 – Chubby Vegan – You Tube 
March 2018 – Connecticut Magazine – 10 Spots that Make it Easy to Eat Healthy!
January 2018 – Connecticut Magazine  Best Restaurants 2018 – Editors Picks
January 2018 – Maple Farm Sanctuary –  Goat Cheeses That You Will Want Right Now.
December 2017 – A2Essentials – A New Take on Italian
November 2017 – The Verbal Thing – Product Review
September 2017 – Chicago Tribune – Astoundingly Good Cheeses That, Yes, Even Non Dairy Folks Can Enjoy
September 2017 – Washington Post – Names to Know in Vegan Cheese
September 2017 – Guilford Courier – Zip 06 – Like Cheese Only Better
August 2017 – One Green Planet – Artisanal Vegan Cheeses – Three Girls Vegan Creamery
August 2017 – One Green Planet – Vegan Cheese Shops
Summer 2017 – American Vegan Society Magazine – Vegan Pizza In Your Town

We have outgrown our current space. We are moving into a space that will allow us to grow our wholesale business while offering extended hours, counter service and tables for guests to enjoy their TGV goodies.
Here's what we're hoping to accomplish:
Make the Move and Build out our New Location
We have signed the lease at 645 Boston Post Road in Guilford, CT. We have met with the plumber, electrician, builder, HVAC and Floor expert. We have the estimates and now need to complete the work. Our lease starts October 1st and we are hoping to have all completed and be moved in and have our Grand Opening on November 1st!
Increase Production
We have a great team that is working tirelessly to make some of the tastiest meat and cheese alternatives out there. We want to outfit them with some new equipment to help speed up production as well as hire and train a few new team members!
Develop New Products
We have a book of 800 vegan recipes that we have created over the years. We would love to add to our lineup. We need to look into acquiring some special ingredients and equipment.
Expanded Distribution
We've had requests for our products from all across North America. We would love to stock our products in small local businesses close to you. In order to do this we need to bring our cost of production down so that we can afford the retailer margins (usually 30%-40%). To do this we need to buy our ingredients in larger quantities as well as get a few new pieces of machinery that will speed things up a bit.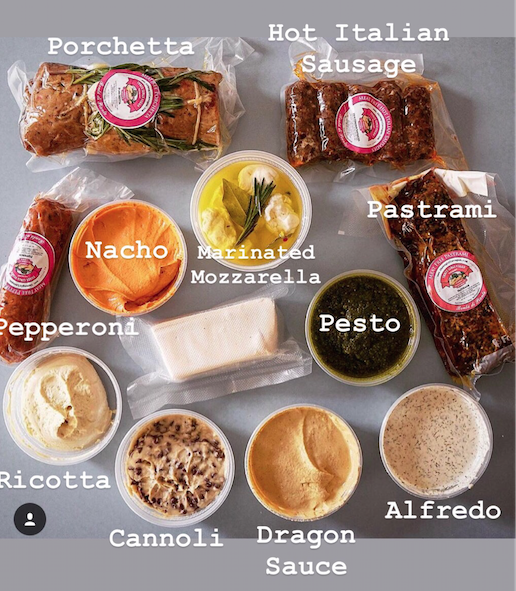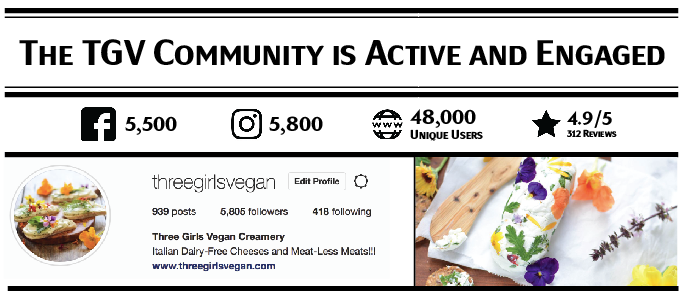 The goals for this Indiegogo are cumulative meaning that once we reach the base goal we start working towards the next one (Updated Equipment and Packaging). The dollar amount shown underneath the goal is the total amount the Indiegogo needs to raise to make that goal a reality!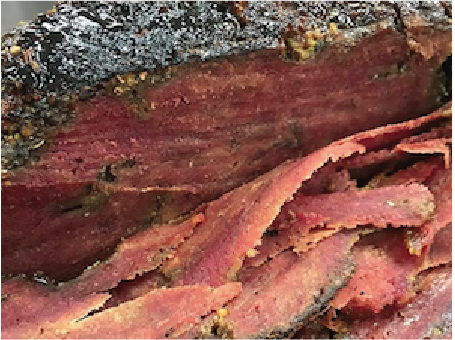 We've prepared a number of Backer rewards which we think are pretty neat.
We've tried to deliver as much value as possible with these rewards and really make it a no brainer to support this Campaign. 
We're going to work hard to get your rewards out to you as soon as possible.
Additionally, $1 from each backer will be donated to the local pig rescue organization, Arthur's Acres Sanctuary in High Falls, NY
So, whether you live a block from our Guilford, CT shop or are halfway around the world, we hope there's something here for you.
Click here to see our new location and pics of our progress as we build out our new location!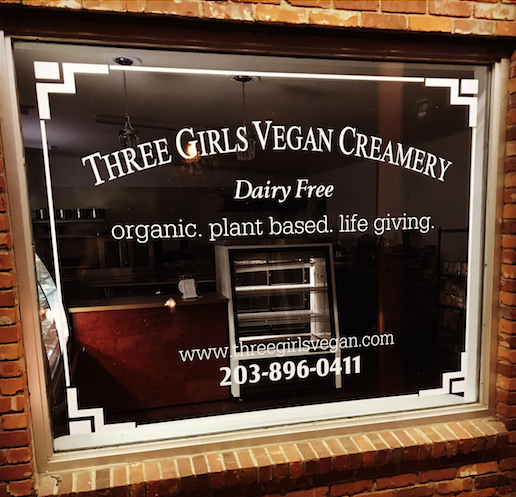 Other Ways You Can Help
Some people just can't contribute, but that doesn't mean you can't help:
Help us  get the word out and make some noise about our campaign. Share this campaign using the Indiegogo Share Tools!

Thanks for checking out (and hopefully supporting) our project!
We're a small team with some pretty big plans, hopes, and dreams. We'd love to have you join us on this adventure!
All good things,
Brittany, Tracy and Taylor
Three Girls Vegan