TimeGiven S.O.S. Watch – Keep Loved Ones Notified | S.O.S. Watch by VitaTech alerts designated contacts in a crisis situation, e.g. a fall, stroke etc.


TimeGiven S.O.S. Watch is a product that provides quick emergency messages.
It is made as a watch and has a limited number of functions. It is not a smart watch, which in turn makes it possible to function very functionally for all systems providing the conditions for emergency calls in the event of acute conditions.


S.O.S. Watch is equipped with the most advanced sensors manufactured, an e-Ink
display, touch sensitive buttons and the latest communication system technology NB-IoT, which makes it possible to directly send messages to contact persons about emergency conditions.
Without using a SIM card, without duplicating these messages via smartphones.
Cardio sensor working on the laser principle of reading heart beats.
Fall sensor that allows you to fixate a drop in six vectors.
Up to 140 messages can be sent per day, and depending on the programming, all the information accumulated as a result of taking sensor readings can be sent to the server as a database for storing this person. (Optional)
Communication between the sensors is connected by computer software, which makes it possible, in case of emergency, to ensure the operation of the sensors in such a way that they automatically send a message to the contact persons.
The watch is equipped with two buttons:
One button – The Menu
It has three indicators: heart rate mode, clock mode, battery level.
Second button – SOS
When pressed, a message is sent within 0.2 seconds.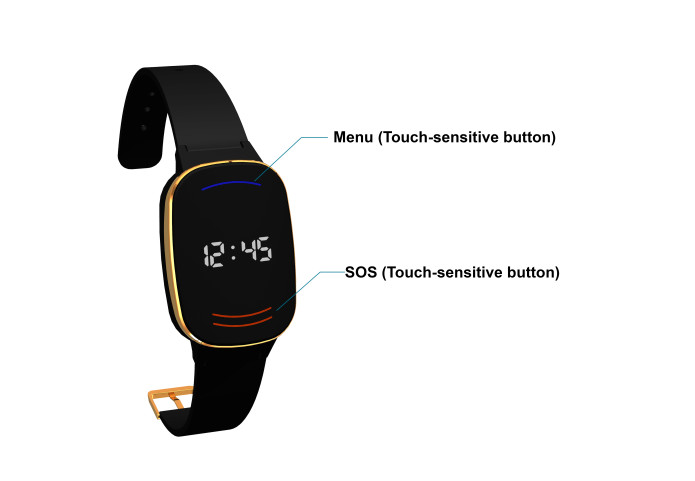 In case of an emergency, the message will contain the following information:
The time of the message.
It will be written that emergency assistance is required.
The readings of the GPS sensor (coordinates).
The heart rate (bpm).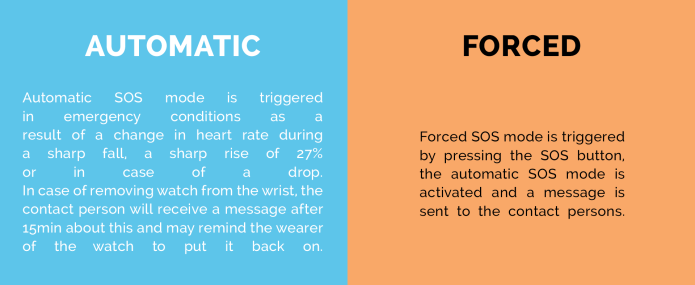 There is choice to add additional features for extra charges. Features that can be added are:
Pedometer.
Oxygen meter.
Calorie counter.
Sleep sensor.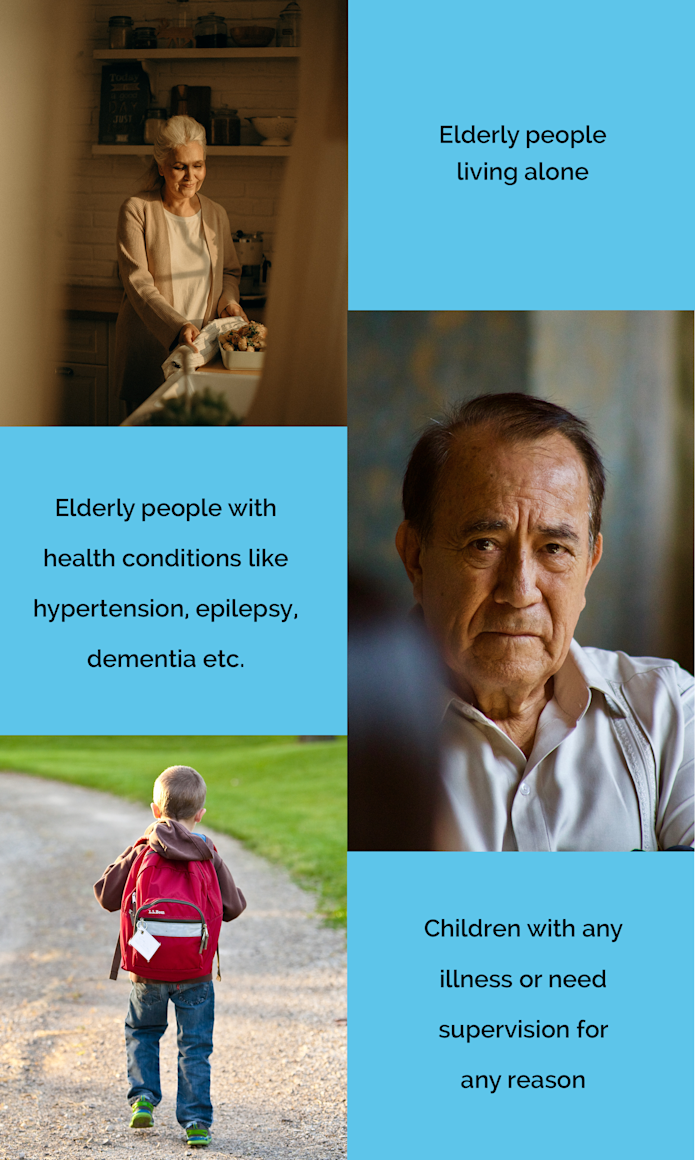 When we were creating the second and the third prototypes, various test groups of 25-40 people participated, which made it possible to test the prototype and further improve its functionality and lay the foundation for the production of the final product.
When developing and testing the second and the third prototypes, we used the recommendations of cardiologists, emergency doctors, family physicians and social workers.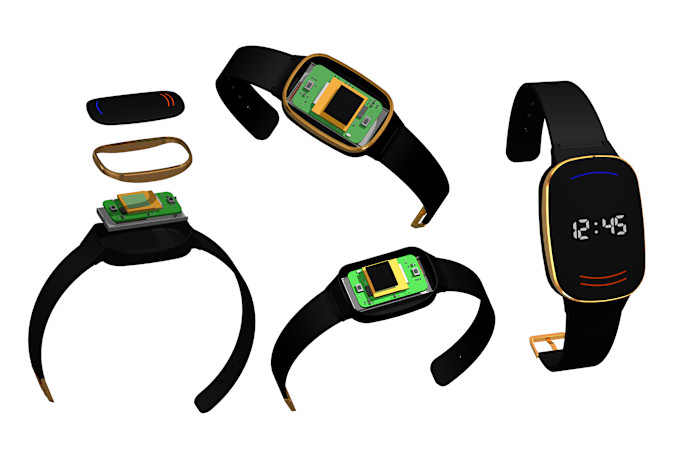 Based on the third prototype, from 09.2020 until the end of 2020, the production and sale of the S.O.S. Watch product will be carried out.
At the moment, we have four theoretical developments of SOS products based on nano-technologies:
for patients with hypertension-hypo-tension;
for patients with diabetes;
for newborns;
for children and teenagers.
At the moment, there are
no analogues of these watches
in the world.
There are companies that offer separate similar functions in smartphones, but in essence they are not functional and do not correspond to the understanding of the SOS function.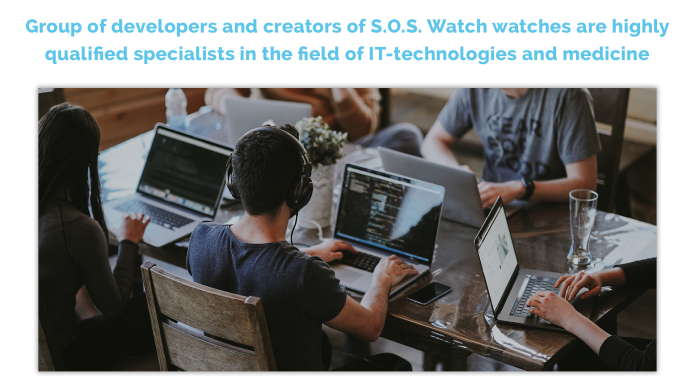 Thomas Tasuja (MSc) has worked in electronics R&D and manufacturing industry for 15 years developing wide range of products for Medial, automotive and consumer industry.
Henry Liimal (MSc) has worked in electronics R&D and manufacturing industry for 15 years and has core expertise in OiT systems, mobile app and platforms and back-end development.
Terje Nirgi – MSc Pediatrician, MSc Business Management, marketing.
Sergei Randvere – Doctor of Sports Medicine, company business policy, marketing.