To Share Brewing Company's Taproom | Help fund a neighborhood brewery and taproom opening in Manchester, NH.
What is To Share Brewing Company?
To Share Brewing Company is an independent neighborhood craft brewery and taproom opening in downtown Manchester, New Hampshire. It will be a place for the community to come together in our shared love of craft beer. The taproom will be a place for organizations to host events and fundraisers. Above all, it will be a place to have fun. You can play shuffleboard, corn hole, or a board game in our game room. Enjoy a pint and a snack while listening to one of our 500+ vinyl records. 

Who are we?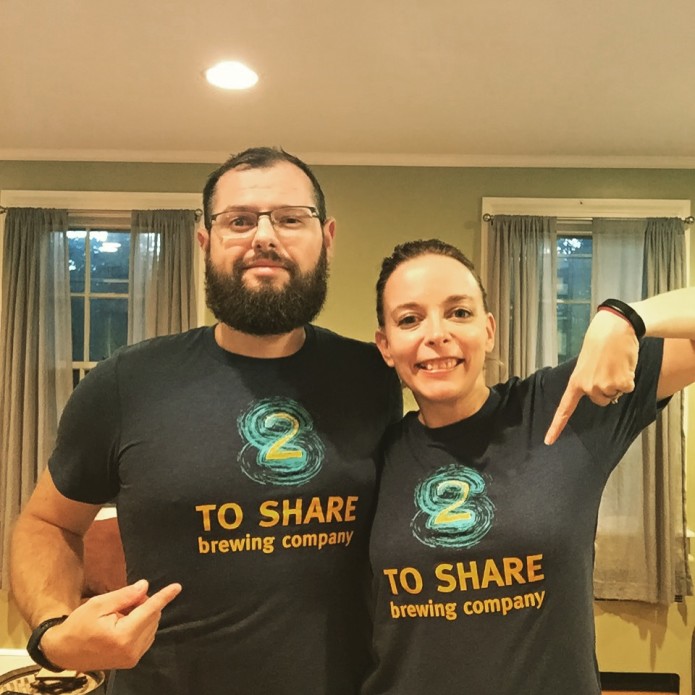 We are Jenni & Aaron Share, and we are making the leap and following our dreams by doing something we are passionate about, brewing beer and building our community.
Aaron is originally from the Washington, D.C. area. He began enjoying craft beers in college. However, when he got out of college, drinking craft beer became too expensive so he decided to try making it himself. Now Aaron has 15 years experience home brewing and over the past year has been volunteering at breweries throughout the state to get more experience working with the bigger equipment. 
Jenni was born and raised in South Dakota. She made her way to Washington, D.C. after college. Since then, her career has been dedicated to nonprofits and giving back to the community. She is currently leading a project at a local university with the aim to drive down the cost of higher education.
Even though we were born and raised 1,400 miles apart, we managed to find each other at a DC United soccer match in 2008. Aaron was on crutches from a dislocated ankle and Jenni took pity on him.
Since then, we've been inseparable. We share our passion for enjoying and making craft beer. We brew together, travel around the world seeking out the best beers we can find, and now we are taking a leap of faith in starting our dream together. 
About the Brewery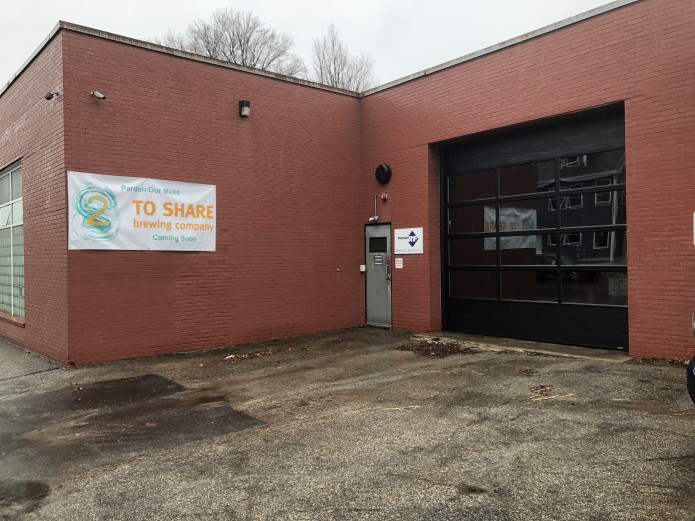 After moving to New Hampshire in 2013, Manchester has become our home. We knew this was the place the brewery needed to be. After much searching, 720 Union Street is our dream location. Formerly an electronic parts factory in a residential neighborhood, the space gives us the industrial/neighborhood combination we were looking for.
Demolition is complete, we have lined up contractors, and construction has begun. We have even ordered our seven barrel brewhouse, fermentors, and serving tanks. 
To Share Brewing Company will bring together the community in our shared love of craft beer. A seven barrel brewery with ten beers on tap where you can enjoy a pint, hang with old friends and meet some new ones over a game or two. To Share Brewing will be a community gathering spot for neighbors near and far.
Once complete, the brewery will be home to ten beers on tap. Five of the taps will serve our core beers, which will always be available like our Russian Imperial Stout, Cream Ale, and of course IPAs. The other five taps will showcase our seasonal releases and our experimental series like sours and single hop IPAs.
To Share Brewing Company is our way of being able to do what we love and commit to a community that has become home to both of us.
The Impact
With our shoestring budget (mostly tied up in equipment), your contribution will have a major impact. So far we've put in most of our savings and taken on a chunk of debt in order to get this far. Being strategic and making hard choices has enabled these limited funds to get us through the major construction phase. 
To keep build-out costs low, we are doing much of the work ourselves. It will be our blood and sweat in the bar, tables, storage, cold room, and offices. This is where we need you. You contribution will go towards buying wood for tables, games, glassware, and probably a band aid or two. 
In return we will give you our all (in addition to the perks). You have our full commitment to making this the neighborhood gathering place that Manchester needs. The brewery will be that hub where locals, visitors, and new comers alike, can come together to get to know each other. It's where we hope to have the conversations that spark the dreams of the next entrepreneur or local politician, or discussions that lead to enhancements in education and our community. It will also be that place to forget all the things that can weigh you down and just have a pint and some friendly dialogue.
Risks & Challenges
We are not going into this blind. We know the risks that come with starting a business, but we are doing everything we can to understand the risks in front of us and prepare for them.
We know that the craft brewing market in New Hampshire is growing.
We know we can brew great beer, and we know we can build this business.
But transforming a neighborhood into a community is not going to be easy. Getting people to open up to each other can be tough. That's why we are looking for you to help make the taproom and game room a place where folks want to be. It's why we want you to put on a To Share T-shirt and schedule your next vacation in New Hampshire for our amazing rivers, mountains, coastline and beer. It's why we want you to share in this journey with us.
Other Ways You Can Help
We understand not everyone is able to make a financial contribution. If you are unable to make a donation yourself, we ask that you please share our campaign with your friends and family. You can even use the handy dandy Indiegogo sharing buttons built into this campaign.