TOGO: Empowering Small Businesses to Go Green | We help small businesses save money on their single-use items by replacing them with reusable ones.
Introducing TOGO [TOE-GO] 🙂
TOGO saves restaurants, cafes, and universities money on their single-use items by replacing them with reusable ones. We're a small team of environmental enthusiasts, looking to create a better and cleaner world. We believe that Earth is First and are committed to loving and respecting the planet we live in through individual sustainable practices. Community is key to change. Communities as large as New York City or as small as Marfa, Texas can make a difference in the world by changing their habits together.
Why you should care? 
The world is more polluted than ever.
In fact, 30-50 billion single use takeout containers and a whopping 38 billion coffee cups are disposed of annually in the U.S. Most of which end up in landfills, littering our cities, or worse, in our oceans.  We're eating into a finite supply of materials and generating a lot of waste. This simply can't work long term.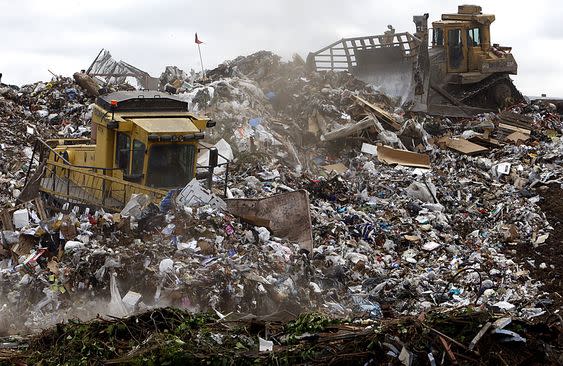 Puente Hills Landfill is the largest landfill in the United States, rising 500 feet (150 meters) high and covering 700 acres (2.8 km2). Puente Hills accepted four million tons of waste in 2005.
More Food, More Delivery.
"Mo Delivery, Mo Problems ".- Biggie Smalls
Studies have shown that by 2025, the food delivery market will be worth $200 billion. That's no surprise as 60% of consumers order delivery at least once per week. As delivery and takeout orders are increasing, what happens to all the containers for that food?
Virtually none can be reused or recycled.
Our Solution – Building our own Circular Economy
"We want to empower small businesses to go green and save them money while doing so".
We are building a smart-network of trackable cups, containers, and smart bins as a response to the enormous amounts of single-use waste small businesses are producing. While doing so, we are empowering small businesses to go green by making it as cost effective as possible.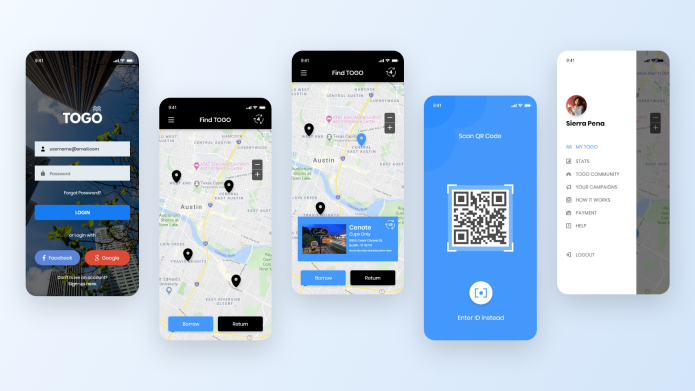 TOGO Check-out App

TOGO Cups
How TOGO works?
Help reduce your takeout waste in just four steps: 
1) Check-out a TOGO from your favorite restaurant or cafe on our TOGO App
2) Enjoy your drink or meal
3) Return your TOGO to a nearby TOGO bin
4) Reuse over and over!
After you dispose of your TOGO, we'll collect them, professionally sanitize, wash, and deliver them back to our zero-waste partner restaurants and cafes…
Our founder & Head Dishwasher, Sierra Pena. 🙂
About Founder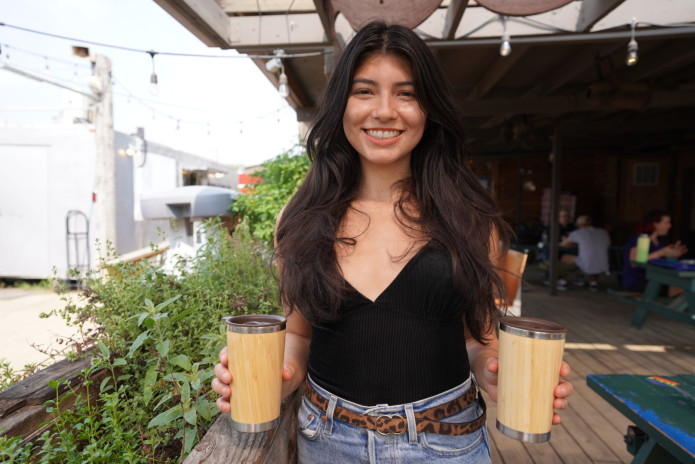 "My name is Sierra Pena and I'm the founder of TOGO.  Growing up in Puerto Rico, I saw the effects that the plastic crisis had on my island. Even before hurricane Maria, most of Puerto Rico's landfills were filled beyond capacity and much of the trash ended up in the ocean that I would swim in as a kid. TOGO was largely influenced by experiencing the single-use plastic crisis first hand… Aside from being an environmentalist, I'm a huge advocate for diversity and inclusion in the workplace. During my time working at Uber Corporate, I was the chapter lead for Los Ubers in Austin, Texas, the diversity and inclusion program for the Hispanic and Latinx community. One of my personal missions is to empower and advocate BIPOC and underserved communities with TOGO. I want to be as involved in this area as I possibly can".
Community
We believe that taking action on the community level is the key to change. We are passionate about growing a community of environmentally driven individuals who want a cleaner and greener city. We are partnered up with the City of Austin to help them achieve their goal toward zero-waste by 2040. We also host bi-weekly clean-ups in Austin, Texas as a way to give back to make our city cleaner. 
Check out The City of Austin's Circular Economy Map: https://kumu.io/ARRCircularEconomy/austins-circular-economy-story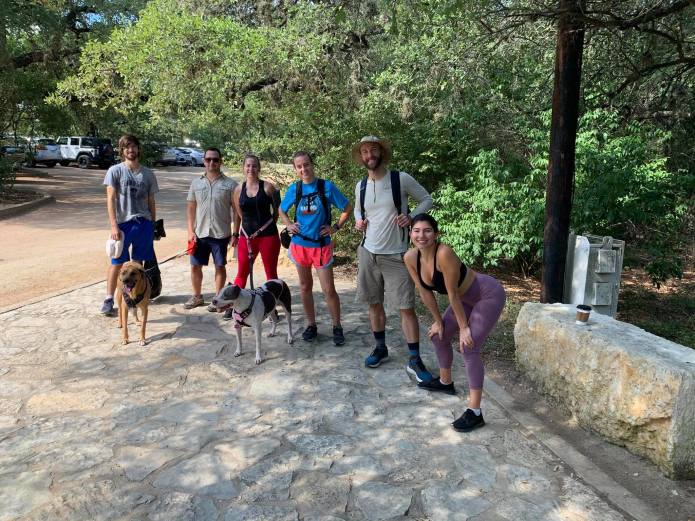 Why we need your Support
We're a small team with big ambitions. And taking on a fairly new industry is a big undertaking. To make TOGO come to life we need your help.
Creating a company that is largely based on logistics and hardware is tough enough –even more so when trying to be as sustainable and ethical in our manufacturing practices as possible. 
We have two main reasons for running our Indiegogo campaign:
-Investing in upfront manufacturing costs to integrate our hardware into our cups
-Getting the right people involved in the final stages of product development, as we want to deliver high quality products to our zero-waste restaurant partners
What you get
When we are successfully backed from you here on Indiegogo, you'll receive a TOGO reusable cup as seen in the pictures above, so you can start on your own zero-waster journey.  You'll also get behind-the-scenes updates directly from us founders that will help us turn this into reality. More importantly, you'll be part of our bigger mission and journey to take on reducing take-out waste on city at a time. 
$5 – Virtual Hug <3
$25 – Thank you card (made from recycled paper) 
$150 – TOGO Reusable Coffee Cup
$200- TOGO Reusable Coffee Cup + Reusable Cutlery
Product Specs
Our cups are made of lightweight stainless steel and bamboo. We chose to use lightweight stainless steel because of it's longer reusability lifespan. Additionally, using lighter weight material drastically reduces carbon emissions when being shipped. Bamboo is the fastest growing plant in the world and can grow 1-to-4 inches in a day and regrows quickly after being cut down, making it the No. 1 renewable resource. Since the plant's health is improved by cutting, bamboo can be re-harvested every three years without any harmful effects on the environment.
We are also going to be implementing QR technology in order to easily scan and check-out/check-in a cup at your favorite cafe.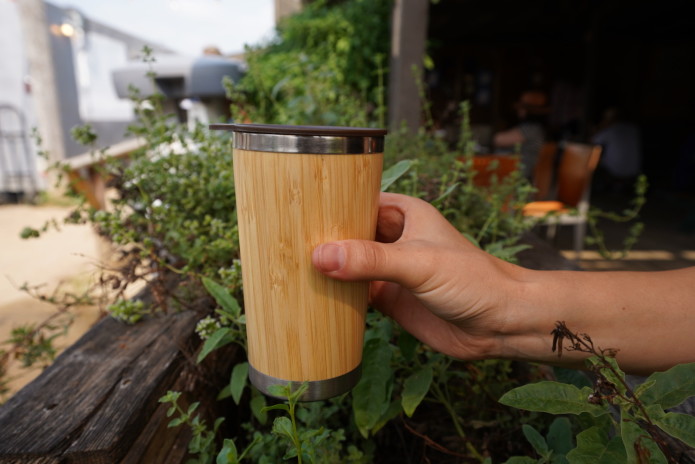 Big thanks to these behind the scenes backers
Family and Friends
Our advisors — Collette, Peter, Ken, and Reza
Colin M. for being immensely supportive and helping us with our financial strategy and launch plan
Johnny for taking these great photos
Jared for designing our first ever TOGO bin — be sure to check out his art
Our first pilot partners in Austin — Buzzmill, Epoch Coffee, Flitch Coffee –thanks for believing in us. As well as supporting restaurants / cafes — Counter Culture and TryHard.
The City of Austin, particularly Willow, Skyra, and Carol for all your support
Daniel & Katie Cuevas from Kitchen Factories for letting us use their commercial kitchen for our pilots
Follow Us
Join our Clean-Up Group (for Austin Resident's Only)
Thanks for your support!