Tequila La Noche | La Noche is a deep-well pomegranate tequila liqueur.
100% natural: made with Silver Tequila
Checks us out at www.drinklanoche.com!
Campaign Our Goals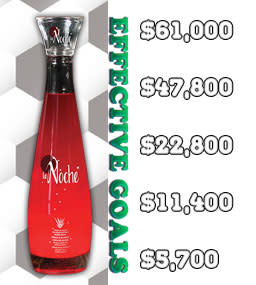 $5700 is the minimum amount needed that will allow us to bring a pallet of product in, we will use this to fill the perk requirements and continue to create buzz for the product and locate potential investors.
$11400 is the go for it amount. With this amount La Noche will be available in select pubs and restaurants. We will send out detail and location for those interested in knowing. 
 $22800 this is the amount that will allow us to bring in enough product for distribution for smaller chain stores and restaurants. We will hit the ground running with this amount.
$47000 with this amount we will be able to obtain a licence which will allow us to sell the product online. We will also be able to fulfill the $22800 requirements. 
$61000 This is the ultimate stretch goal for La Noche.  With this amount we will cover all of the above and will be able to run promotions.  See the chart at the bottom for this amount's breakdown details.
For international sales, partnerships, and other investment opportunities please contact us directly by visiting www.drinklanoche.com and clicking on the contact us button.
Beginnings
Hi, my name is Liliana.  I have worked in banking for over 12 years. Though, I developed a knack for getting things done in the banking world, made many wonderful friends and relationships, I felt I wanted to do something more.
One of my passions is preparing food and drinks for my friends and family. It was on one such occasion, when I had prepared my family's ponche de granada recipe, that a friend suggested I manufacture it.
At first, I thought, I could never do that! Well, then I thought, why not? Then, it occurred to me, I might just succeed at this. So, I made the decision to go for it! I turned my decision into a dream and began to make  that dream a reality!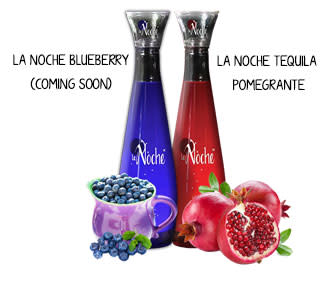 However, I spent the last two years in a bubble that kept me from achieving this goal. I had many helpful and loving people that wanted to see La Noche become a success. They would, at times, offer financial assistance. However, I never accepted. My business plan had called for only a few large investors, but each time I told someone that wanted to help me, "No, thank you.", I felt I was letting them down.
I'm not sure, but whatever the reason, I now feel that may not have been the right thing for me to do; to just leave those who wanted to help on the outside. So, now, how would I reach out to all those people who offered help? I kept this in the back of my mind over these last years. Then, just recently, a friend told me about crowdfunding. Not being internet savvy, I had no idea what that was. So I researched.   
My research led me to Indiegogo. It just made the most sense. Specifically because La Noche is an alcohol-based liqueur and, because of this, we are not permitted to offer it directly as a 'perk' for contributors. However, Indiegogo suggested instead, we could offer a membership package as a perk and thus, we'd be able to ship La Noche to our members! Awesome, since I would like for everyone who wants to try La Noche to be able to!
The Impact
La Noche is better enjoyed with friends. Each journey that La Noche takes to get to your table helps employ over 100 people from farmers, bottle makers, transporters, printers, retailers, etc. With La Noche's growth there will be a steady raise in the amount of people that benefit.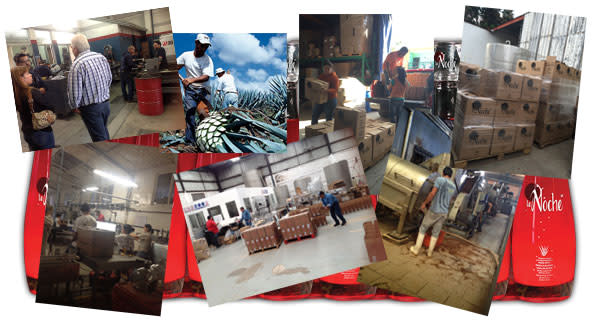 I am truly in love with our planet and its people. I know each human being has a spirit and is part of this creation. We are all in this together. Obscured by ill-circumstance and replaced with apathy and indifference. However, there is truly one thing we have control over – our future circumstance. This is the reason I have supported and will continue to support projects that will overturn ill-circumstance and make life better. Projects like: Children International, The American Heart Association, Leukemia Lymphoma Society, Padres Contra el Cancer, The March of Dimes, Rancho Nazareth Orphanage and The Jimmy Alan Studio. I will continue to work with these organizations and their like with or without La Noche's success.
However, if La Noche is successful, then I will be able to become more effective in changing circumstances to the positive. In fact, right from this page you can select one of the membership perks that will contribute directly to one of these organizations.
You can find their links below:
https://www.facebook.com/TheJimmyAlanStudio
http://www.globalunitedfoundation.org
Thank You Gifts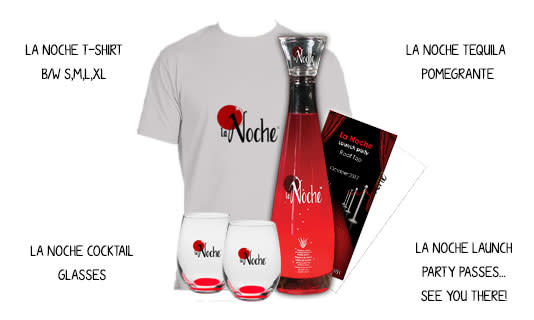 These are just some of the many items we are offering as thank you gifts. For the quantity and the details check the donation boxes to the right.
What We Need
If we are able to raise $61,000 to be able to manufacture, import, which includes (Customs government fees, Import licencing fees, transportation), promoting/samples and initiate the process for online sales. This will include four pallets of La Noche (1,920 Bottles) for sales, promotions and samples to current restaurants and bars who are ready to sell La Noche. If we not able to reach the bottom amount of $5700 we will ask Indiegogo to refund everyone's contribution. This is what the $61000 funds allocation looks like: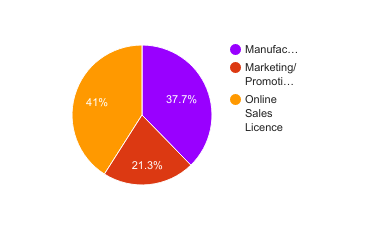 What you get: Some of your contributions come with different thank you's aka perks, but most importantly your contribution will help us change future circumstances!   
Risks & Challenges
As you may or may not know, the spirits industry is controlled by a few corporations and the government. One of the challenges is getting the product into the 17 alcohol regulated states for distribution and sales. Another challenge is getting a distributor into the rest of the states but California, since every state has different alcohol laws and regulations. Another Challenge is balancing life, we will be working without compensation, until the numbers make sense. Risks: Filling orders with limited inventory will be another challenge we cant grow too fast for this reason. Moving the area limitations to an online presence this requires a storefront and a type 21 licence. 
Other Ways You Can Help
If you are interested in becoming an owner of La Noche you can contact us at http://www.drinklanoche.com/.
Now that you know our story, there is other ways to help, make some noise, lots of noise!
Share our link with your friends, co-workers, your neighbor, your Starbucks barista, and of course with your family! 
Thank you!