TOPBiT- Protein Food Topping | 100% Plant-Based – 8g of Protein – Omega 3-6-9 Essential Amino Acids – Antioxidants


TOPBiT is the world's first protein food topping! Each stick of TOPBiT contains 8 grams of protein, antioxidants, omega 3-6-9 and all 9 essential amino acids. Finally, add protein to ANY food!
No, we are not a supplement. TOPBiT is made with 100% plant-based, real food ingredients. Our great tasting, crunchy BiTs are a convenient, nutritious, and environmentally sustainable solution to ensure no matter how busy you are, you never compromise your nutrition.
It's simple: Take it, Tear it, TOPBiT.
TRY OUR SAVORY HERB AND MIXED BERRY FLAVORS ON ALL OF YOUR FAVORITE FOODS!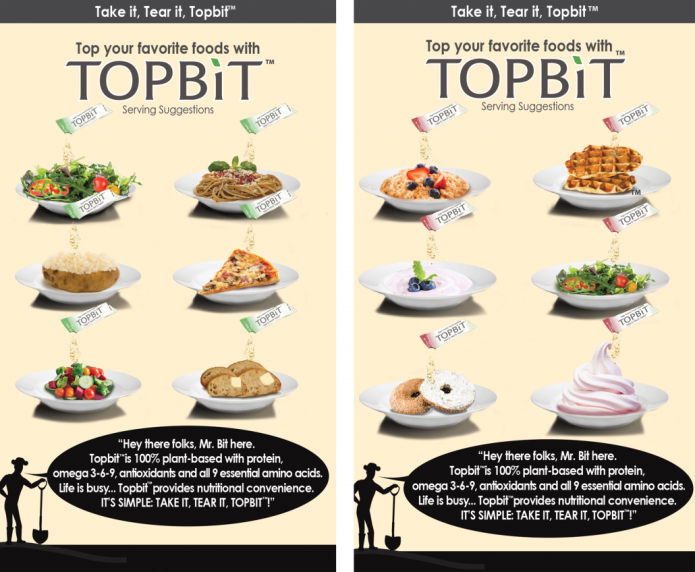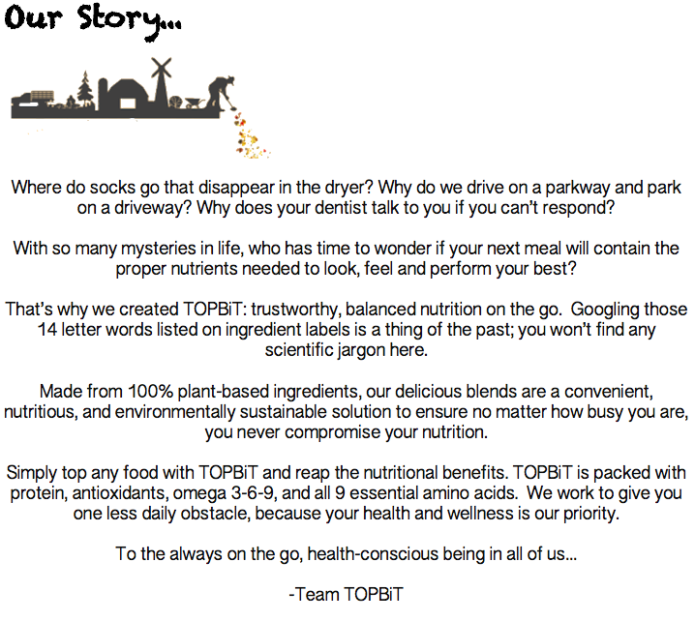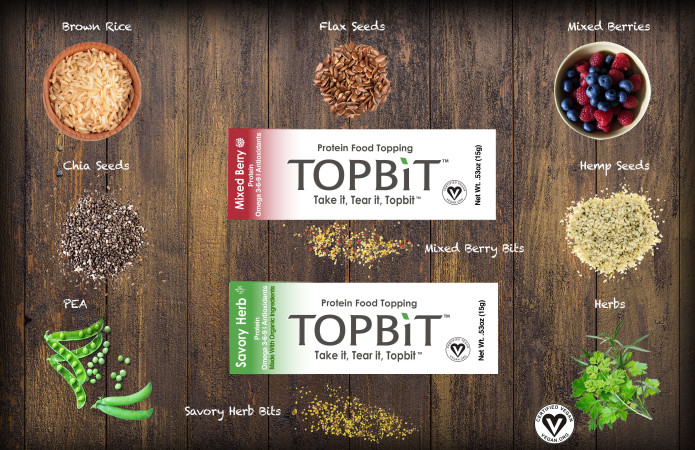 We Take our Ingredients and Make Great Tasting, Crunchy BiTs

Provide Nutrition!
Protein:  Get strong people! Each serving of TOPBiT contains 8 grams of protein.
100% Plant-Based Ingredients:  Our products are made from only the finest, real food, plant-based ingredients. (Certified Vegan)
Low Calorie:  Each serving of TOPBiT contains only 80 calories.
No Artificial Ingredients:  TOPBiT is made with real food ingredients.
0 Sugar:  Our great taste is all natural, no artificial sweeteners either.
All 9 Essential Amino Acids:  We carefully crafted our blends to ensure you receive a complete form of protein.  
Antioxidants:  TOPBiT is packed with antioxidants.  Fight free radicals!
Omega 3-6-9:  No, not from fish.  From plants.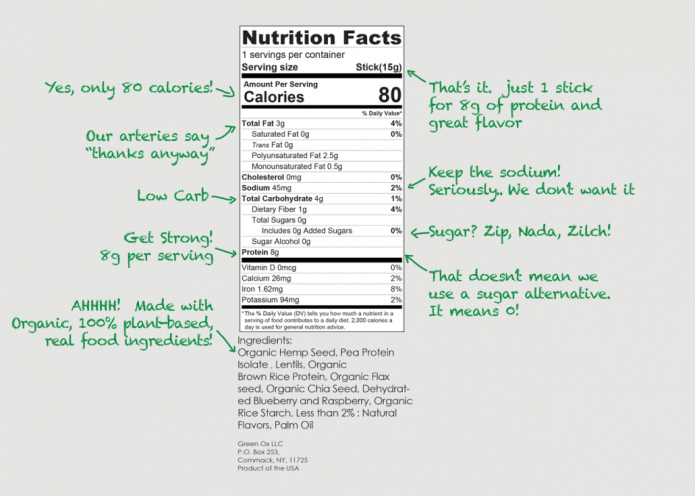 Convenience
With all of the conveniences life offers, why can't your nutrition be convenient too?
Each serving of TOPBiT is packaged in an easy, tear stick.  When your on the go; throw it in your coat, gym bag, or right on your food on your way out the door.
Take it, Tear it, TOPBiT!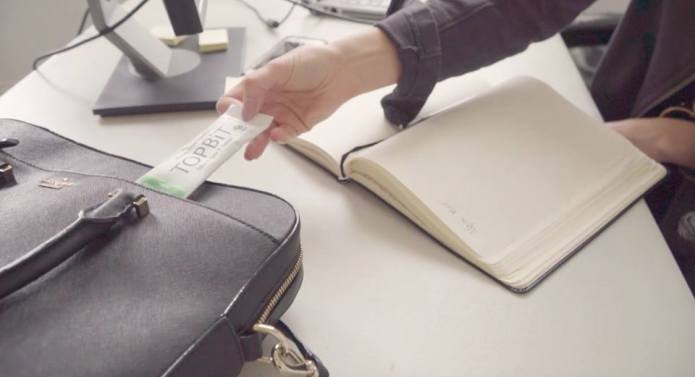 Let's not forget about our taste!
Not only do we offer convenient nutrition, we take your taste buds on vacation.  
Tired of your boring oatmeal?  How about your bland salad?  Add our Mixed Berry or Savory Herb BiTs to bring some life to your meal!
Guaranteed to keep you coming back for more!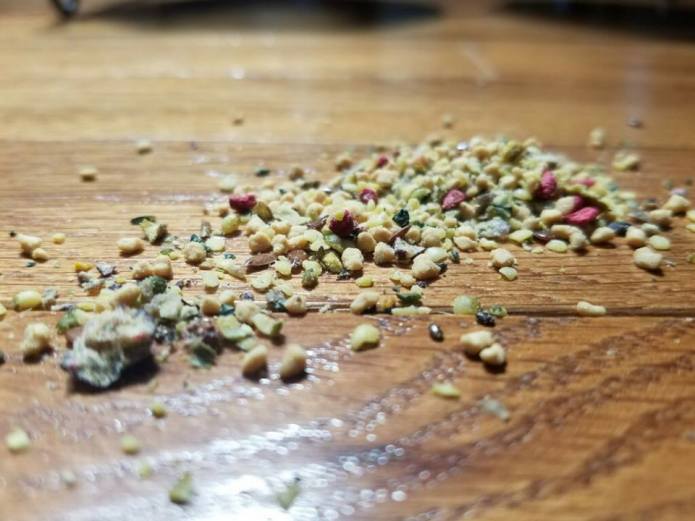 Our mission at TOPBiT is to make sustainable living easier one BiT at a time. 
Did you know that 663 million people in the world live without clean water? That's not very sustainable…that's why we work with charity: water. $30 can provide clean water for 1 person.


Our goal is to raise $40,000.  20% or more of funds raised will be donated to help charity: water provide clean, safe drinking water to people in need.  The remaining funds raised will go towards our first production run which will enable TOPBiT to come to market and continually donate 10% of our profits to work towards closing the gap of those living without clean water.
Together, we will make a difference!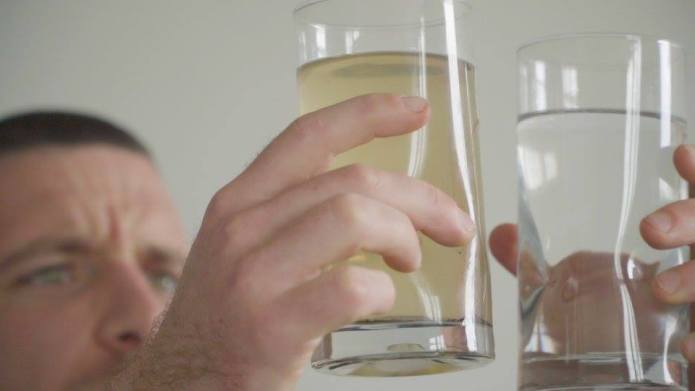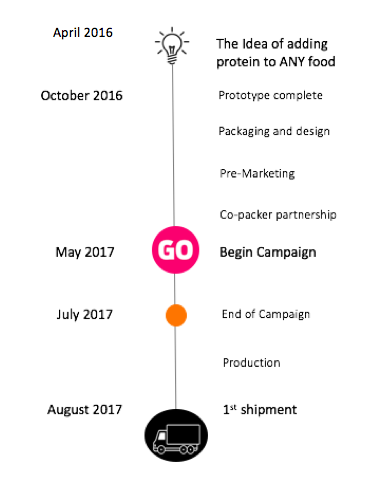 Tim Galligan

Nutrition has played an important role in my life. From weight struggles topping the scale at 245 pounds, I began to recognize the power of nutrition at an early age and have since transformed my life.
Throughout my journey I encountered another struggle- obtaining an adequate amount of protein from convenient foods while always on the go. I was sick of mixing protein shakes in water bottles. I wanted to enjoy the taste of my favorite foods with the protein content I desired!
With over 10 years in the consumer packaged good industry, I  have gained the knowledge and experience allowing me to take action.  I decided to create the solution to a problem that many of us face on a daily basis while simultaneously impacting the world!
…Enter TOPBiT
Dominick D'Aleo

Dominick is an entrepreneur who has built and operated multiple companies from inception to market. These companies have ranged from the Coffee and Tea world, consumer brands, to the technology industry. His business skill set has been crafted by running a multi venue operation in the hospitality world including a venue which holds the accolade as the "#1 Rooftop Bar in America" for two years in a row. He has ran businesses that have reached upwards of $13mm in revenue and marking a profitability percentage of close to 30%. With his background in finance and marketing, he specializes in the maximization of revenue and profitability of business. 
Chris Murphy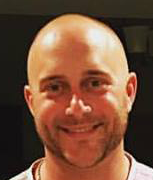 Business and Protein. As an entrepreneur, professionally-licensed trainer, and former Division-1 athlete, Chris Murphy knows a thing or two about these topics.  In fact, sometimes they're all he can think about, making him the perfect addition to the TopBit team. Chris' out-of-the-box thinking, non-stop marketing ideas, and proven success in building a start-up business are just a few of the many reasons TOPBiT is happy to have him onboard.