TRAP Juice – Mobile Market | Help us deliver free fruits and vegetables to food deserts in North Alabama.
Urban Roots Metro Market is an extension of TRAP Juice that we will utilize to deliver free fresh fruits and vegetables to food deserts in the Huntsville Metro area . We plan to use the funds raised from this initiative to retrofit our donated school bus and materials in order to launch in the Summer 2017.
The Problem 
(Map of Alabama Food Deserts)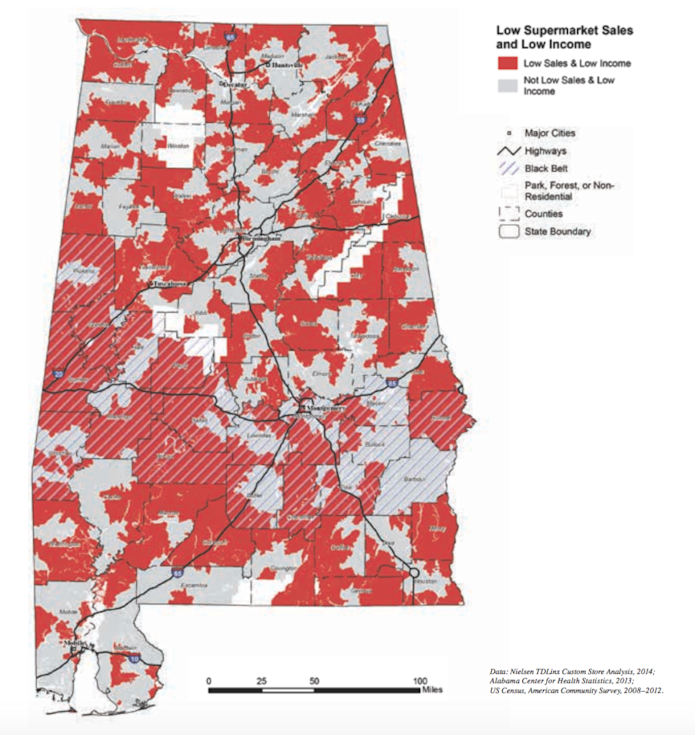 Nearly 1.8 million Alabama residents – including half a million children – live in low-income areas without adequate access to full-service groceries, the report concludes.
"People are traveling 10 to 20 miles outside their communities to purchase food," says Jada Shaffer, campaign manager for the non-profit VOICES for Alabama Children, which commissioned the study along with the Alabama Grocers Association.
And that's assuming people have transportation. More often than not, Shaffer says, families are relying on what's nearby: gas stations, convenience stores – and fast food.
More than 32 percent of Alabama adults are obese, while 35 percent of children are overweight.
Huntsville is a rapidly growing city and has done well to invest in a range of community health initiatives, but food deserts continue to be a pressing community health concern. Families that reside in food deserts consume on average fewer fruits and vegetables, and endure higher rates of diet-related health issues.
"A food desert is a district in an urban or rural setting with little or no access to large grocery stores that offer fresh and affordable foods needed to maintain a healthy diet." – Julie Smith, Green Cities: An A-to-Z Guide
The Solution

Urban Roots Metro Market will have a regular weekly schedule, reaching multiple neighborhoods each day and targeting communities that are most underserved in terms of food access. Urban Roots Metro Market will alter the food desert environment by providing free fruits and vegetables  and educating families on how to incorporate them to create a healthier lifestyle. This concept is based on a proven model that has been very successful and impactful in other major cities, such as Chicago, Washington, D.C, and smaller markets like St. Louis.
With an add-value approach, Urban Roots Metro Market will foster community engagement and establish strong working partnerships with key stakeholders including health centers, schools, and other community-based organizations to maximize outreach. Urban Roots Metro Market is able to add to the capacity of existing community health programs and school curriculum by utilizing the truck as a platform to educate youth and families around healthy eating, meal preparation and urban agriculture.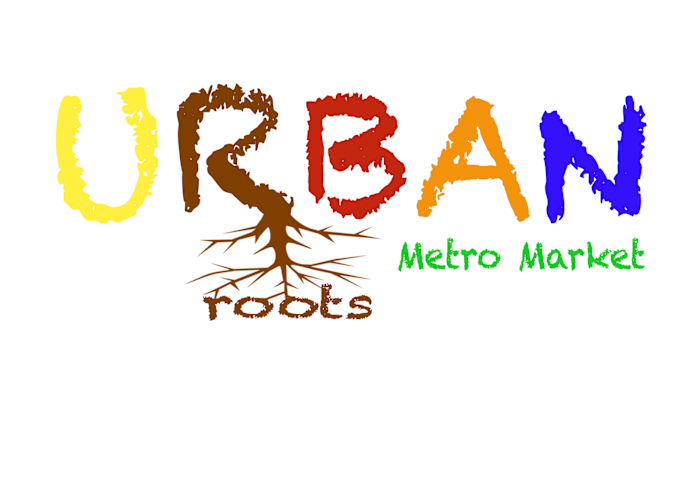 How We Sustain The Bus In The Future
We have been fortunate to have the initial support of a great team of people and several organizations, such as Neighborhood concepts, a local nonprofit who has partnered with us to help fulfill our mission to eliminate food deserts. 
In addition, a portion of the bus will be used to sale cold-pressed juice, smoothies, and products from local artisans at farmers markets and other food truck rallies. These funds will allow us to maintain the bus without seeking additional funds from outside sources in the future.  
We are fully prepared to launch this venture and need your support to take the next step to become operational. The funds raised will go directly to the retrofitting, supplies, and licensing needed to bring the market to life! These things include but are not limited to installing all retrofitting such as flooring, foldout racks for produce, checkout counter, and exterior bus design.
Youth Entrepreneurship Program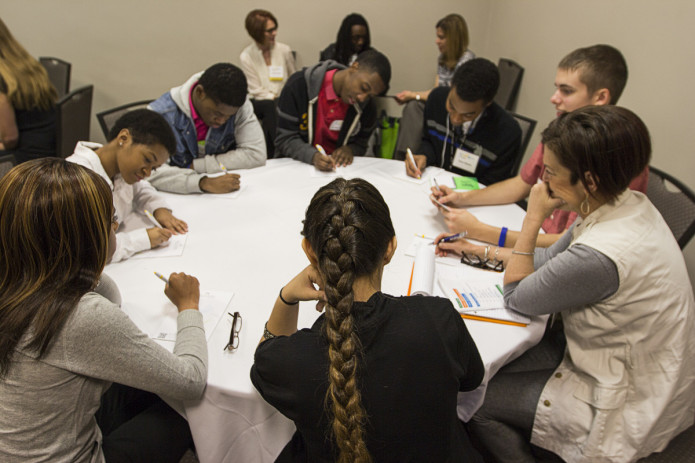 One of our missions is to expose youth to entrepreneurship and teach them money management.  From the bus will be facilitating our youth entrepreneurship program with the children we work with in low income and food desert communities. They will be able to sell products they have created (mainly baked goods) and learn how to save and manage the money they make.
Risks and Challenges
Urban Roots Metro Market has outlined three challenges which we will face in completing our project: city regulations, community integration, and food safety. Urban Roots Fresh Market has mitigated a lot of these challenges with a diverse team, experienced board and strong community support system.
Challenges:
1) All necessary licenses and permits from the City of Huntsville are essential for a streamlined operation across our targeted neighborhoods. Urban Roots Metro Market leadership team will  maintain strong ties with the public sector and plan on intensive collaborative work to ensure we are addressing the needs of the community. Urban Roots Metro Market will have discussions with the relevant City of Huntsville agencies to outline timetables for obtaining all necessary licenses and permits.
2) Urban Roots Metro Market recognizes the value of collaborating with community-based organizations and attaining the buy-in of grassroots community leaders. These groups and individuals will help Urban Roots Metro Market establish key distribution channels. Urban Roots Metro Market leadership team is deeply rooted in the Huntsville's communities through extensive work in the nonprofit sector, which has led to strong relationships with key organizations essential to our success.
3) Ensuring safe handling and storage of produce throughout the supply chain is of the upmost importance to Urban Roots Metro Market. Urban Roots Metro Market has outlined a set of safety considerations specific to the company and the leadership team and will draw on the insights of high-level food industry executives to develop a standard of operational excellence and safety.
Start-Up Costs: 
Retrofit  – $15,000
Bus Wrap & Design -$4,500
Side Awnings & Shelves – $3,000
Refrigeration Units & Generator Installation -$5,500
Shopping Bags, Containers, Produce Bins, Cold Bags, Ice Sheets, Display Hooks, Table Cloths, Produce Scale – $1,000
Roto Clips, Produce Signs, Sandwich Boards, Stickers, Flyers, Frequent Shopper Cards, Recipe Cards – $1,000
TOTAL EXPENSES
$30,000