Treats Happen – Clean, Pure, Natural Dog Treats | Pure, single-sourced proteins. Like crack for dogs but healthy.
THE NEW TREATS
Our new product line focuses on three different proteins: locally sourced Canadian beef, locally sourced Canadian pork, and sustainably sourced Alaskan cod. They come in two different cuts: mightys, a thin wafer, and minis, the smallest air-dried treat on the market.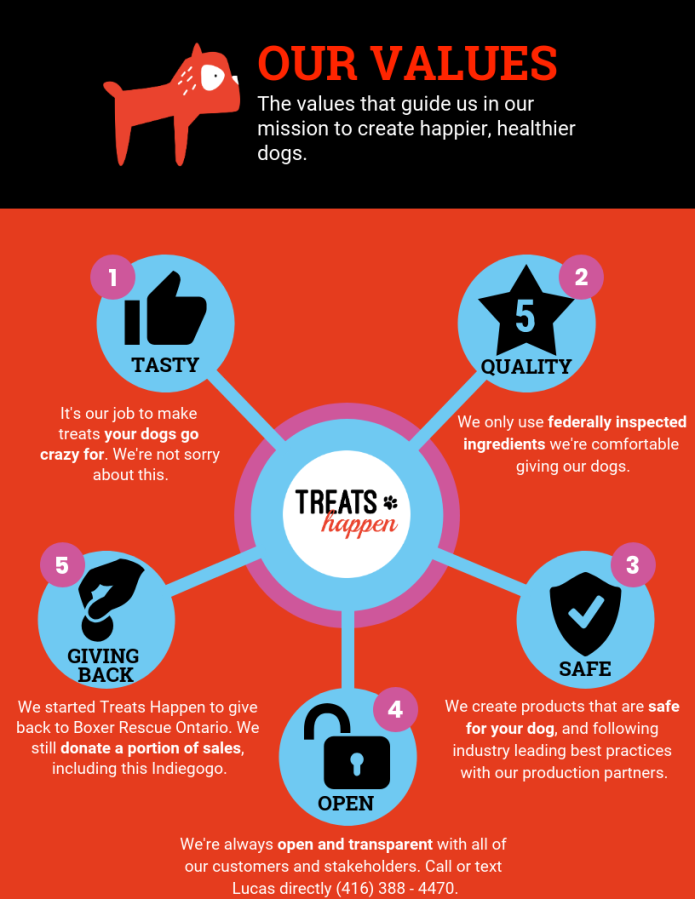 OUR TREATS
Through making our own treats, and working with manufacturers and industrial kitchens, we learned about the right way to do things. Our treats are:
Locally made
Locally sourced (beef and pork)
Sustainably sourced (Alaskan cod)
Obtained from federally inspected sources 
Traceable and made under GFSI guidelines
Gently air dried using a proprietary technology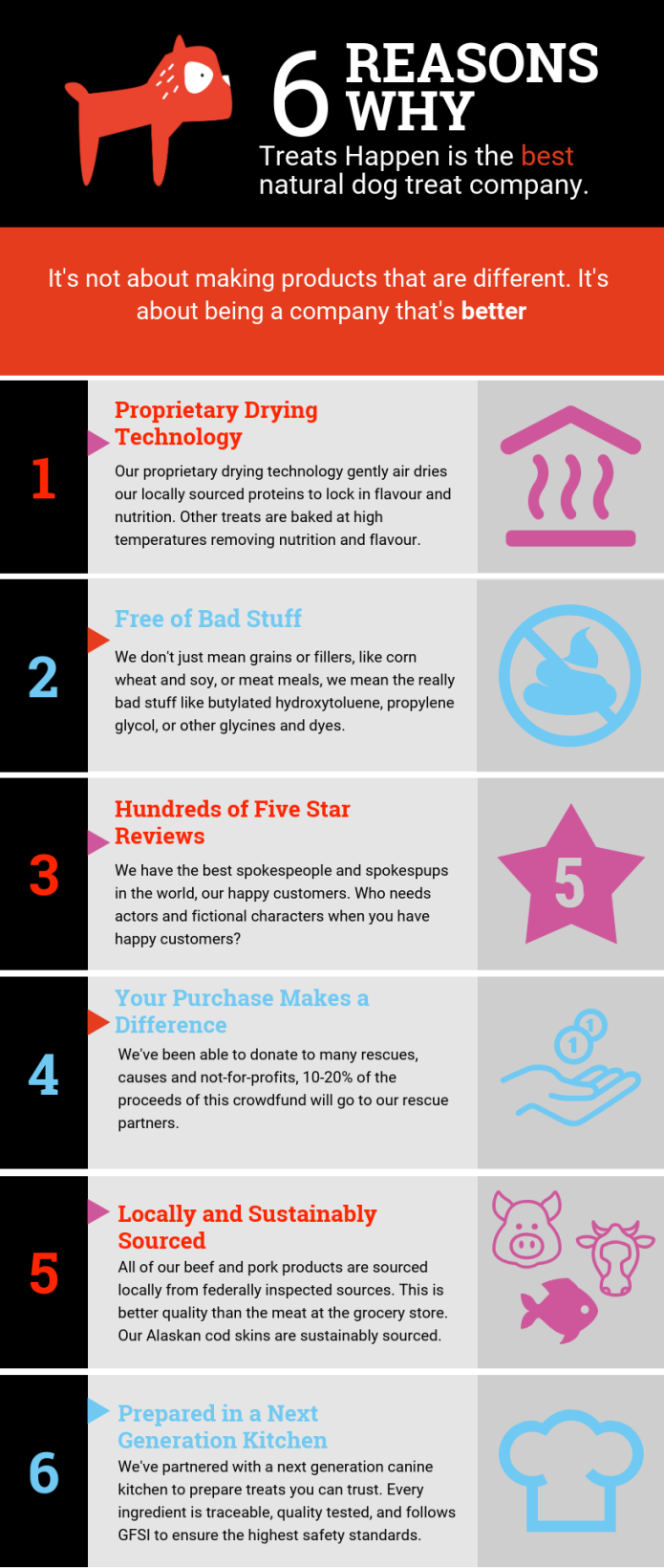 WHAT OUR CUSTOMERS SAY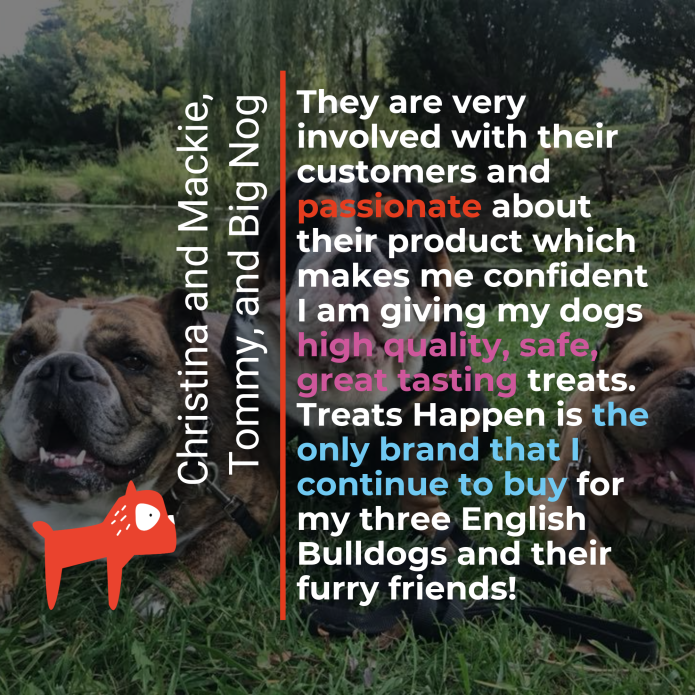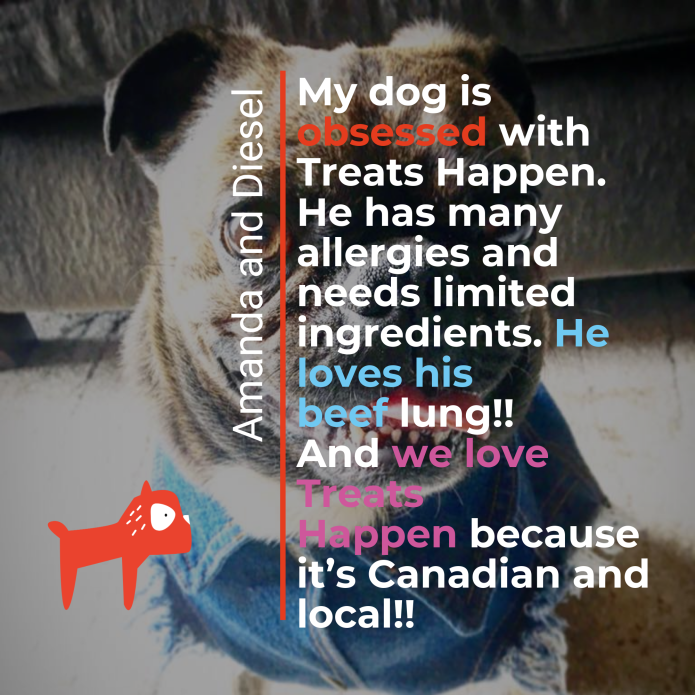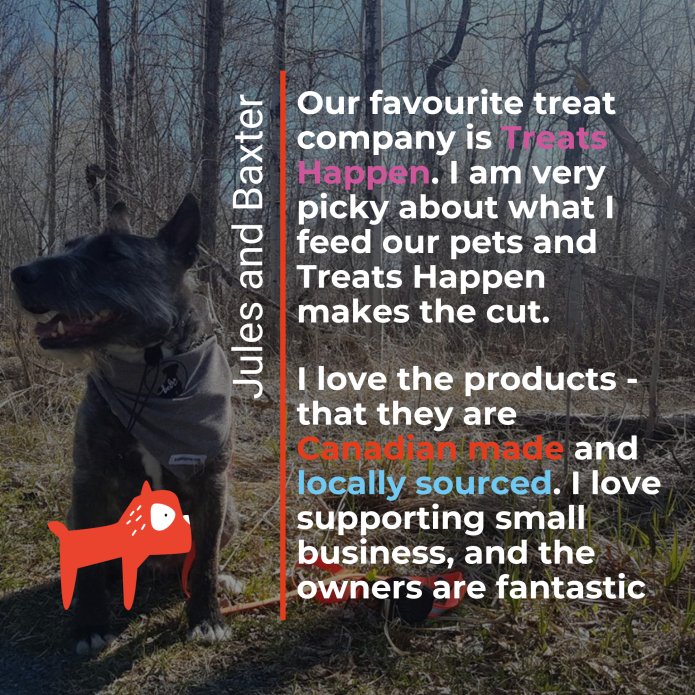 YOUR DOG IS OVERWEIGHT – THE CANINE OBESITY EPIDEMIC 
Ok. Maybe not your dog, but about half of dogs are overweight.  We even see many pet parents who feed their dogs great species-appropriate diets but then spoil them with high carb biscuits and dollar store junk. Just like us humans, our canine companions are prone to additional health risks caused by being overweight. Some of these health issues include:
Increased likelihood of arthritis and other joint injuries such as torn ligaments.
Heart and breathing conditions such as collapsed trachea and laryngeal paralysis which can be fatal if untreated.
Greater risk of complications during anaesthesia due to overworked heart and respiratory systems.
Tumors and cancer linked to obesity, specifically benign fatty cell tumors and transitional cell carcinoma
Skin irritation and infection 
Lower quality of life due to it being harder to get up and down and play
Up to two years off the lifespan of your dog
We want to help your dog live a happy, healthy life, and believe that starts with proper nutrition.
WHY INDIEGOGO?
We've decided to do this crowdfund as an event to celebrate the next phase of our company and help us gauge interest and demand in our new products as we finalize our production run. We're also a self-funded company which means we've never taken on any private equity from investors that will take control of our company.
OUR STORY
We started making treats for our dogs in 2014 when we weren't happy with the quality of treats available. Many "natural" treats were more gimmicky than natural, and the majority were made with questionable ingredients or from even more questionable sources.
After seeing many pet parents with similar issues all over Canada and the USA, we decided to start selling our own treats online as a way to give back to some of the rescues we had been following.
In 2015, co-founders Lucas Walker and Riley Wallbank decided to focus on Treats Happen full time. Every weekend, Riley and Lucas attended consumer shows selling their treats and meeting customers.
Fast forward to today, and we're going all-in on single-ingredient treats, and giving back is still at the core of what we do.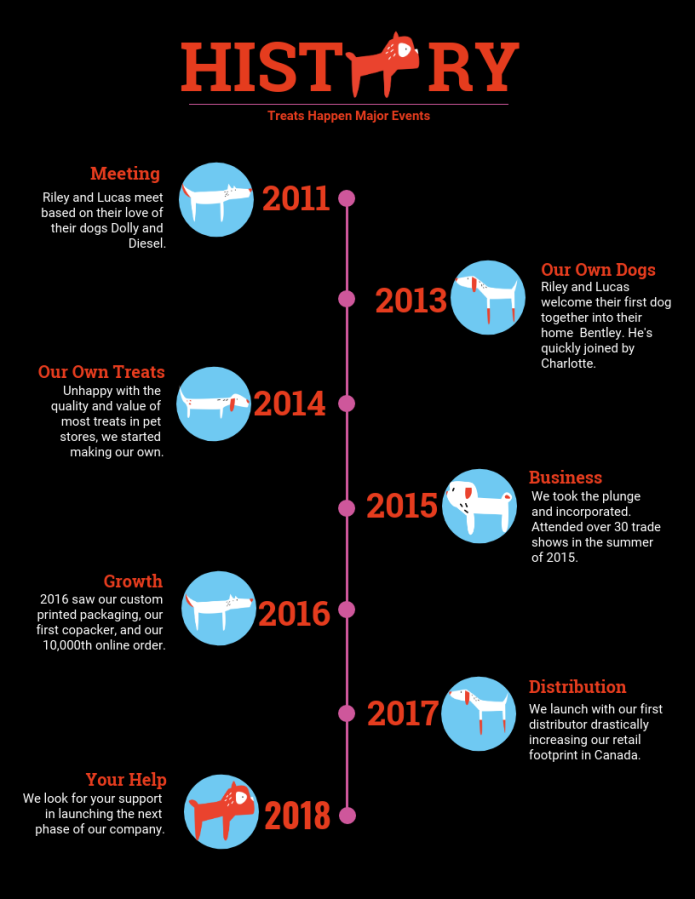 RISKS AND CHALLENGES 
There are always risks, especially with the food industry. Some steps we've taken to help prevent any risks are
Ordered in packaging and have it on hand
Scheduled our production run
Have full traceability of all ingredients
Looking into alternative shipping methods with the rolling Canada Post strikes
OTHER WAYS YOU CAN HELP
We rely heavily on word of mouth to grow, we would be grateful to you if you shared our campaign with someone you know who has a dog. We also look to make a difference. If you've made it this far, please consider making a donation to your favourite not-for-profit.
SPECIAL THANK YOU
We couldn't have done it without the following people
Elizabeth Duncan
Paula Wallbank
Katy Lewis
Sarah Horrocks
Eugene Woo 
Quinn Wallbank
John Barrows
Colin R. Davidson
Don Wallbank
David McGregor
Ren Wallbank
Andrew Outien 
Amanda Camacho 
Dan Demsky
Alex and Jerry
Jason and Lisa
Peter, Maurrizo and the team
Every one of our customers and supporters
ONE MORE THING
Once we hit our goal, we will feed one of our backer's dogs for six months. In full transparency, that's six 12lbs bags of Open Farm, a company that we believe is doing things right.