Treetop's Sequoyah Shop | Making the jump from truck to brick and mortar! Help us make 1206 Kenesaw our new permanent home.
Welcome to the party!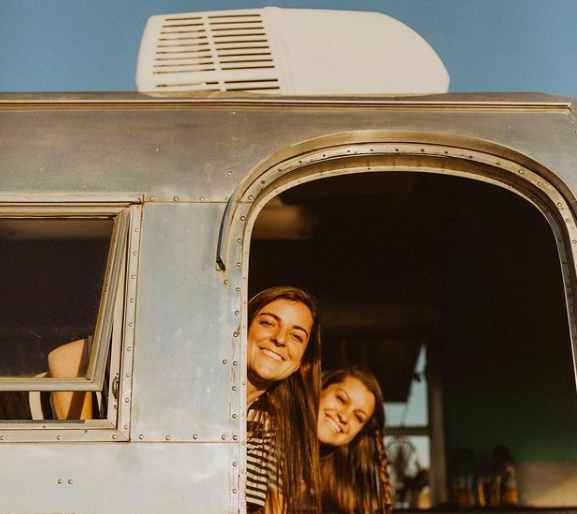 We're Treetop – a team of Texans turned Tennesseean with a passion for great coffee and families affected by foster care and adoption. You can also call us Rachel and Courtney! For the last two years we've been driving around East Tennessee in our big green coffee truck serving at weddings, birthday parties, office gatherings, teacher appreciation celebrations – you get the gist. Behind the scenes, we partner with all kinds of organizations supporting children and families involved in adoption and foster care. In the past, this has looked like anything from monetary donation, to book and school supply drives, to adoption fundraising.
Two years after starting a mobile coffee shop, we find ourselves with an opportunity to add a brick and mortar shop to our current operations- crazy, we know. While a stand alone shop has always been a goal of ours, we didn't realize we'd be in a position to reach that goal this early in Treetop's journey, especially after a year full of challenges and surprises. We're FLOORED by the response of people in our immediate community and elsewhere, and are so excited to bring this shop to life! 
How we got here and Where we're headed
We say this often and earnestly – Treetop would not be in this position if not for the rallying of a community that has welcomed and invited us into the Knoxville coffee scene. From day one you've bought our coffee, said hello at the food truck park, invited us to your parties, and kept us afloat during a pandemic shutdown. We'll never get over the consistent generosity and cheerleading from you all, and it's why we're confident this shop will be a beautiful addition to Treetop with your help.
Immediate Impact: This shop is for you! We'll be in an area that is seriously underserved when it comes to great coffee. Aside from that, though, we want to create a space that encourages people to gather, engage with, and enjoy their community. Your contribution helps you just as much as it helps us! 
Broader Impact: As Treetop continues to grow, so does our reach. The addition of a brick and mortar opens another source of revenue, allowing us to invest more in our partner organizations locally and internationally – the cause behind the coffee is a huge part of why we do this.
A Deeper Look
The total amount of capital we'll need to get our doors open is $55,000. Here's exactly how we plan to allocate that money.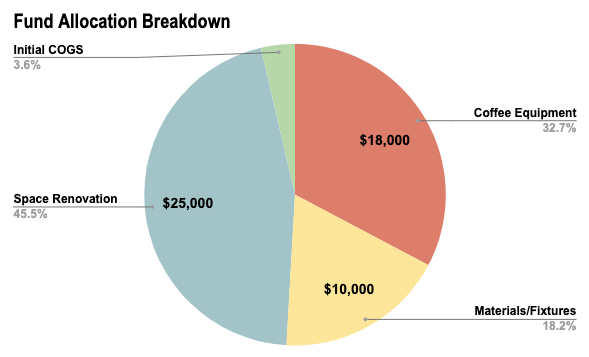 The game plan is to reach this number through small business lending, crowdfunding, and private investment. If you're interested in what a private investment would look like with Treetop, we'd love to hear from you. If crowdfunding is more your jam, we've got perks for you! 
What are perks? This platform is great for recognizing those that choose to give – and you deserve allll of the recognition. Throughout the duration of this campaign, we'll have different levels of perks depending on how much you're willing to give. Perks will range from t shirts and stickers all the way to private coffee classes in our new space, bags of coffee, and limited edition "founders" swag. 
Why should I give?
The results are in – Knoxville, and the Sequoyah Hills area in particular, want great coffee and welcoming atmosphere closer to home. Think of your contribution to this campaign as a contribution to your immediate community. Additionally, an investment in Treetop's success is an investment in the cause behind the coffee – to bring comfort to the world's kids. Every single cent matters in this campaign – no contribution is too small.
Other Ways You Can Help
Maybe you're unable to give right now – we get that! Here are some other ways for you to show up for Treetop.
SHARE THIS CAMPAIGN! Whether you're able to contribute or not, the more people that hear our story, the greater our reach
Post about the new shop on your socials – share your excitement to help us generate more buzz in and around Knoxville
Grab a coffee from us, or even just say hey when we're out in the wild
Sign up for our email list if you're interested in keeping up with all things Treetop