Tripresso: Brew Barista Perfect Coffee On The Go | The Coffee Maker That Brews Perfect Capsule or Ground Coffee On The Go. Created with love from Italy

Get Barista-perfect coffee wherever you are with the Tripresso portable coffee machine. Freshly-ground coffee or Capsule coffee on-the-go every time.
We have released our new version of the already successful product Tripresso which sells at major retailers, this new version is called Tripresso ES. 
With Tripresso ES you get the same brilliant design but with additional features: 
1. This version support Nespresso capsules.
2. Upgraded pumping system meaning less force will provide more coffee.
3. Upgraded pumping base and body increase the lifespan
4. New packaging with the 1-year warranty on all parts.

Our new Tripresso ES is the portable espresso maker that lets you make freshly-ground or capsule, barista-perfect Italian coffee, every time, no matter where you are.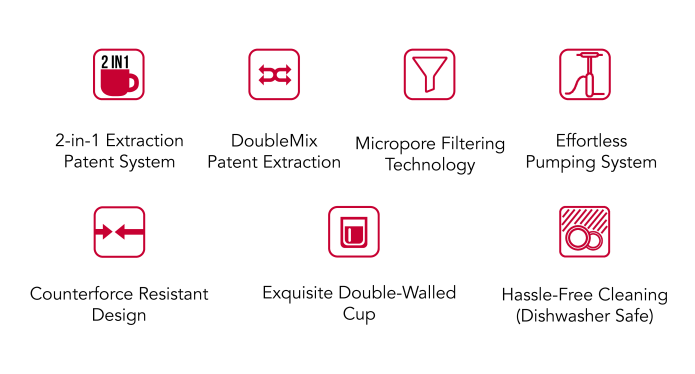 From Barsetto, makers of fine Italian coffee since 1898, comes the ultimate device for coffee lovers.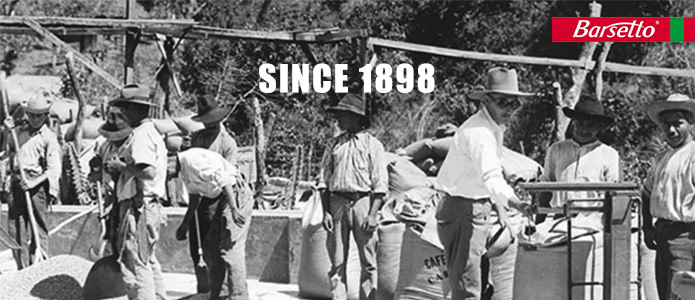 Our new Tripresso ES lets you make your own freshly-ground coffee or use capsules on-the-go, with its patented 2-in-1 extraction system. It only takes a few seconds to create the perfect espresso, using ground coffee or a coffee capsule. Your Tripresso ES keeps your coffee hot for as long as you need it, so it's perfect when you're out and about.

The new 2-in-1 versatility extraction design allows you to use fresh grind coffee, capsules or Nespresso**, you can discover unlimited flavours in hands.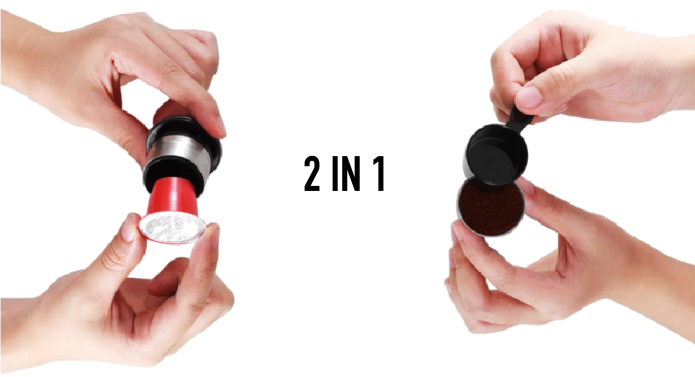 Tripresso ES is brewing is less bitter and lower acidity coffee thanks to the DoubleMix™ extraction technology. Unlike most of the home espresso machines, you don't have to adjust the grind, tamping force and water temperature to achieve a shot. It provides stable brewing pressure (218PSI/15BARS), which gives a fantastic result in every single brewing progress.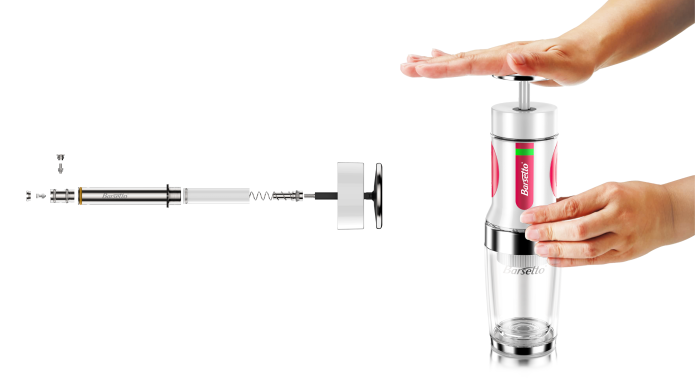 Ergonomical design decreases up to 25% resistance while palm-pressing(218PSI/15BARS)
Built-in 32 High-precision Micro-holes(0.8mm) prevent grounds leaking, also creates perfect crema and silky smooth espresso.

Built-in 32 High-precision microfilter holes (0.8mm) prevent grounds leaking, which gives you a pure and particle-free essence. It will also create perfect crema throughout the extraction and generate silky smooth espresso body.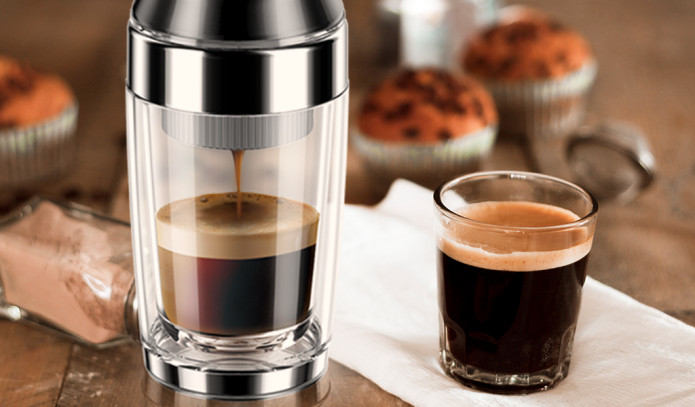 Labour-saving palm-press action design not only makes brewing progress extremely easy and effortless compared to other ways but also creates enough pressure for extraction. The anti-slip silicon handle ensures your hand stays in position when pumping. Now, you can brew your own coffee at any flat surface, such as a gas station table, surfboard and much more.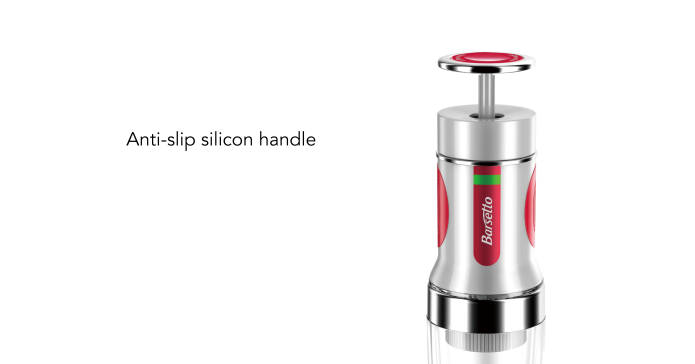 The 80ml capacity main body is made by Tritan™, which is a BPA-free plastic. It's impact-resistant and tough, also much lighter than glass. The dual-wall coffee mug is made by PCTG plastic (outer wall) and BPA-free High-boron silicon glass (inner wall). It is designed with anti-scalding structure and insulation function.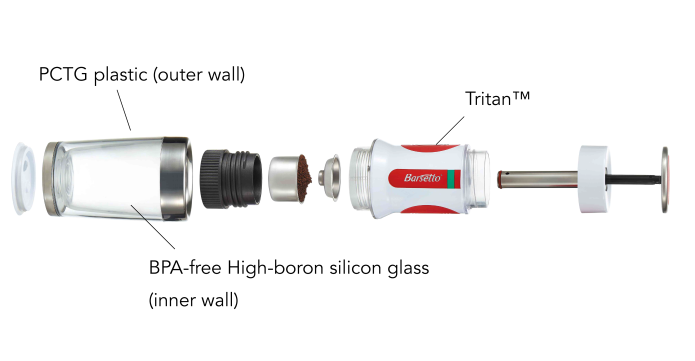 Tripresso ES is for coffee lovers who want a great cup of coffee but can't always get one.
Hiking – Take it on those long walks and let yourself go with a nice cup anywhere.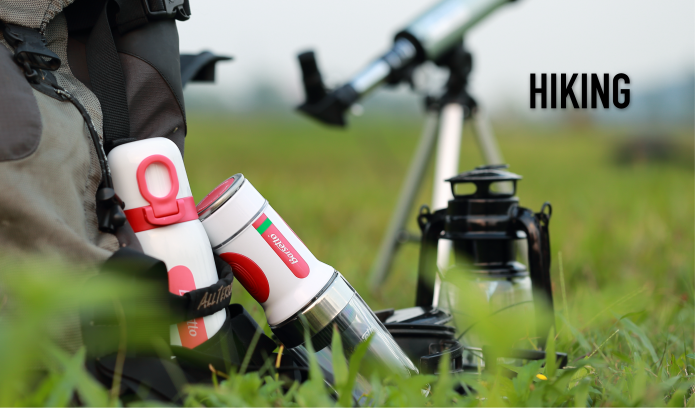 Sports people – Tripresso ES fits handily into your sports bag, your bike's bottle cage or just about anywhere else.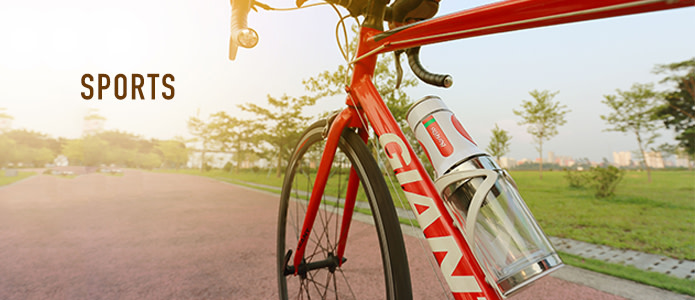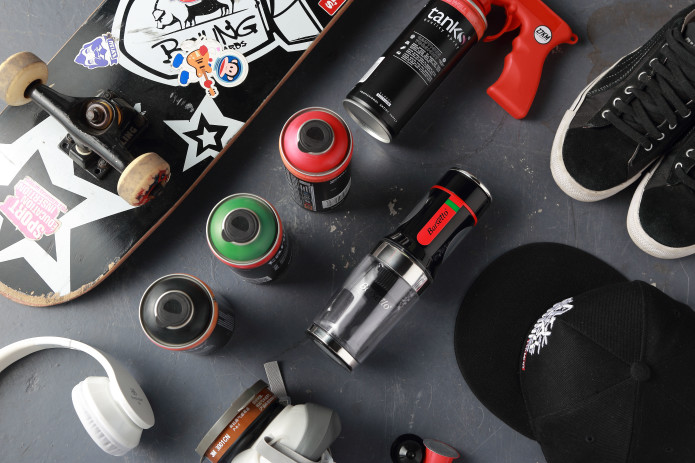 Commuters – The perfect espresso on your morning train to work. No more queues at the café! Also fits perfectly in your car's cup holder.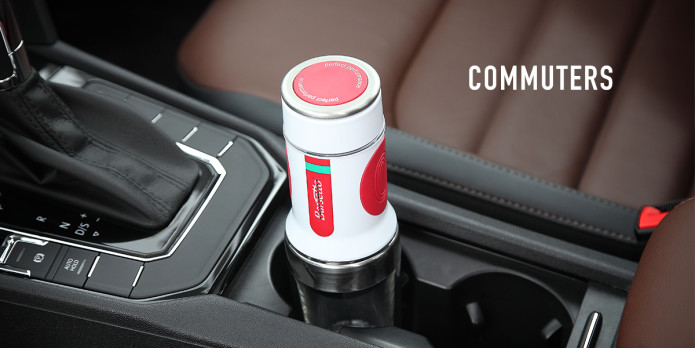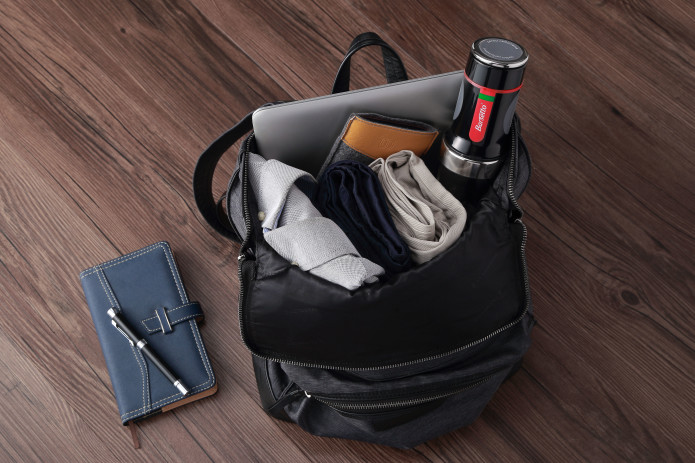 Lovers of the great outdoors – Tripresso ES gives you the ultimate luxury when you're camping, hiking or skiing. What could be better than freshly-ground espresso with Mother Nature?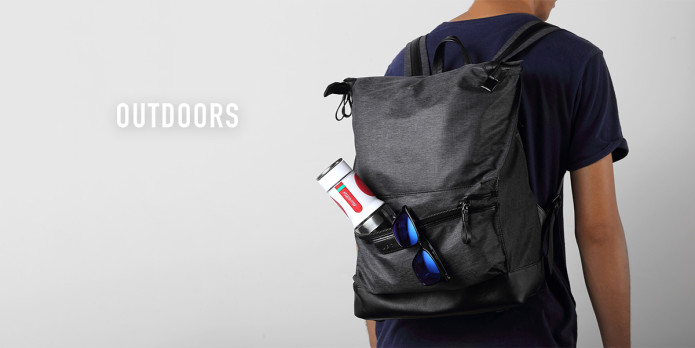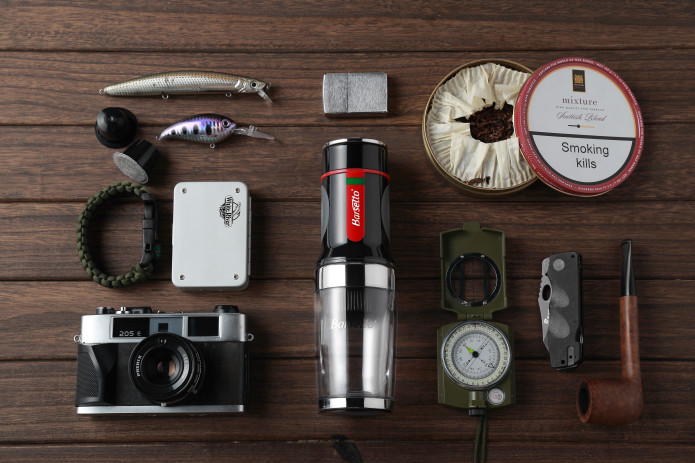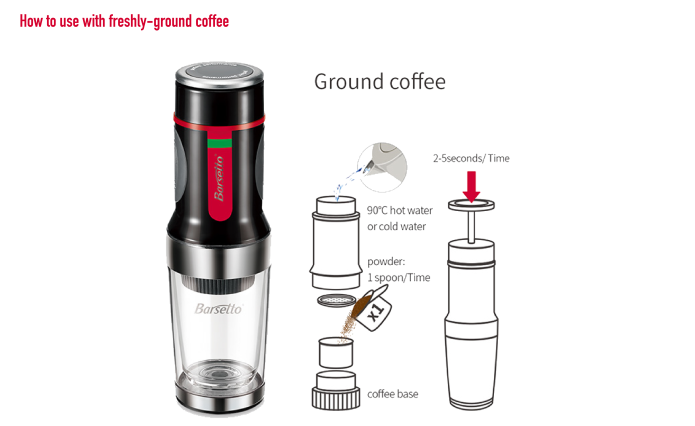 To get freshly-ground coffee on-the-go with Tripresso ES, all you need to do is remember to load up your Tripresso ES with ground coffee (or capsule) and some boiling water before you leave. Tripresso ES is designed to keep the water hot for hours, so don't worry about it going cold.
(Don't worry about leaks either. Your Tripresso ES is made from super-tough stainless steel! It's super-insulated too, so you won't burn your hands!)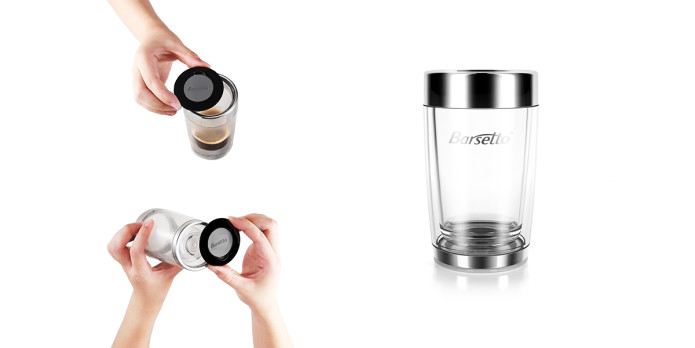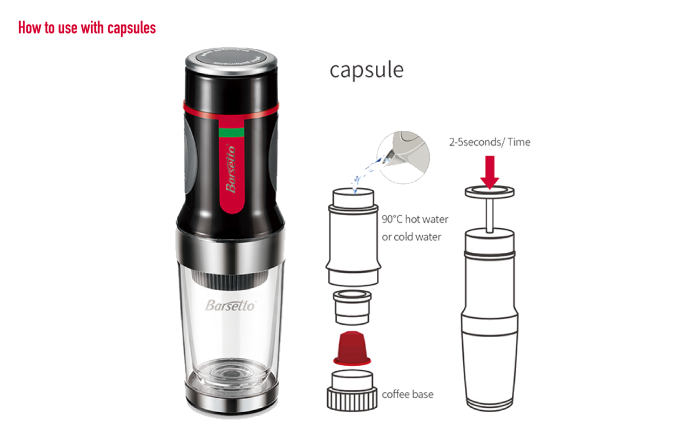 When you're out and about and fancy a barista-perfect Italian coffee, reach for your Tripresso ES. With your ground coffee or capsule in the coffee base and your boiling water in the chamber, simply pull out the plunger and press it down to extract the coffee. You'll soon see your impeccable espresso drip down into the flask.
It only takes a few seconds for you to make your delicious fresh coffee. Now all you have to do is sit back and enjoy drinking it.

Because Tripresso ES is so compact and simple, you can use it anywhere. On the train to work, out walking in the forest, on a road trip or just at home, a delectable espresso is never out of reach with Tripresso ES.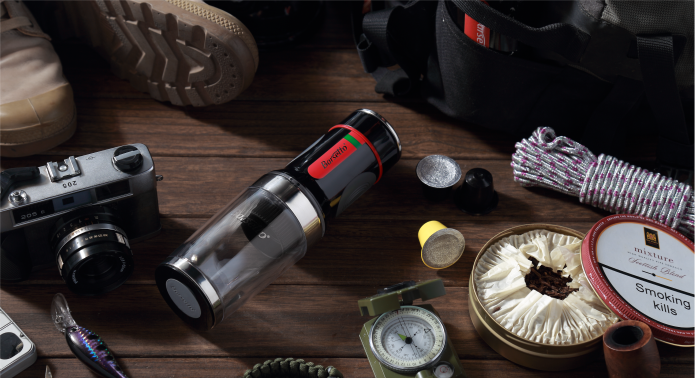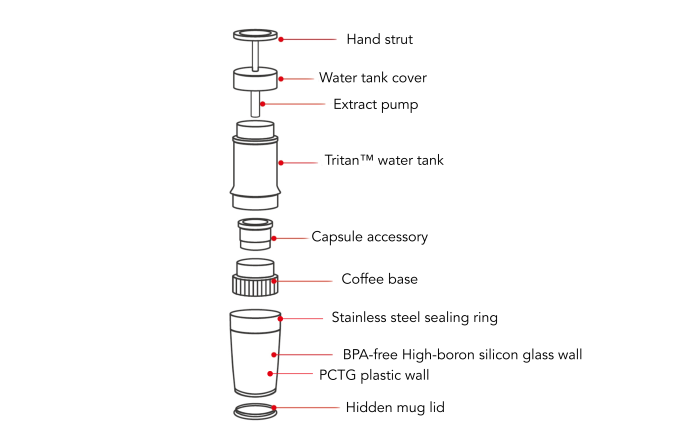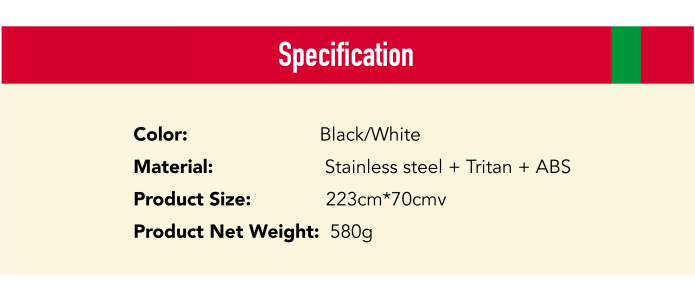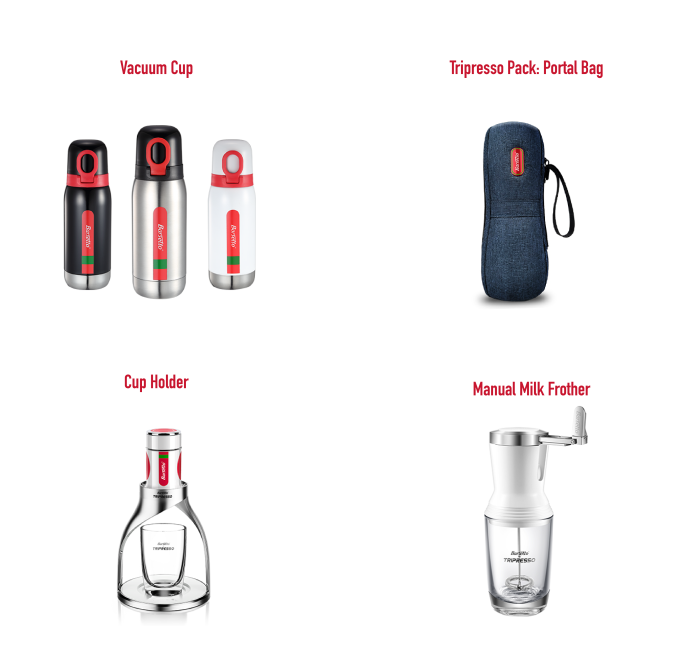 Italian Espresso represents the state of the art coffee technology and is globally valued as the most appreciated coffee variant. In the last 120 years this ambrosia has been more and more refined to become an art of brewing the perfect Espresso and Espresso based beverages (Cappuccino's, Latte's, etc.) ready to delight your palate. Now, Barsetto can offer to every customer the perfect "Made in Italy" Espresso in the comfort of your house in less than a minute.
We have been selling our products successfully for years at major retailers. This is our new and improved Tripresso ES.
Ready To Ship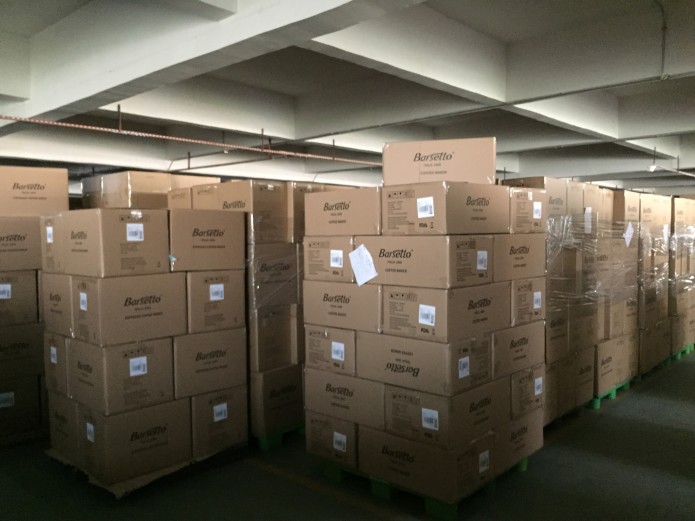 Comparison Chart