VAVA Chroma Triple Laser Projector | The world's most advanced ALPD® 4.0 triple laser projector with Rec.2020, MEMC, 3D, Alexa & HDR10


Introducing the VAVA Chroma, an ultra short throw projector featuring triple laser technology, ALPD® 4.0, Alexa voice control, MEMC, 60W Harman Kardon Speakers and smart Android TV system.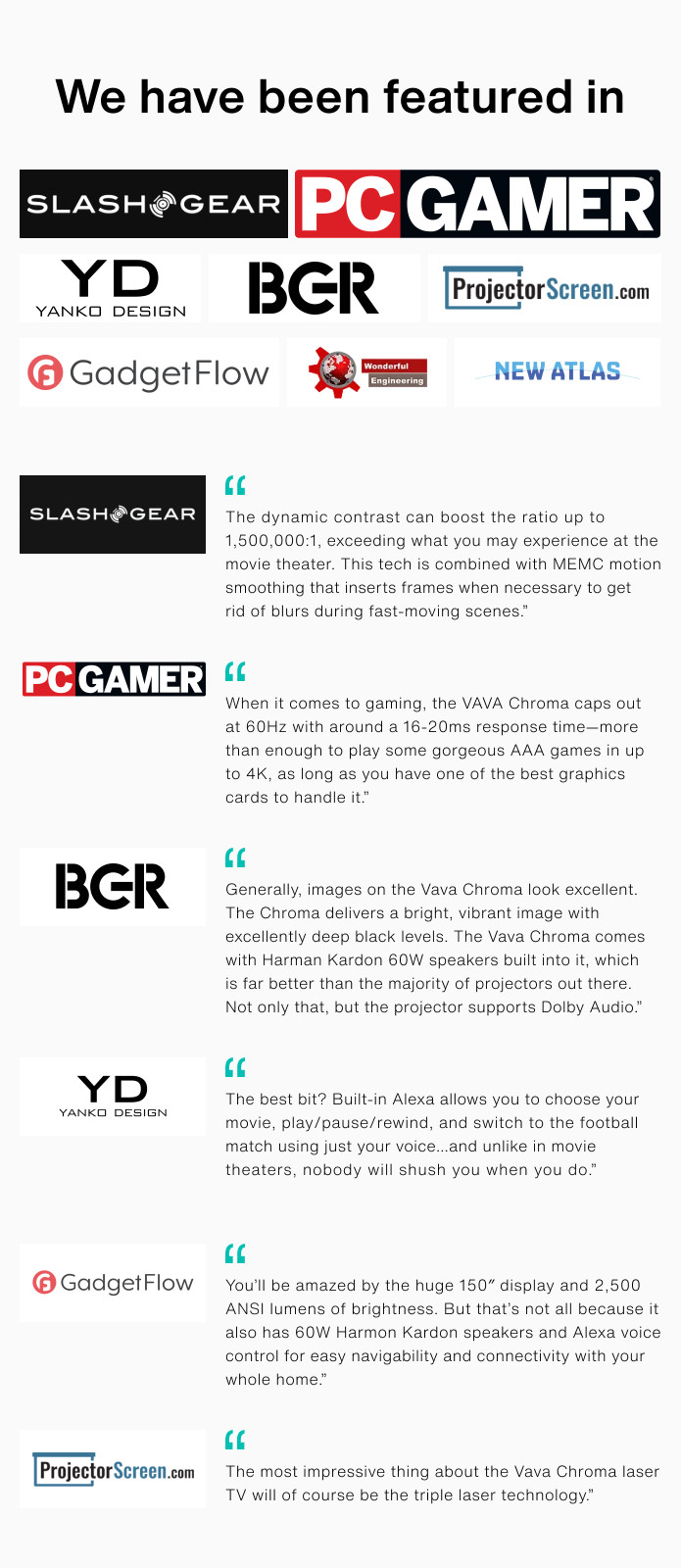 VAVA Chroma Open box
VAVA Chroma Setup

Your new favorite theater is now in your very home. Easily adjust the projection between 80" to 150" for a cinematic experience catered to your living space.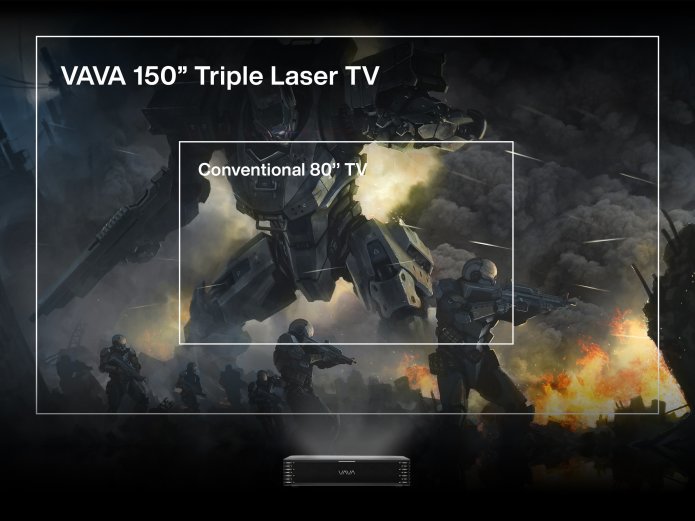 No more messy wires or obstructed views. Unlike traditional projectors, the VAVA Chroma uses ultra-short-throw technology and boasts a 0.233:1 throw rate. Place it just
7.2" from the wall
for a stunning 100" projection. 

Using Texas Instruments' XPR* technology, the VAVA Chroma projects immaculate detail and true 4K UHD resolution. Witness the clarity and precision that comes with
8.3 million distinct pixels
. 

VAVA Chroma uses the world's most advanced ALPD® 4.0 phosphor fluorescent technology and 3 channel laser light source. With the use of red, blue, and green plus laser light sources, the VAVA Chroma delivers striking visuals with up to 106% Rec. 2020 color gamut, precise color accuracy and incredible contrast.
ALPD® 4.0 is 30% more powerful than ALPD® 3.0, which is still being used in the best movie theaters in the world. The patent ALPD® 4.0 technology also effectively reduces speckles commonly found in other RGB light source projectors.

Most movie theaters use DCI-P3 in their digital projectors. However, the VAVA Chroma delivers 106% Rec.2020, covering the largest area of color space visible to the human eye, which means our newest projector has a higher level of color accuracy than what you see in movie theaters.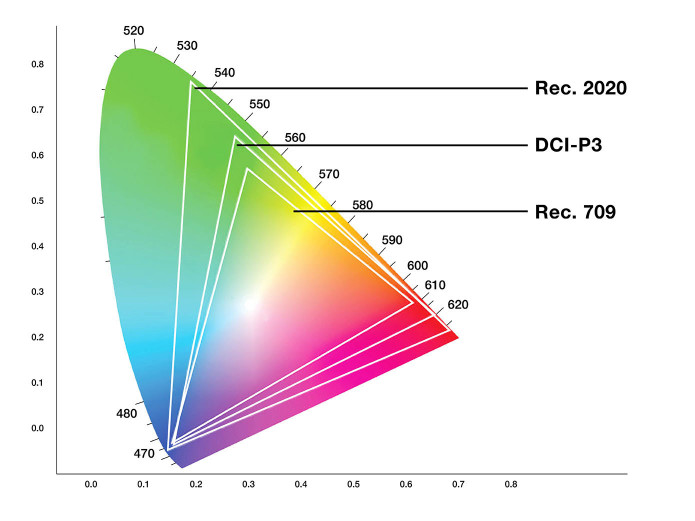 You'll get a vibrant, vivid image full of life and sharpness without loss of detail.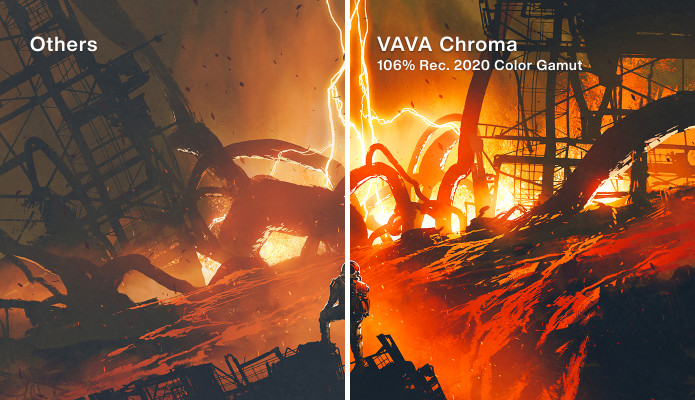 VAVA Chroma's powerful 1,500,000:1 dynamic contrast enhances your cinematic experience like nothing on the market. It far exceeds the standard 1,000,000:1 native contrast found in movie theaters – so you'll be getting an even better image than the silver screen! See details unseen in other projectors and displays.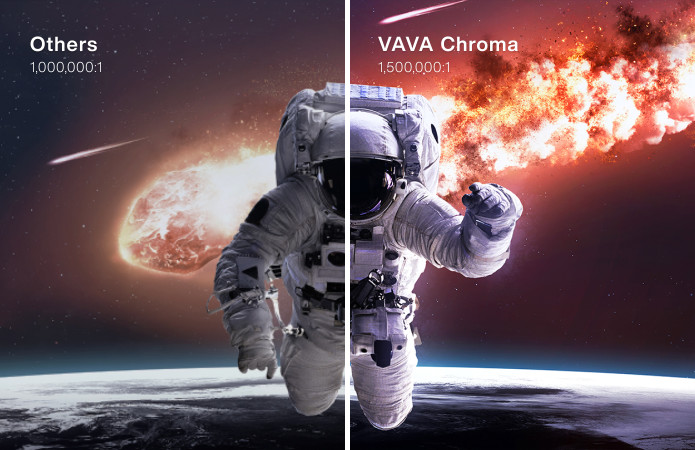 With HDR10 support, the VAVA Chroma gives you full detail in highlights and shadows. Thanks to 106% Rec.2020 color gamut coverage, you'll also get deeper blacks, brighter whites, and more brilliant colors.This means higher contrast, fuller saturation, and a sharper image.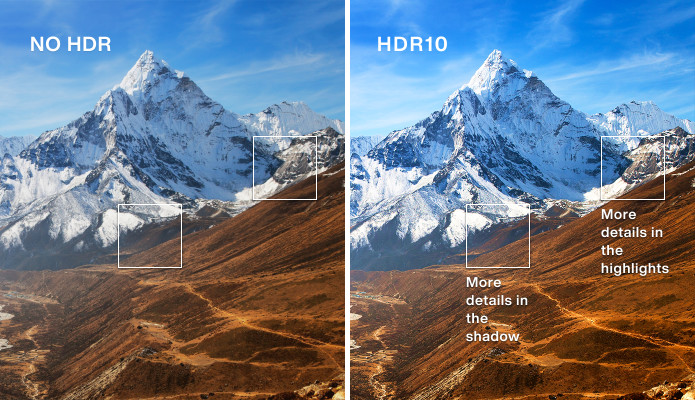 By adding artificial frames between existing picture frames, MEMC enables videos to appear at a higher frame rate. The VAVA Chroma's MEMC technology automatically recognizes dynamic pictures and inserts frames to ensure the motions you see are fluid and smooth.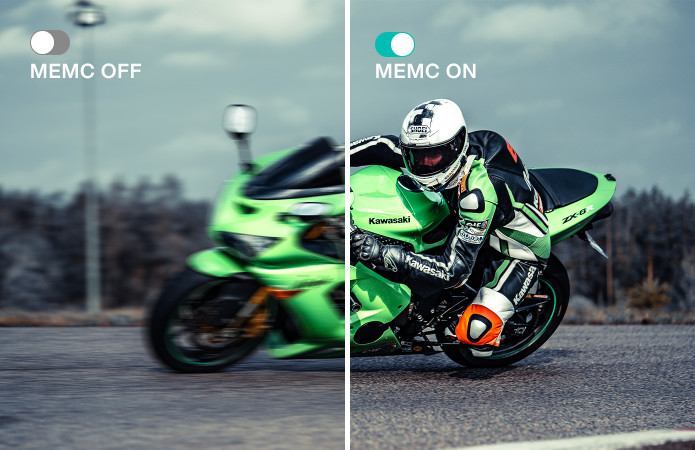 Don't let ambient light get in the way of your cinematic experience. With 2500 lumens of brightness, you can immerse yourself in your favorite movie, show, or game during broad daylight, even without blackout curtains.

The Ambient Light Rejecting (ALR) screen is specifically designed for ultra short throw projector. The engraved toothed grid structure on the screen's surface rejects 92% ambient light coming from the ceiling, enhancing the contrast and color saturation of the projected images.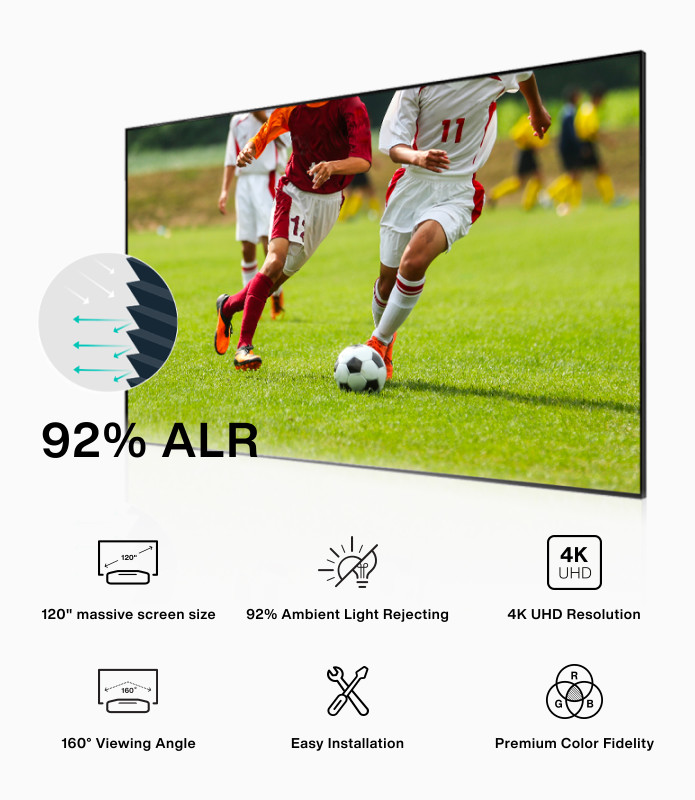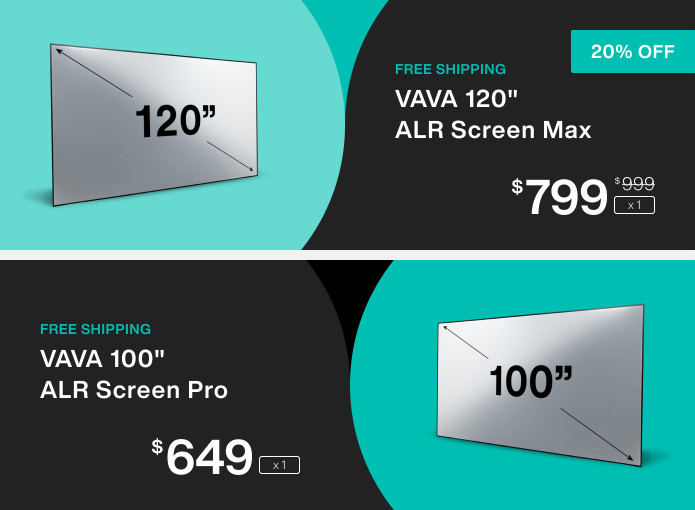 It's not a night at the movies without cinema-level sound to go with it. With 60w Harman Kardon speakers and Dolby-powered audio, the VAVA Chroma brings you state-of-the-art sound to enhance your home theater experience.  

The VAVA Chroma uses Android 9.0 system and Aptoide app store, which means many of your favorite apps will be accessible through the built-in OS. This means YouTube, Netflix, HBO, Hulu, Disney+, and more will be at your fingertips.  VAVA is also compatible with various streaming devices on the market, including Apple TV, Nvidia, Chromecast, Fire TV, Roku TV, and more.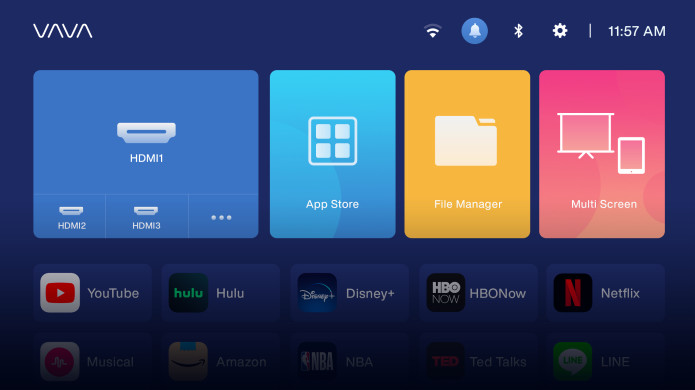 The VAVA Chroma offers full 3D compatibility to make your home theater experience that much more immersive. Pop on your favorite 3D movie, whip out your 3D glasses, and transport yourself to another world.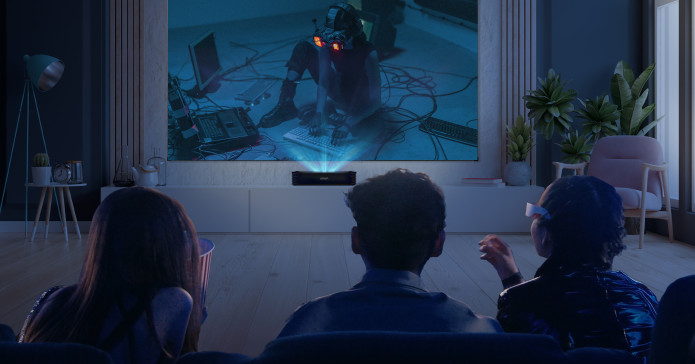 No more fumbling with on-screen keyboards — the VAVA Chroma features Alexa Voice Control. Navigate the built-in OS with ease by speaking directly into your remote. You can even control the smart appliances in your home through Chroma.


Out with weak projector bulbs, in with powerful laser technology. With a lamp life of up to 25,000 hours, you'll never have to replace bulbs again. That means over 12,000 movies, or four hours of use a day… for seventeen years. 

Access your media from any device. The VAVA Chroma is compatible with your smart devices, from your laptop to your hard drive. With 3 HDMI ports (supports Arc), built-in WiFi, ethernet input, and USB, you'll have everything you need to get all your entertainment connected without a hitch.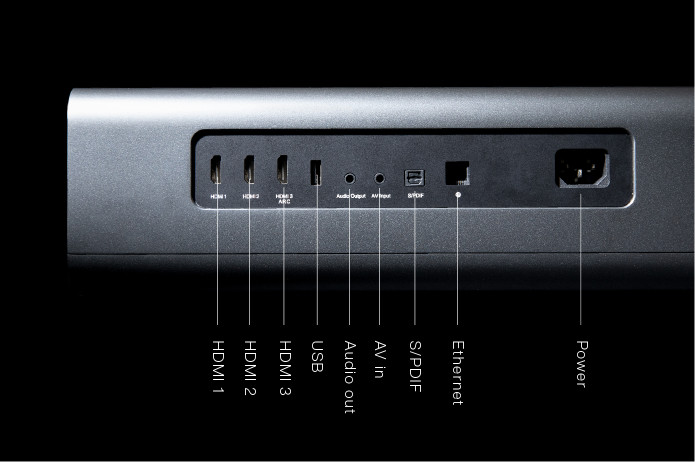 Since the VAVA Chroma has 0:233 ultra short throw rate, there's no need for mounting systems, cable extensions, or ceiling placements. If you ever need to move your projector, simply unplug it and place it where you want it.

The laser light of the VAVA Chroma projector is reflected off another surface rather than beamed directly into your cornea, significantly reducing eye strain in comparison to direct light from a TV.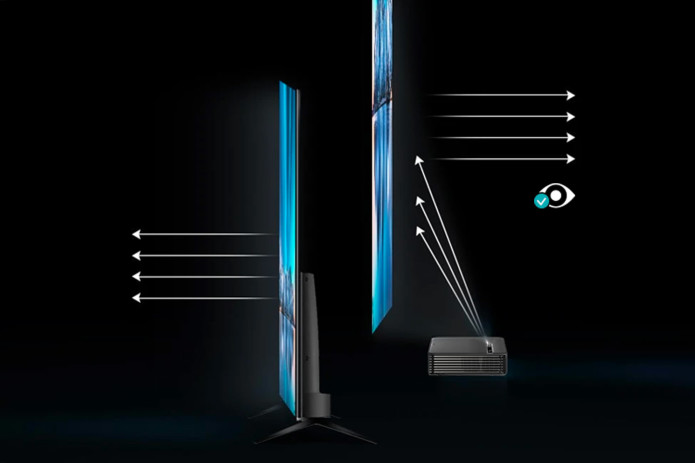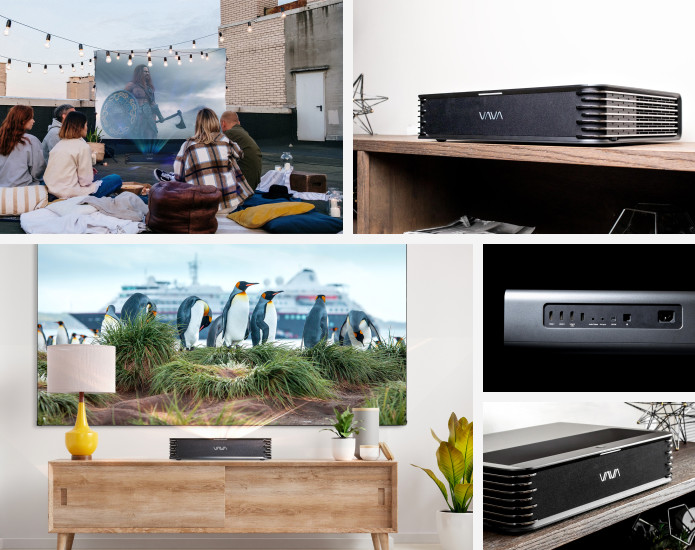 Embrace the next generation of home entertainment. VAVA Chroma tackles the biggest complaints of all the major projectors and TVs on the market. Whether it's poor images, bulb burnout, expensive installation or bulky size, VAVA covers it all.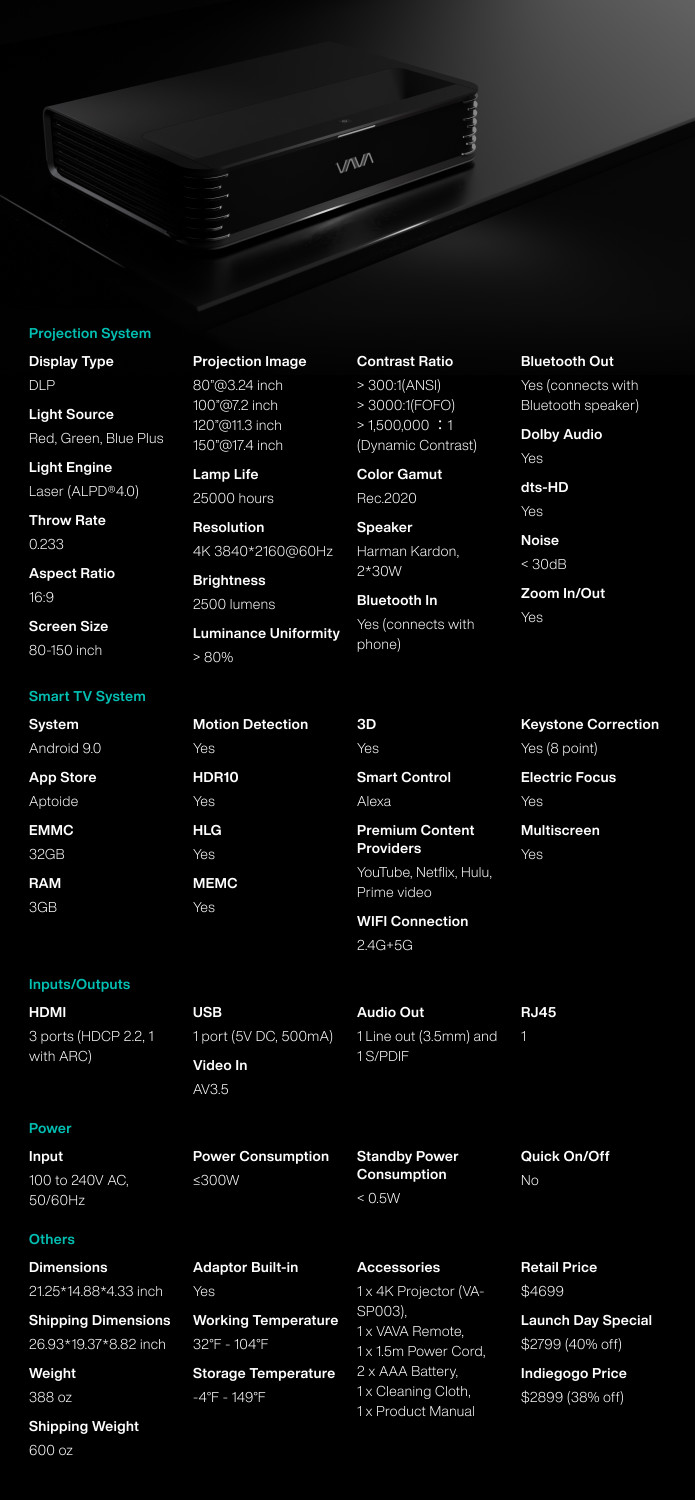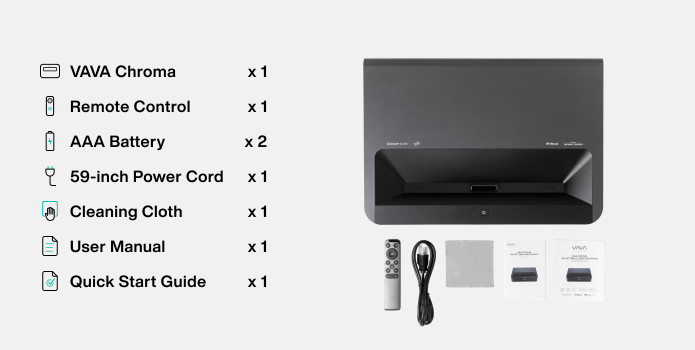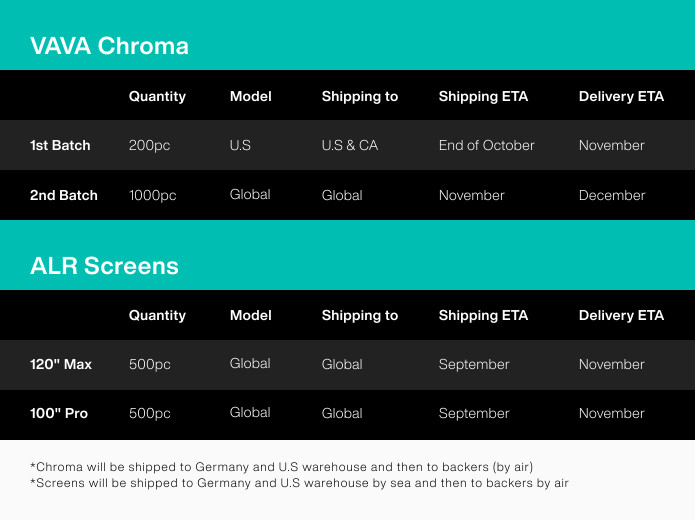 We're in full production. We have completed the first batch of VAVA Chroma (200pc U.S model) and are going through final testing and quality assurance. They will be ready to ship to our local warehouse in the U.S by air around October 20th. Our efforts to improve the product are not done yet. We will release software updates on a regular basis which will be applicable to the Chroma you receive.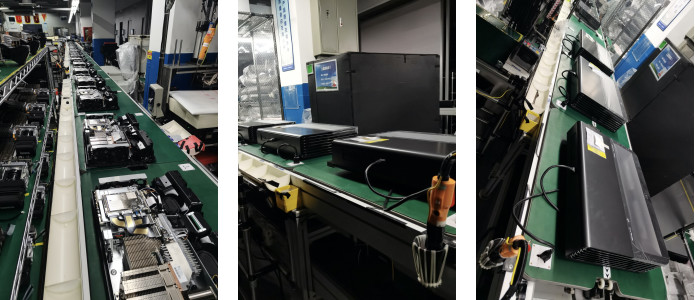 We've also completed 700pc 120" ALR Screen production and they are on the way to our Germany and U.S warehouses by sea. Once they arrive in our local warehouses (ETA: Mid November), we will ship them to our backers in Europe, Canada, and U.S by air. For backers in Japan and Australia, we will be shipping the screen to you directly from our factory plant.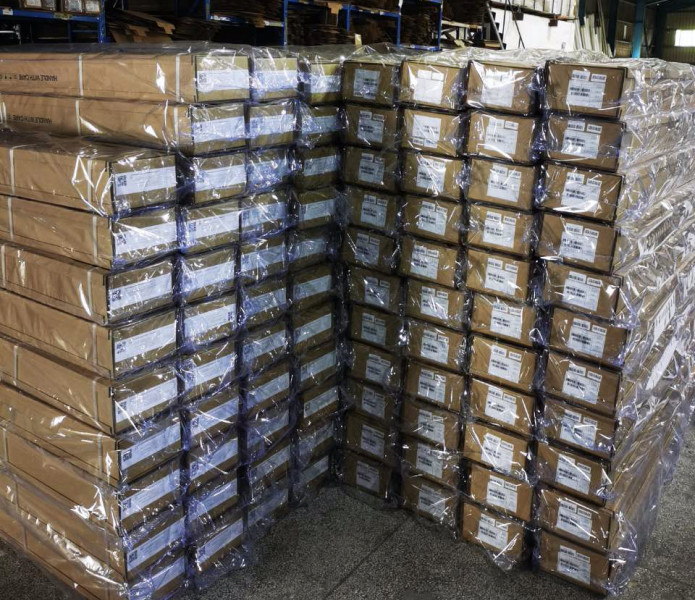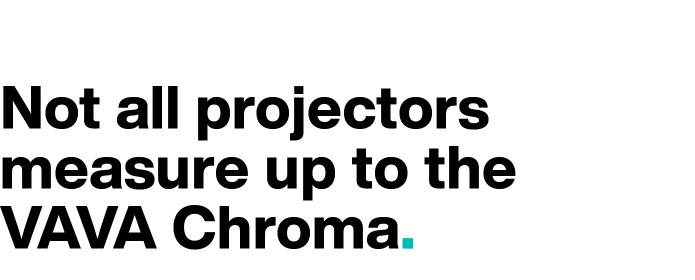 Compared to the few triple laser projectors in the market, VAVA delivers premium image quality with the world's most advanced patent ALPD® 4.0 Laser Technology and RGB Plus lasers, and Dolby audio with 60w powerful Harman Kardon Speakers. Better yet, the VAVA Chroma is the most affordable triple laser projector with comparable quality.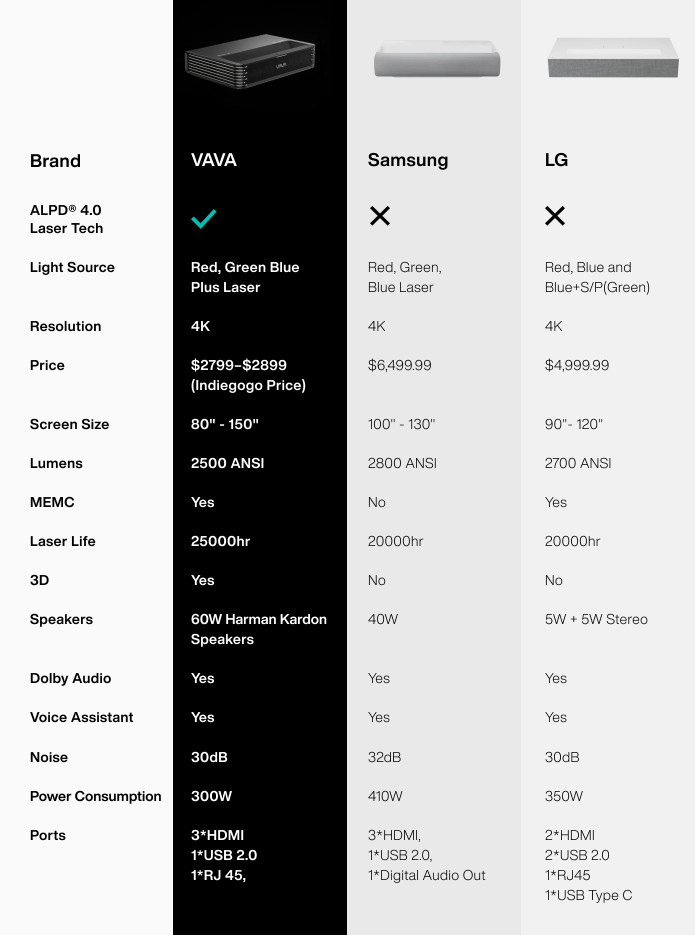 The VAVA Original Projector
VAVA' original ALPD® 3.0 single laser projector that was released in 2019 has been a huge success. We raised over $2M on Indiegogo and was supported by over 900 backers around the world. Ever since its launch, we've been dedicated to improving its feature and advancing the technology.

Many of you have asked, so here it is: a side-by-side comparison of the upgrades from the original VAVA Original 4K Laser TV to the VAVA Chroma.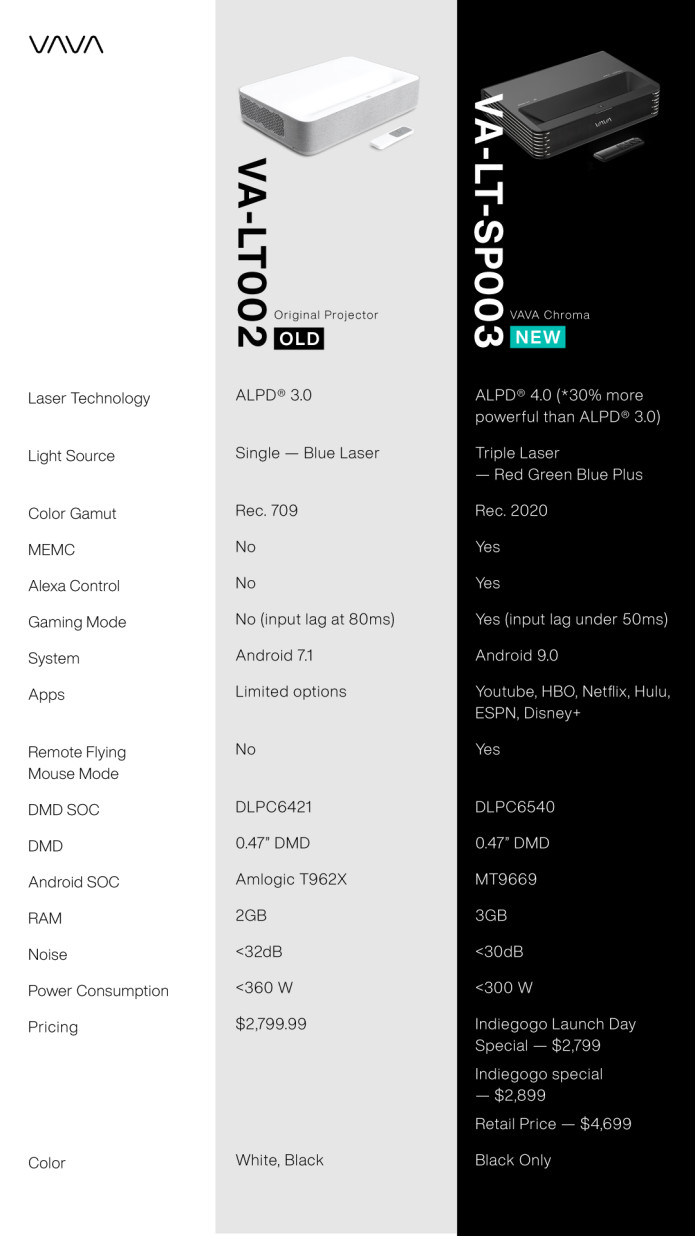 Modern lifestyles need meaningful technology. VAVA's passion is helping everyone live smarter through innovative development by creating high-quality products that you just can't find elsewhere. Established in 2015 in Fremont, California, VAVA believes in making life smart and simple. In 2018, we launched our signature product, the VAVA 4K Ultra Short Throw Laser Projector, and raised over $2M on Indiegogo. Since then, our 4K Projector been the bestselling ultra short throw laser projector in the U.S.
This is our sixth crowdfunding campaign. We've always delivered quality products to our backers and don't plan to stop.






Every crowdfunding campaign we've run has taught us about the challenges that can arise with these sorts of projects, and how to avoid them. With multiple warehouses and an established supply chain, we're prepared to execute this campaign smoothly and look forward to fulfilling the orders of our backers.
That being said, there are some factors that still fall out of our control, primarily due to complications that come with global shipping. We'll begin shipping in October, but there may be delays in shipping and customs clearance. Throughout the order fulfillment process, we'll be prompt and diligent with shipping updates so you know when to expect your projector.