VeggieMat – Make Eating Veggies Fun for Kids | Interactive, reusable, food-grade silicone placemat for healthy eating.

Turning Picky Eaters into Veggie Lovers
VeggieMat™ is an interactive reusable placemat that helps kids, even picky ones, discover the joys of eating colorful veggies. It encourages children to develop healthy eating habits, which not only helps their growth and development but also reduces their risk of disease.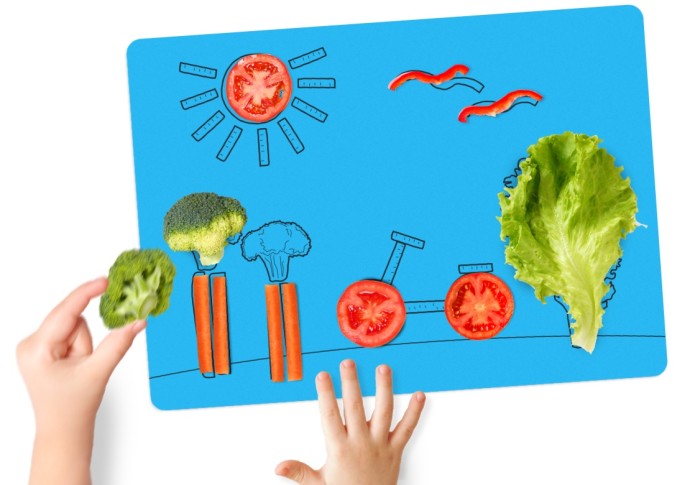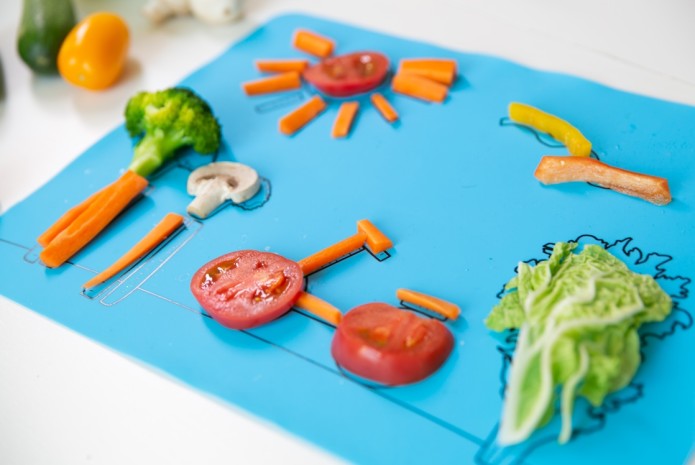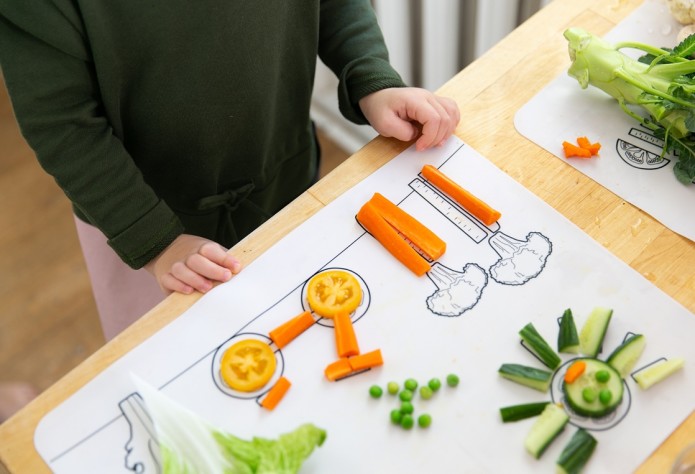 A coloring sheet for real veggies.
Crazy colors, odd textures, and funny flavors – it's understandable that kids find vegetables both scary and disgusting. That's why we created VeggieMat™, a reusable interactive placemat designed exclusively to make kids love their vegetables, develop their imagination and have some plain ol' fun. 
Though VeggieMat™ works best for ages 2.5-5, if you think your little one would enjoy this kind of activity anyway, give it a try! You can help your children discover a veggie wonderland and teach them that eating healthy can be fun!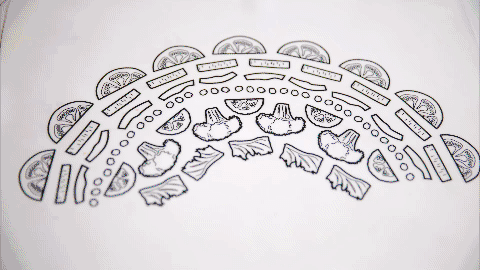 How VeggieMat™ Works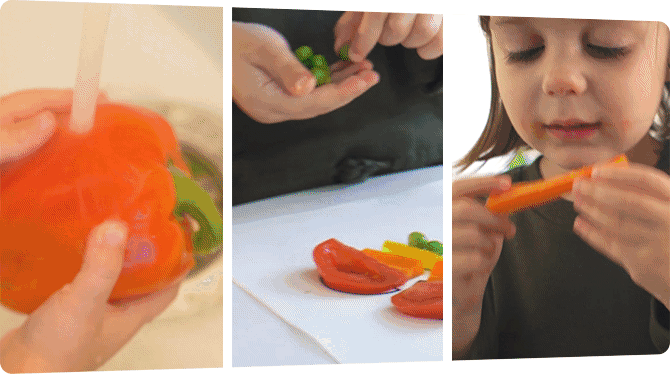 Prepare Your Veggies — Show your kids where veggies come from, how to wash them, and fun shapes to cut them into.
Fill Out the VeggieMat™ — Match the veggie pieces to the shapes, discuss the colors, and let your kids discover goodness at their own pace.
Build a Healthy Habit — Help your kids love veggies earlier to increase the likelihood of a healthier lifestyle when they grow up.
Based On Science
"Increasing our consumption of fruits and vegetables could save more than 100,000 lives and $17 billion in health care costs from heart disease each year." — Union of Concerned Scientists report.
"A diet rich in vegetables and fruits can lower blood pressure, reduce the risk of heart disease and stroke, prevent some types of cancer, lower risk of eye and digestive problems, and have a positive effect upon blood sugar, which can help keep appetite in check."  — Harvard T.H. Chan School of Public Health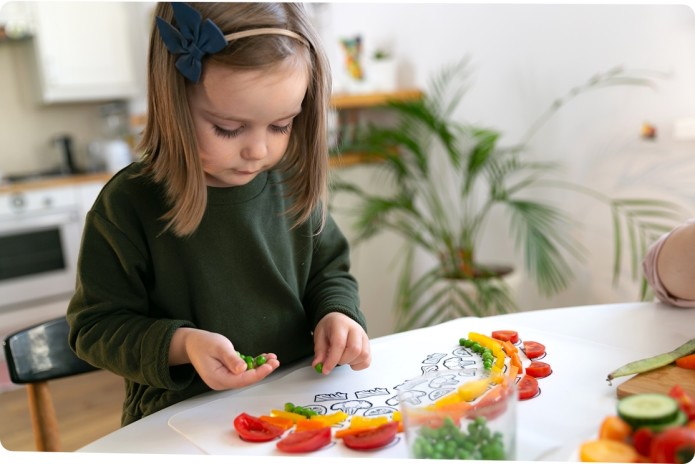 Adopting healthy eating habits from a young age can have a positive influence on a child's dietary habits later in life. 
We've used 4 scientific studies in designing our mats to ensure every detail helps your kids eat more vegetables:
Involvement Encourages Eating
Children who help prepare their meals, eat up to 76% more vegetables than those who don't.
Read the research
Colors Stimulate Interest
Kids love variety, wanting as many as 6 different colors on their plate (in contrast to us boring adults who prefer just 3)
Read the research
Playing Leads to Trying
Playing with food actually helps pickier eaters try new things (but you might want to keep this a secret ?).
Read the research
Visual Appeal Is Important
Kids eat tastier-looking fruit than regular-looking fruit, and we're sure it's the same for veggies.
Read the research
Easy to Clean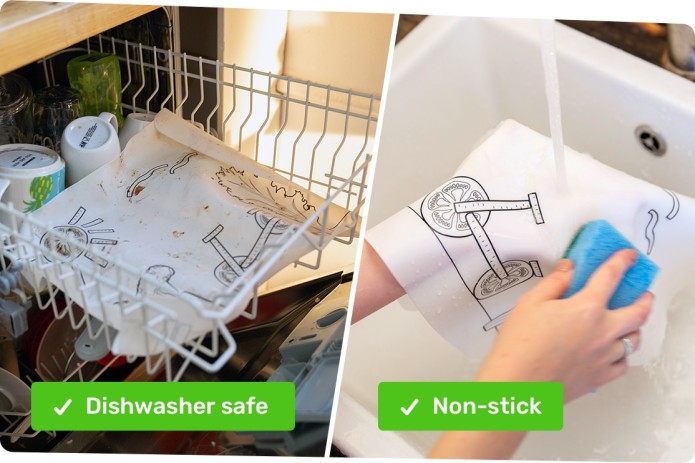 When there are kids involved, you need all the help you can get! Simply wash VeggieMat™ with warm soapy water or clean it in the dishwasher. It's also ideal for places where tables are not super clean, providing the kid a clean surface to eat. VeggieMat™ also protects fancy and super clean tablecloths in other places, making it easier to clean up after your child, without leaving a catastrophic mess.
Great Table Grip

Concerned the food might end up on the floor? VeggieMat™ is harder to move than regular plates, but if you want it to be even harder to move, sprinkle some drops of water under it to make it stick to the table even better.
Easy to Store and Carry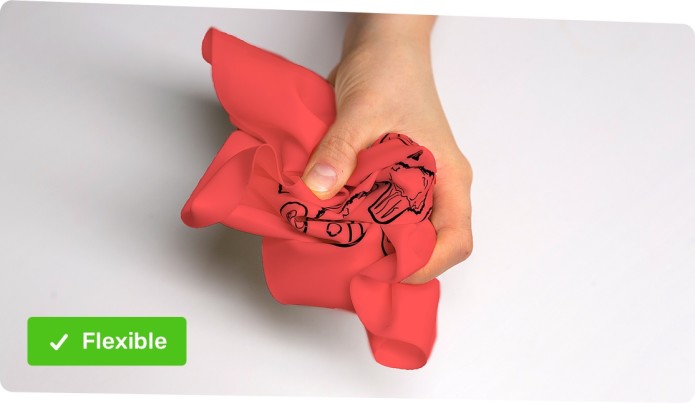 Being elastic and foldable, VeggieMat™ is super-flexible for storing and carrying. It can be stored rolled up or folded, occupying minimal space in a drawer or cupboard.
Eco-Friendly Money Saver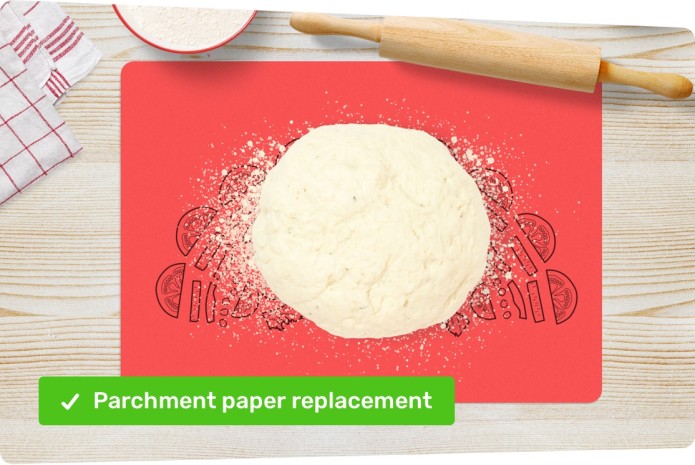 VeggieMat™ is more than just mealtime fun – Made of the same materials as reusable baking mats, it is also an eco-friendly reusable alternative to disposable parchment paper for rolling dough while baking cakes, puddings, bread, pizzas, etc. for a more sustainable kitchen, to save money and to keep the environment clean.
Specifications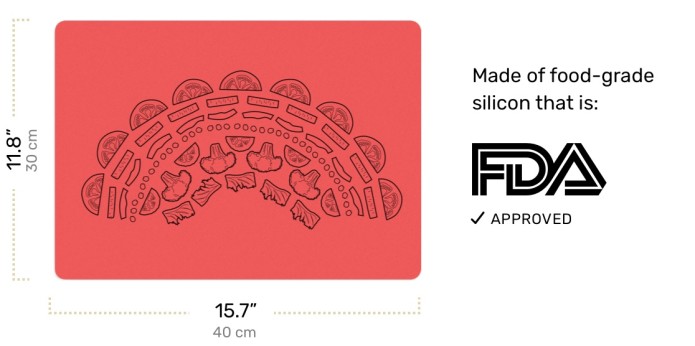 VeggieMat™ is made of FDA-approved food-grade silicone, the same material that baking mats are made of.
Reusable
Dishwasher Safe
Oven Safe (Up to 230°C / 450 F)
Microwave Safe (Up to 230°C / 450 F)

Freezer Safe (Up to -40 °C / -40 F)
What Parents say about VeggieMat™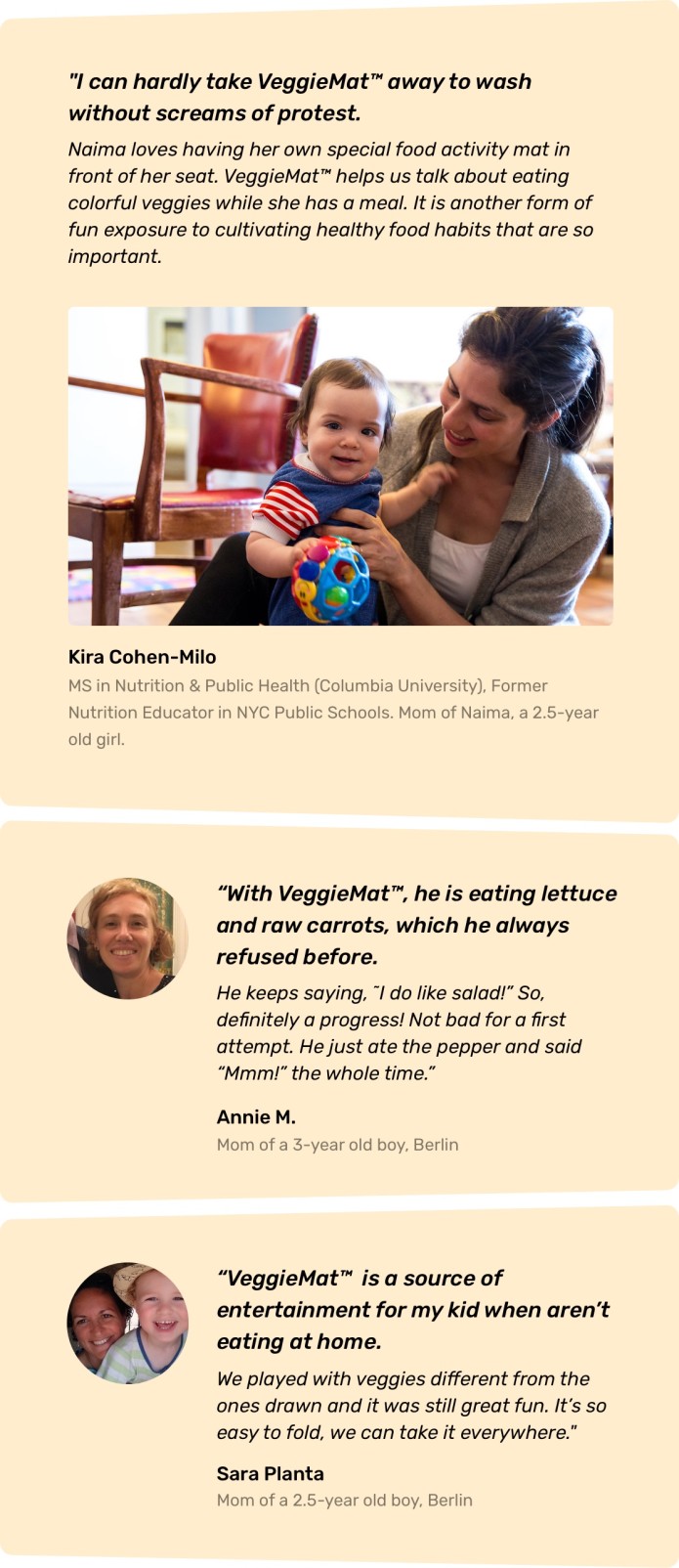 Available in 2 Colors and 2 Designs
Both Rainbow and Bicycle are available in red and blue.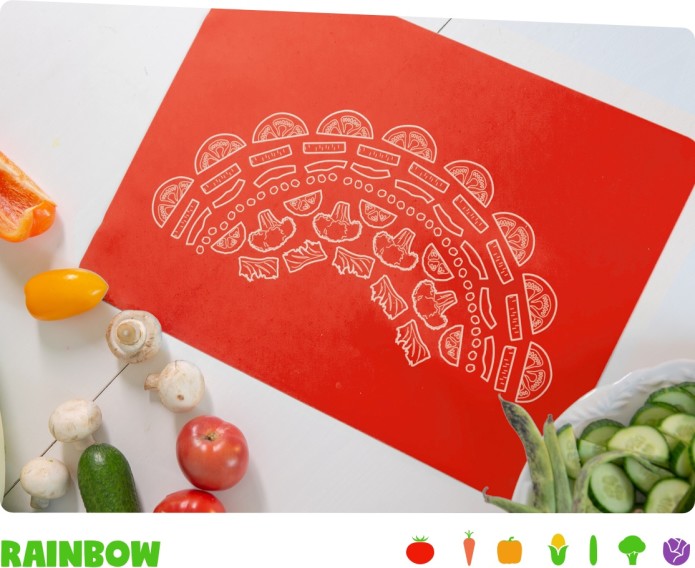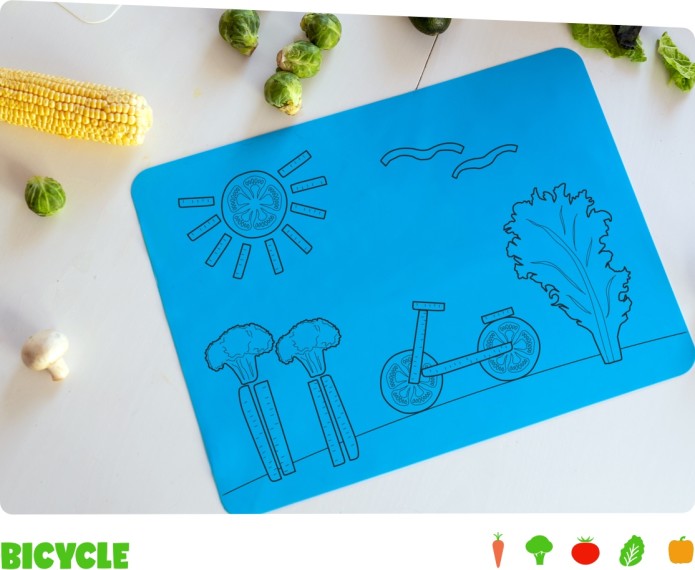 Rewards
You can mix colors and designs in your order.
The Team
Artiom Dashinsky – VeggieMat™ Head Honcho – I'm a former Senior Product Designer at WeWork and the author of an Amazon best-seller in the Design category.
Based in Berlin and Tel Aviv, I'm building VeggieMat™ with my parents who live in Minsk, Belarus. Three of us are makers, educators, and product designers alike who have built things used by professionals at Google, Facebook, Netflix, Boeing, and others.
Have any questions? Send us an email!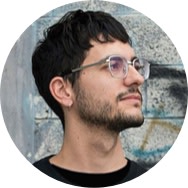 Timeline

Our goal is to deliver VeggieMat™ to YOU – our supporters as fast as possible, so your kids can enjoy VeggieMat™ soon. Our goal is to make sure VeggieMat™ is delivered within 2 months after our Indiegogo campaign ends.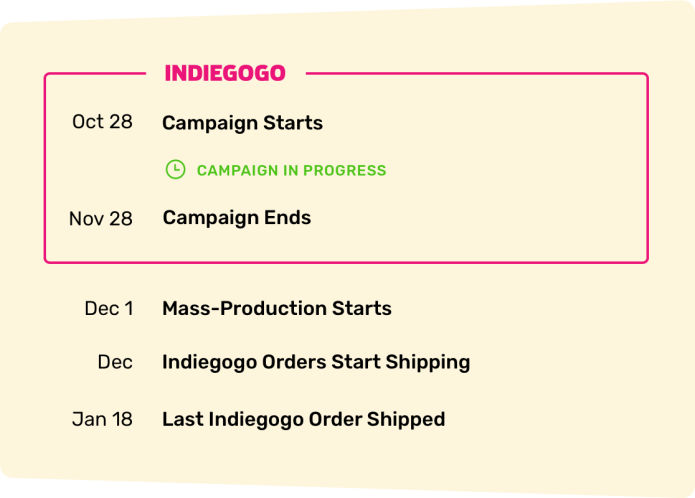 How You can help
Back us!
Spread the word in your parenting community about our Indiegogo campaign.
Add a second copy to your pledge for someone you care about whose kids need to eat healthier while having fun.
Share using this button below:

Risks and Challenges
VeggieMat™ has already been successfully produced and tested on a small scale. With your help we will be able to place a larger order with our manufacturer and ship your VeggieMat™ soon after our Indiegogo campaign ends.
The only risk we foresee right now is a longer production time due to unpredictable manufacturing issues. Of course, there are other manufacturers in the market in case it doesn't work out with the one we're currently associated with.
Q: What if you do not meet our funding goal?
A: Our Indiegogo campaign is "flexible", which means you will receive your VeggieMat™ even if we don't meet our funding goal.