VentiFresh ECO Plus UVC Air Sterilizer | Purify and Sanitize with UVC Powered Germs and Odor Eliminator

An exclusive offer to our backers on Indiegogo.
In the past few months, we have heard from many backers inquiring about using VentiFresh products to sanitize air at indoor personal spaces. VentiFresh Eco Plus UVC Odor Eliminator is our answer to the call. Combining the same NASA inspired odor eliminating technology with the power of UV-C rays, this is the ultimate portable air purifier.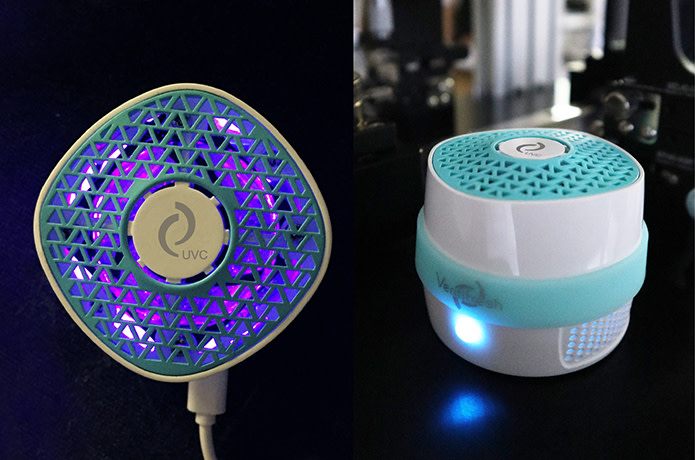 Together we saw our respective life styles disrupted in the year 2020. While we've all worked diligently coping with the changes, some help from vibrant technologies may make things easier. Once again, the +UVC new model would not happen without your supports and encouragement. Thank you, all backers in this team VentiFresh!


How the technology works within the device.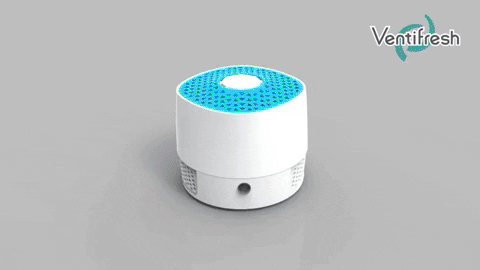 The VentiFresh ECO device purifies indoor air by oxidizing the VOCs (ie. ammonia, formaldehyde etc.) and airborne microbes (ie. mold and bacteria) as they pass through the internal UV-photocatalyst core. However, it is not a conventional air purifier that is designed to clean up the air in large spaces or entire rooms by filtering the air. Instead of specifying a suitable room size or spatial dimensions for this product (such as the CADR index, which is the cubic feet per minute (CFM) of air that has all the particles of a given size distribution removed), this device does NOT use any filter to capture dirty particles in the air. The technology used is a natural photocatalyst process that breaks down harmful organic compounds into CO2 and water, rather than a filter that traps particles. 

UVC lighting module joined force with the cleaning power of photocatalysis core, sanitizing strength tested and proven showing a 99.99% bactericidal activities, all packed into the compact unit that you can take anywhere by plugging into a USB power bank.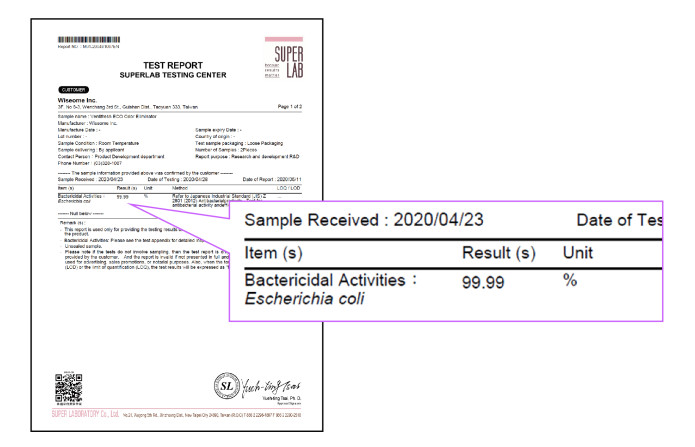 **The UV-C power designed in the VentiFresh products has been tested with anti-bacterial efficacy such as e. Coli. As the COVID-19 pandemic is ongoing, testing protocols are under development and medical devices have priority in laboratories. At this time, we are waiting for our partner laboratories to develop tests to confirm commercial products' effectiveness against the novel virus.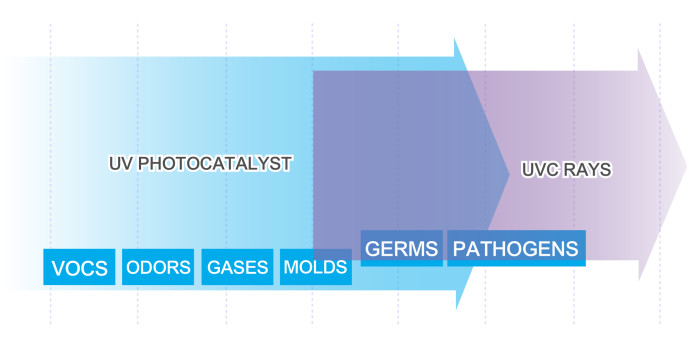 Upgraded germicidal efficiency with UV-C to the original UV-photocatalyst power. 
VentiFresh significantly reduces the amount of molds growing on a controlled dish.
We put VentiFresh to the time-lapse test – the rotting slows down!
VentiFresh effectively reduces the amount of Formaldehyde concentration.
VentiFresh (left) successfully suppresses the sweat stank building up in the backpack.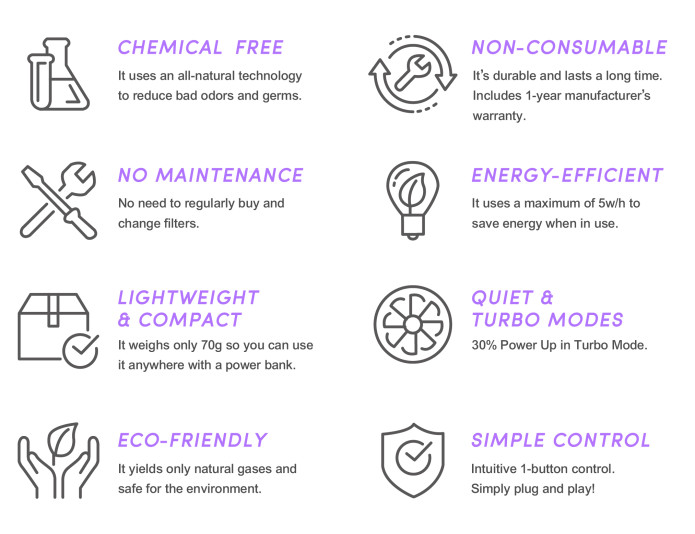 VentiFresh ECO Plus UVC model comes in 2 control modes to accommodate your usage needs, whereas the Turbo Mode runs in 30% higher speed meant for a "quick fix", and the Quite Mode runs softly in the background for long-hour use.  Based on previous user feedback, we developed new electronic design and assembly techniques to reduce the audible wind noise.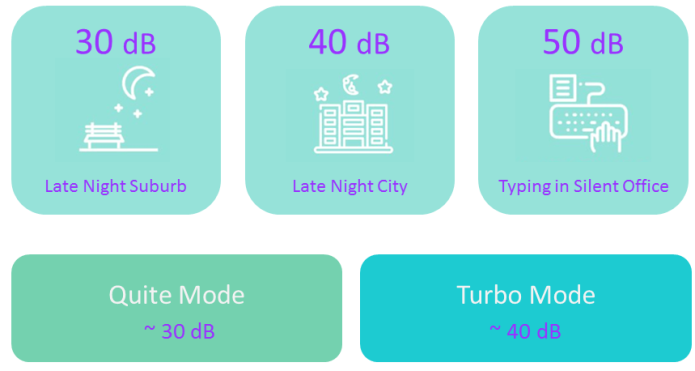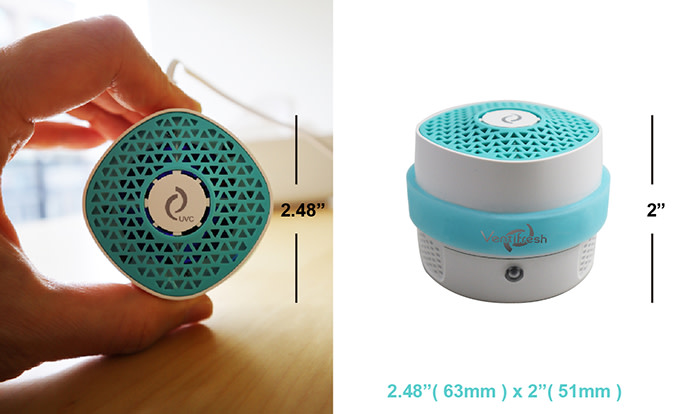 Weighted only 2.5oz!
Design to be compact (2×2.4 in/51x63mm) and lightweight (2.5oz/70g), VentiFresh devices may be installed on any smooth and clean surfaces using the enclosed gel-pad or double-sided stickers. You may choose to pair the device with a USB battery bank to allow for portable use, or pair with a USB adopter to plug into wall sockets. There is no battery inside the VentiFresh device. Power plug or power bank is not included in this product package.  We recommend using a qualified USB power plug or power bank that specified minimum DC5V/1A output, same like when you charge a mobile phone.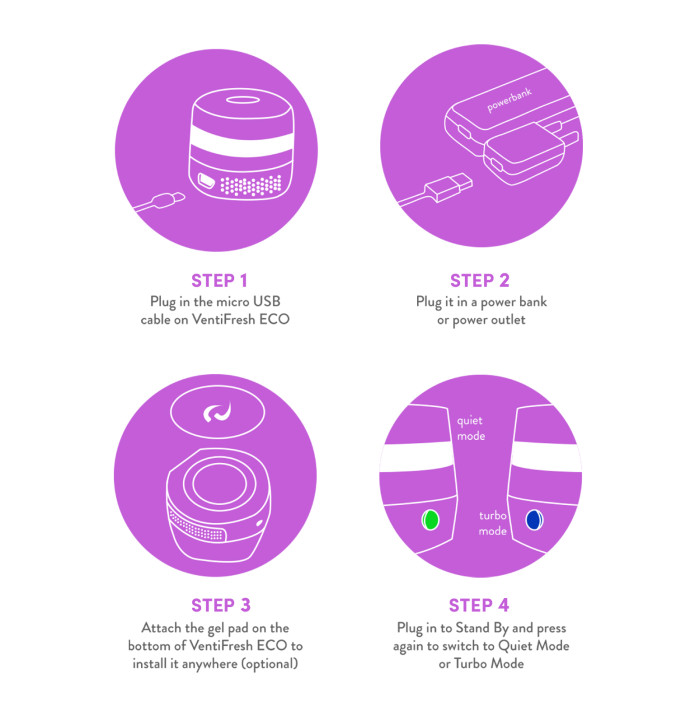 Regardless of the room size, we recommend installing the device within 1-2 ft (30-50 cm) of the source of indoor pollution, such as a toilet, cat litter box, trash cans and more. All VentiFresh devices come with a motor fan that draws in the nearby air and releases the clean breeze processed by the UV-photocatalyst core. The product functions to clean up microbes/odors close to the source before they pervade the entire room.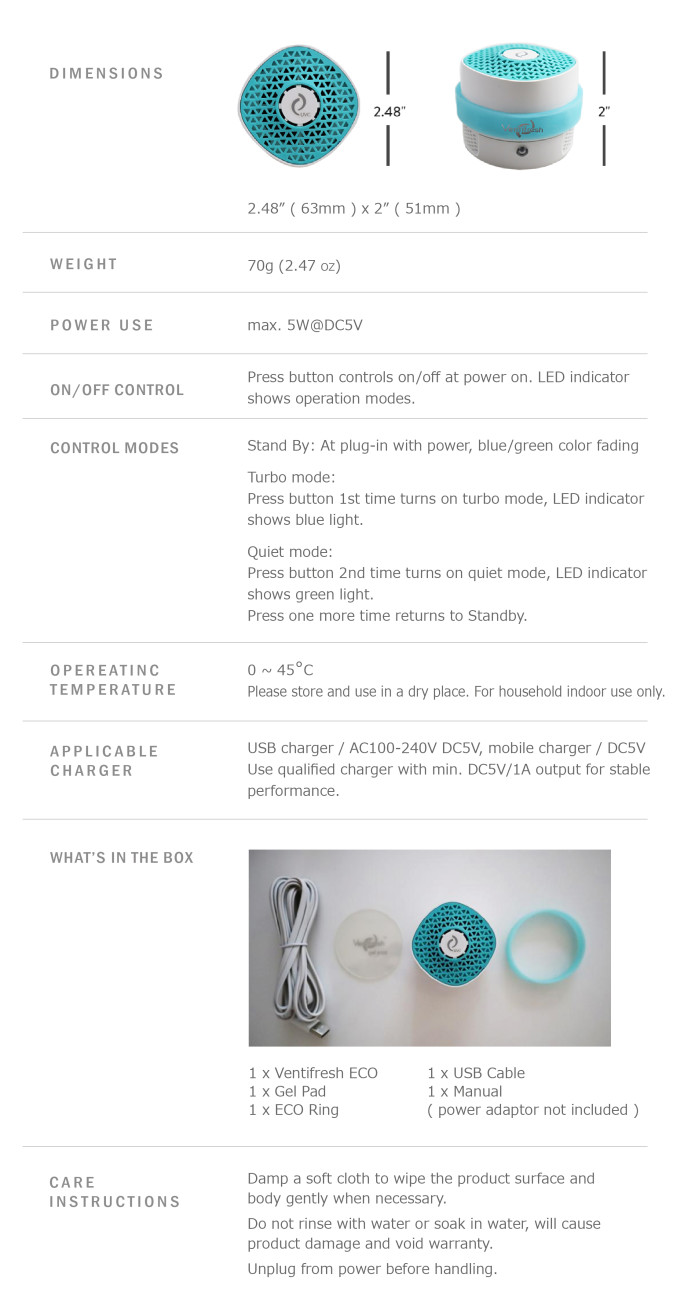 This +UVC model had been brought to production, and we are building stocks to fulfill orders as they come along. The first 50 backers will have their orders shipped within 2 weeks of placement, and newer orders will deliver in rolling shipments as we process orders and prepare for batch shipping monthly.
Please note that we are only able to fulfill orders to the U.S. domestic addresses at this time due to the on-going disruption in the supply chain and shipping services around the world.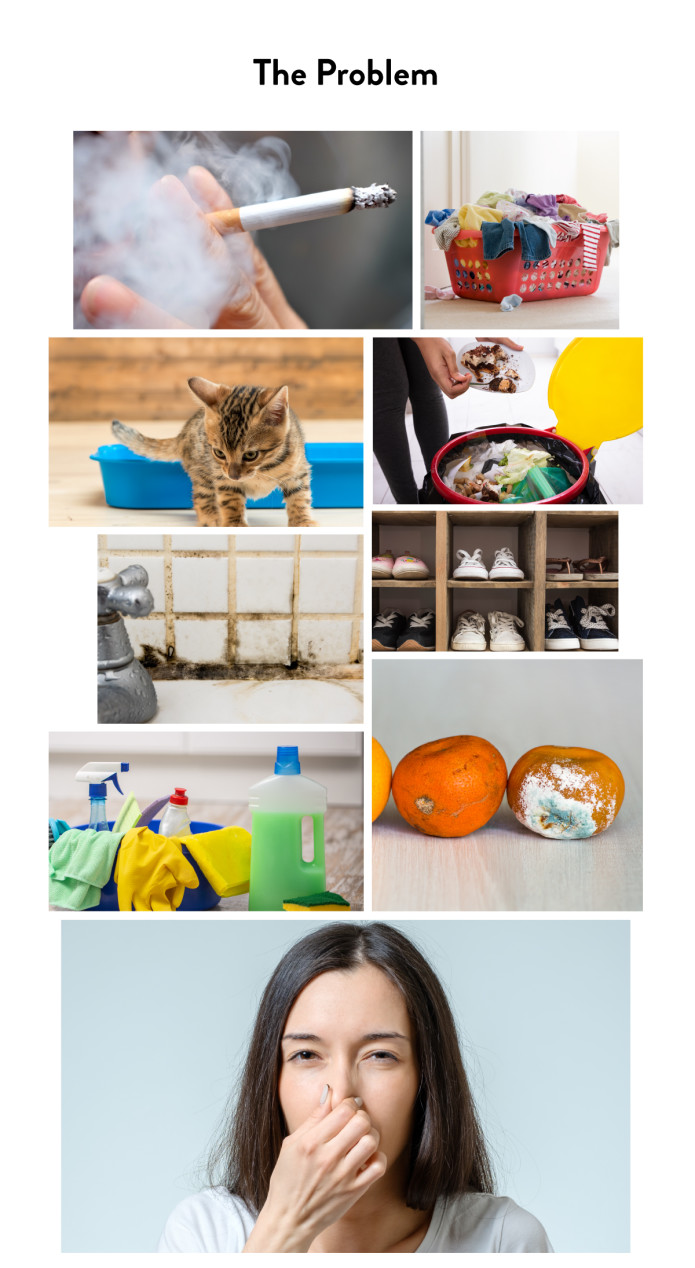 Life isn't all roses, sometimes, it stinks! Whether it's the cat litter box, shoe cabinets, gym bags, or the good ol' trash can, organic odors intrude and permeate our homes.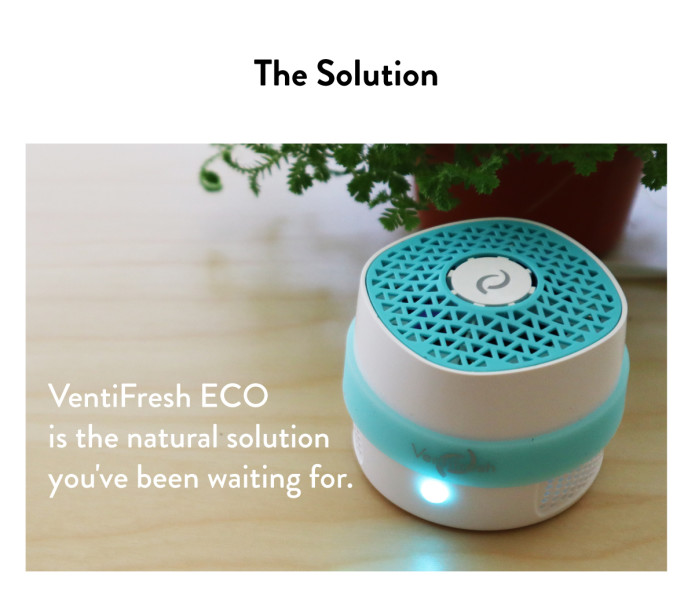 VentiFresh ECO is a portable and eco-friendly air purifier that uses NASA inspired UV photocatalyst technology to help break down odor molecules instead of just masking it with harmful chemical fragrances. Let our innovative odor eliminator be your simple solution towards living your best life without unwanted odors.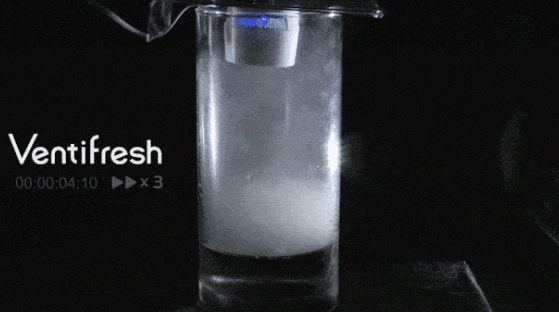 *VentiFresh test shows visible gas reduction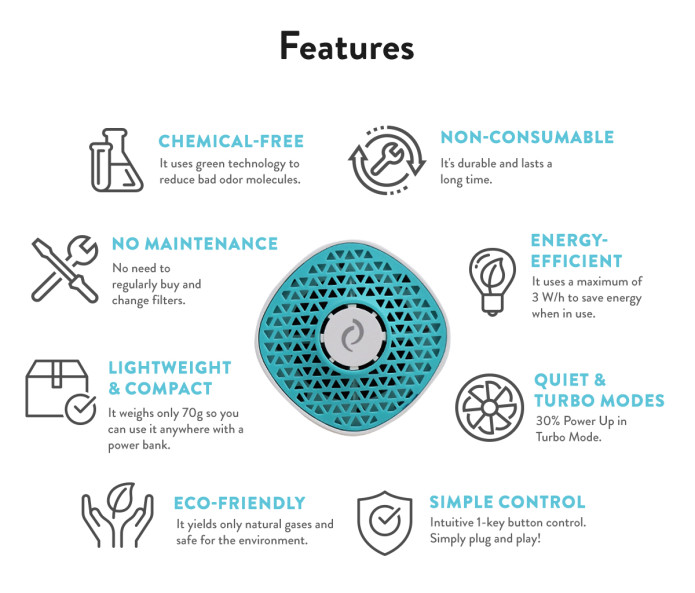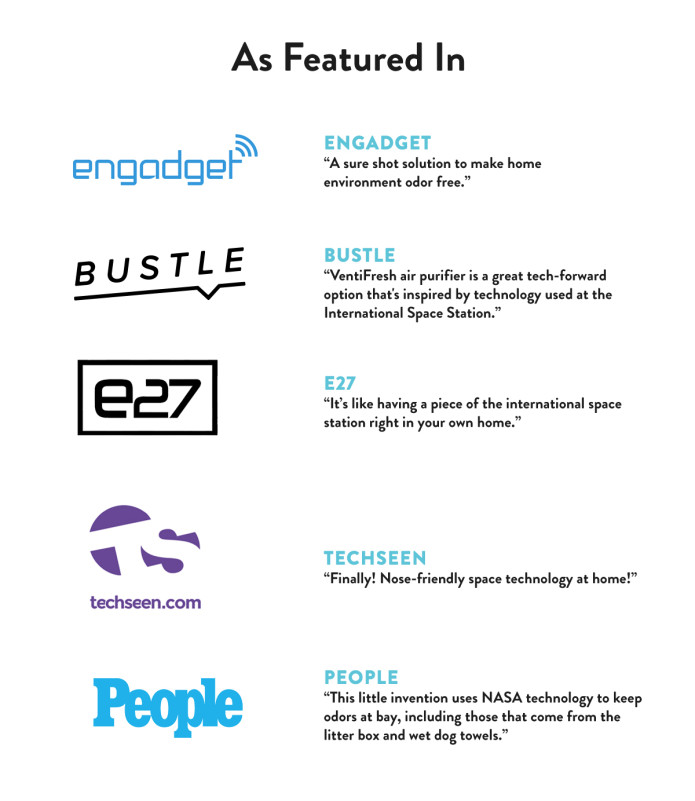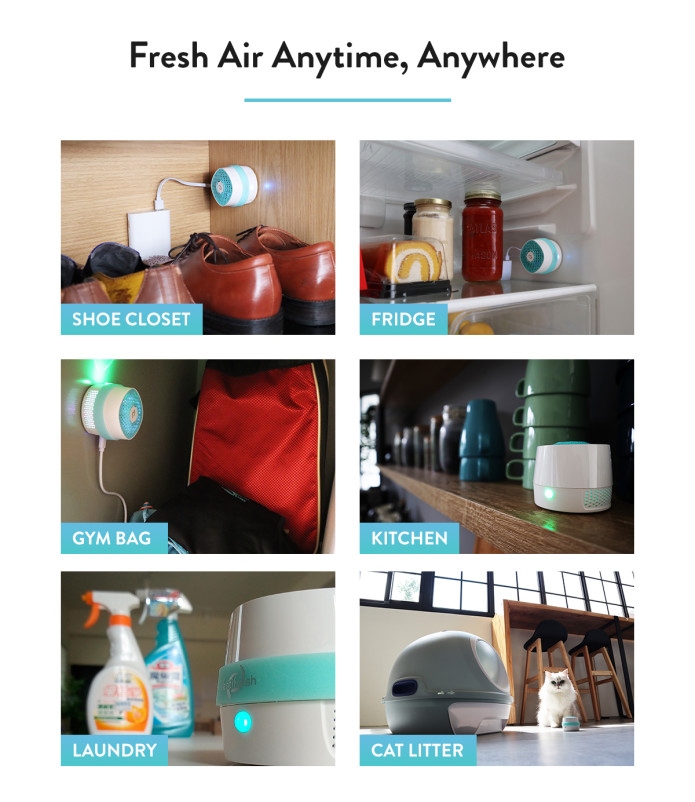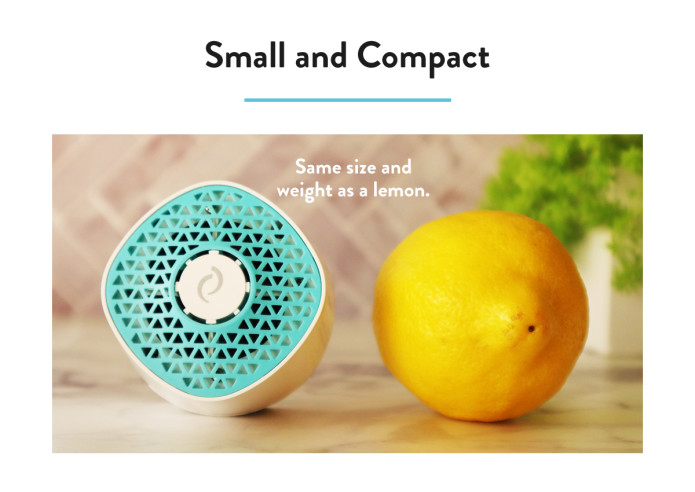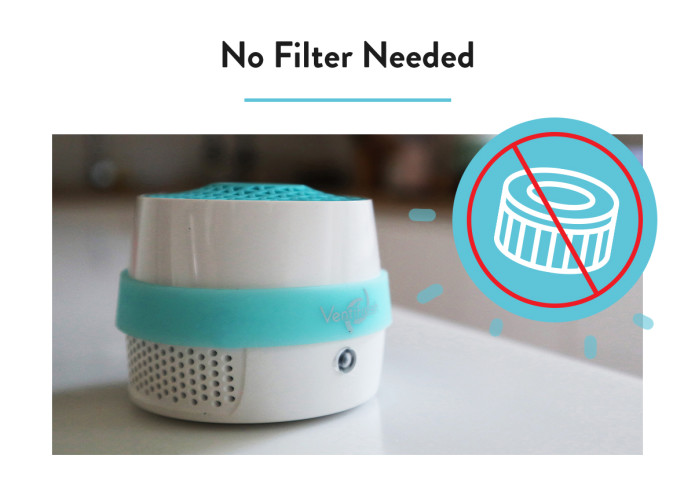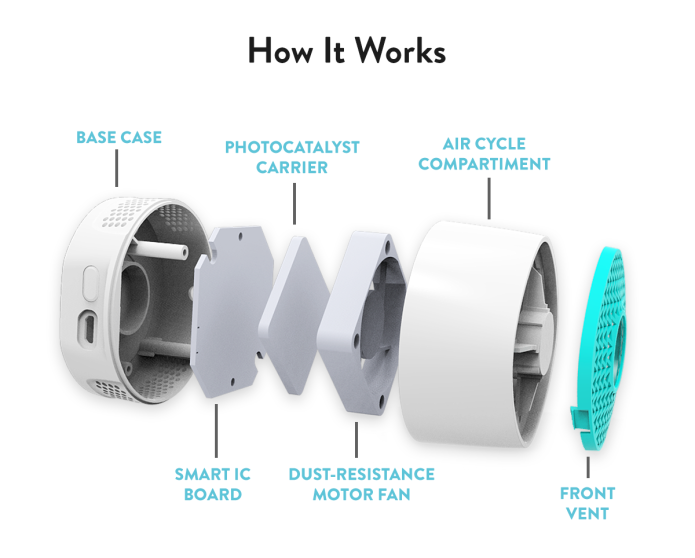 VentiFresh ECO combines the semiconductor deodorizer technology and air ventilation techniques, in such a compact function that has never been seen before.
The applied semiconductors consists of photocatalyst and UV LED. A photocatalyst is a natural or synthetic substance that accelerates the rate of a molecular reaction using energy from light, without consuming itself. Chlorophyll of plants is a typical nature photocatalyst. We used a compound mainly consisted of titanium dioxide (TiO2).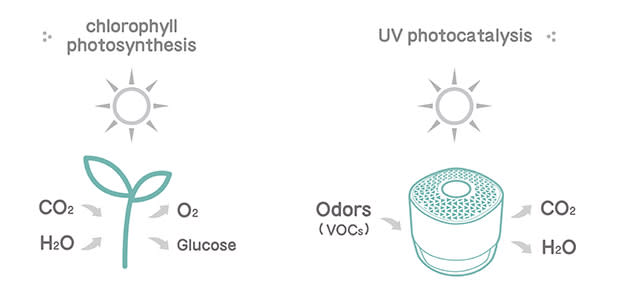 Simply speaking, our technology reversed the process of how plants breathe, and was used  to deodorize stinky molecules in the air.
While chlorophyll captures sunlight to convert water and carbon dioxide into oxygen and glucose, our nano-grade substance at contact breaks down volatile organic compounds (VOCs), also known as odors in gas form, into carbon dioxide and water. Using a dust-resistant, low-noise motor fan, bad odor molecules in the air are pressured to flow inside an air compartment, get processed with a photocatalyst energized by UV light, then clean air flows out of VentiFresh ECO through air vents on the sides. Since the reaction is chemistry at the molecular level, odor compounds here are decomposed rather than captured by a filter, so there's nothing to be replaced or refilled. VentiFresh ECO only needs energy from UV light to activate the cleaning process.
The use of effective ventilation with photocatalyst and UV lighting for indoor air treatment has been a well-established application used in many places such as factories, hospitals, labs and homes. Such systems usually cost thousands of dollars to start with, and often are installed inside the existing air ventilation by professional services.
**VentiFresh ECO is not an affiliate or associate with NASA. All trademarks, names and service marks mentioned herein belong to their respective owners.**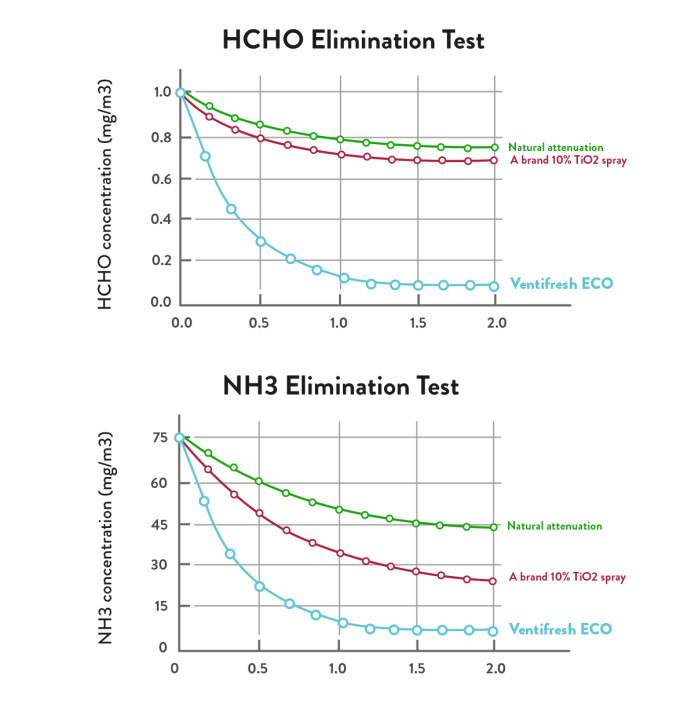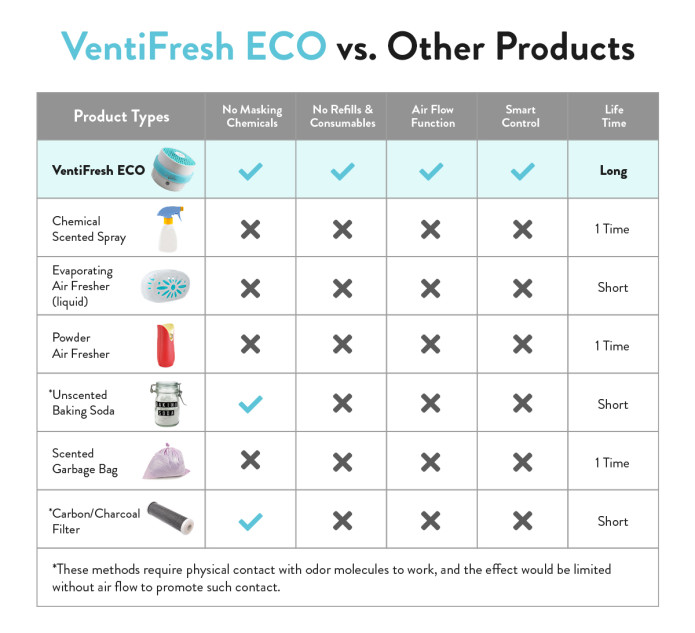 After the successful introduction of our 1st generation VentiFresh Odor Eliminator about 3
years ago, we're beyond grateful for the support from our backers. Not only did we receive
the funding necessary to kick off our marketing, we have also received a lot of feedback and
suggestions. With the sales revenue generated by the original VentiFresh device, we
continued to invest in the material research of UV photocatalyst technology. By the end of
2018, we developed a new processing method for the photocatalyst materials that allowed
our product to respond faster, more efficiently and more powerfully to clean up bad odors in
the air.
The new UV photocatalyst core on VentiFresh ECO provides improved efficiency to process air faster as well as in larger volume. This new technology is 3 times more powerful than the previous version.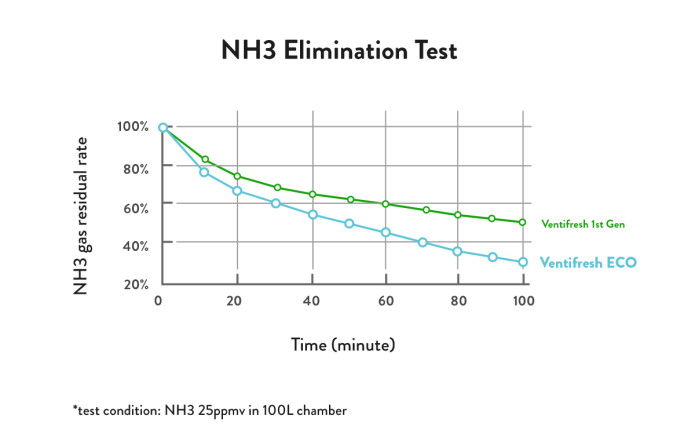 The major breakthrough with the photocatalyst core carrier of the new VentiFresh ECO has 3 times higher coating density which means 3 times more exposure to capture odor molecules. It also has improved nano-material compounds (photocatalyst we used is a nano substance), specialized custom-made fiber carrier to form stronger, durable bonds with the photocatalyst, which results in improved processing power and 50% more efficiency decomposing VOCs (Variable Organic Compounds, odors) and molds.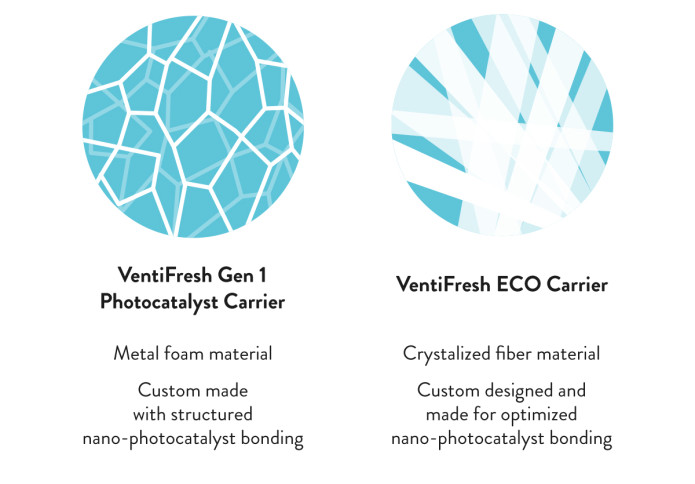 Mood lighting is incorporated to add a nice touch to your living space.
Quiet mode – minimum fan noise while in use.
Turbo mode – 30% more processing speed for faster results.
Standby mode – calming mood lighting at power plug-in, standing by for operation.
New silicone ring is added to protect the shiny and elegant housing.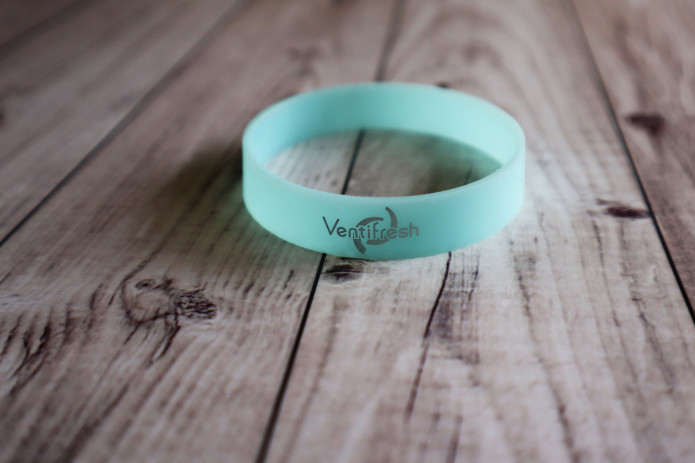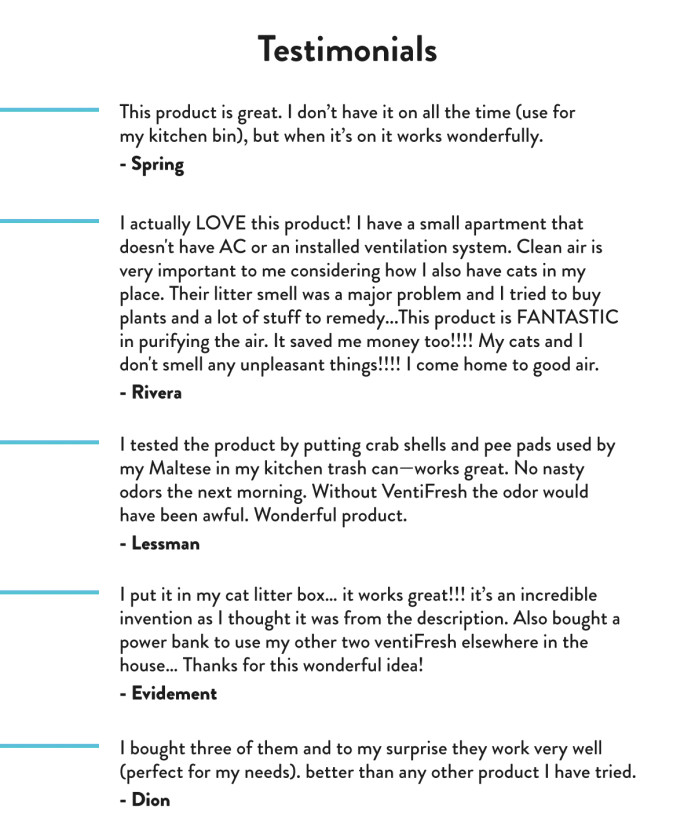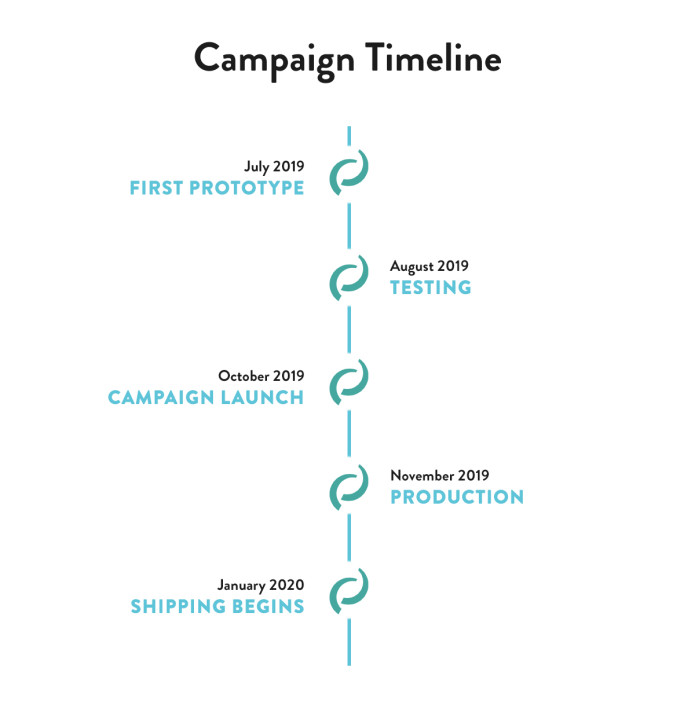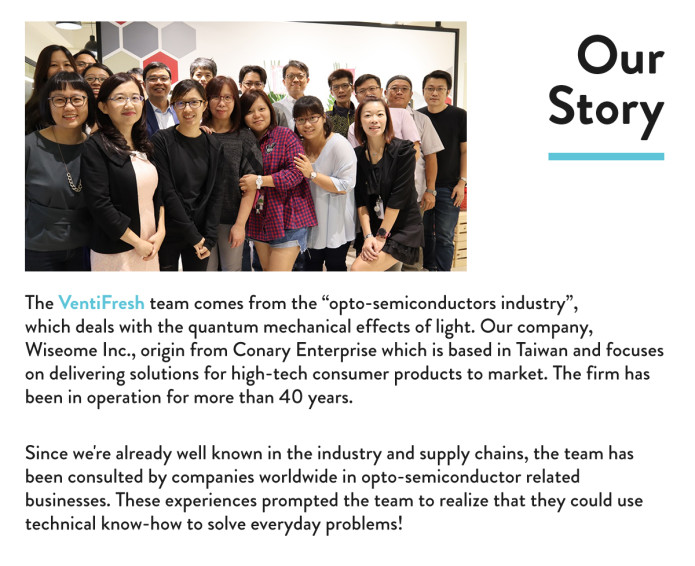 FAQ
 
Q: Can I use any USB power bank with VentiFresh ECO?
Yes, VentiFresh ECO can pair with any DC5V power bank
Q: How long do I need to turn it on every day? 
Depending on where you use VentiFresh ECO, the time needed to deodorize the air varies and can be decided by yourself. Just plug in when you feel the need to freshen up the air. For more stinky places, you may keep it running for more than 10 hours a day.  
Q: Does the product need maintenance? How do I clean it? 
VentiFresh ECO is hassle free. There is nearly no maintenance required, there's no replacing filter or refill parts.  See the Product Specs above for care instructions.   
Q: Will it use much electricity? 
If you keep a VentiFresh ECO running for 24 hours, it would cost less than $0.40 (residential rate at 2.16KW running 24/7) per month in most American states. Power costs refer to the latest average price of electricity by the US Department of Energy.   https://www.eia.gov/electricity/monthly/epm_tab…
Q: Is the product safe to use?
The product has passed Photobiological Safety Testing (IEC62471), which tested UV lighting reaction with animal eyes. Our product is classified as no hazard "exempt class". It is safe to you and your pets. 
There are speculations on various types of photocatalyst products producing harmful by-products (chemicals). It is not related to our product design and usage because the product runs on low power DC5V and it's used in the residential environment, not in the industrial environments where toxic chemicals are already present, and by-products may be possibly generated from processing these chemicals. 
The UV photocatalyst process of VentiFresh ECO mainly converts odor compounds into water vapor and carbon dioxide, in very small, almost undetectable amounts. The capacity of VentiFresh ECO yields much less water and carbon dioxide comparing with a human for the same period of time. Animals also breathe in air (a mixture of compounds) and exhale mainly water vapor and carbon dioxide.  
Q. How much is shipping?
The shipping cost is different for every perk and shipping location. Please select the perk you want, enter your shipping location, and a shipping cost will be calculated.
Q. Will I have to pay customs and VAT?
Contributors are generally responsible for assuring the product can be lawfully imported to the destination country. The recipient is the importer of record and must comply with all laws and regulations of the destination country. Orders may be subject to import taxes, customs duties, and fees which are levied once a shipment reaches the recipient's country. Additional charges for customs clearance must be fulfilled by the recipient. We have no control over these charges.
Q. How long is the warranty?
VentiFresh ECO comes with 1-year limited warranty for Indiegogo backers. We also ensure that every unit is free from manufacturer defects and handled with the utmost care during shipment.
 
Q: Have any questions not listed here? 
Send us a message through the Ask a Question link above.
Q: Interested in writing about us? 
Our press kit is available for download here.