Vinello, the new wine experience | Subscribe to Vinello, and receive monthly wine deliveries, and frontal lessons with sommeliers
Short Summary
Vinello has been ideated in 2019 by Giorgio and Riccardo, two young engineers, and innovations enthusiasts. The very first goal was to create a platform to digitalise the wine experience. We wanted to educate people to wine culture, letting them comfortable at home. 
So we invented Vinello: a subscription service that brings to your door the wine, and organises a frontal video-lesson with a sommelier. Isn't it cool? 
I am Riccardo, and I am the CEO of Vinello SRL. In 2020, our side project got a company, with 4 collaborators, and 10 different wine producers as partners.
Today, we are looking forward to start shippings and teach people our know-how about wine culture, technical aspects, and secrets.
That's why we need your support: to spread our idea among wine lovers, and to invest in the finest products and teachers.
We aim to touch every country of the world, and to educate every wine lover to a proper taste experience.  
What We Need & What You Get
Vinello is looking for clients, and donors to start its activity. 
The financial resources would be mainly invested in communication: we need to spread our idea. A second part of the investment would be devoted to empower our products and services: finding well prepared sommeliers, and enologists, as well as prime quality wines.
Buy today the carnet of 1x, 3x, or 6x months to Vinello, and you would be the first to receive a voucher to get our box delivered at home! 
What is included in the box?
2 bottle of premium wine from an Italian producer
1 video-lesson with our sommelier
Access to our wine enthusiast community
Possibility to join our wine events, and visit the winemakers
 
Last but not least… your name will be noted on our website among the first funders of our startup, and we will be always thankful to you!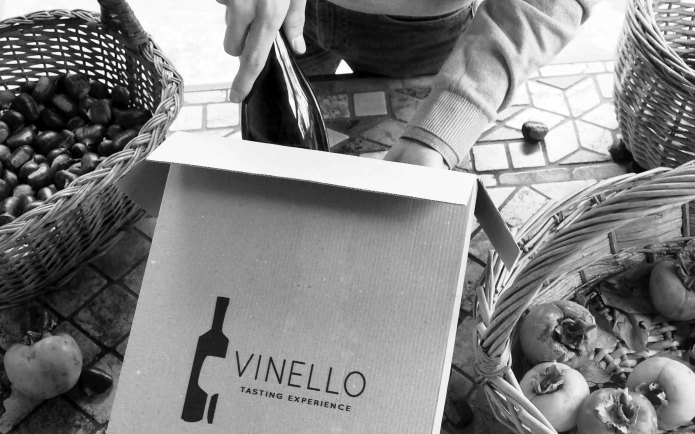 The Impact
We want to change the way wine is perceived.
Educational contents are at the center of our project: being a Vinello subscriber means acquire a deeper awareness about the product you are consuming. 
Risks & Challenges
Vinello's challenge is to extend our activity across the world. To do that we need your support: boosting our campaign we can fast improve our team, and set-up innovative technologies to smart manage Vinello.
Team
The team is composed by 4 young guys, but we are longing to grow! Get in contact with us if you can bring added value to our project.

Other Ways You Can Help
Share our crowdfunding campaign with your friends or your community. Make noise about that, it will help us to reach our fund target and start our activities soon!
If you are an investor, and you want to have more information about our business, get in contact. 
We are on social media. Follow our profile to help us to create engagement on Facebook, Instagram and YouTube.