Vulgar Display of Poutine Needs You! | We finally found the perfect home and now we need YOUR help.
Let's Get Acquainted
Who knew such great food could come from a 10×10 tent but damn is it hard work without a kitchen of our own. After 3 years of pop ups and a championship poutine belt later the time has come to grow.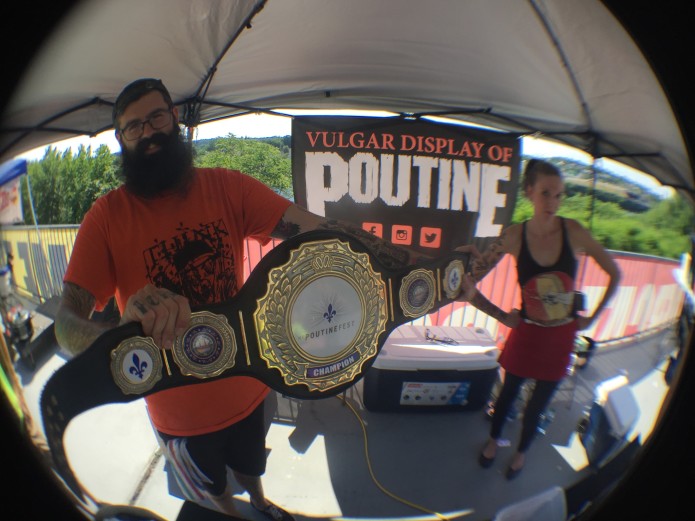 A passion for great food and drink is what we thrive on. The Northeast Kingdom is ready for some flavor and we couldn't agree more. Our unique concept would add some much needed vibrancy to the local food scene and beyond with a menu solely focused on the French Canadian classic of hand cut fries, cheddar curds and a rich, scratch gravy. We fell hard for the versatility of the dish. You can put almost anything on it and don't worry, we intend to! With things like creative vegetarian options, vegan options and a kick ass Sunday brunch we'll be adding things the area is in desperate need of. Once the restaurant is established, we will get the food truck on the road and to a town near you.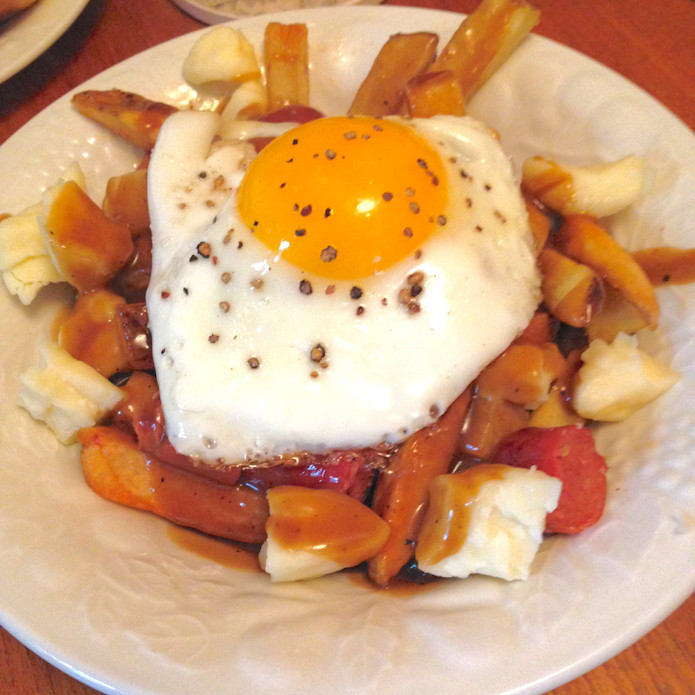 2016 Test Poutine
Nothing has made Ryan happier in life than music and food. Since the age of 16, Ryan has worked in all types of restaurants from pizza shops to fine dining. He graduated in 2002 with a Le Cordon Bleu culinary degree and never looked back…until the drums took over. After years of touring in bands led Ryan to the Great White North, the home of the national treasure that is poutine, he had an idea one late winter night in Ottawa. With a little research it was discovered that no one was solely focused on making poutine in New England. So it was decided that a food truck would fill that void. The initial goal was to buy a truck, find an investor, outfit it with a kitchen and fry those fries, baby. Seemed easy enough.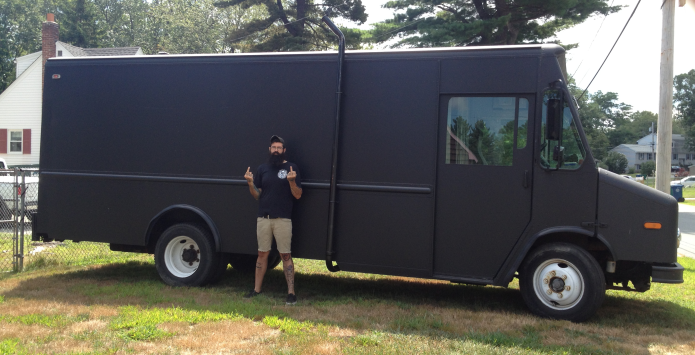 Hurdle after hurdle led us down the path that we are on right now, the tent. Unfortunately the investor didn't work out so we worked our butts off, got a van, a 40lb fryer and started the coolest pop up business east of the Mississippi. To our utter shock and surprise, people started lining up at the brewery (sometimes for over an hour) to have a taste of what we were peddling. Sell outs became the norm but our niche business CAN'T continue or grow without a space to call our own. Ryan told an old boss one time that he would NEVER own his own spot but here we are. Life on the road has slowed down and he's dying to cook again. Especially for you.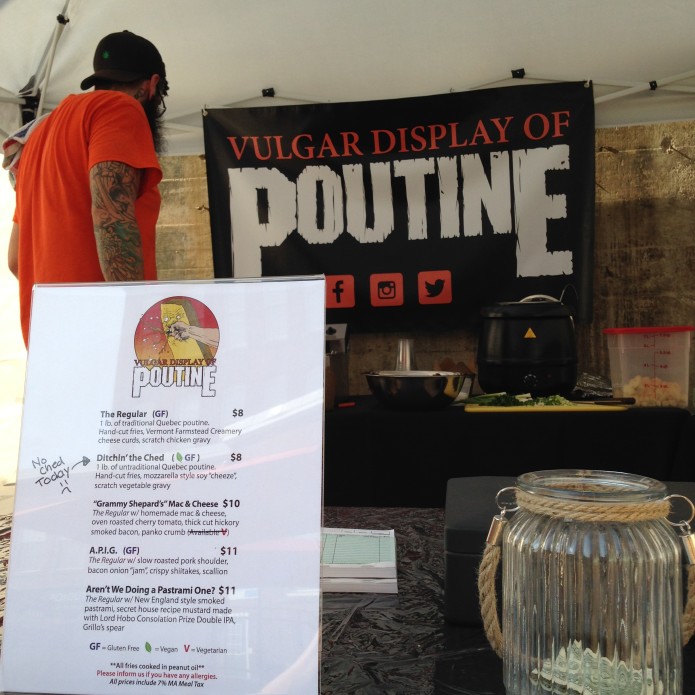 This venture wouldn't be possible without the undying love and support from Ryan's life co-pilot, Shannon. She is the sugar to his salt and the face of VDOP that everyone has come to know and love.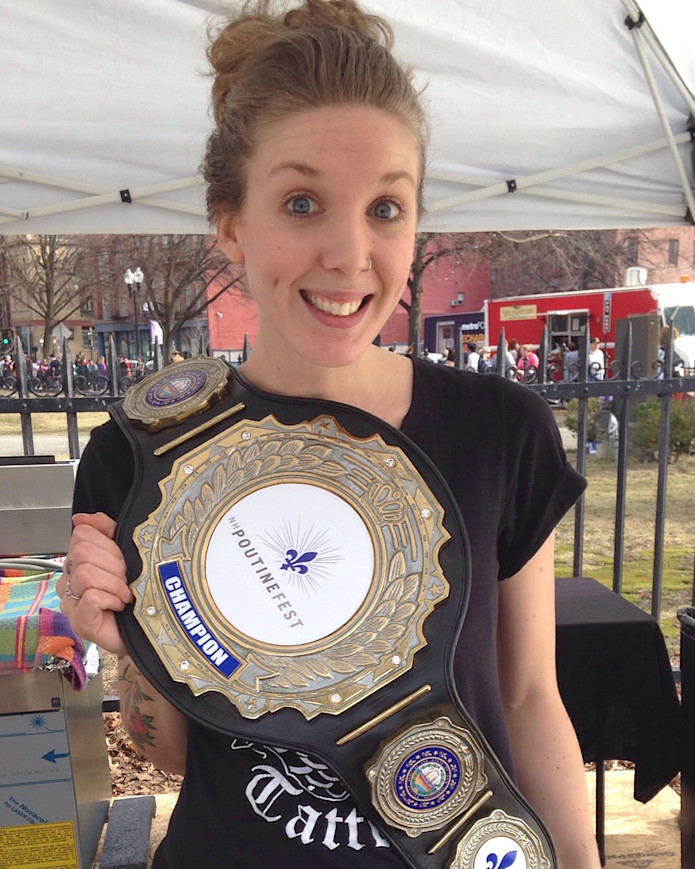 Her 12+ years working in customer service has provided us the ultimate business duo. She washes a mean dish and can fry a fry with the best of them. Shannon has a printing/graphic art background that has always provided VDOP with the skills Ryan lacks. 
Here's Why We Need You
We've recently moved the business from the hustle and bustle of its original home in Lowell, MA to the Great North Woods of beautiful New Hampshire.
Some terrible news came our way recently in the form of the state of NH not being able to permit our mobile tent set up due to fact that it is not an "enclosed mobile food unit". We have had to cancel a handful of events including our triumphant return to NH Poutinefest 2019. Our only option now is to find a kitchen AND we think we did! The stars have aligned and the most economical space has become available just over the border from our new home in Colebrook, NH. We have put in the long days of standing over the fryer and have personally exhausted our own finances.  VDOP really needs a hand with keeping this ball rolling.
What We Need
VDOP has found a restaurant space that is already outfitted with the full kitchen they need to provide you with the food you have come to know and love. You think its hard trying to get an apartment? You should try leasing a restaurant space. That first, last and security really adds up! We need your help to make the deposits on this space so we can get it going ASAP.
Can't run a business without permits and we sure do need a mountain of them. From a general board of health permit to a beer/wine license so we can keep those mimosas flying on Sunday. Oh, and we want to stay mobile but Vermont requires a permit for that too! 
With changing from a mobile unit to a restaurant, our liability insurance will need to be updated to suit our new needs.
As of right now VDOP is run as a sole proprietorship and that needs to change. Becoming an LLC will give us the personal protection needed in the event that something goes wrong and the courts decide they want to take our cats. We'd love to keep 'em.
It's going to take a lot of spuds to get us off the ground! The most important piece to the puzzle is all those ingredients needed to produce our award winning poutine and you can't make great food without great product. We want to take advantage of the vast network of small farms in the area by building relationships with the abundant amount of producers the NEK has to offer. These relationships will be beneficial to the community and critical to our mission. A local economy is a healthy economy.  
Your generous donations will go towards:
The lease deposits – $3,900
Those pesky permits – $660
Update and renew our insurance – $800
Become an LLC – $150
Inventory and supply purchase – $5,000
Small Wares – $1,000
Perks
Who doesn't love some crucial merch? Not only will you get to finally sit down with a poutine in our long awaited space but you'll get to rep some neat VDOP goods everywhere you go. Shirts, stickers and koozies could all be yours for a donation to our campaign. For all the real poutiniacs out there consider getting your hands on a membership to VDOP's exclusive Fork Club.
Backup Plan
The restaurant business is one of the hardest industries to get started in but we already have one foot in the door after starting our mobile poutinerie and we need you to give us that last push. We are ready to overcome any and all obstacles that stand in the way of our poutine dreams. Even if the goal is not met, we will never stop doing what we love, cooking for you. See you in the tent but hopefully in our Island Pond space first.
Other Ways You Can Help
Don't forget! Even if you can't donate, sharing this campaign with your family and friends will be equally as helpful and very much appreciated. Find us on Facebook and Instagram.
Thank you for your support!