Vyrex Clear: A UV cleaner for your personal items | Clean smarter not harder.
Ever wondered how clean a wipe with disinfectants really gets your household items? Spoiler alert it's not 99.9% 
Not all products that kill 99.9% of bacteria and viruses are created equal.
Traditional disinfectants usually take up to 10 minutes of wiping or soaking every nook and cranny to even get close to this. With Vyrex, you can get to every nook and cranny with a simple flip of a switch.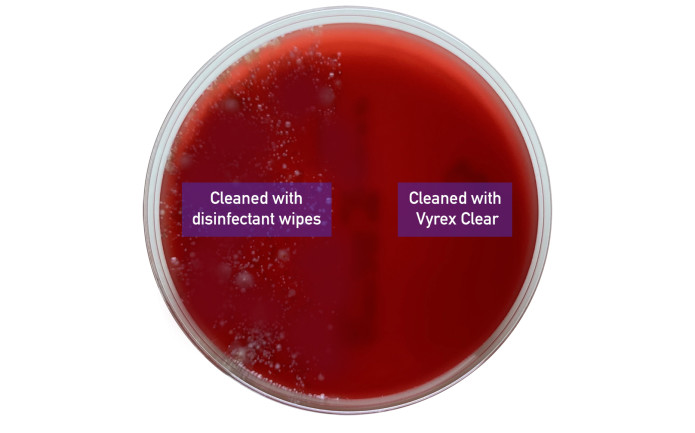 Vyrex Clear isn't just a better way to clean your products, its the BEST way.
Clean smarter not harder, back Vyrex Clear today!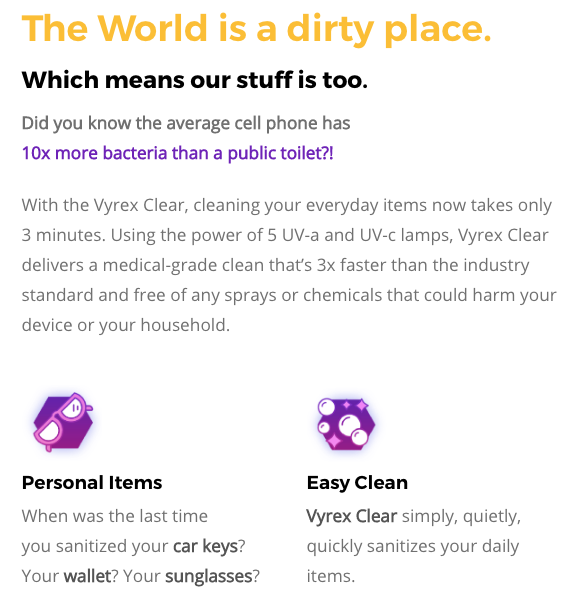 Germs are everywhere, and that means they're on our phones, our keys, our sunglasses — anything we bring out into the world with us.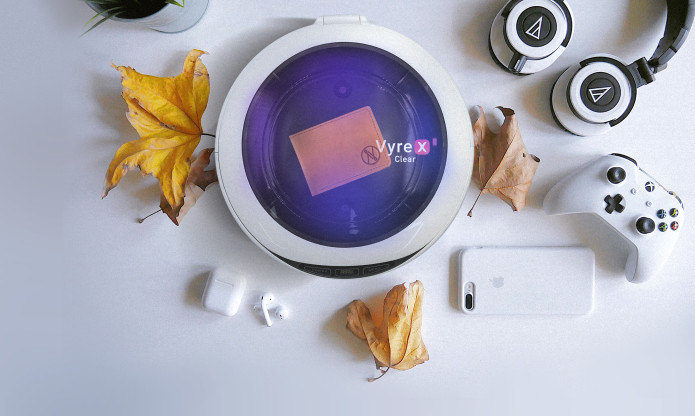 Now more than ever, it's clear that viruses and bacteria have the potential to quickly and substantially alter our daily lives. Knowing how prevalent and powerful these bacteria and viruses can be — and how easily they can travel into our homes — makes it very tempting to feel unsafe, and to feel like a truly clean household is impossible.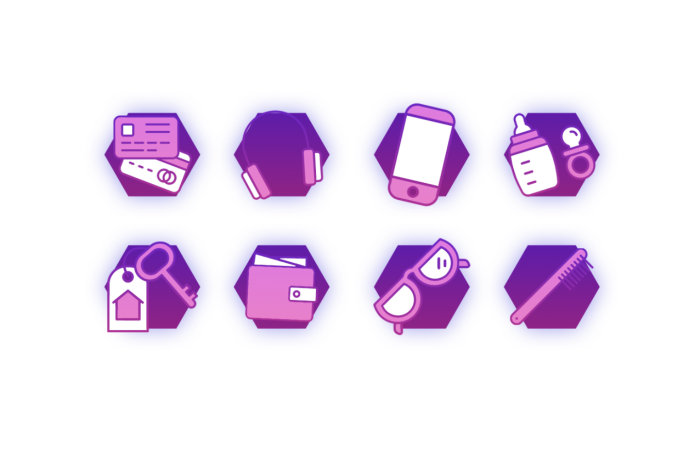 But luckily, Vyrex Clear makes achieving a medical-grade level of clean for your daily items incredibly easy, all while staying 100% safe and environmentally friendly. Vyrex Clear combines UV-a and UV-c light to kill 99.9% of viruses and bacteria — 3x faster than the industry standard.
All your devices and items need to reach a medical-grade level of clean is 3 minutes inside the Vyrex Clear.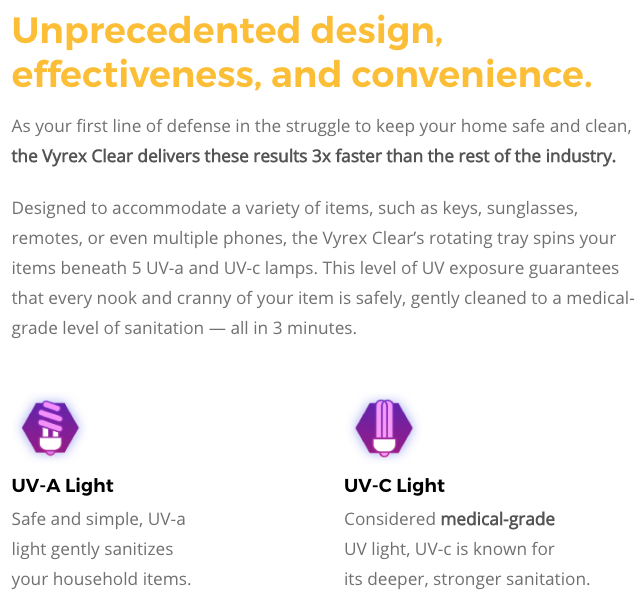 In the struggle to keep our lives and homes clean and safe, it's important to clean our everyday items. This can be challenging, however. It's easy to forget to do so — plus, traditional cleaning methods like alcohol wipes or sprays can harm or damage sensitive electronics.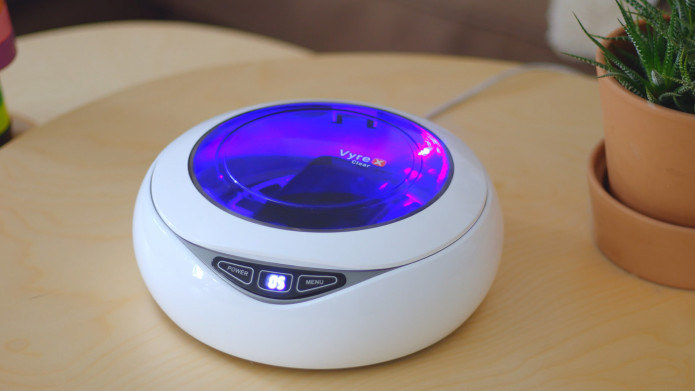 That's where Vyrex Clear comes in. By placing your items inside the Vyrex Clear, not only do they receive a medical-grade cleaning, but they do so without any risk of damages to their electronics.
The cleaning process is completely safe for your devices and is more effective than alcohol sprays or disinfectant wipes. With 5 UV lamps positioned throughout the device (as well as its reflective dome cover), the Vyrex Clear cleans 100% of your item.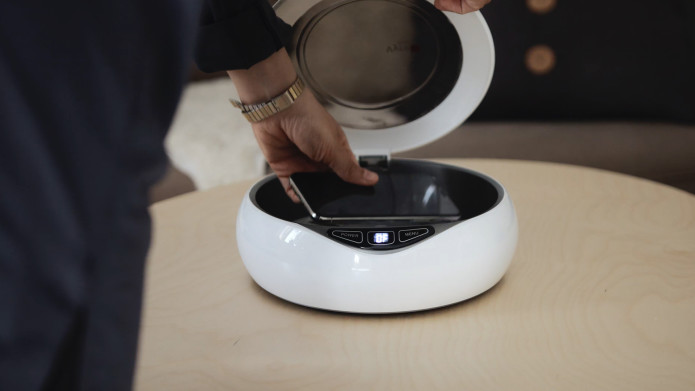 Combine that level of coverage with the Vyrex Clear's internal rotating tray, and every angle of your device gets a deeper clean than any wipe or spray can provide — all while using environmentally-friendly low voltage technology.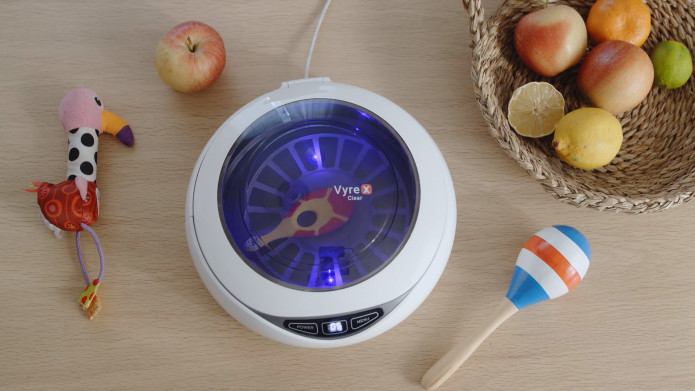 And since it's made with 100% recycled materials, the Vyrex Clear proves that clean and green can and should happen at the same time.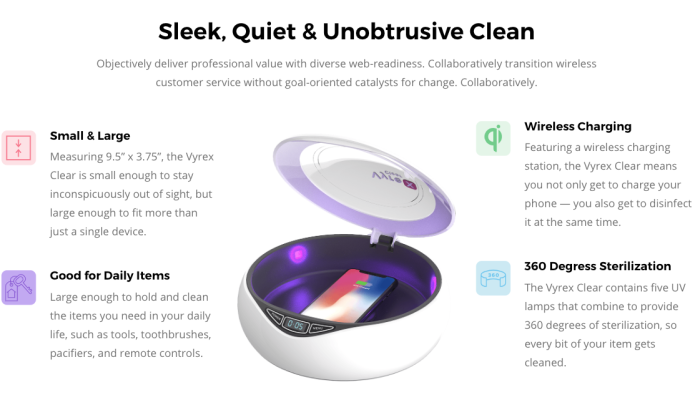 Vyrex Clear harnesses the power of both UV-a and UV-c light. By combining user-grade and medical-grade UV sanitation, the Vyrex Clear cleans your items on a deeper, more thorough level than sprays, wipes, or other surface-use disinfectants.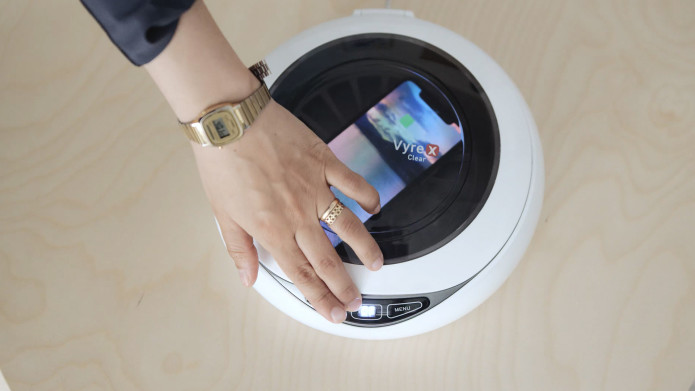 The tray of the Vyrex Clear rotates underneath 5 UV-a and UV-c lamps. By exposing every nook and cranny of your items to these lamps, your devices emerge with 99.9% of viruses and bacteria completely destroyed.
In the natural world, UV-c light is blocked by the Earth's atmosphere. This is good for us, since it keeps us humans safe from harm. However, by using UV-c light within the safely sealed Vyrex Clear, the light is able to break down bacterial DNA and clean your items without exposing you or your household to harmful UV rays.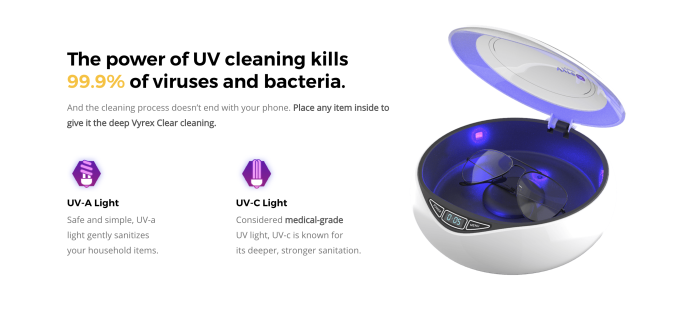 In addition to keeping thel UV light contained, the Vyrex Clear's lamps are mercury and ozone free. This means any item you place inside is deep cleaned using only UV light — no harmful materials or chemicals to be found.
And the cleaning process doesn't end with your phone. Large enough to hold and clean the items you need in your daily life, the Vyrex Clean's five UV lamps combine to provide 120 degrees of deep cleaning for household items like tools, toothbrushes, pacifiers, and remote controls.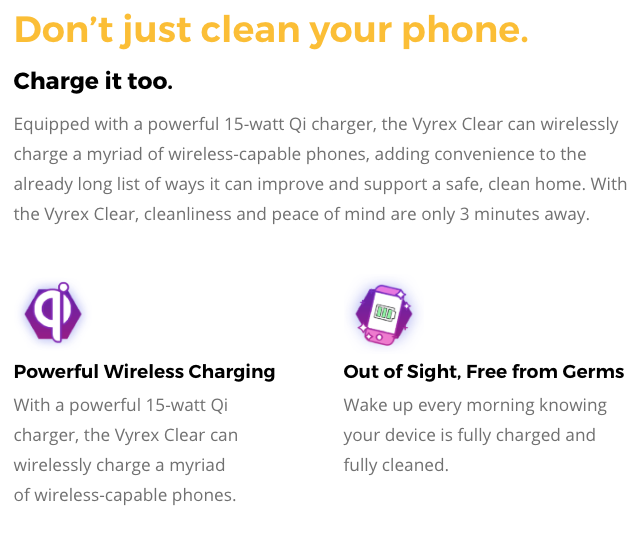 With the power of Qi wireless charging, the Vyrex Clear blends usefulness and practicality into one sleek design. Not only do you get to charge your phone — you also get to disinfect it at the same time.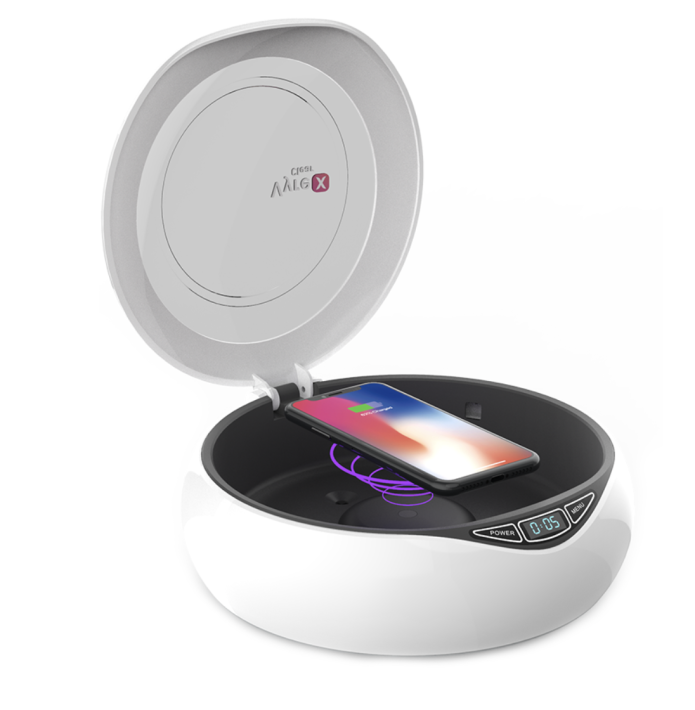 With its powerful 15-watt Qi charger, the Vyrex Clear can wirelessly charge a myriad of wireless-capable phones. Wake up every morning knowing your device is fully charged and fully cleaned.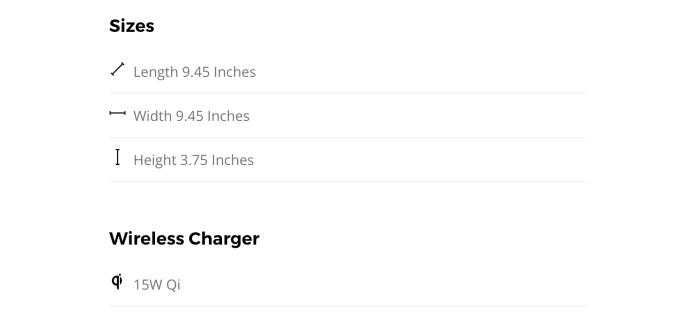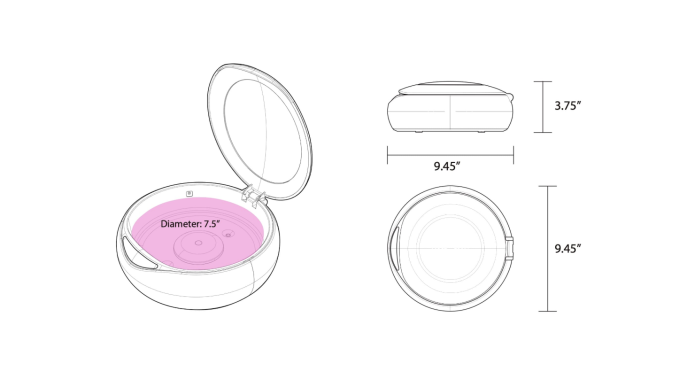 A new type of clean
Bacteria may be small, but the impact they can have on our lives can't be overstated. With the Vyrex Clear, cleanliness (and peace of mind) is only three minutes away.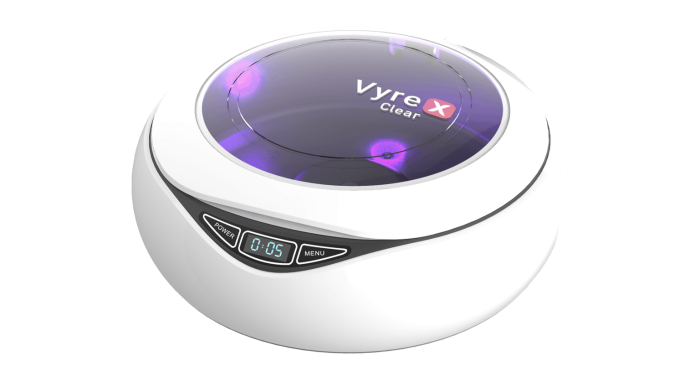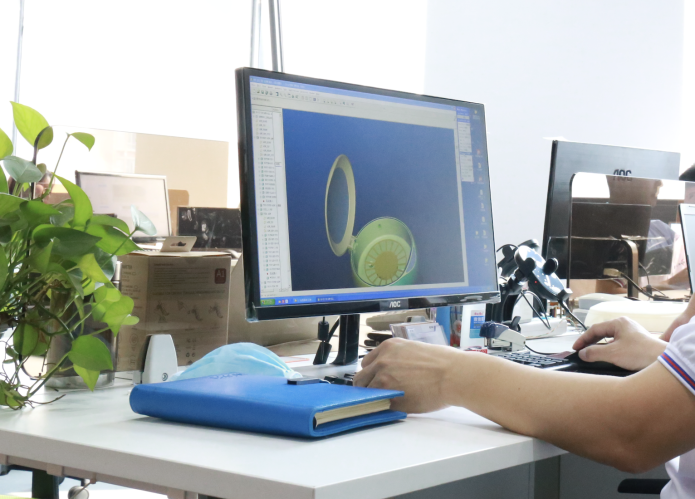 Having experience developing products, we have learned the ways to fail. But more so, the questions to ask before taking a risk. The Vyrex Clear has come a long way since its concept, But it didn't come easy. We have overcome many difficulties and have pushed through.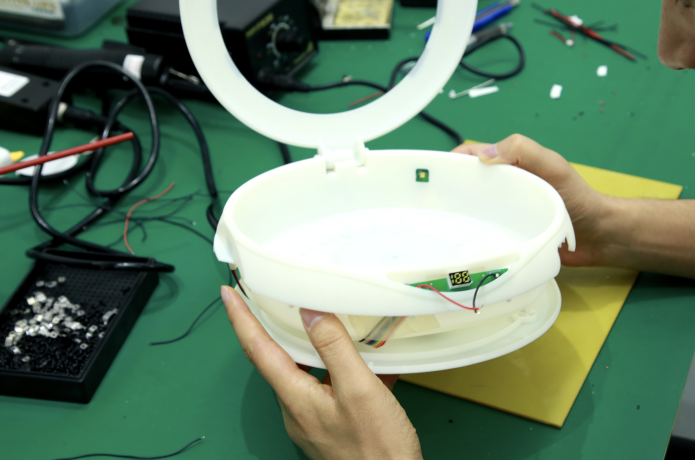 We have strong confidence in our manufacturing processes and the product in itself. We don't see much risk in the future, but given the current state of the world, we understand you can't always predict the future.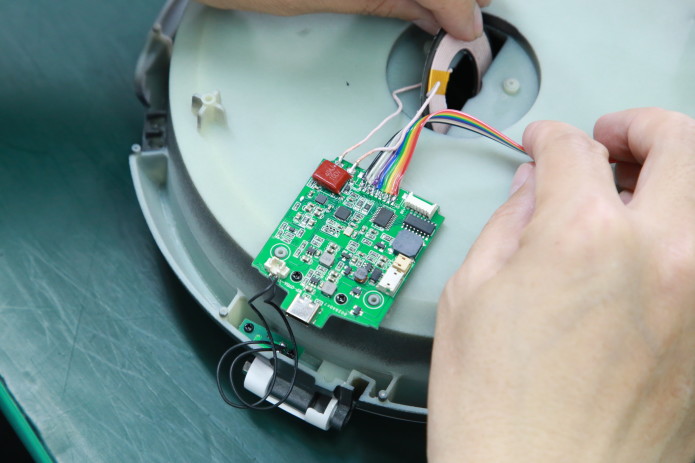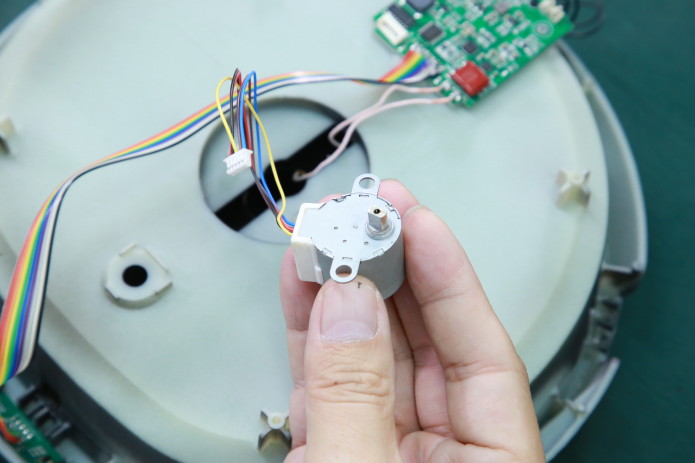 We have a secure plan in place to ensure the product and delivery of each Vyrex Clear goes smoothly, but with anything, there can be bumps and delays. But with confidence, we will push through to stay on the production schedule we have committed.