Weela – Pro Gym & PT App with 100 Workouts At Home | Effective, Compact and Stylish Home Gym paired with a Personal Trainer App for exercising anytime!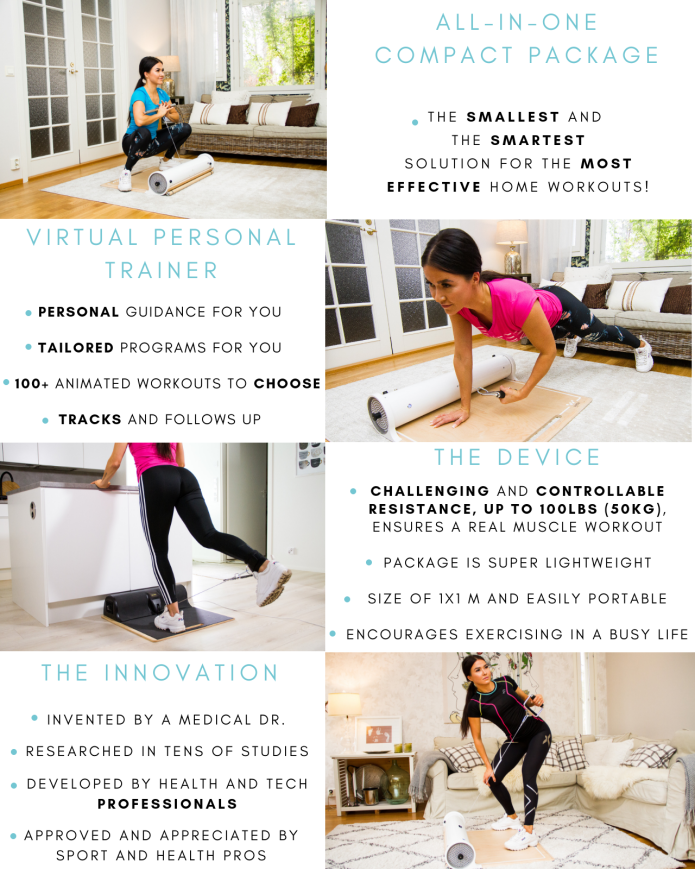 NO MORE BIG AND CLUMSY EQUIPMENT FULL OF IRON
Lose weight, get fitter, maintain mass, increase elasticity, improve balance, build strength or gain more muscles? 
Weela is the smallest and the smartest solution for achieving your goals through challenging, effective, safe and fun workouts from the comfort of your home!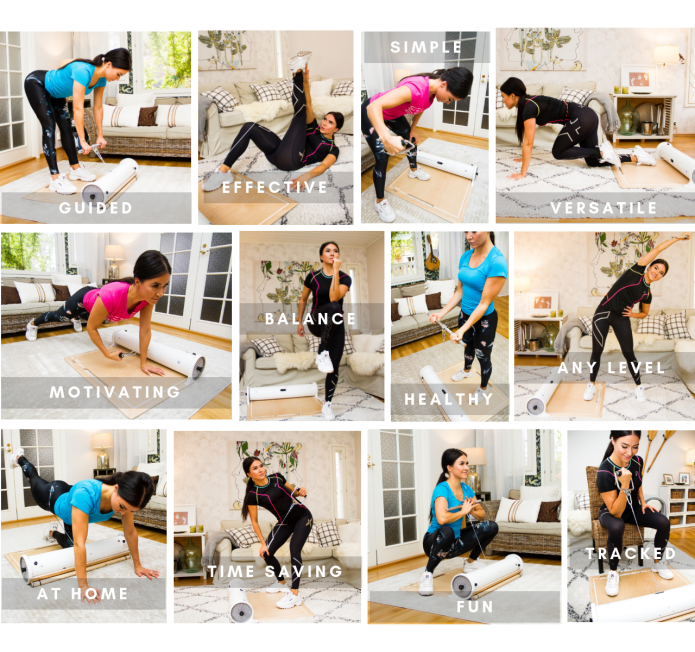 WHAT IS INCLUDED IN THE SLIM WEELA PACKAGE?
Three changeable handles that enable training the whole body throughly. 
Weela device which is tiny, it needs under 1sqm space for workouts and it is easily storable and portable. It makes strength training possible in any room. 
The package includes also a powered cable.
The Weela app can be uploaded from the App Store.
The device includes a resistance control panel and it can also be used without the app.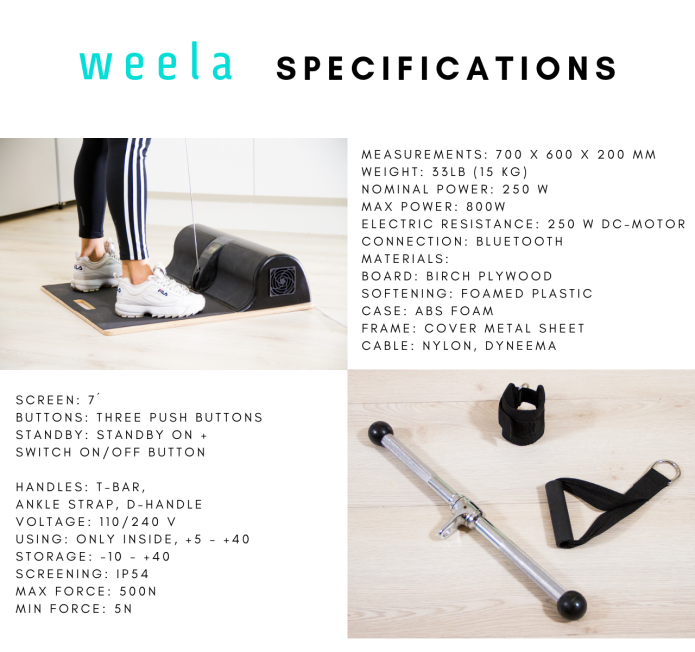 Time challenges. Busy schedules. Inconvenience. Waiting times for equipment. Long way to the gym. Sounds familiar? Those aren't the reasons anymore for skipping workouts. The Weela home gym removes the barriers for exercising. 
Weela saves you tons of time in your everyday life and saves you plenty of money!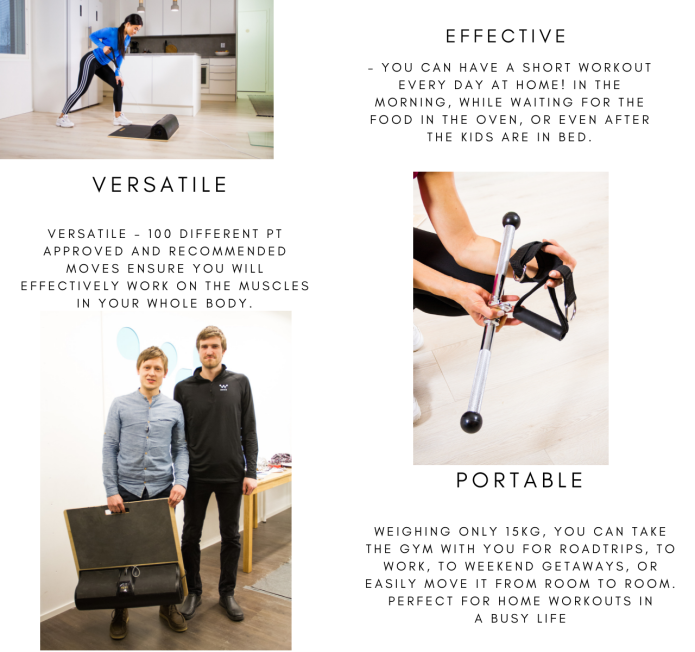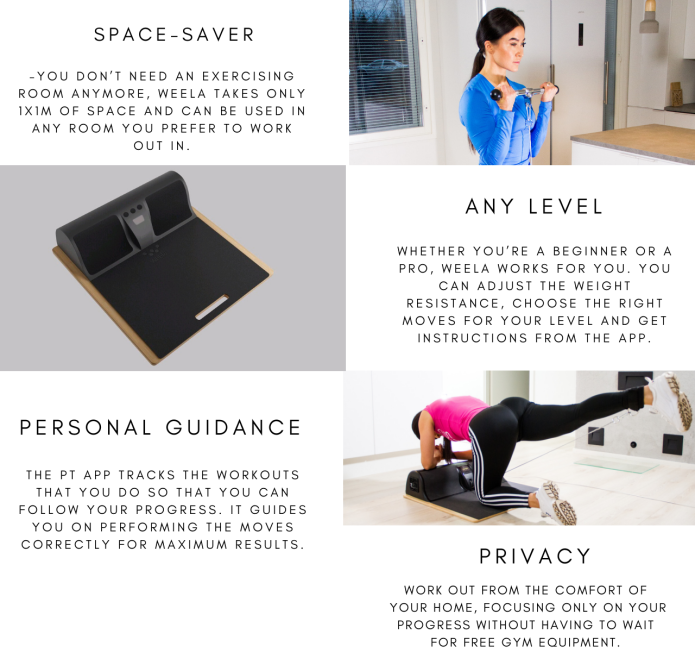 Weela improves not only strength but also balance and coordination which makes your supporting muscles and body control better. Your performance will be optimal to you and you will get results with effective resistance and the PT guidance app!
Physical activity affects the mind directly, improving wellbeing and the quality of life! At Weela we embrace all types and shapes of bodies but we also think that for wellness the actions are what matters! We want to make practicing simple, effective and available for everybody.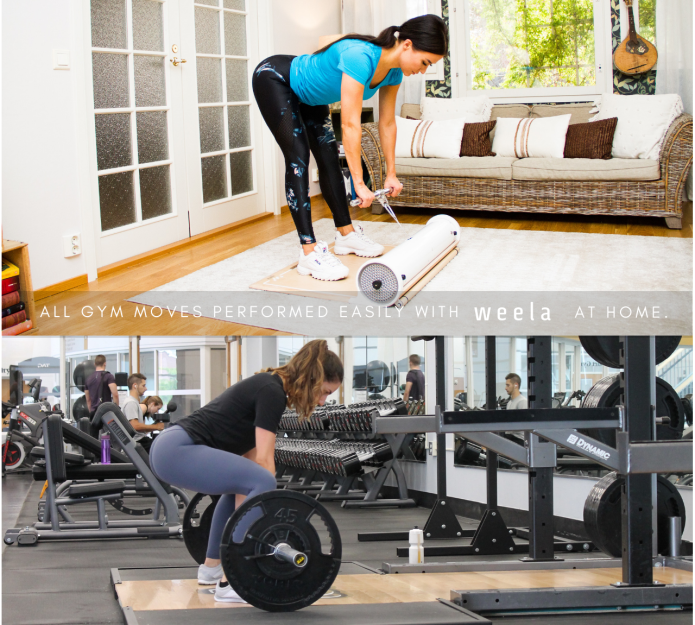 Weela's intelligent technology is patented. Also the App is a unique solution and it includes over 100 animated workouts so your workout program can be personally customized and starting to exercise is motivating. You can succeed with Weela even without any experience of training! Using the app is easy and it guides your workout with clear workout instructions. Following up progress is easy too because Weela collects the data so that you are able to improve your workouts. With the help of Weela you can create clear goals and plans for how to reach them: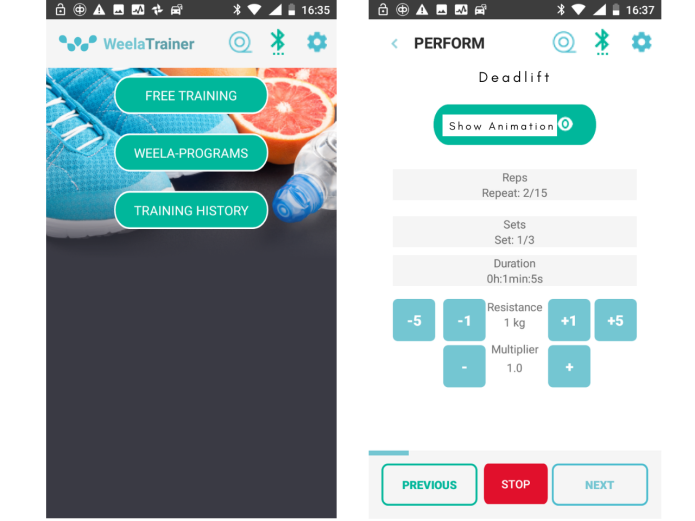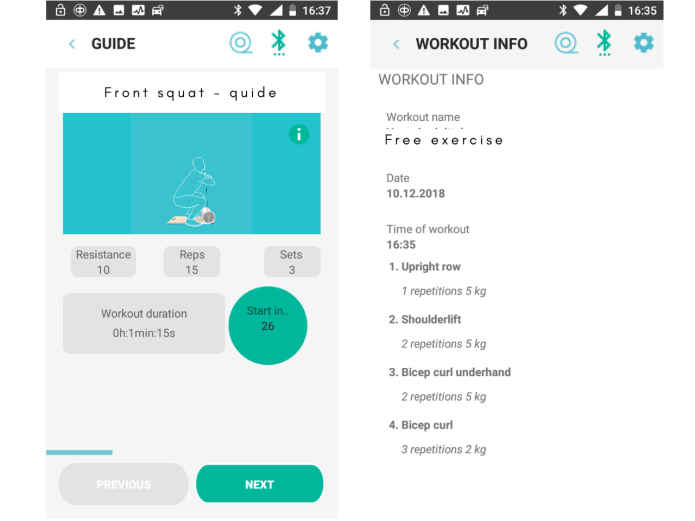 WEELA DEVICE ITSELF IS A SMALL POWERHOUSE!
In comparison to other home gyms Weela is more versatile and more effective. All common gym moves can be performed with Weela! 
BUILD MUSCLES FASTER THROUGH ECCENTRIC TRAINING
Strength training with Weela is even more effective than with normal weights when you turn on the multiplier for eccentric training. Eccentric training means that the return move which is usually easier and lighter to do and can be up to 2X heavier. Studies show that since most muscles aren't used to that, strength and muscles grow faster through eccentric training. 
This is because eccentric muscle contraction is stronger than concentric contraction, which allows you to enlist heavier weights. Not only can it boost your muscle size, eccentric training has many other benefits! It can help increase your metabolism and repair muscle faster. This is what we at Weela want to offer you, an opportunity to reach your goals faster and safer.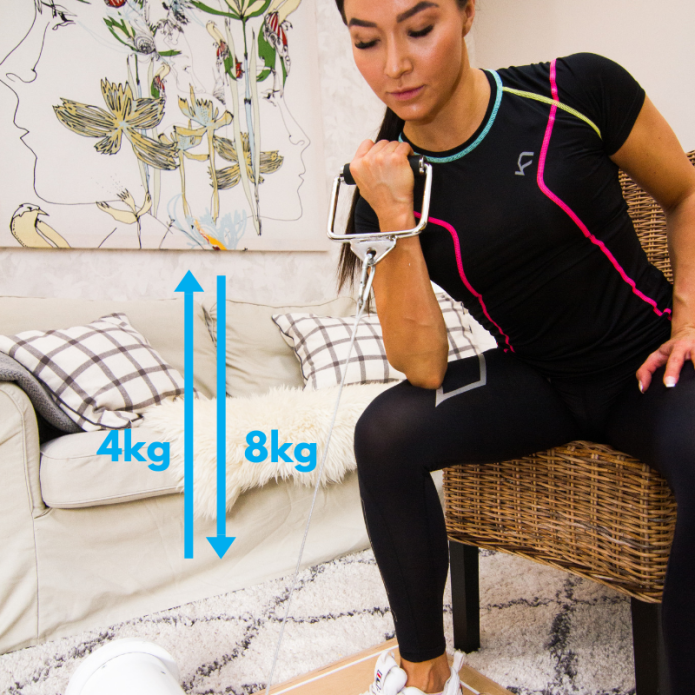 Weela's electric resistance is unique, safe and effective. The motion is more stable throughout the whole pull or twist so the performance is heavier than when done with free weights. Weela has up to maximum 110lbs (50kg) of resistance so it sure works to reach strength building goals for anyone!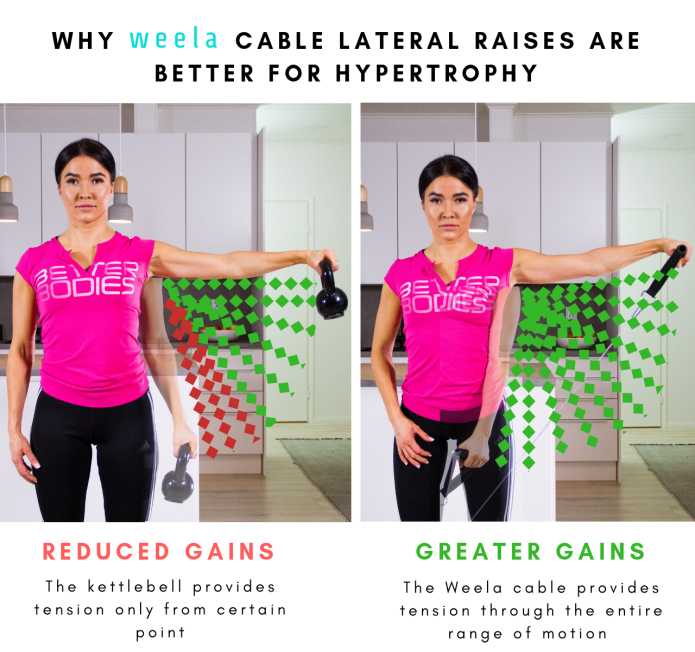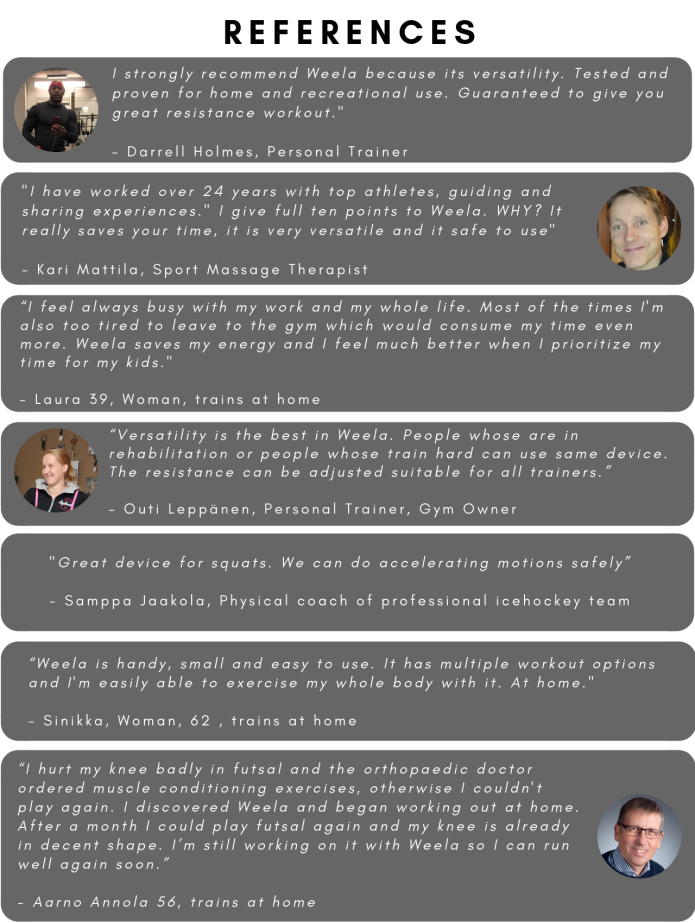 Common recommendation for people from 18 to 64 years of age is to move at least 2h and 30min or do 1h 15 min of vigorous-intensity physical activity in a week. (Source: Physical Activity Guidelines for Americans)

In addition to that strength training combined with moves to improve coordination and balance is advised to be performed at least two times a week. (Resource: Physical Activity Guidelines for Americans)

Adults should include muscle-strengthening activities that involve all major muscle groups on 2 or more days a week. Bigger muscles are recommended to be strengthened with 8-10 moves at a time and 8-12 repeats per move. (Resource: Physical Activity Guidelines for Americans)

Medical research shows that natural muscular dystrophy is a big health issue when aging. We begin to lose musculature naturally in our fifties. (Source: Lihastohtori, Hulmi Juha, 2015 Fitra )

The positive news is that muscular condition can be improved even at the age of 90! (Source: Lihastohtori, Hulmi Juha, 2015 Fitra )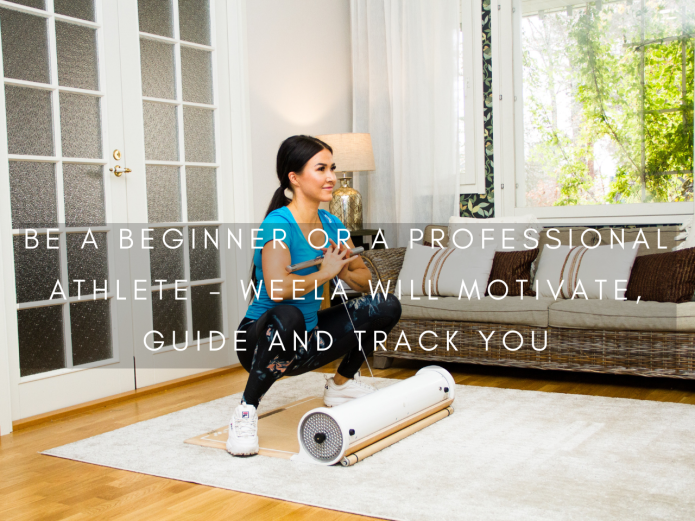 The idea behind the Weela was born in 2010 when Mauno Kurunlahti (Dr. Med.), Miikka's (The Founder) father realized he couldn't find a small sized and multi-functional exercise machine from the markets. Gym training wasn't for him and he decided to gather a team that could build a machine he wanted. He gathered a team from University of Applied Sciences to develop a machine! A lot of Research and Development work was done and tens of masters theses written during the years. Also Miikka made his masters thesis about the device in the year of 2015. Later at  the same year Welapro Ltd. was established. After two years of hard work the first Weela device was successfully introduced to top athletes and fitness professionals in 2017. Weela is now tested by over 1000 professionals, appreciated and approved by physiotherapists, personal trainers and other sports professionals in Finland. 

The Founders understood quite soon that Weela got the highest interest among consumers but the first device was still a bit too complicated and expensive for the consumer segment. They decided to develop improved device for consumers. The new Weela that we are now presenting to the audience is so much better that it has replaced the first device entirely.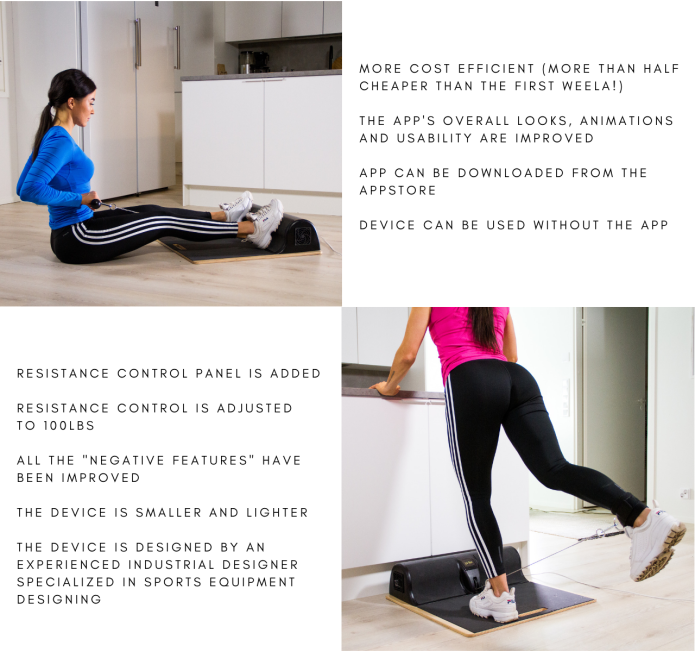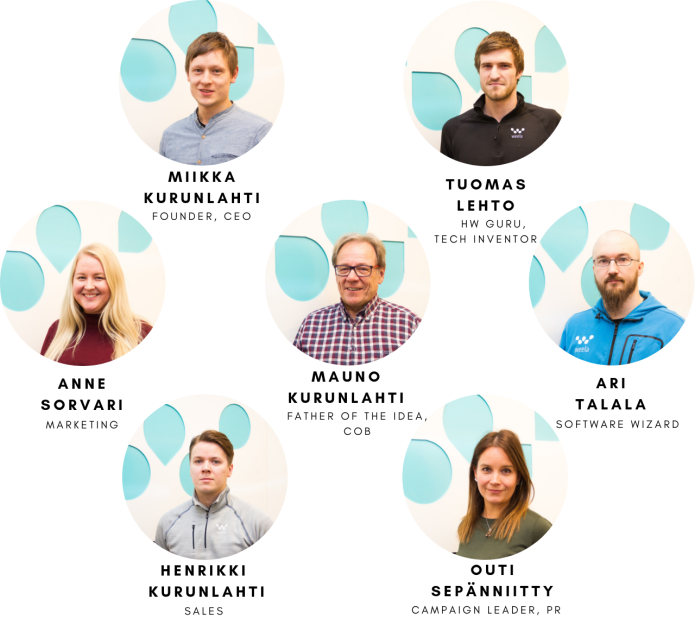 We have a working prototype ready of the Weela gym device. The software of the app is also ready. Only minor improvements will be done. Here's our journey and the next steps in a graphic: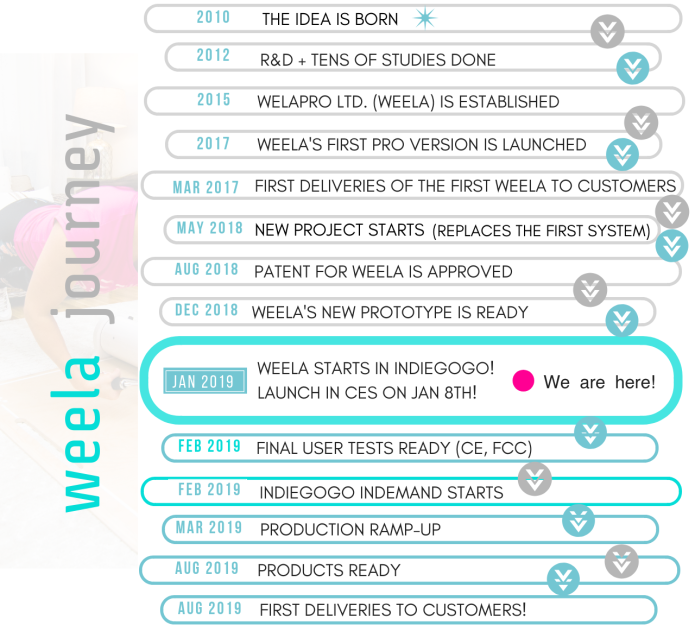 Weela is launched at the same time in an event of consumer electronics fair CES and in Indiegogo in January 8th 2019. We are now taking pre-orders in and all the investments are used for production costs and for marketing purposes. If we don't reach our goal we will refund all our Backers. And when we reach the goal all the ordered devices will be produced and delivered.
WHY CROWDFUNDING
We have been working on for perfecting the design development, market research and customer testing. We have been getting great feedback from real customers and now we are ready to scale it up with the home gym equipment! Indiegogo is a huge chance for us to introduce our "baby" worldwide known. We want to see if the interest is internationally as high as we've understood. We chose presales via crowdfunding because we want to make everything precisely and to secure quality. We've done the whole production already once – lessons have been learned and now we want to make everything even better.
RISKS
We also evaluated the risks for you to explain why Weela is safe to invest in:
Delivery delay – We know this is sometimes a problem in crowdfunding campaigns and therefore we chose the production methods (e.g. effective injection molding, no mold work, no large production lines and no machinery) and the materials that enable scaling up for bigger production fast.
Product that isn't finished – We are already experienced and have produced one quite similar Weela product so we do know what to do. Our prototype is already ready and only minor improvements will be done.
SUM UP
Our team is more than ready to grow internationally and we want you to be a part of our journey! We will need Your help for scaling up! We are thankful for all the support we've gotten from our Backers and Customers. We want also you to enjoy our journey!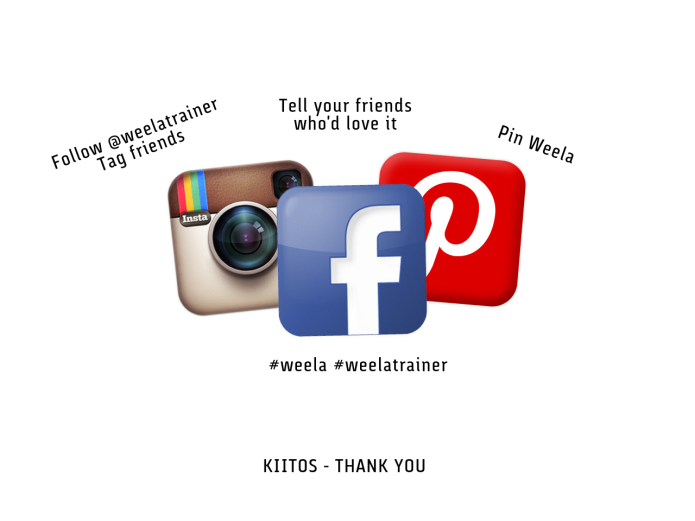 ​
As Featured on