Woerden Chopsticks: Solid Zirconium & Titanium | CNC milled from a single piece of solid Zirconium or Titanium. Durable. Eco-friendly. Hygienic!

Woerden Designs
We aim to help you create Michelin-star food at home with our Woerden professional kitchenware. With the success of our last titanium rolling pin and titanium sushi plate projects, we decided to introduce our solid 100% Zirconium & Titanium chopsticks.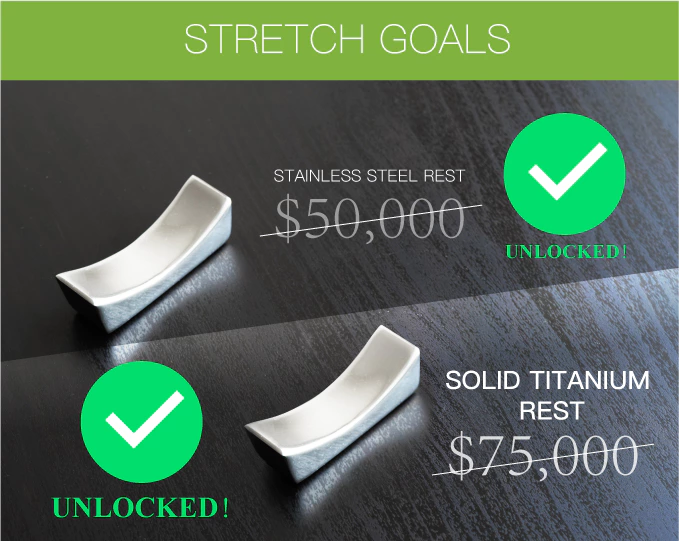 $75k stretch goal unlocked! Free Titanium chopstick rest with each pair ordered!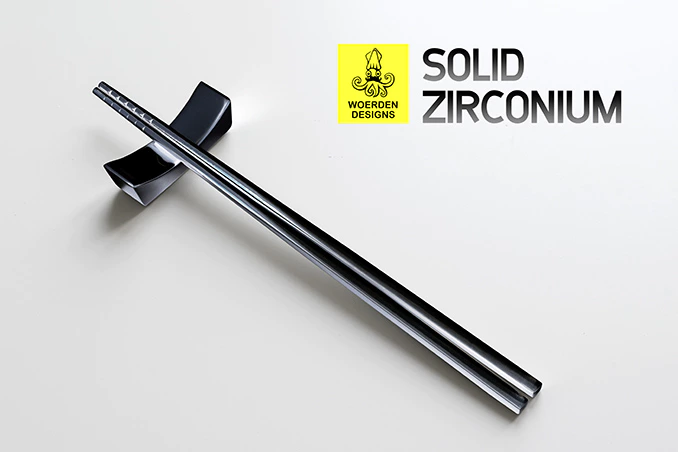 Introducing solid Zirconium! A rare metal that's more corrosion resistant than even Titanium! A solid Zirconium rest comes with each Zirconium chopsticks pledge!
Zirconium UNLOCKED! 
Used in jewelry and other decoration for centuries 
Resistance to corrosion: even higher than Titanium 
Used in delicate surgical applications due to high corrosion resistance
Common in cool stars and moon rocks 
 Density: 6.52g/cm3 Zr702 (99.2%+ pure)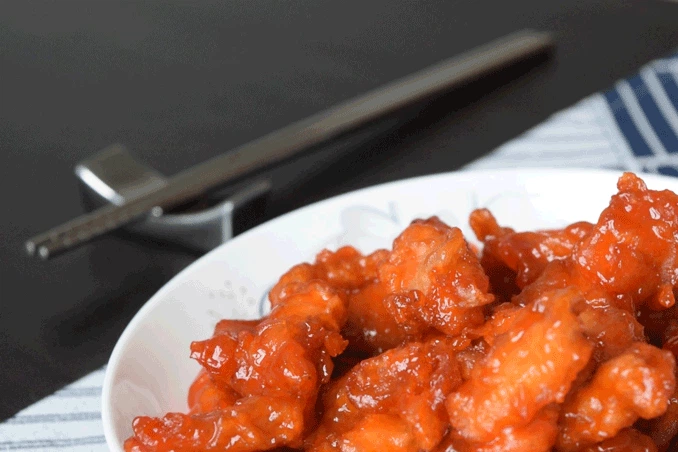 Made of solid 100% Titanium, Woerden chopsticks are durable, eco-friendly and hygienic!
Traditional wooden chopsticks can harm our environment and our bodies. It takes one aspen tree just to make a few thousand disposable chopsticks. Each year we lose thousands of acres to deforestation just from these disposable chopsticks!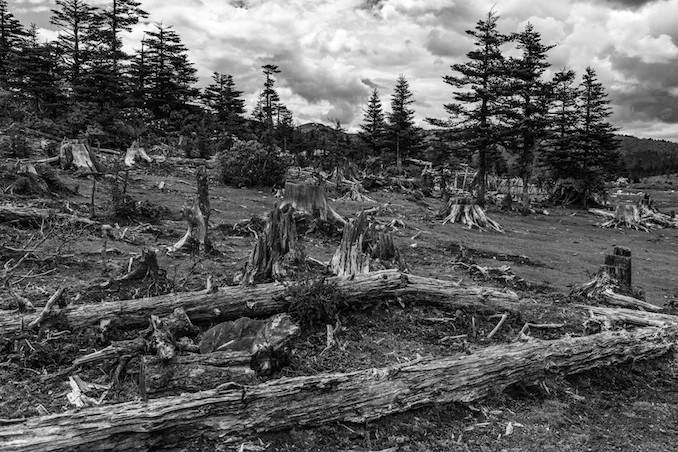 Over 70 billion pairs of chopsticks are consumed around the world each year, which needs to cut 14 million aspens and results in a deforestation of more than 9300 acres!
Not only do disposable chopsticks result in deforestation, they harbor bacteria in microscopic crevices. Plastic or rubber chopsticks will produce harmful substances to human body over time. Steel chopsticks can make some people allergic and have an unpleasant metal smell and taste.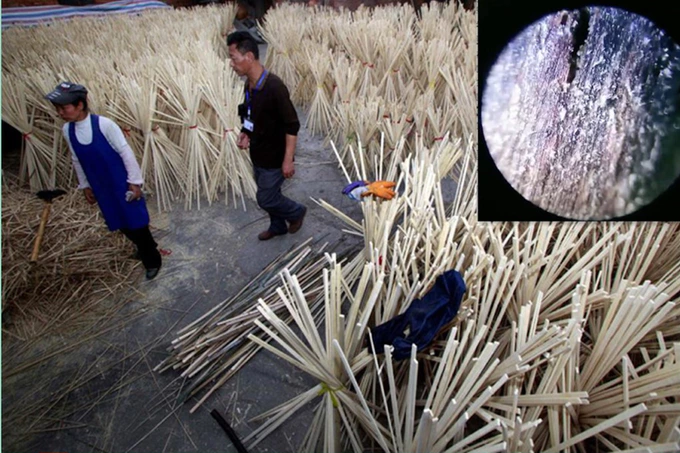 Being magnified 100x you can clearly see where bacteria can hide in all wooden chopsticks.
We're solving all of these problems with the most durable, eco-friendly and hygienic chopsticks CNC milled from a single piece of solid 100% Grade 1 (CP1) Titanium! CP1 is the purest form of Titanium that is the most resistant to corrosion.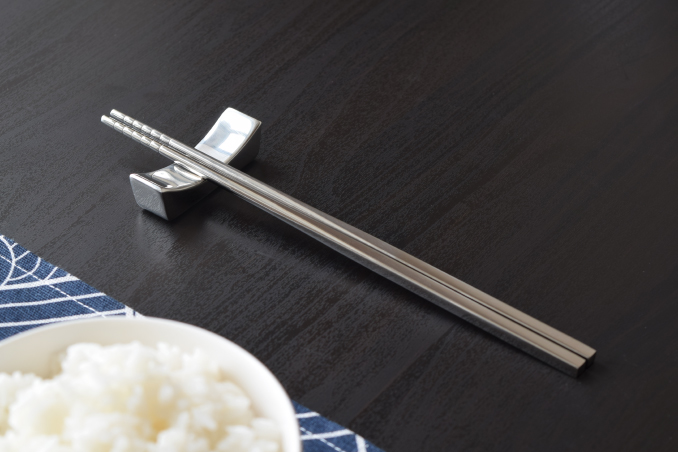 Solid 100% Titanium chopsticks with simple, elegant design.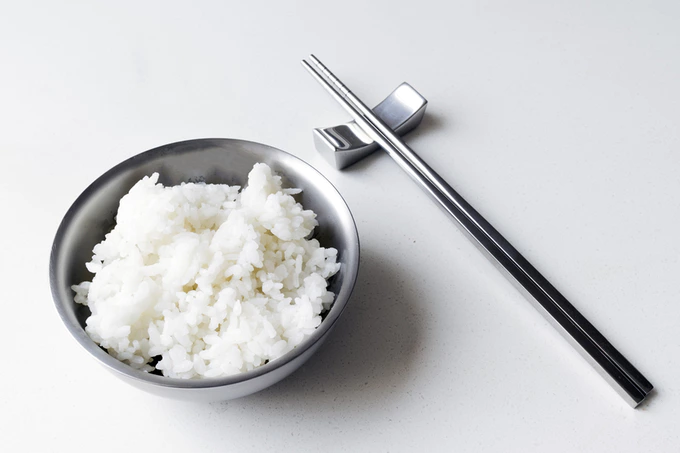 Pure titanium bowl available as an add-on. Double walled to keep your hands cool!
Add-on bowl specs:
Grade 1 pure Titanium
Double wall insulated design
114mm x 46mm
280ml
78 grams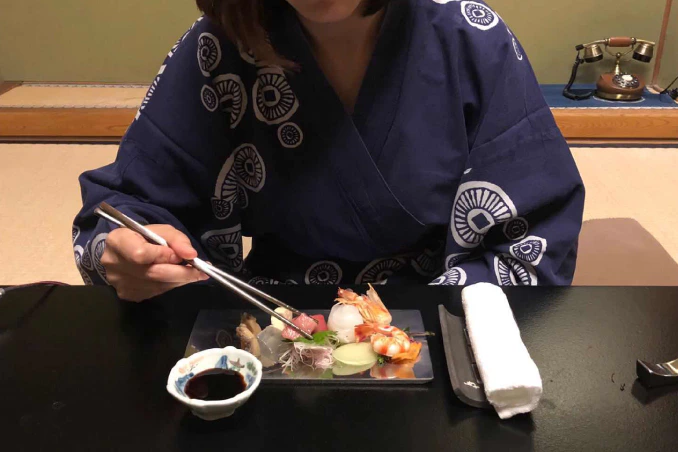 We brought our solid Titanium chopsticks prototype with our last project (Titanium sushi plate) to a Michelin 3 star restaurant in Kyoto and they loved it!
Why 100% titanium always gives the perfect results? 
100% titanium is the perfect choice for kitchenware or tableware. 
Retains the original taste of any food, used extensively in high end kitchenware 
The most biocompatible and safe metal for the human body 
The only element that your body fully accepts – even bone will grow around it 
Excellent resistance to corrosion, nearly equivalent to platinum 
Named after Titans of Greek mythology because of its immense strength 
Less than half the density of steel, perfectly weighted for a quality feel 
Durable, a true heirloom piece to last generations
Deliberate Design

CNC milled from a single piece of solid 100% Titanium. Highly-polished by hand. Aesthetically pleasing to look at.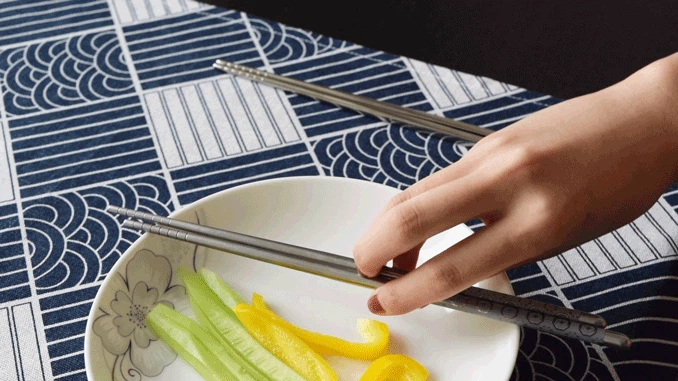 The cubic design of the tops prevents chopsticks from rolling away while the tips are cylindrical design, which integrates the ancient ideas of orbicular sky and rectangular Earth.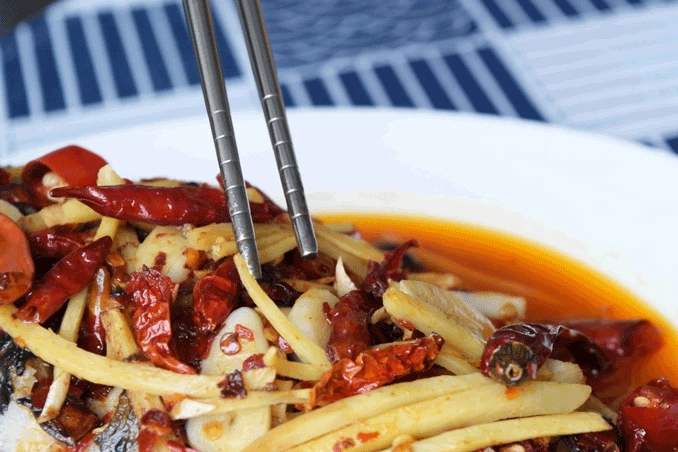 Japanese style tips make them easier to pick up even small amounts of food, for example, picking out the fish bones and peppercorn.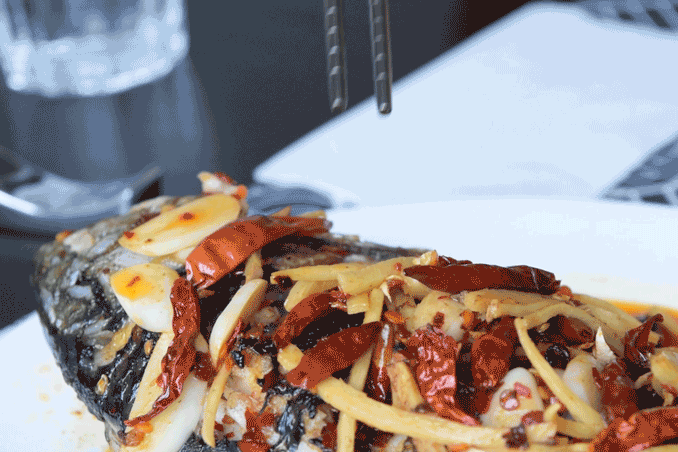 Twelve convex grooves make them more convenient for gripping dishes, or even heavy food.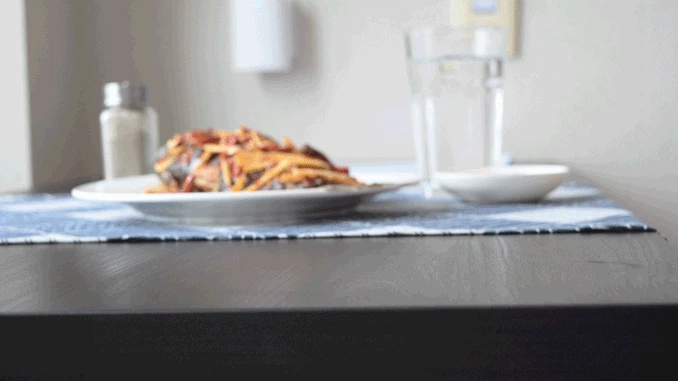 The slim Japanese style design keeps your chopsticks' tip away from the table. Super hygienic.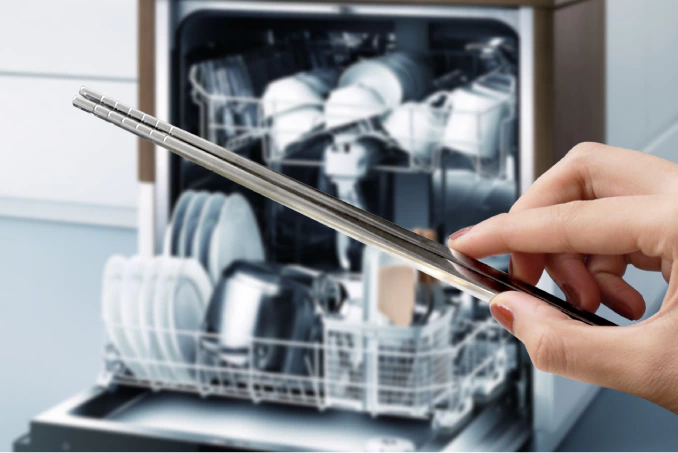 Very convenient. Can be cleaned in the dishwasher.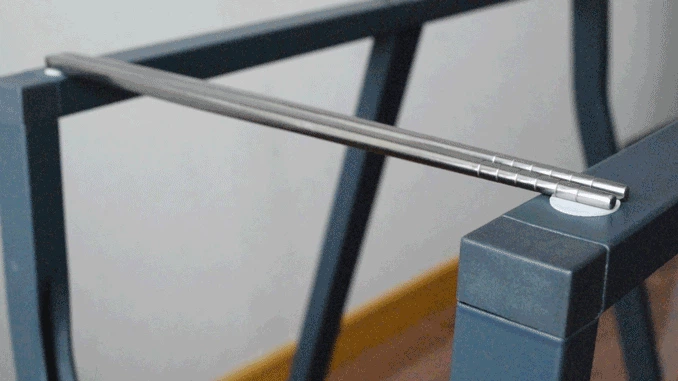 With the highest strength-to-density ratio, our chopsticks never warp or blend like wooden or plastic chopsticks.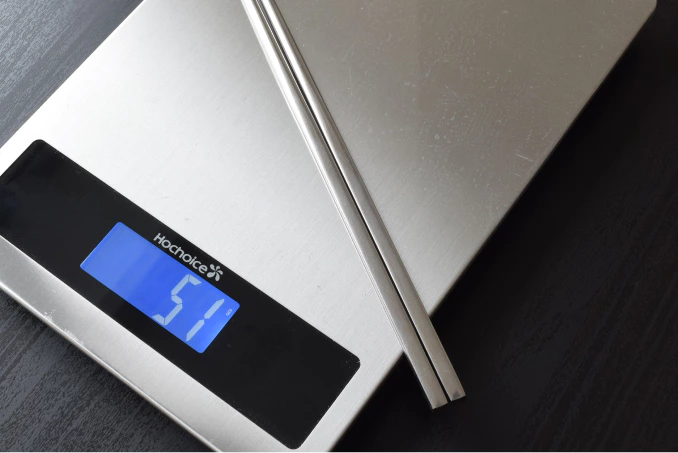 9 inches in length, 1.8 oz. A perfect weight for balance and offer a better more comfortable experience.  
Daily Life Testing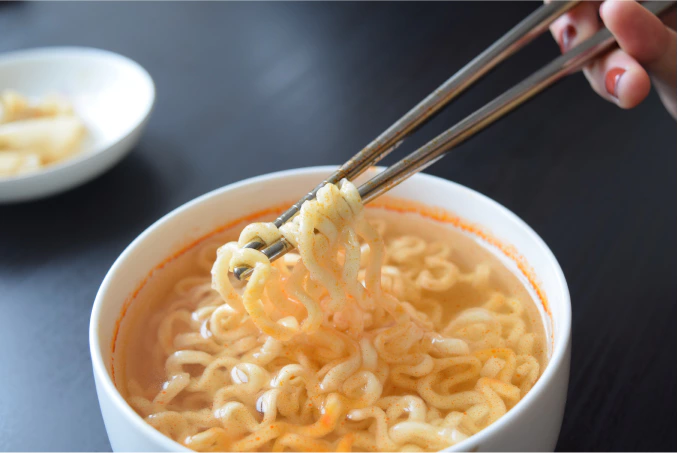 Be proud of yourself for using chopsticks and enjoy noodles perfectly and securely without worry that noodles will slip.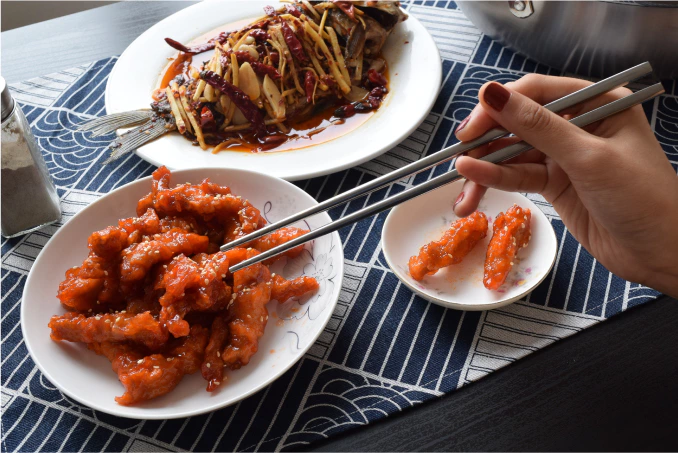 Our chopsticks offer a appropriate gripping force which will lock onto the food you are trying to pick up. A beautiful addition to your dining set! Perfect for everyday use.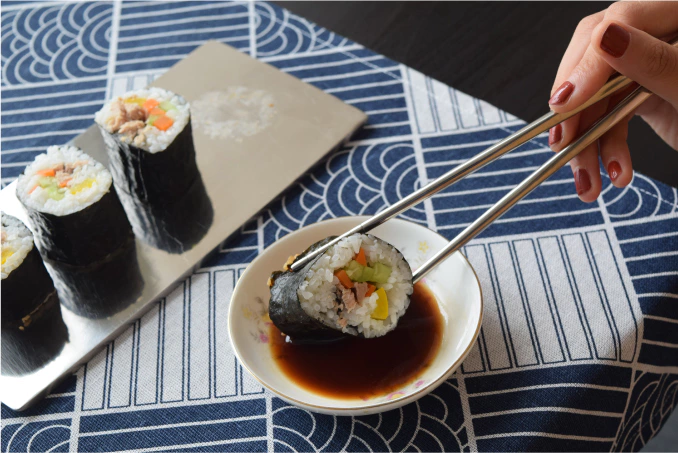 A perfect match with our titanium sushi plate.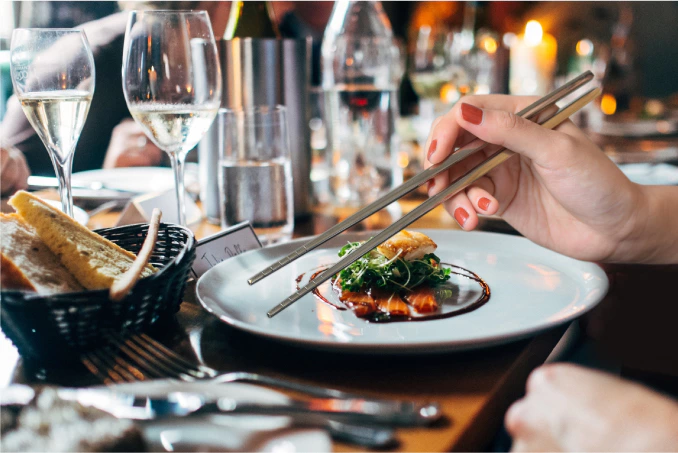 Our solid Titanium chopsticks will get noticed when you are eating in public. Take your clean Titanium chopsticks with you anytime and anywhere, and no need to worry the dirty tableware restaurants provide.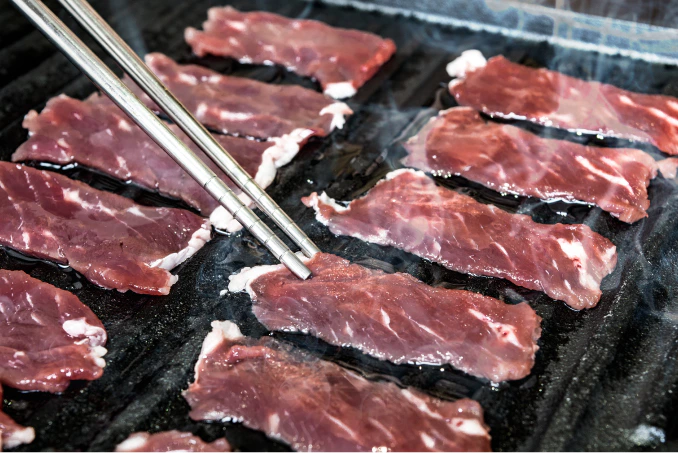 Enjoy barbecue with our super hygienic Titanium chopsticks. Titanium doesn't transfer heat like steel. Keep your hands protected!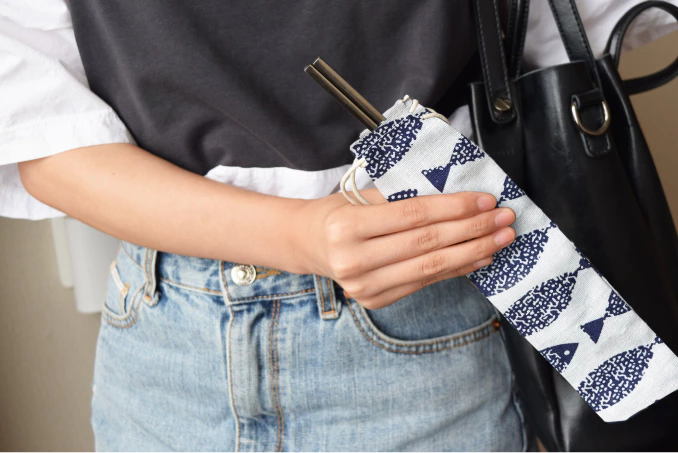 A chopstick travel case and elegant box for free. Very convenient to take with you anywhere and anytime, and a perfect gift for those you love!
Ready to produce – get your Solid Titanium Chopsticks before Christmas!
What people are saying about Woerden:

Feedback from our recently completed Titanium Rolling pin campaign

Feedback from our recently completed Titanium Rolling pin campaign
About Chopsticks
Chopsticks are thought to have a long history of over 5000 years. Originating from China, they began to spread to Japan and Korea by 500 A.D. So far, chopsticks are becoming popular utensils in restaurants and hotels across the globe.
Nowadays, chopsticks serve many new functions besides tableware. For example, you can buy a pair as a gift to your friends and relatives. In Chinese, it reads 'Kuaizi', which means to have sons soon, so a newly-married couple are happy to receive it as their wedding gift. 
Chopsticks are adored and used around the world. A recent experiment shows that many joints and muscles are being exercised, improving your dexterity over time. They certainly make you cleverer, don't they?
Pledge now and help us bring the solid 100% Titanium chopsticks to life!
Thank you to BackerPoints for supporting our campaign, they are awesome!