WOKY Bottle: Preserve the Freshness of Your Drinks | Designed for coffee lovers. WOKY thermos bottle is fully ceramic helps preserve original flavors.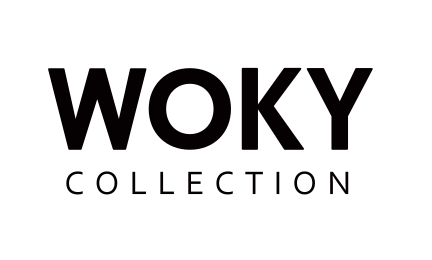 Established with over 20 years of traditional craft innovation, the newest WOKY Collection is an industry pioneering "one-piece" all-ceramic lined thermos.  It is much slimmer, thinner and cleaner than anything similar on the market.  Upgrade your bottle today.
Designed by award winning Red Dot engineers, this 500ml bottle leaves no stains or odors, doesn't breed bacteria, is fully insulated and keeps the taste of your drink pure.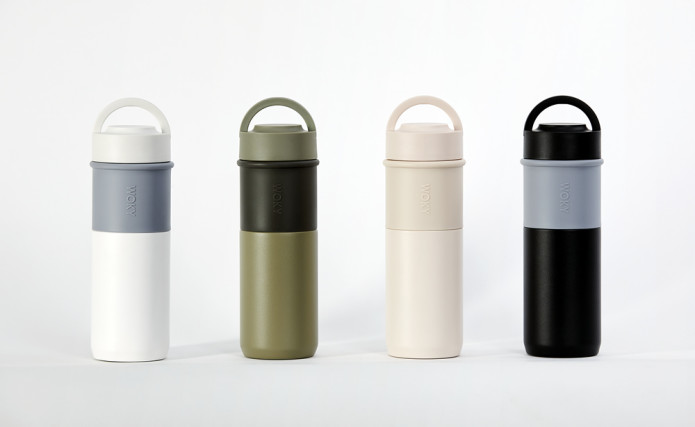 Perfect for Coffee, Iced Cold Drinks & More
The WOKY Bottle is packed full of features… Here are some highlights:
 Protective: Double-walled & vacuum insulated, keeps drinks hot/cold for 6 hours
 Portable: Integrated carry handle and one-piece cap (Patented in Taiwan)
 Capacity: Holds 500ml / 17oz of liquid (More than large cup of coffee)
 Thin: 1.6mm slim porcelain (Equivalent thickness of 13 sheets of paper)
 Clean: Doesn't absorb metal tastes, rust-free, no odors, no bacteria or staining
 Eco-friendly: 100% reusable, certified BPA free and long lasting for years
 Exclusive Range of Colors: Fog Black, Nude Pink, White Ink, Forest Green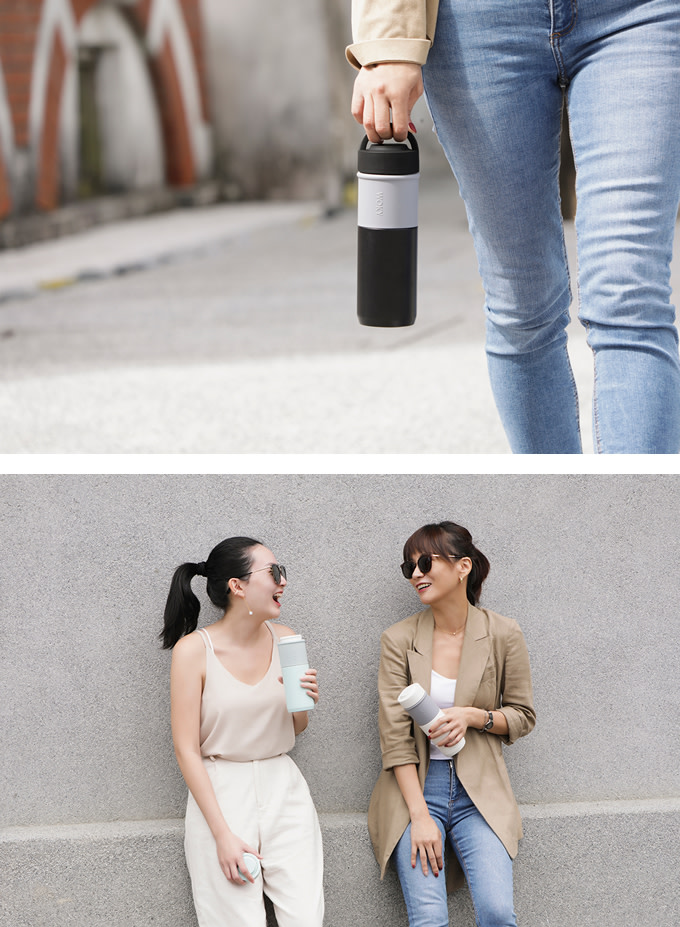 Hey Coffee Lovers, We're Pushing Boundaries…
With a WOKY in hand, you're ready to take on the day.  When the day gets away from you, come back to find your hot beverage still hot, or your ice-cold drink still ice cold for up to 6 hours. Capped off with an 'Invisible handle design', aimed at commuters and travelers.
Our previous project has successfully raised over $250,000 USD in Taiwan alone and over $16,000 on Kickstarter.  We are in the production phase and committed to deliver our project on schedule.

Featured on Trend Hunter, GQ, Skinny Spy, Gadget Flow & More…
Fully Leakproof – WOKY can be easily opened in seconds and seals the contents tight

What Makes WOKY Bottles Special?
The unique selling proposition is WOKY's one-piece ceramic design.  The screw-thread and inners are all-ceramic, meaning drinkers don't have to worry about the harm of adhesives. 
This means drinks stay pure. No metal taste added to liquids inside the bottle or the opening because it's all ceramic. Whilst the patented design means it's easy to clean.  This double wall, vacuum insulated bottle will help keep beverages cold and hot for 6+ hours.
Soaking your previous smelly bottle in hot water or soda, is a temporary solution to a permanent problem!
We're offering a professionally crafted bottle, with multiple useful features.  Our latest WOKY Bottle range is exclusive to pre-order on Indiegogo, available in a series of unique colors.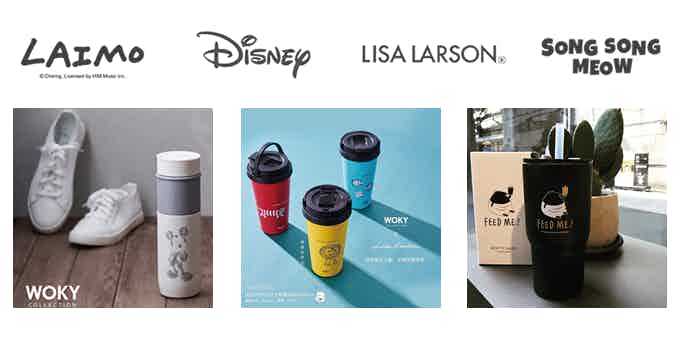 WOKY has collaborated with Disney, Laimo (Japan), Lisa Larsson (Sweden) & more
Let's Talk About Why Some Drinks Taste of Metal
The bottle's material you choose will have an impact on your drinks flavor. It can also be a potential breeding ground for bacteria, staining, rust and contain foul smells.
Generally, there are four main bottle options to choose from: 
 Plastic – Over time, plastic stains whilst absorbing odors and flavors 
 Stainless Steel  – Sometimes imparts off flavors and doesn't work with citric liquids
 Glass – Sometimes contains lead and usually cannot withstand high temperatures
 Ceramic – It is neutral and neither absorbs nor imparts flavors and it's great to retain heat
Ceramics are fired to temperatures in the thousands of degrees. By doing so, this helps to ensure the porcelain will not absorb any moisture, flavor, odor or stains.

Comparison chart of WOKY versus other bottle types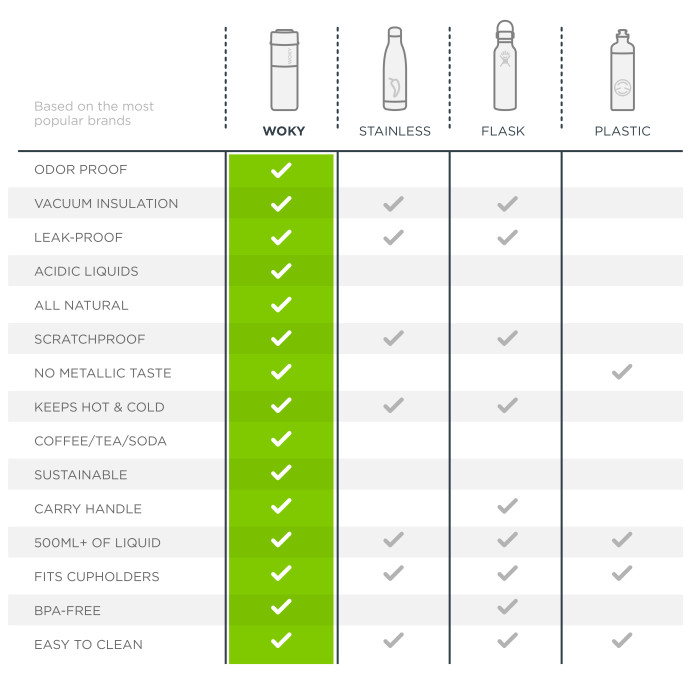 Our Ceramic Bottles are Eco-friendly
As of 2017, a million plastic bottles were bought across the globe each minute, with many of these destined for landfill or the ocean rather than the recycling centre.
How eco-friendly is ceramic?  Derived directly from the Earth, ceramic is also one of the most natural materials you can use. It is more benign to the environment than, say, plastic.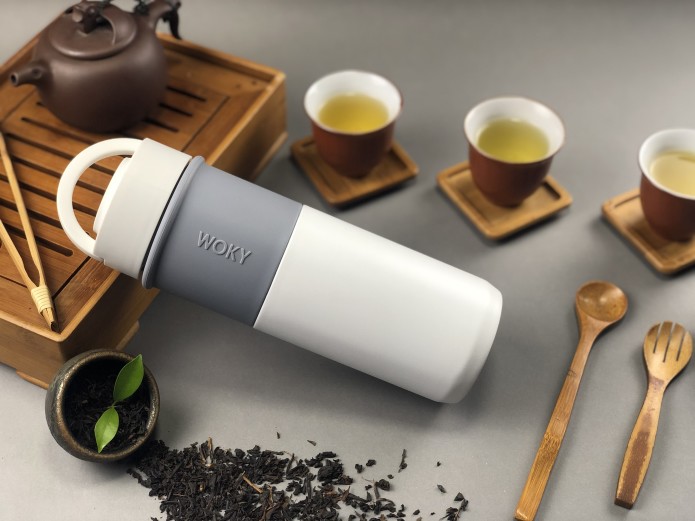 The WOKY "One-Piece" Bottle Structure Explained
Other ceramic bottles on the market, still contain metal. This is usually located on the screw-thread (a metal cap that screws onto threads through the neck of a bottle and is fixed with adhesives). With a patented design, WOKY is the ultimate ceramic bottle.
WOKY contains an all-ceramic lined structure with no adhesive harm
Other ceramic bottles still contain metal or metal tastes and grows bacteria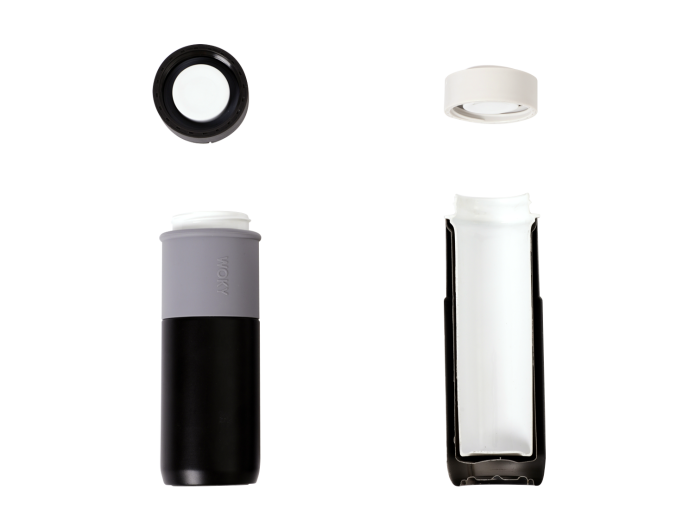 Features Breakdown and Specifications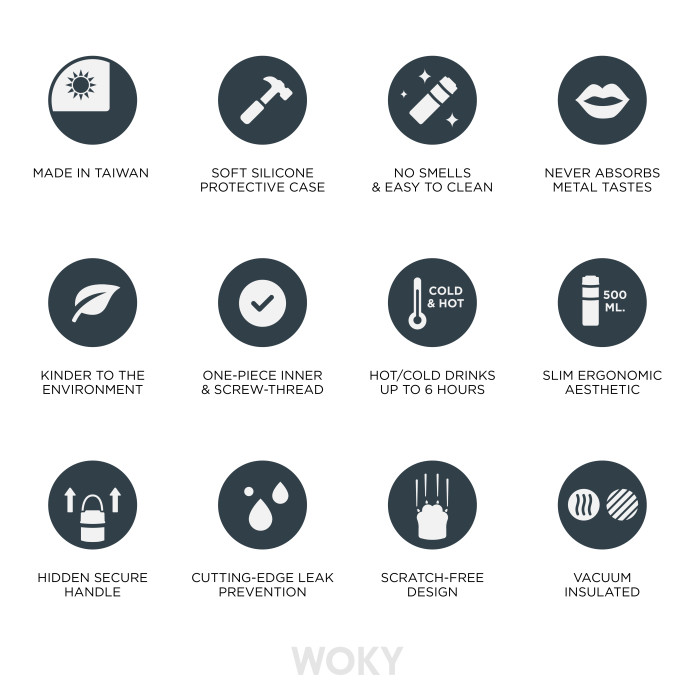 Detailed specifications and materials
Cup lid inner core, capacity and weight: Ceramic, 500ml and 500g weight
Sealing washer and Slip Mat: Food grade silicone
Cup body liner: Mouth integrally formed with a true porcelain liner 
Cup body shell: Double vacuum insulation 304 stainless steel 
Dimensions: Cup diameter 6cm x bottom diameter 7cm x height 22cm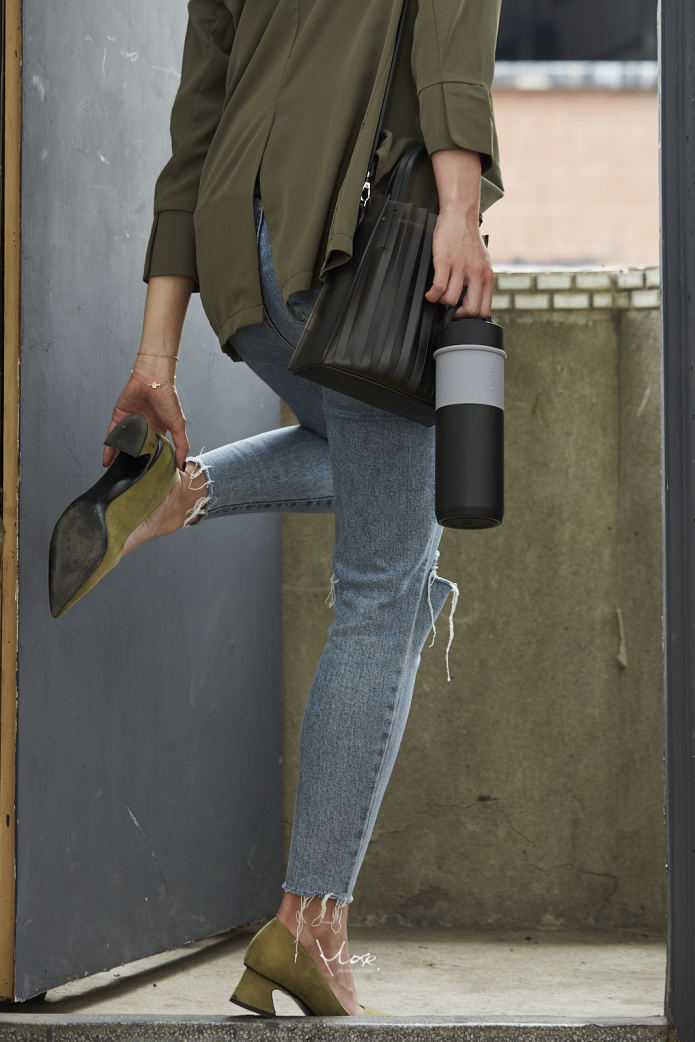 Anatomy of a Better Bottle & Thermos
WOKY can easily fit in a tote, messenger, or a backpack and can fit in most cupholders.
In terms of function, long-lasting freshness is guaranteed and the contents are held securely in place. Hot liquids stay warm for 6 hours. Cold liquids stay chilled for 6 hours.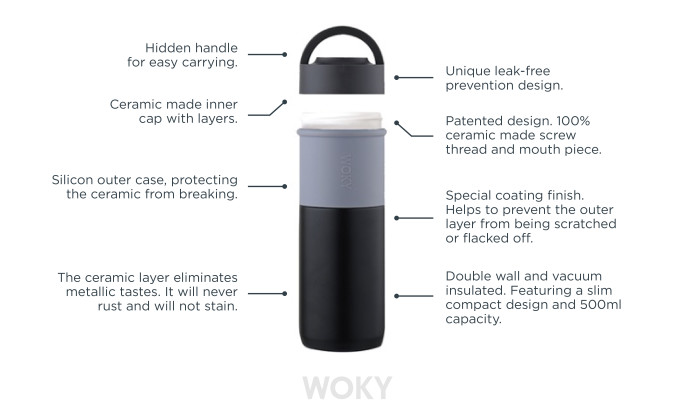 Stronger – Scratch and everyday wear resistant
WOKY is different from the normal baking bottle body used by most thermos bottles on the market.  We use powder coating technology which has passed 13 rigorous process tests.  
On the subject of testing, our 50kg gravity drop tests show there was no major damage. Knocks, normal height drops and bumps will not break the bottle.
We have added a food grade silicone ring on the edge and on the lid, to enhance protection. 
We provide a limited warranty against manufacturer defects and will replace any eligible product found to be defective within the scope of normal/appropriate use.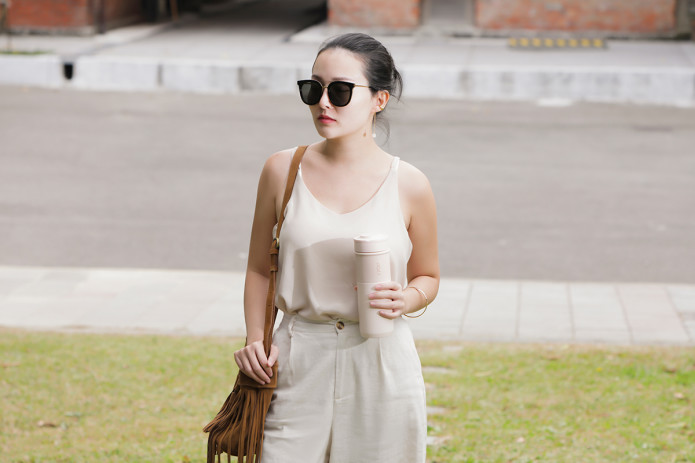 Secure and prevents leakage – Keeping the contents safe
The lid is inbuilt into the top of the screw-top cap and opens and closes quickly to prevent leakage.  The silicon case holder protects the bottle from breaking and is soft. 
By using the handle to close the lid, it helps tighten the lid further thus prevent leaking. WOKY is 100% leak-proof, sealing the bottle cap with a silicone rubber ring.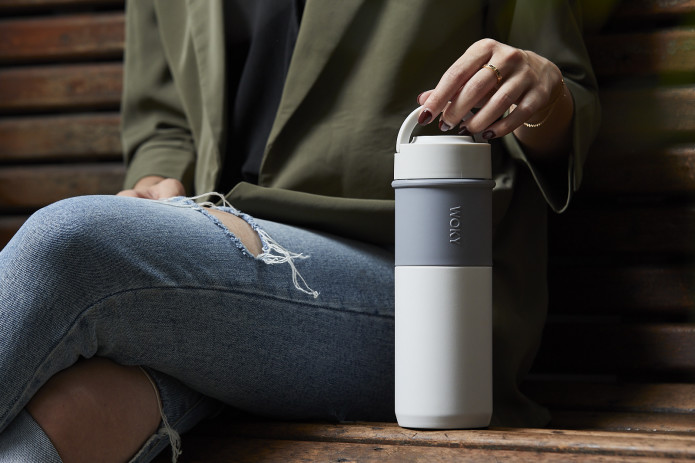 Clean –  Now more than ever, keeping your bottle squeaky clean is so important
The inner ring of the WOKY ceramic thermos cup uses the same food grade silicone glue as baby pacifiers.  This makes the bottle heat resistant to 120 degrees and can be directly thrown into hot water for disinfection.
It's dishwasher safe too.  All areas of the WOKY bottle can easily be reached with the WOKY bottle cleaning brush, included with every reward.
Hand-wash after each use. Scrub with a soft sponge to keep the surface smooth.
Rinse the bottle immediately with hot water. For heavy stains, soak for 6+ hours.
The ring inside the bottle can be washed, dried and inserted back into the cup.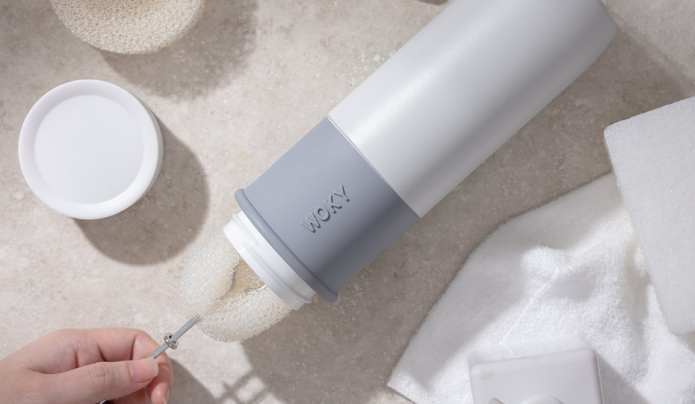 Solving Problems for our Target Audience
Compared with most bottles and thermos' on the market, WOKY can handle water with lemon, tea, hot coffee, protein shakes, energy drinks, hot chocolate, soda to soup.
Tea drinkers
Tea can contain a large amount of tannic acid, theophylline, aromatic oil and multivitamins. For example, a thermos cannot regulate temperatures, so tea can taste bitter, vitamins are destroyed and overall reduces the nutritional value.
Brew your hot or iced tea at home or on the go, and WOKY will keep its ideal temperature.
Keeps tea securely in the bottle without drips or staining
Coffee drinkers
The bottle is 'Barista Approved', vacuum insulated to keep drinks warm and features effective cushioning and shock absorption…just in case you spill your drinks.
Say goodbye to coffee stains!  WOKY holds 500m of liquid, enough to get your 'Grande' fix.
WOKY can manage hot coffee without changing the taste or smell
Store clean water to travelling on-the-go
Whether you're commuting, hiking or at the gym, a reusable bottle is a handy way of ensuring you get enough liquids throughout the day while not wasting any plastic.
Designed to fit standard bicycle water bottle cages and in-car cup holders, WOKY is a perfect everyday tumbler.
Fits snugly inside your car, holdall or backpack
About our InDemand Rewards
Want extra bottles?  Simply add $52 USD (or approx currency equivalent) to your pledge for EACH extra WOKY bottle you want (Postage + Bottle cleaning brush included).
Want additional colors? Simply add $13 (or approx currency equivalent) to your pledge for EACH extra silicone sleeve you want.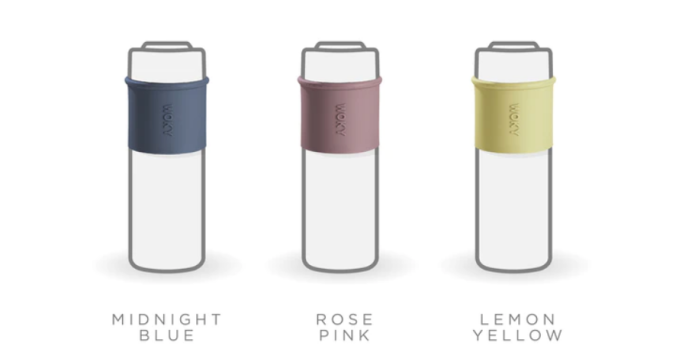 Colors exclusive to InDemand
For this special InDemand campaign, we have these exclusive bottle colors available in White Ink, Forest Green, Nude Pink and Fog Black.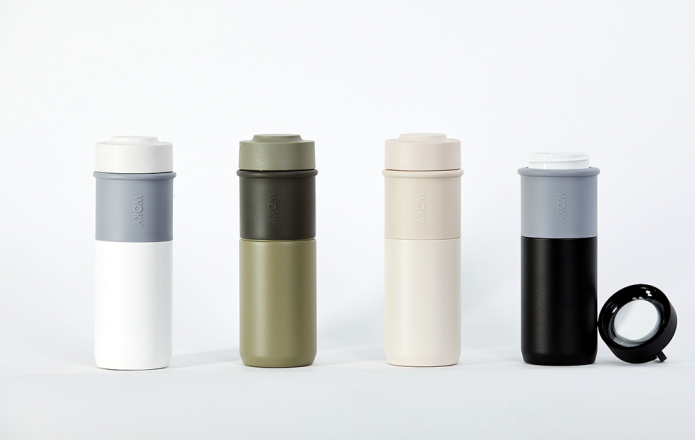 Shipping information & free shipping on some rewards
Shipping depends on the reward you have selected and the country you are shipping it to. Please select your desired reward and shipping location to get the correct shipping rate. 
We are targeting late November to December 2020 to begin shipping WOKY to backers. We will be providing frequent updates following the campaign to keep you up to date on the latest developments.
How to Get Your WOKY:
1. Select a Reward Tier:
Select the reward you would like on the page.
2. Enter Payment:
Enter your payment info.
3. Select your Color & Shipping Information:
You'll select your color choice and finalize shipping.
We Ship to the US, Europe, UK & More
We are committed to work based on our promised schedule, and we guarantee that you will receive your WOKY.  
We ship worldwide, anywhere. The standard price for shipping depends on which reward the backer has selected and which country we are shipping towards.
Indiegogo InDemand Timeline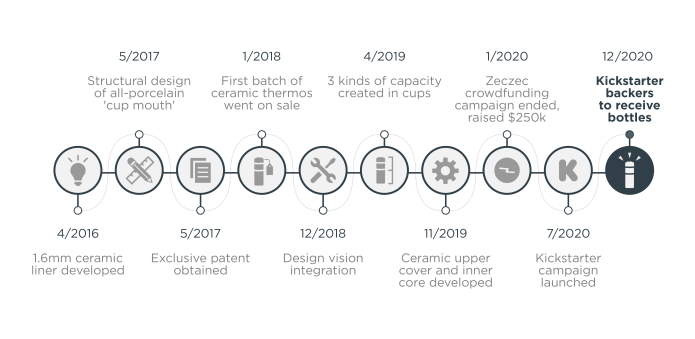 About WOKY
For over two decades, WOKY has been using its hardware processing knowledge and thermal engineering passion to create sophisticated products that improve quality of life.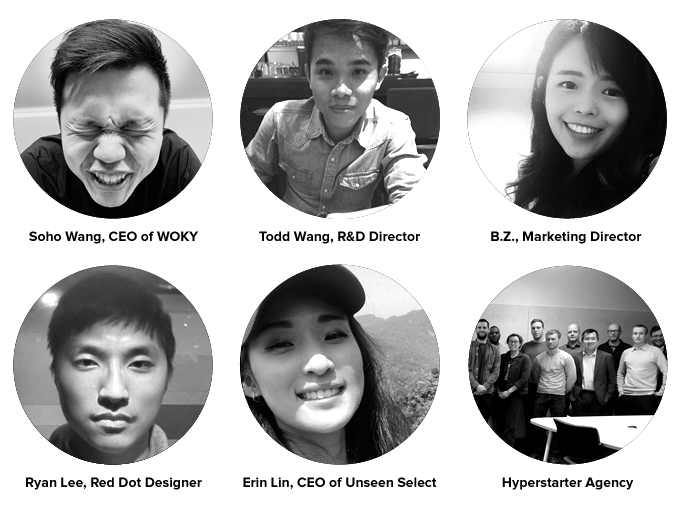 Fit for purpose design
Your WOKY is made to last. We carefully consider purpose, materials and end of life when creating our products.  We create products that are fit for purpose; to reduce and replace the use of disposable cups and drink containers.
WOKY is exclusive to Indiegogo and Kickstarter
It's the first time WOKY has been officially promoted outside of Taiwan and this bottle on InDemand is the newest product made by WOKY.  It is the only WOKY bottle that comes with pressure-resistant handle, which helps you to close and open the lid easier, making it very secure.


Partnerships and Collaborations
Unseen Select Co.'s mission is to "Let the Unseen Be Seen".
Unseen  Select Co. is founded in Taiwan. We feel sad seeing quality MIT (Made In Taiwan) products are missing from being recognized internationally.  Therefore, we have decided to help these companies step out of their comfort zone.  At Unseen Select, we are dedicated to sharing quality MIT products across the globe.

Customer care and Warranties
We are committed to quality, which is evident in each design in our collection. We hope you enjoy using our products just as much as we enjoyed creating them for you!
The customer will have 12 months warranty for the product, but if they receive any damaged products, we will either replace the damaged part or send the customer a replacement.
SGS Certification
The exporter arranges SGS professional locally to inspect export goods, SGS satisfies the quality as per buyer's requirements and certifies. Once after completion of a satisfied inspection by meeting all required specification as per buyer's requirements, the SGS issues a certificate of inspection.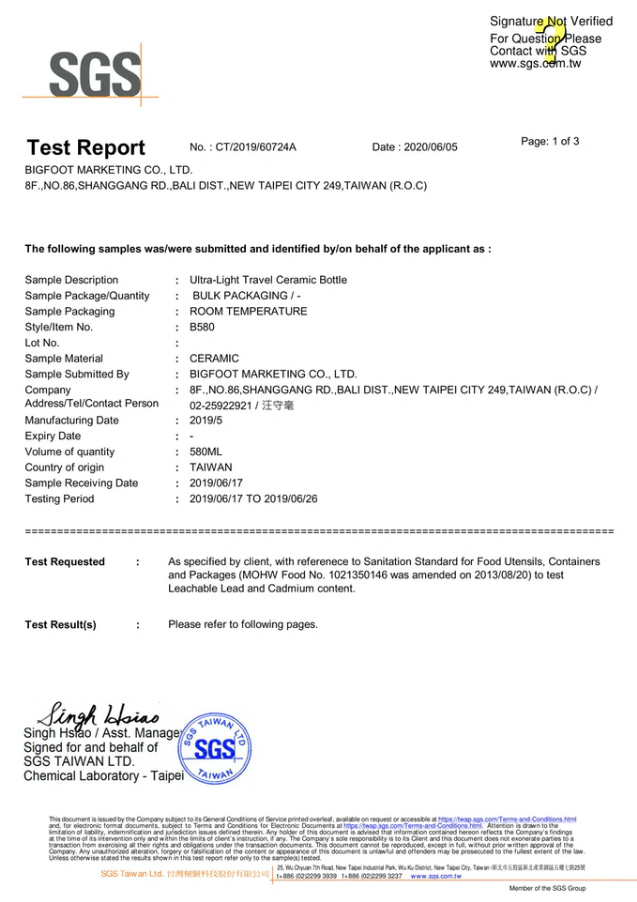 Factory Information
WOKY has more than 20 years of hardware foundry experience. At the beginning, it mainly produced pots and pans and other kitchen utensils. Until the past ten years, it began to develop its own products. The ceramic liner adopts Jingdezhen high white porcelain grade and stainless steel evacuation factory.
All products are produced under certified equipment, in a safe factory environment  that supports social responsibilities.
Each BPA Free thermal bottle in our collection is born at the hands of skilled Taiwanese craftsmen, inspired by aesthetical beauty and driven by unprecedented quality that lasts.