Woof 'N Meow: The Smart Semi-auto Litter Box | Keep the litter bed clean after your cat's use every time! Less time scooping & more time cuddling.

Are you still scooping litter and cleaning up after your cat every time? Or are you having trouble keeping up with litter box maintenance? With Woof 'N Meow, you can spend less time scooping and more time cuddling with your best friend.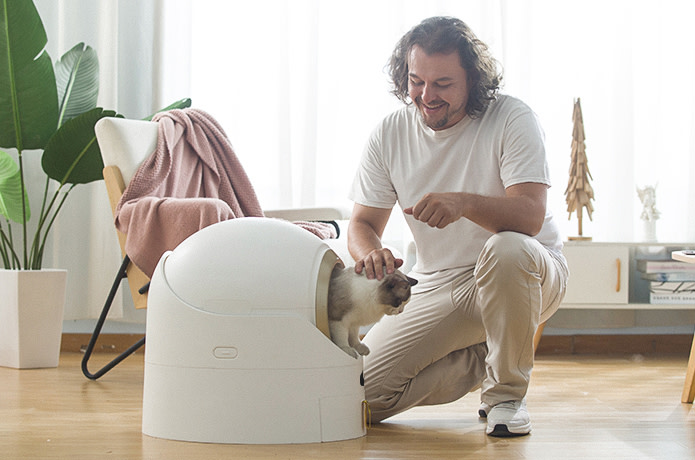 Meet Woof 'N Meow, a smart semi-automatic cat litter box that efficiently cleans and scoops after each use. With a large capacity waste drawer, Woof 'N Meow can hold up to 3x more cat litter and is easy to clean.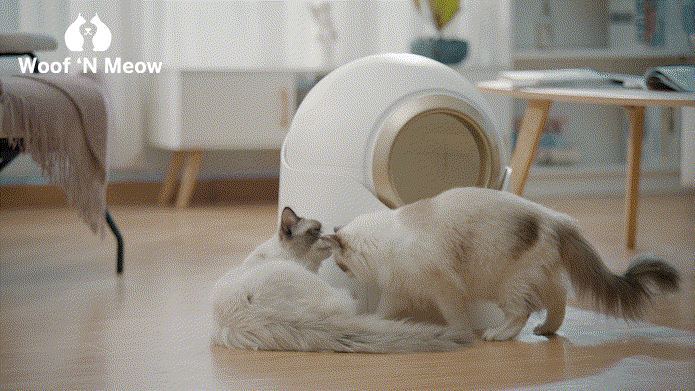 Equipped with active oxygen deodorization and an antibacterial system, it keeps the air in your home clean and fresh so you can return to your furry friend in an odorless home.

It's time to replace the unsightly litter box and say goodbye to the dirty paws that leave litter everywhere in the house! The Woof 'N Meow provides your cat with a clean litter bed after every use.

Woof 'N Meow has a spacious, ergonomic chamber that provides maximum comfort for your pets to do their business. It can accommodate cats up to 18 pounds and is a great option for families with multiple cats.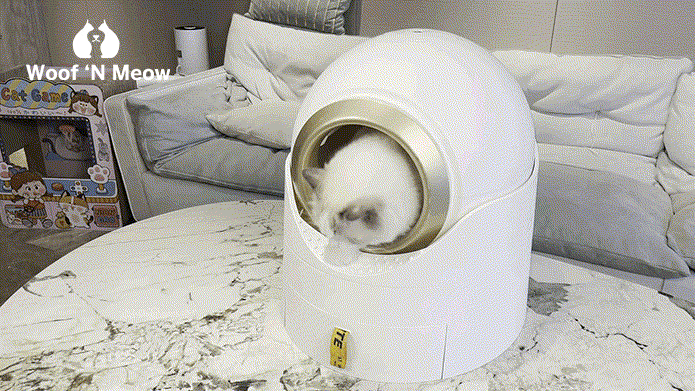 The large capacity waste drawer makes cleaning the litter box as easy as taking out the trash. Also, you can enjoy up to 14 days free of scooping. Meow!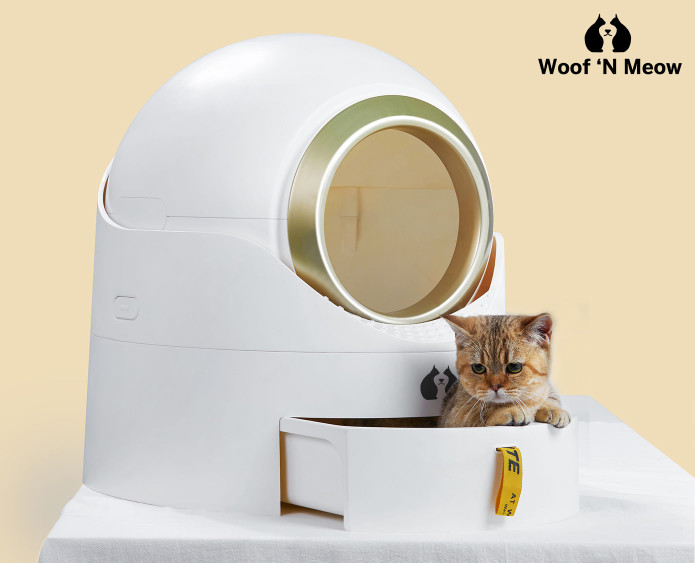 Designed with crystal grid filters, it can effectively remove clumps and particles of different sizes. Moreover, it is suitable for all types of cat litter that can clump. Pick your cat's favorite litter and leave your cat in good hands!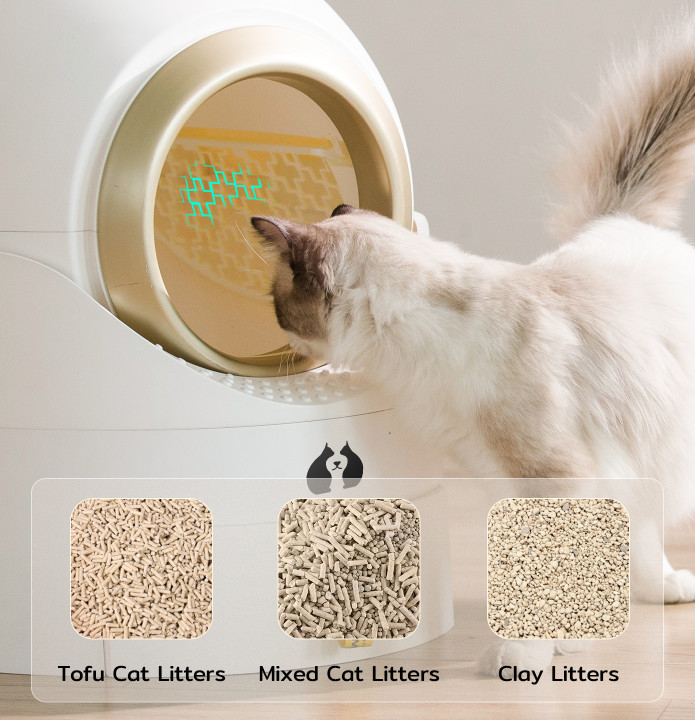 Equipped with a safety security card slot, you never have to worry about the litter box rotating automatically. You can lock the globe manually if your pet uses the smart litter box to ensure more stability. Likewise, you can unlock your card slot if you need to clean the litter box.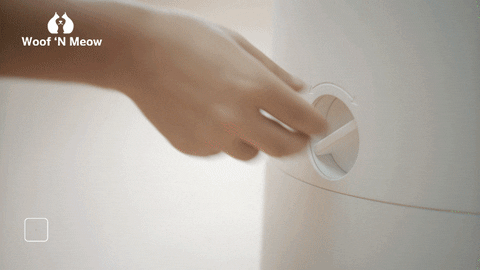 As a semi-automatic litter box, you have full control by manually rotating the litter box to clean or empty the litter, which means 100% safety for your pets. With a patented special sifting system, the process begins just minutes after your cat has left the device to ensure the best pet care experience.

Thanks to the motor-free design, you can be sure that your cats do not have to suffer from "flushing noises" or the sudden movement of the litter box. In use, it is quiet so that it would not disturb you or your cats at night to give you peace of mind.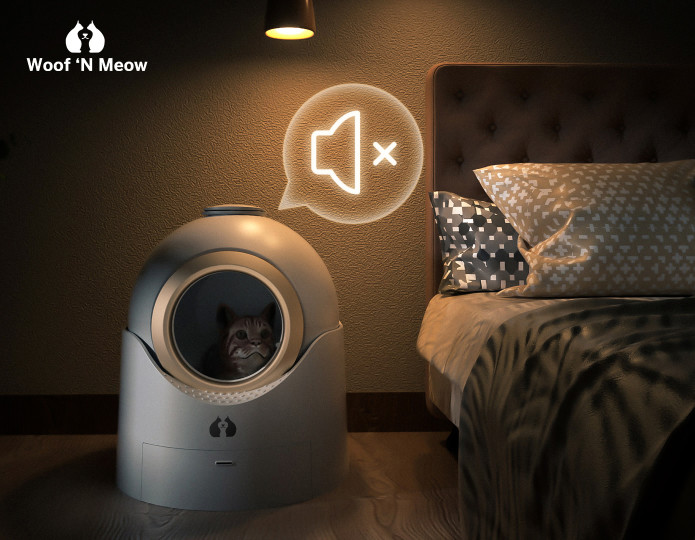 You'll rarely have to take your Woof 'N Meow apart. The four-part modular structure of the base, globe, bonnet, and drawer can be individually removed for easy assembly and occasional maintenance.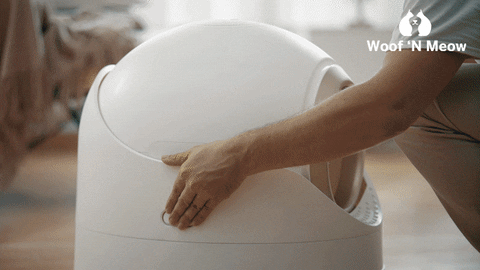 The fully enclosed door frame is designed to prevent the odor from escaping from the waste drawer into the inner space of the globe. Furthermore, the waste drawer is tightly closed without showing the waste from the outside and simultaneously locking the odor.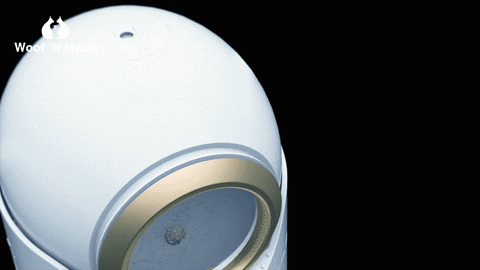 Keep your cat's personal space thoroughly sterilized! Woof 'N Meow has an activated carbon deodorization and antibacterial module that can effectively decompose fecal odor molecules and ensure proper airflow. Thanks to the deodorizing system, you do not have to smell the strong odors when you remove the waste.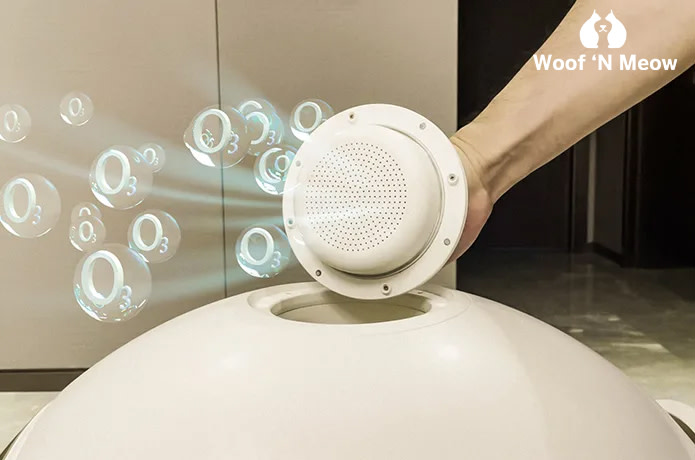 Our four-part modular design is constructed with easy upkeep in mind. Whether it's spot-cleaning or deep-cleaning, the simple modular design allows you to easily clean and maintain your Woof 'N Meow.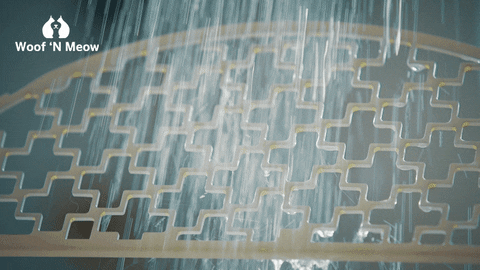 The special sifting system uses a combination of precise time, rotation, and gravity that removes the clumps when you rotate the globe manually. It also removes only the clumps, preserves clean litter, and saves you time.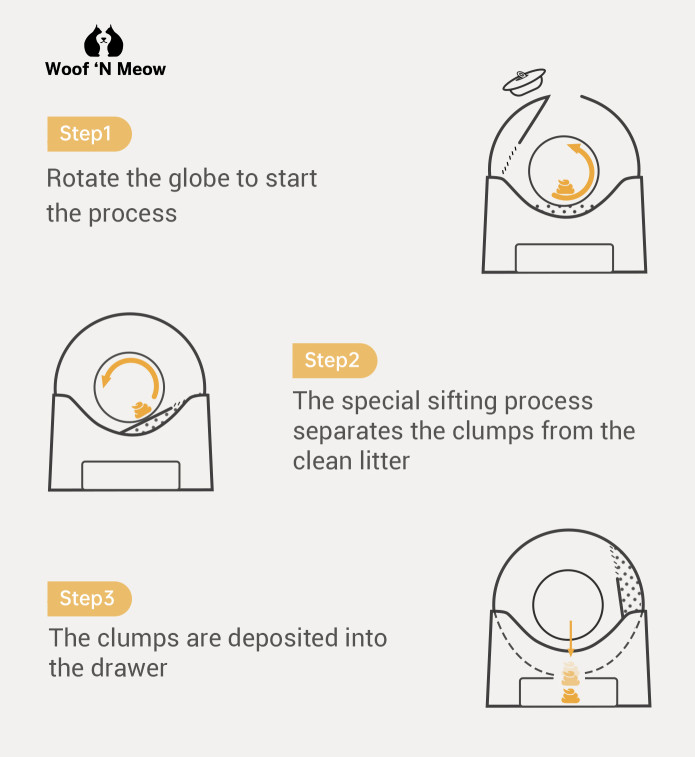 Carrying cat litter? You don't have to anymore! It's incredibly easy to empty the litter by rotating the device clockwise and lifting the trash bag out of the drawer, which even a child can do!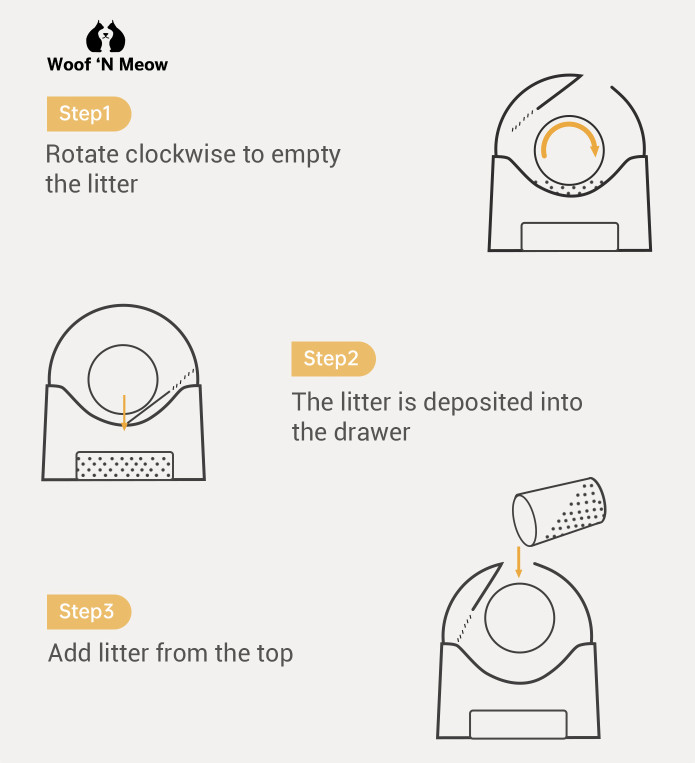 Created for all breeds, Woof 'N Meow is perfect for a multi-cats family and it's budget-friendly by not using so much litter.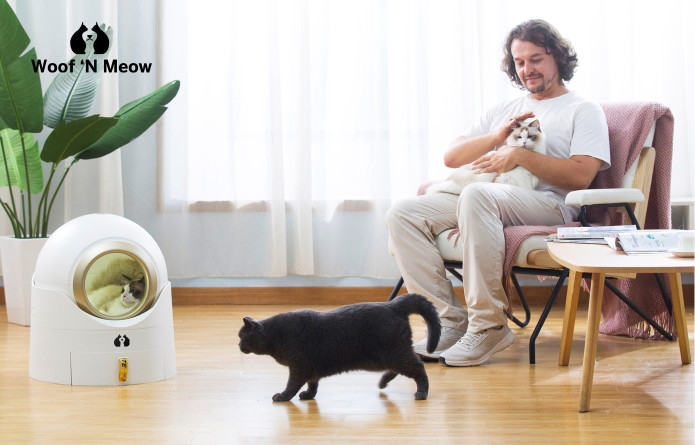 Woof 'N Meow reduces waste by up to 50%, and the door height is moderate to facilitate smaller or older cats with limited mobility.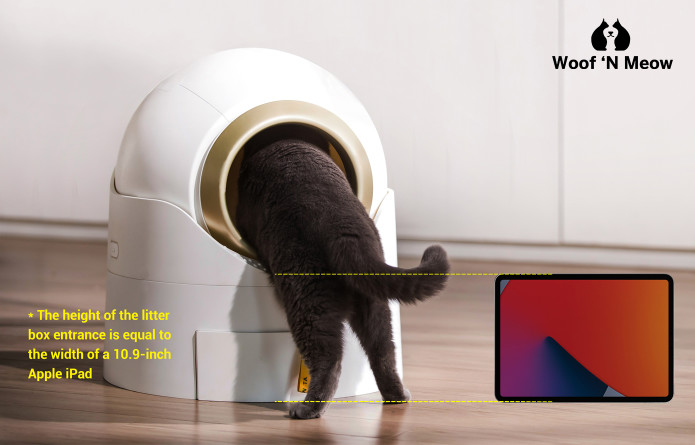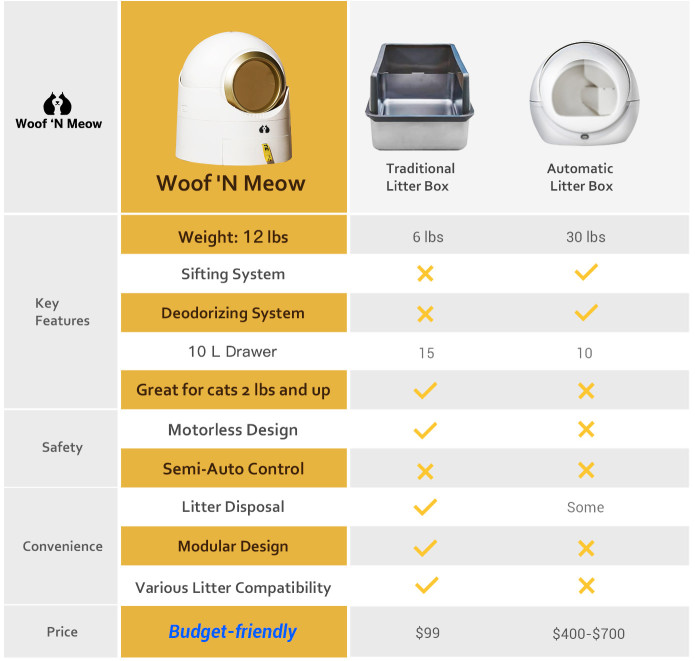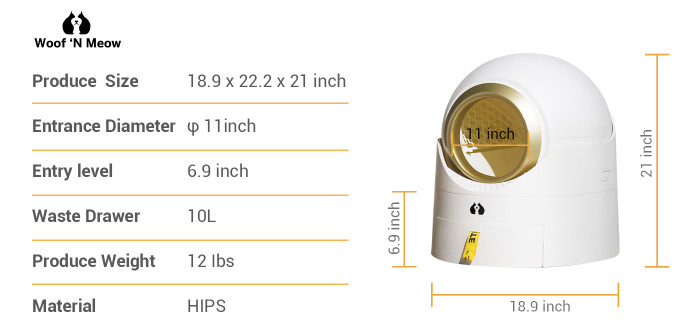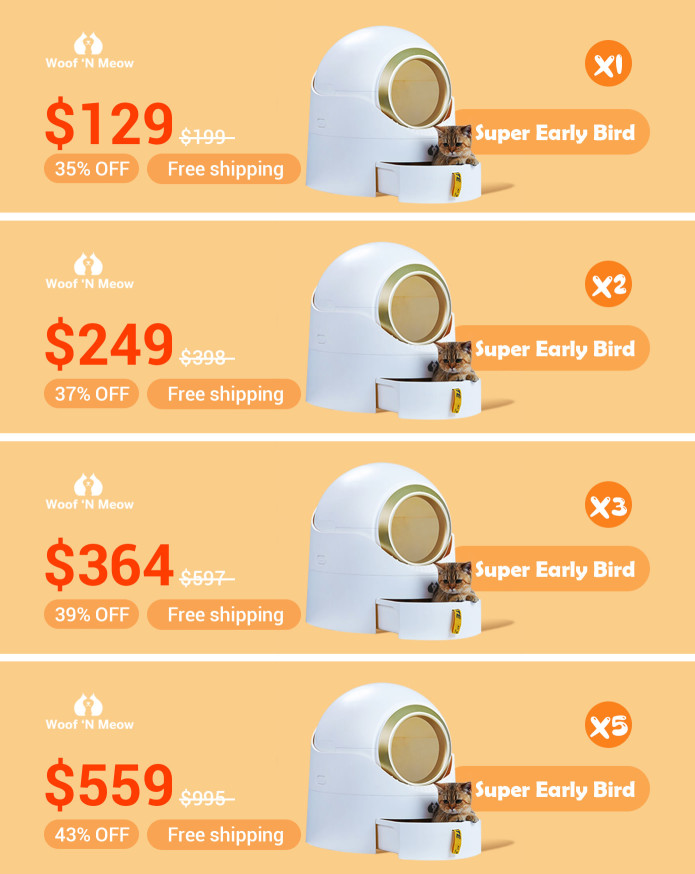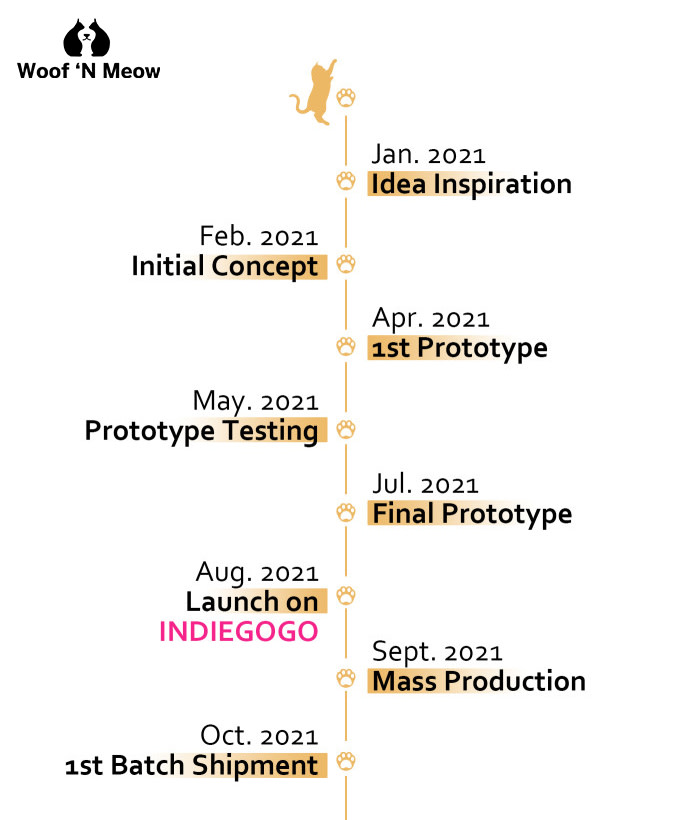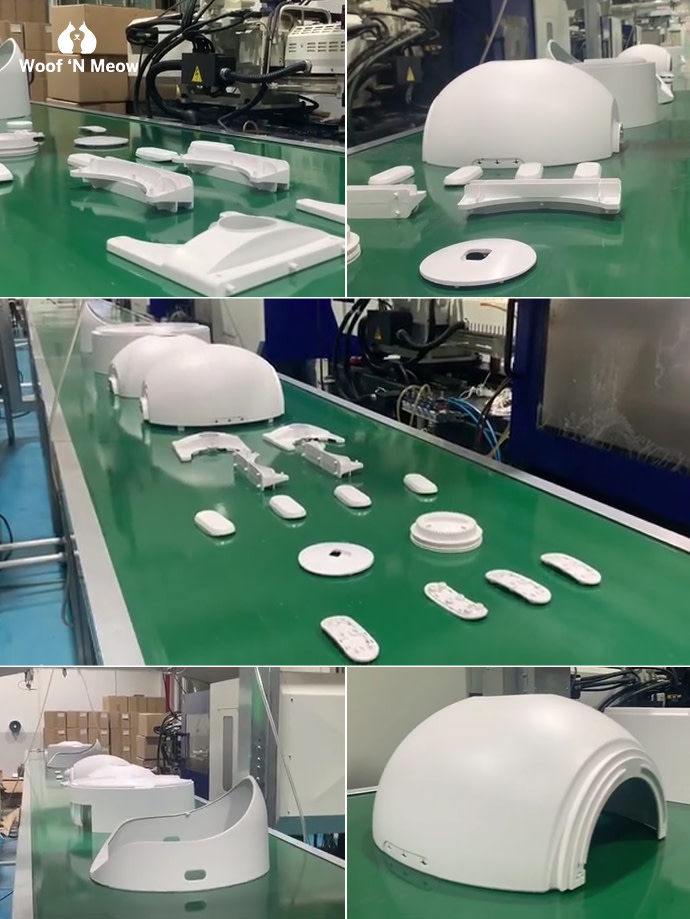 Woof 'N Meow was founded by a team of animal lovers who are always looking for innovative ways to make pet care easier for everyone. In 2020, the founder of Woof 'N Meow, Wayne, rescued an abandoned cat named Sesame. He was in extremely bad condition and ill at the time.
Immediately, Wayne brought Sesame to the veterinary clinic, where he was diagnosed with panleukopenia and feline infectious peritonitis. After a long 4 months of constant monitoring and care, Sesame was healed and now she is a happy and healthy cat.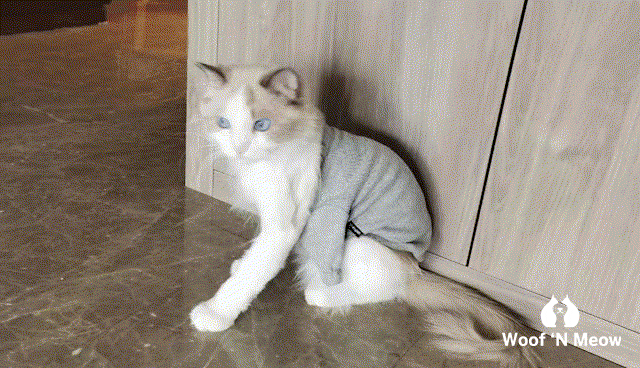 But, there was one problem that worried Sesame.
Wayne had a fully automatic cat litter box for Sesame and his two other cats in the house. Despite the convenience, Sesame feared the noise of the automatic cat litter box and refused to use it. However, a traditional cat litter box required too much effort to scoop and clean, which was not suitable for a family with several cats and someone working in the office like Wayne.
After endless days of online research and countless visits to pet stores, Wayne still didn't find the perfect cat litter box he was looking for. Exhausted and concerned, Wayne spoke to one of his friends who had experience in the industrial design industry and connections to the supply chain.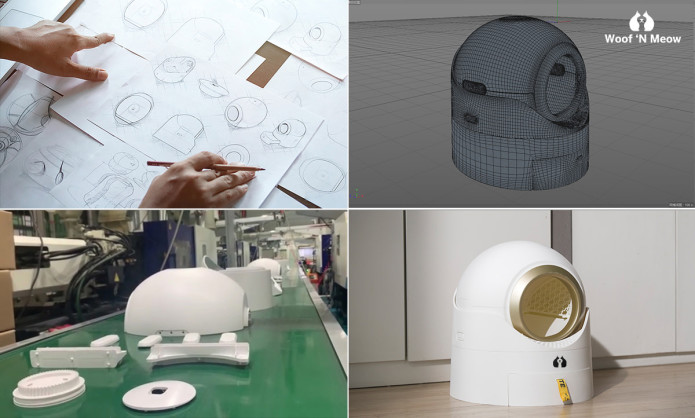 In the modern world, caring for pets should not be so difficult. Wayne and his friend Will decided to work together to create the perfect cat litter box for Sesame and other multi-cat families around the world, hoping to bring them peace of mind.
After 6 months of designing, testing, and preparing, Wayne and Will created the semi-automatic cat litter box as you know it today. Not only has Woof'N Meow solved the potty problems for Sesame, but the team has also made it affordable for other pet parents, and it is perfect for any family with multiple cats.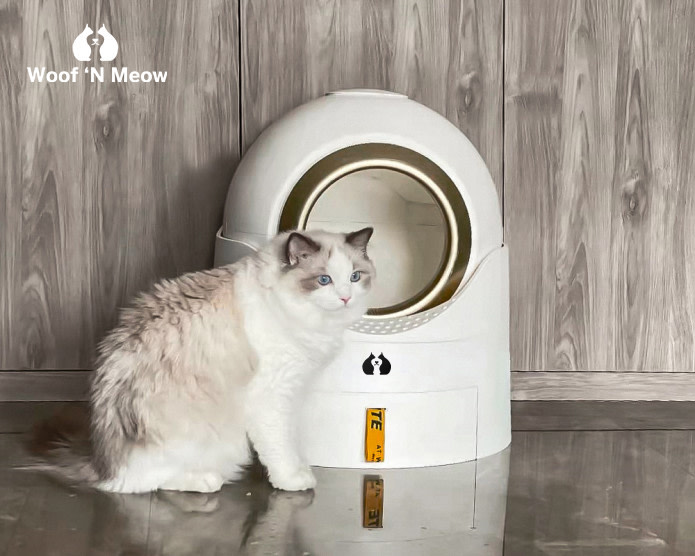 A message from our founder: Thank you for supporting us on this journey. We hope that the Woof 'N Meow semi-automatic cat litter box will be the solution to your cat's potty problems. We hope that every cat grows up healthy with the company of its beloved owners, who no longer have to clean the litter box every day and can now spend more quality time with them.