YICOLY Smartest Vacuum Sealed Bottle | Keep Your Drink Fresh & Cool for 24+Hours丨Drink Healthily丨Temperature Insulation丨Shatterproof
Overview
√ Great for Coffee, Tea, Juice, Smoothies, Protein Shakes & More
√ Maintains Freshness & Prevents Oxidation 
√ Keep Temperatures For 24 Hours
√ Fully-Automatic Vacuum Sealing
√ Digital Temperature & Pressure Monitor
√ Dishwasher-Safe
Production Started
After finishing the trail-production and testing, we are now moving to the next stage – MASS PRODUCTION. Can't wait to share this exciting news with you all. By starting it now, we are able to START THE SHIPMENT FROM THE SECOND WEEK OF NOV!


MEET YICOLY
YICOLY is the world's first auto vacuum sealed bottle that keeps your drinks fresher, longer. Its patented one-touch vacuum technology combined with the thermal insulation design ensures your smoothies and juices last all day and tastes just as fresh as the first sip. It's perfect for your daily routine no matter where need to be.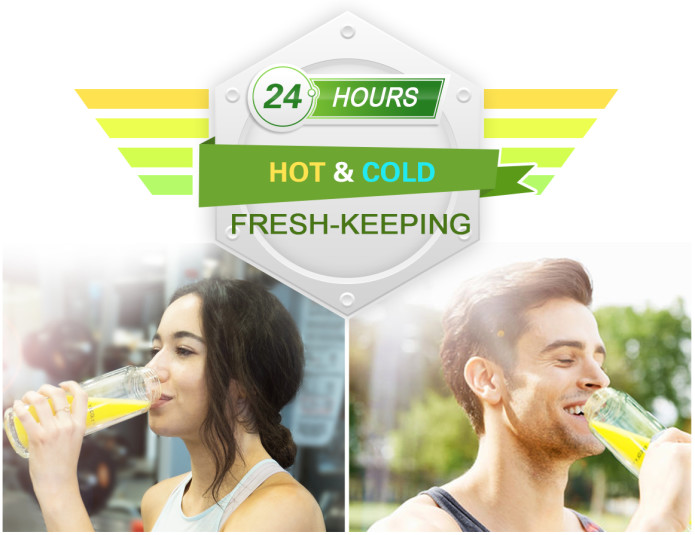 A Review From Netherlands Health Coach
Freshly Made Drinks
Tend to GO BAD Quickly
Homemade juice is a more convenient, affordable and delicious way to boost your fruit and vegetable intake. But keeping homemade juice and smoothie fresh while on-the-go is still a common challenge. When fruits and vegetables are exposed to air, they start to oxidize, turning them brown and depleting them of their nutrients.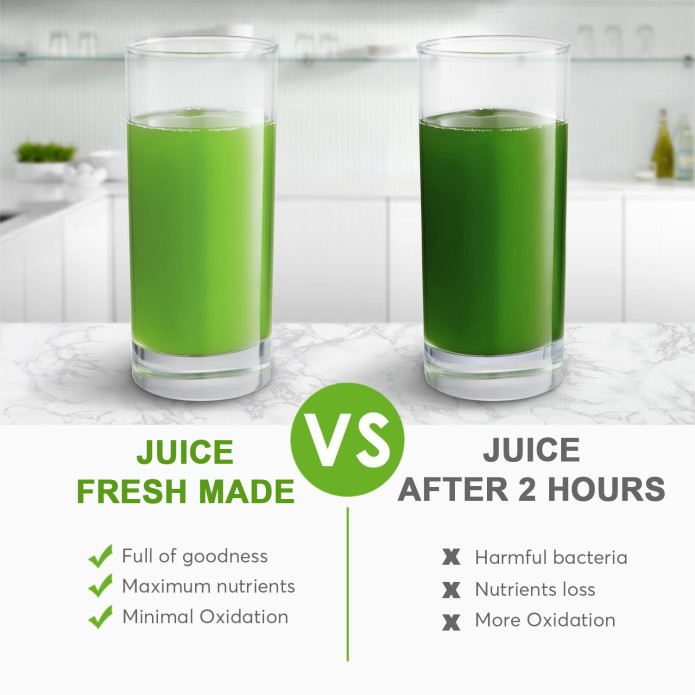 YICOLY
Seals in Freshness
YICOLY slows down the oxidation process by removing air/oxygen from the bottle. The lid of the bottle is integrated with an electronic vacuum pump that acts as a preserver by removing the air from the bottle and maintaining a tight seal.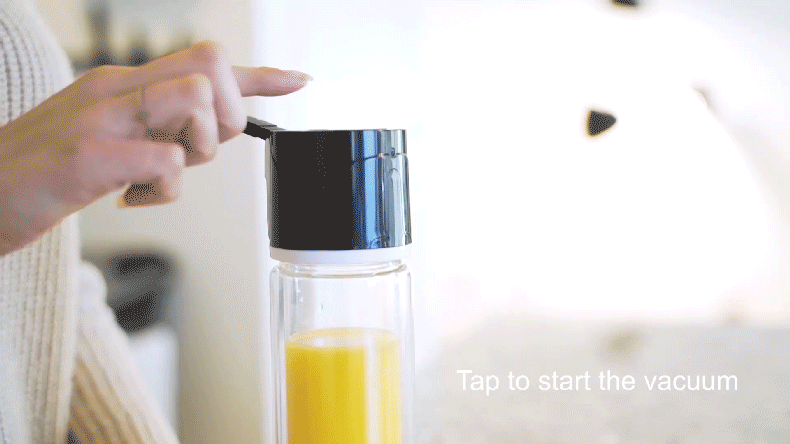 Vacuum-sealed juice tastes so much better. It holds its moisture and flavor, whether you are making your juice, smoothie or any other drink with you, you will get an all-day freshness.
We filmed a timelapse over the course of 3 days. The results speak for themselves.
Effective Decompression
YICOLY's patented deep vacuum removes all of the air and creates a tight seal that is only broken with you open the valve – ensuring your food stays fresher – longer.
YICOLY will remove all the air from the body. Unlike the marshmallows, your fruits will not get any bigger – but its preservation period will extend 5x longer.
Keep Your Drink
The Temperature You Want
Hate when you make your coffee and its cold by the time you get to work? Lukewarm coffee? Never again!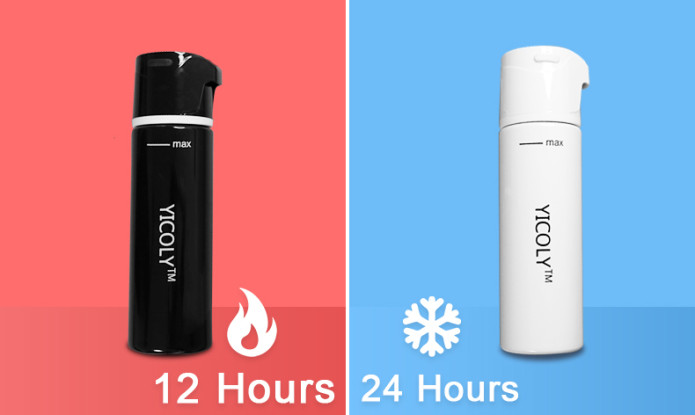 Featuring double-walled (stainless steel/glass) construction and vacuum insulation technology, YICOLY will keep your drink cold for up to 24 hours and hot for up to 12 hours.
PERFECT
For All Drinks
Thanks to the vacuum sealing tech and the thermal insulated design, YICOLY is perfect for any kind of drink. It holds its moisture and flavor while keeping your drink the temperature you want, and it tastes just as fresh as the first sip. It's perfect for juice, smoothie, coffee, milkshake, protein shake, tea, and etc.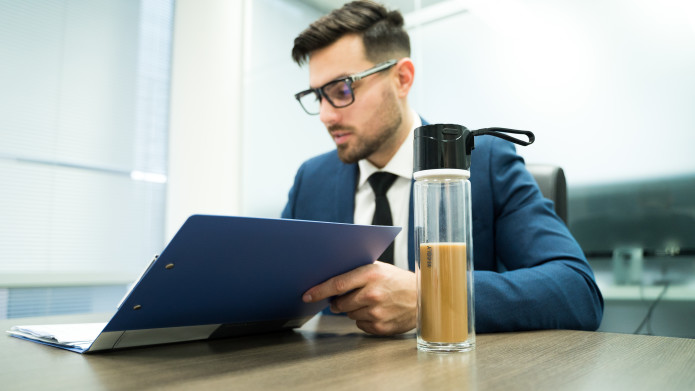 Intelligent Readings
At a Glance
The water bottle features an integrated OLED display. On this miniature screen, you'll always be able to see whether if the content of your bottle is hot, warm, or cold. The next time you bring along a hot drink to your office or on a hike, you can confidently take a sip.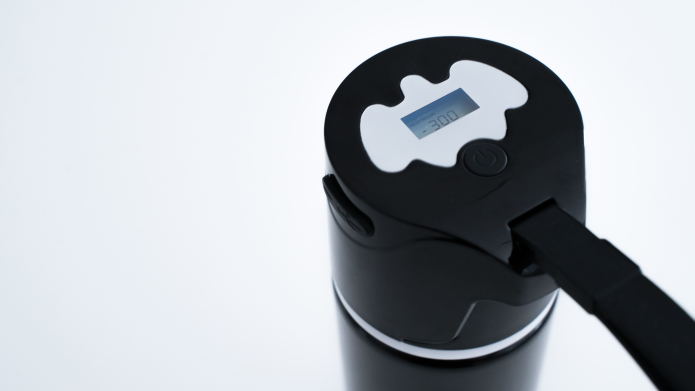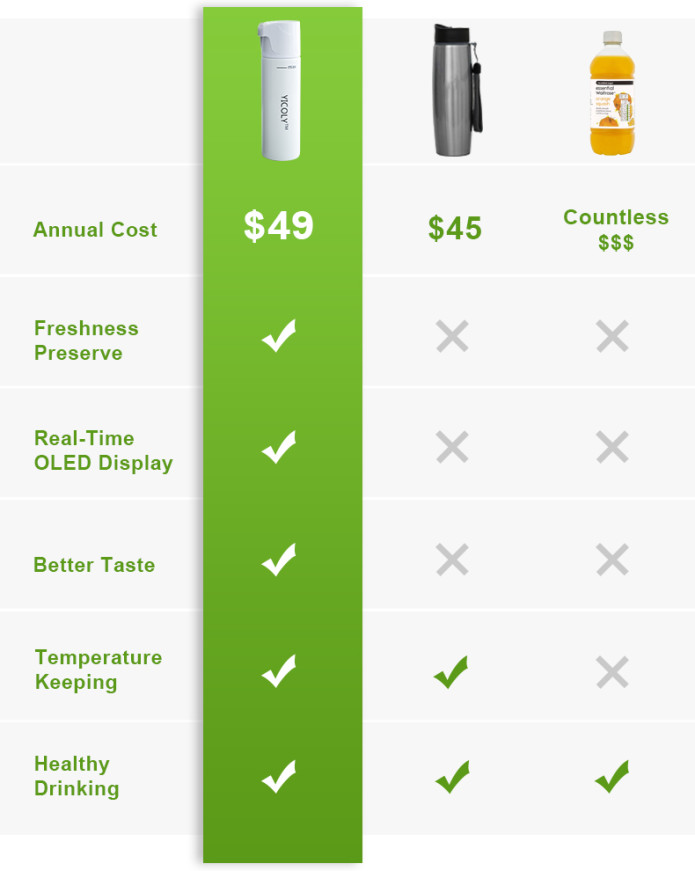 Easy to Open
The water bottle top stops sucking the air out while you are ready to drink. This makes the cap easier to be taken off. No worry that air pressure will push the lid and won't let you open. 
No Handwashing Necessary
The detachable rubber strap allows for easy removal and easy cleaning. The body is composed of 316 stainless steel & 100% BPA-Free materials that do not retain odors.
And we get it. Once you have used your great bottle, you want to clean it. You can do so by hand, or just pop it in the dishwasher! YICOLY allows you to put it in the dishwasher, the lid can be easily washed by hand.
It's Very Easy to Use
YICOLY comes with a very easy-to-use design. The single button on the lid triggers all the functions you need. A single press will switch between display screens (pressure/temperature/battery), and a double press will start or stop the vacuum pump. 
Take it Wherever You Go
Want to take cold water with you on a hike? Want to keep your juice fresh at the gym? Want to bring your friend some piping hot soup? YICOLY makes it possible.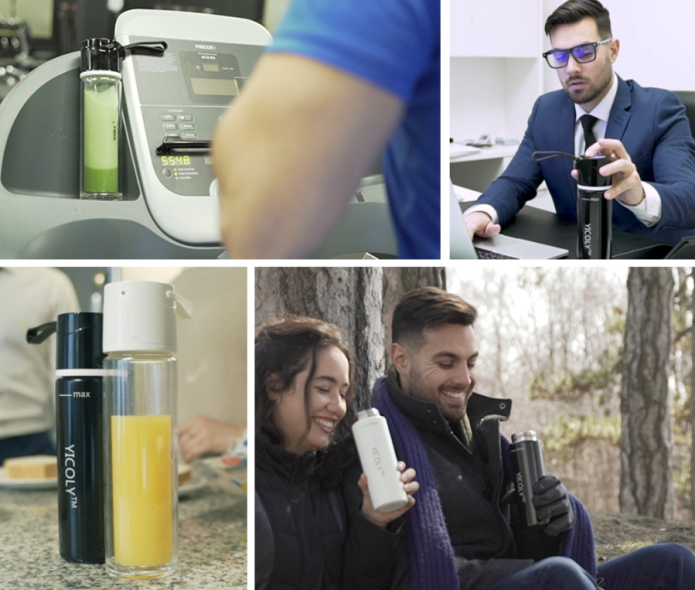 Reduces Wastes & Pollutions
We believe that healthier living starts with vacuum-sealing our freshly made juice — and creating a better way to manage your daily fruit and vegetable intake. Also, it reduces your spends on bottle-drinks and reduces wastes on food. In other words, it saves time, money and helps maintain the nutrients in your freshly made foods.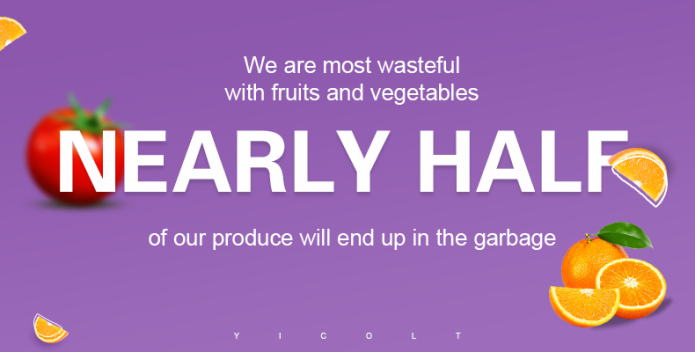 The use of plastic has become integral to our lives. In the juice world, it has become a quick and easy way to store juice and keep it edible for longer. Although it is convenient and comfortable, it is incredibly harmful to the environment.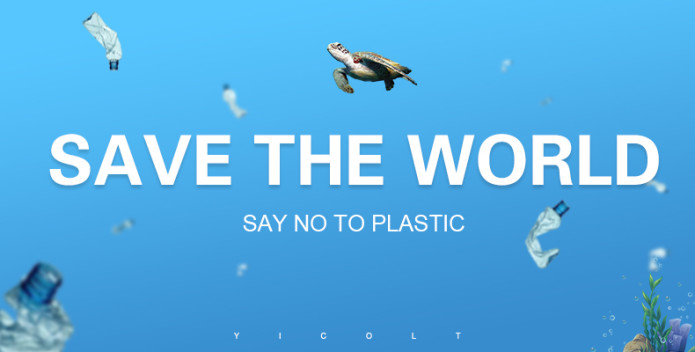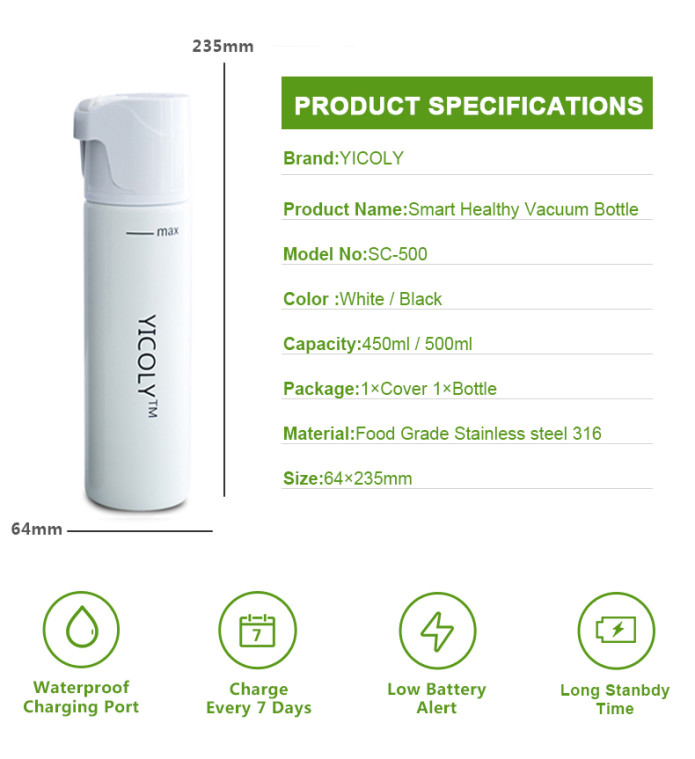 The perfect height, the perfect capacity. And there are two capacity – 450ml (stainless steel) and 500ml (glass) and three colors (black/white/lucid) for choice. Meet your daily drinking needs, drink as healthy as you can!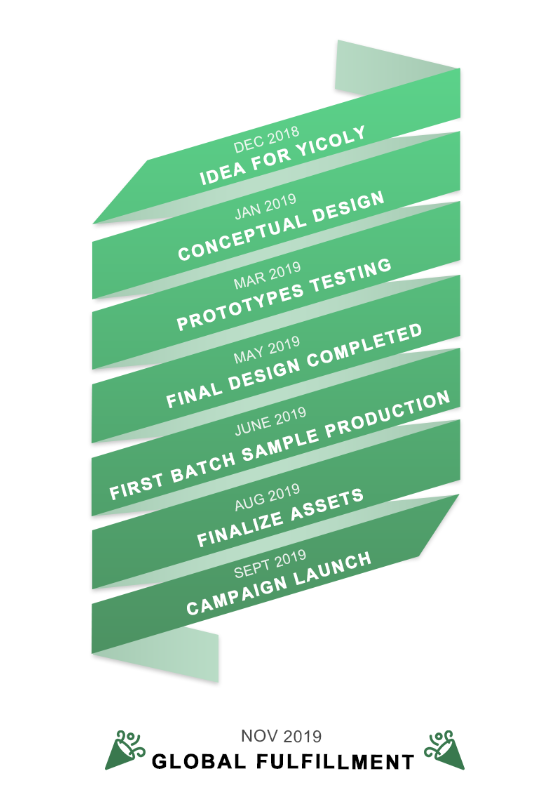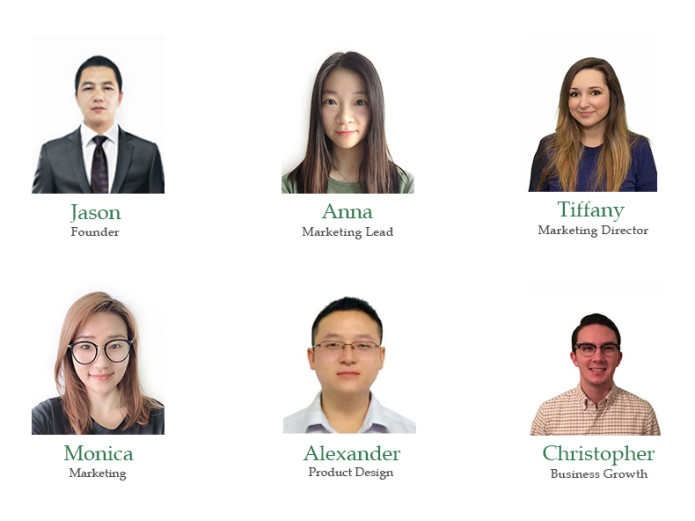 Here are our main staffs
We are YICOLY team, who are passionate about juicing, health, fitness, and design. YICOLY was started with a simple vision where innovative technology can be combined with inspirational design to help people access healthy drinking easily and sustainably. We are trying our best to redefines the juice drinking field with our humble forces. We have been working on this project for over a year to design, create and test to ensure this product is perfect to preserve juice and smoothies. Now, we are finally ready to share our product to the world. Please kindly support our product, we will be handing your YICOLY Fresh-Drinking Bottle to you without any delay (mass production ongoing).