YouFlaker by W Mock: Making cereals the German way | DIY: Make your own organic oat flakes with the electrical grain flaker from renewable resources

[ ↓ Für die deutsche Version bitte weiter nach unten scrollen ↓ ]
[ English version ]
Do-It-Yourself: Making your own organic oat flakes and muesli with the innovative electrical grain flaker from renewable resources
Make the better muesli
That is: 100% fresh and with all the valuable nutrients of the whole grain. With our new, stylish grain flaker, the electrical YouFlaker.
Wolfgang Mock,
the ingenious grain mill builder with 40 years of experience has developed the YouFlaker for us, together with designers from the Darmstadt University of Applied Sciences and the team that, years ago, developed the legendary Hawo's mills and most recently the Mockmill grain mills.
We, David and Philipp from YouFlake in Berlin,
offer various raw organic muesli base mixes and delicious toppings – and now finally a stylish flaker (grain flaker) for making a really healthy, fresh muesli breakfast yourself. It's quick and easy, at the push of a button!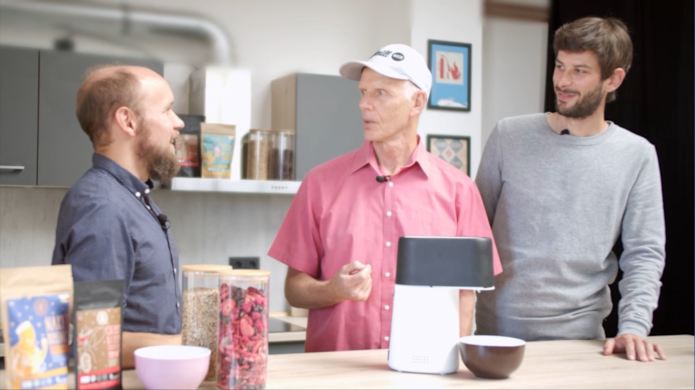 The team: David Niermann | Wolfgang Mock | Philipp Roeser
Our flaker already makes great flakes
We have already successfully completed a Kickstarter crowdfunding campaign and the project is fully financed. In order to be able to continue with series production of the YouFlaker, we need your support. So far, there has been a fully functional, tried-and-tested model with all technical components in a 3D-printed housing. The next step is the scaling of series production, which incurs costs for the creation of the casting tools (for casting the housing from renewable raw materials, see below) and for setting up and scaling series production. With your contribution you help us pre-finance these costs.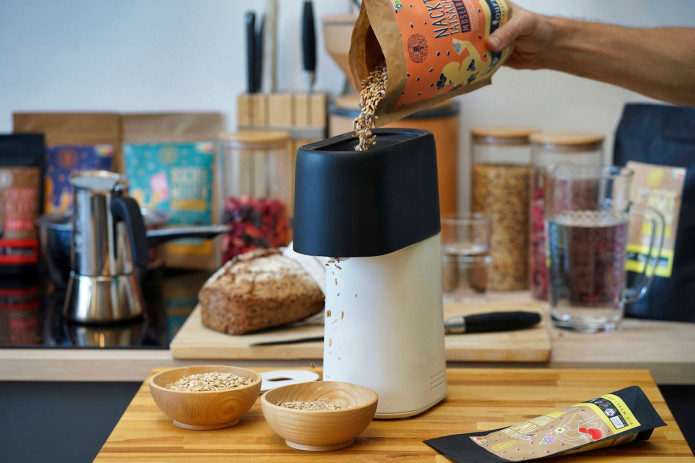 The 3D-printed YouFlaker prototype flaking our organic muesli
Video demo of the core functionality…
Note: The prototype is a bit top-heavy. This will be solved in the final version by adding two weights at the bottom.
But first: why flake-it-yourself at all?
First, an analogy that most people will get immediately:
Anyone who wants to drink good coffee rightly expects the coffee beans to be freshly ground, as the fresh processing simply makes the coffee taste better. The flavors come into their own. That is why coffee is freshly ground in every good café, and more and more people are grinding their own coffee at home as well.
Exactly the same applies to muesli and cereals that are processed into flakes. The fresh aromas of the grain are retained in the best quality when prepared right before consumption. The flakes are significantly more absorbent when fresh and soften more quickly in liquid. In addition to the aromas – and this is in what it differs from coffee – when fresh oat flakes are squeezed, important nutrients are retained in the best quality as well. More on that now…
So why squeeze oats into oatmeal yourself when you can buy oatmeal in any supermarket?! Hardly anyone knows: Industrially produced oat flakes are heated up to 100°C. First, the oats are treated with hot steam, then rolled and then dried again over high heat. This conserves the oat flakes for a very long time, but it also damages many nutrients, especially enzymes and B vitamins. We had this examined in the laboratory using the enzyme lipase. The lipase breaks down fats into their constituent parts. It is only thanks to this that the body can digest the fats contained in food and use its own fat reserves for energy production (source: NetDoktor.de). Enzymes are very sensitive to heat and are irreversibly destroyed at approx. 50°C. Fresh processing is therefore all the more important – without prior heating to preserve it. This is only possible with a grain flaker like the brand-new YouFlaker!
Enzyme activity of the enzyme lipase in nkat/g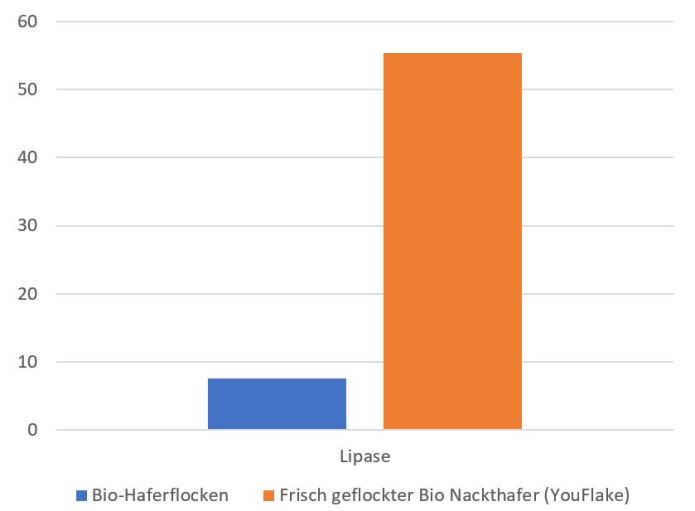 Organic oat flakes [blue] vs freshly flaked organic naked oat flakes (YouFlake) [orange] | Source: Lab analysis report, bilacon GmbH, 2019/04/05
Some of the B vitamins are similarly sensitive to heat. We looked at vitamins B3 (niacin) and B6 (pyridoxine). Vitamin B3 is an important component of the coenzymes NAD and NADH, which help the body generate energy for metabolism. It is found in all living cells in the human body, especially in central organs such as the liver and kidneys and in fatty tissue. Vitamin B6 also plays a central role in metabolism. It is required by the body to convert and incorporate proteins, it contributes to the formation of neurotransmitters (messenger substances in the nerve cells) and has an effect on the immune system.
B vitamins B3 and B6 in µg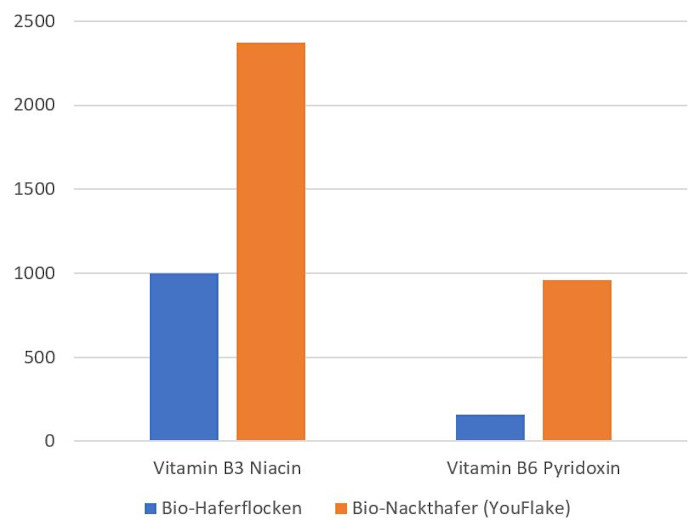 Organic oat flakes [blue] vs organic naked oats (YouFlake) [orange] | Source: MRI – German Federal Research Institute for Nutrition and Food at the German Federal Ministry for Nutrition and Agriculture
These are the differences in quality that have been investigated so far. There are probably more, because oats contain numerous other enzymes and essential nutrients in addition to lipase. The point is: the freshness simply pays off! You notice this in the nutrients and, above all, in the taste. Many of our customers tell us that after having made their own flakes for the first time, they no longer want to eat the pre-processed oat flakes from the supermarket!
This applies not only to oats, but of course to other types of grain such as spelt or rye, too. Fresh flakes simply taste better!
YouFlaker: Housing made from 100% renewable resources
The innovative material Arboblend® created by the Swabian company Tecnaro is used for the housing. It is a sustainable material made from 100% renewable raw materials, but it can be cast into a mold just as easily as a plastic. This means that large quantities can be produced cheaply and sustainably at the same time. Arboblend® is not only particularly sustainable, but is also has a significantly better visual and haptic appearance compared to conventional plastic. Lignins made from vegetable fibers are used to manufacture Arboblend®. These cause the plant cells to harden and thus ensure the strength of wood. Lignin is a "waste product" in the paper industry. Therefore, it is widely available in large quantities at low cost. The housing is basically made of wood, just poured into shape and without using additional wood. Innovative and resource-saving!
Easy to open and clean
You can easily remove the squeezing mechanism (with the two rollers) by removing the top cover and then pulling the squeezing mechanism out towards the front. Then you can dry clean it with either a paint brush or some other small brush (such as a toothbrush). The squeezing mechanism can also be cleaned under running water and with a drop of dishwashing detergent for thicker deposits.
Powerful & efficient electric motor
The electric DC motor has more than sufficient power to easily squeeze all types of grain (except corn – too big and too hard) as well as oil seeds such as flaxseed, sunflower seeds, hemp seeds or sesame. In this way, all muesli ingredients are freshly squeezed in no time.
Quiet
The squeezing process is relatively quiet. The two stainless steel rollers squeeze grain and seeds with playful ease. The engine hums quietly and pleasantly. Audible, but you can still chat comfortably next to it. For the techies among us: When squeezing, the volume is around 60 dB. That corresponds roughly to the volume when talking at low volume.
100 grams of fresh flakes per minute
With the YouFlaker you can produce 100 grams of fresh flakes per minute at the push of a button. It only takes half a minute for a 50 gram serving to turn whole oats (as well as other grains and seeds) into fresh oat flakes. Next, add one of our toppings and, if you like, fresh fruits and berries as well as (plant) milk – and the incomparably fresh muesli is ready!
From the design study…
Before the prototype from the 3D printer and the finished series product came the design drafts on paper and on the computer…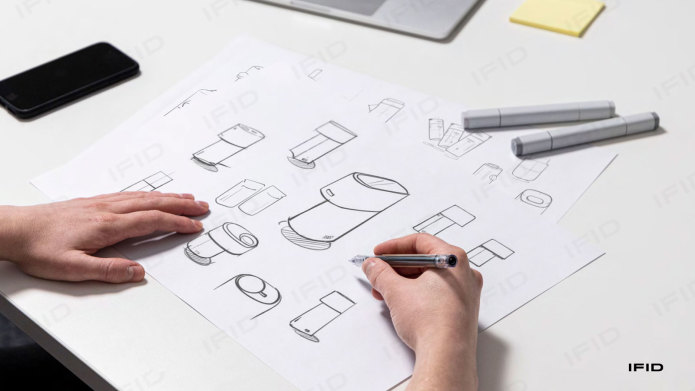 First drafts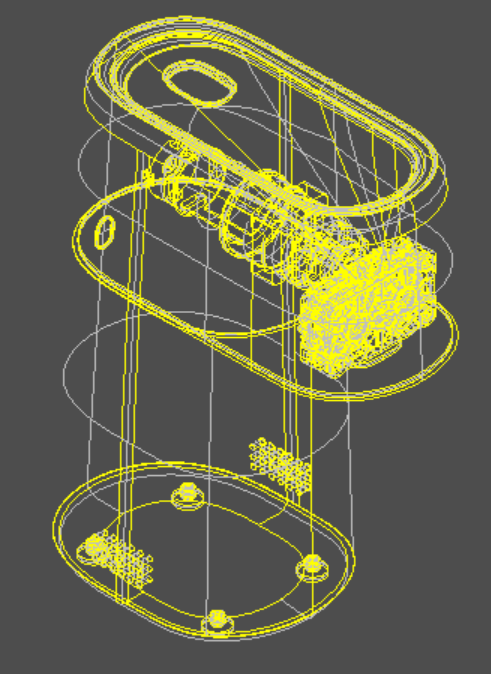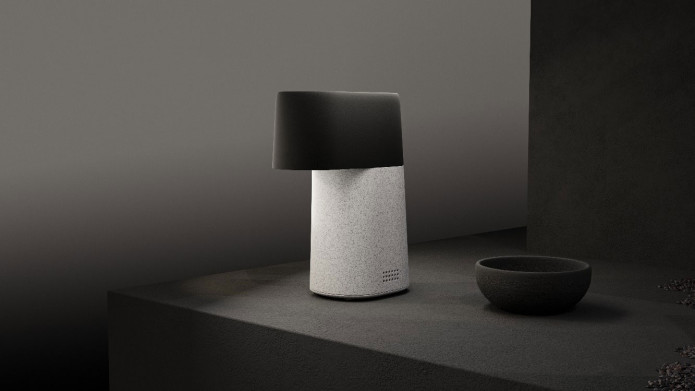 The design draft for the stylish flaker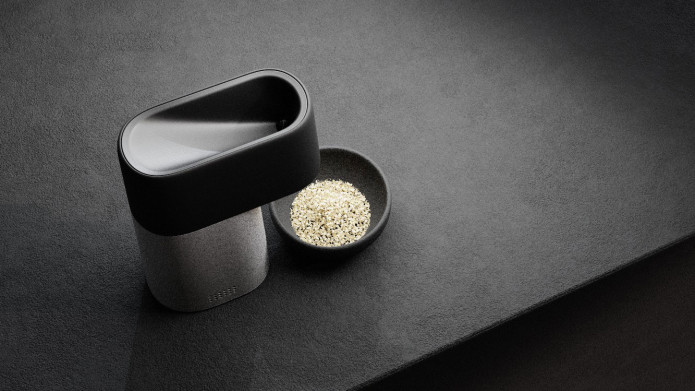 View from above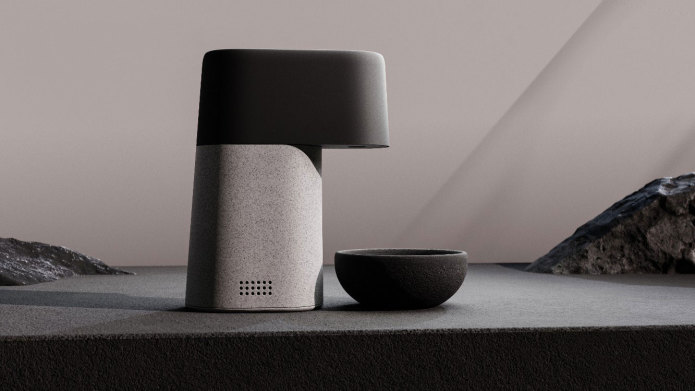 View from the side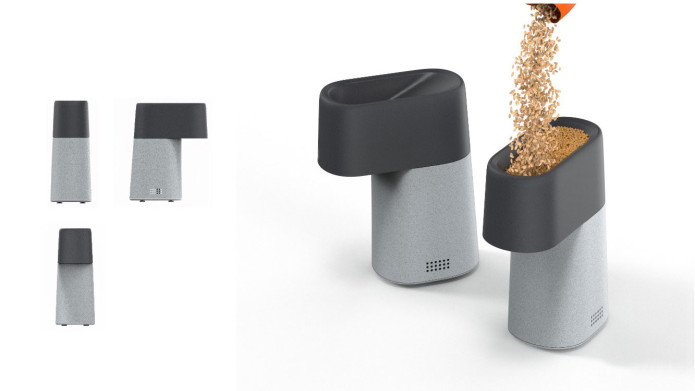 Filling raw organic muesli into the hopper
… via the prototype from the 3D printer…
All photos are taken from the 3D printed prototype. In this case, the housing is still made of "normal" plastic, as only certain plastics can be used in 3D printing. The visual and haptic impression of the device will therefore change slightly. Arboblend looks a little less smooth than most other plastics, makes a high-quality impression and is pleasant to the touch.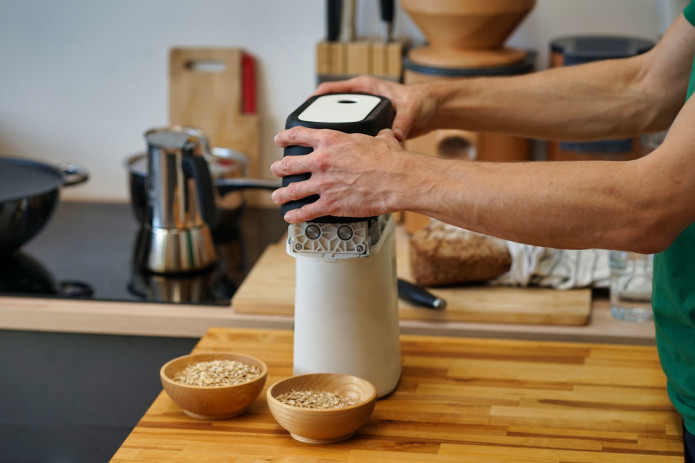 YouFlaker prototype: Lifting off the top cover
… to the series product
We will update you with photos of the finished series product once they are available. In the meantime we show you a couple of pictures of the injection molding tools which are currently being transported to their final destination, a factory in Germany where the YouFlaker will be built…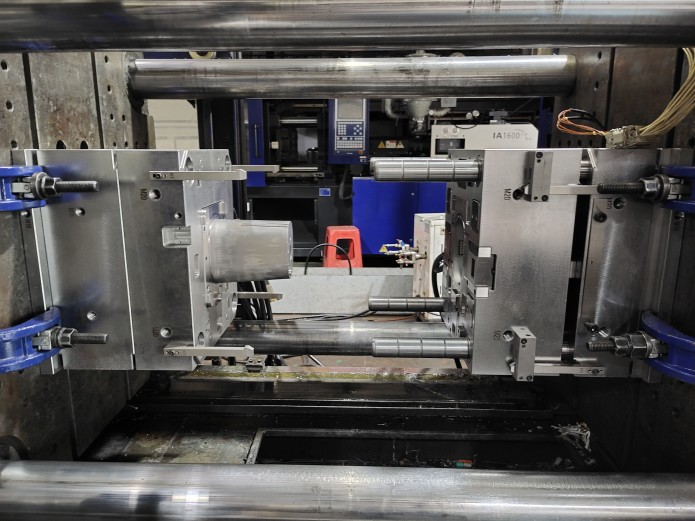 Positive and negative part of the injection mold from afar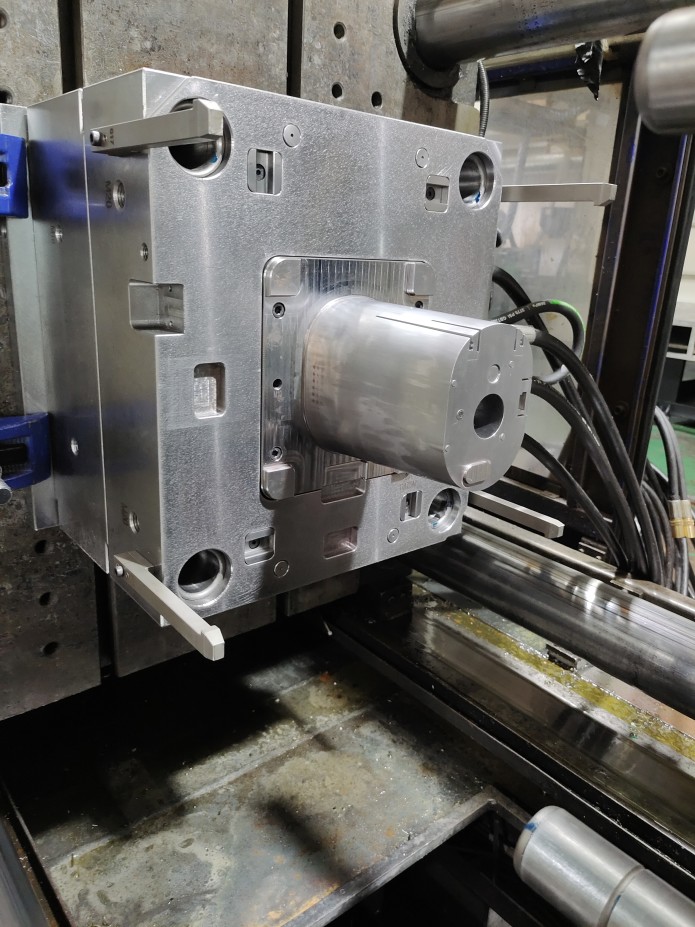 Positive injection molding tool for lower housing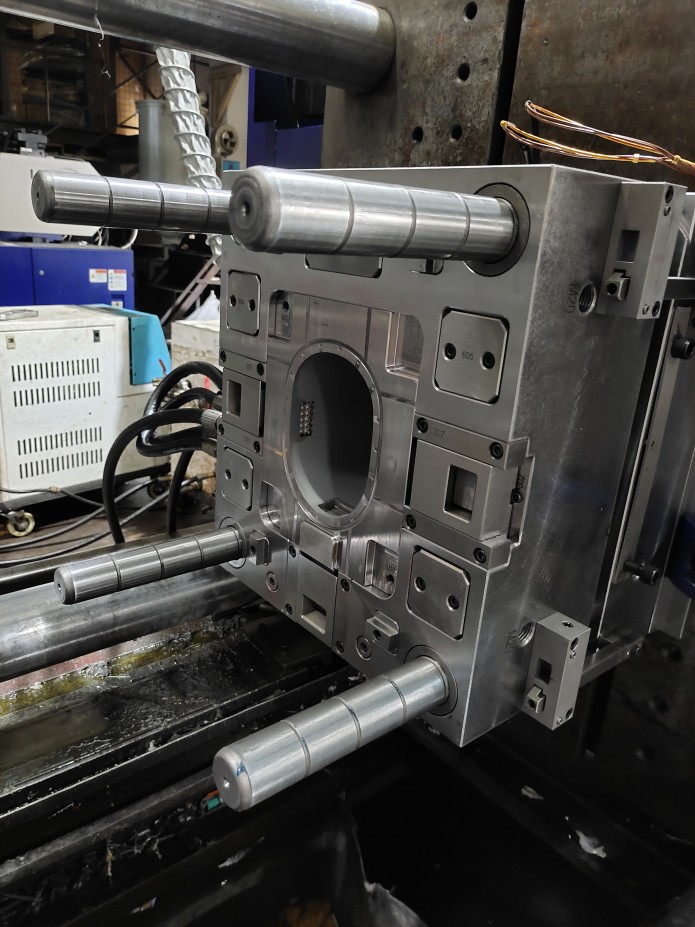 Negative injection molding tool for lower housing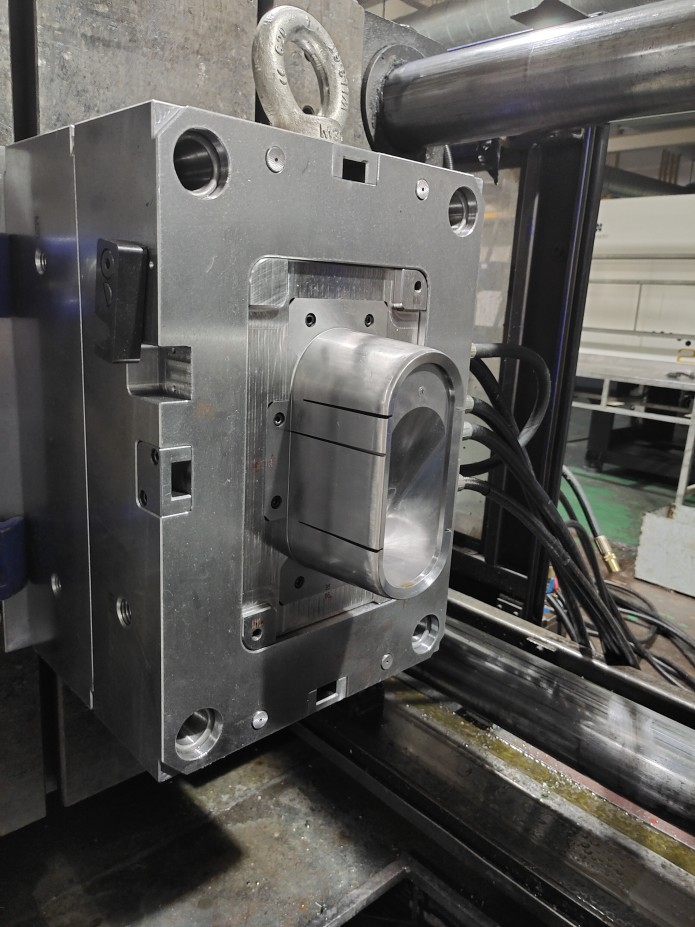 Positive injection molding tool for the hopper
Specs
Input power: 130W
Input voltage: 100-240V @ 50/60 Hz (runs on any mains voltage anywhere in the world)
Volume: 60 dB
Flake output: 100 g/min of fresh flakes
Rollers: Stainless steel (wear-free), 35 mm in diameter, 12 mm wide
ADD-ON: The organic muesli for YouFlaker…
(only available for European customers due to import restrictions)
We have developed our muesli base with raw organic grain to match the fresh processing with the YouFlaker. You can also add these as a sample package (size M or size L). In combination with the YouFlaker, you can get our sample kit at a particularly affordable price – with a discount of around 10 euros. So you can start flaking right away! It's worth it!
YouFlake organic muesli base
For our organic muesli base, we only use raw and organic cereals (naked oats, spelt, buckwheat) and seeds (linseed, sunflower seeds, sesame), which must be squeezed with a grain flaker before consumption in order to produce cereal flakes and to squeeze the seeds (particularly important with flaxseed!).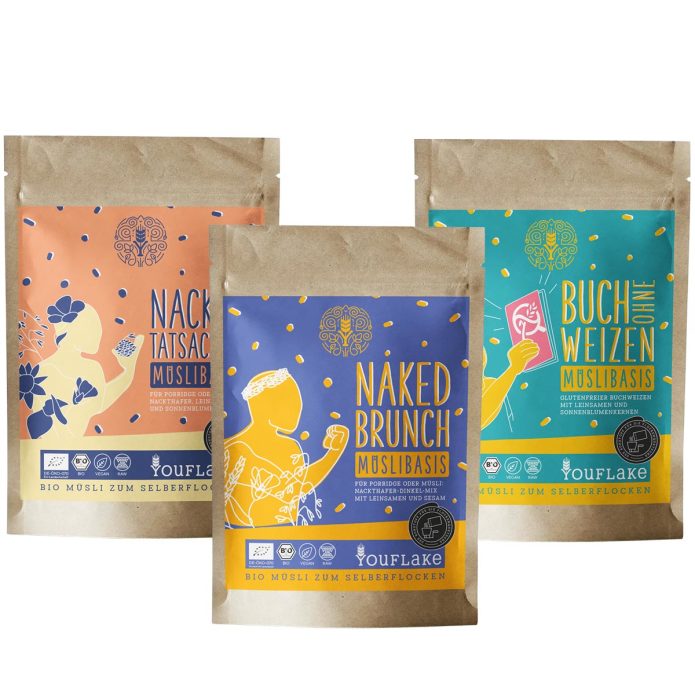 Muesli base: Nackte Tatsachen | Naked Brunch | Buch ohne Weizen
Naked oats
We only use organic naked oats as oats, as they are particularly rich in nutrients. In contrast to ordinary (husk) oats, they do not need to be heated in order to remove the husk, which saves the enzymes, vitamins and fiber it contains. By the way, because of the naked oats, we also do all these silly word games with Nackte Tatsachen (The Bare Facts) and Naked Brunch…
Muesli base: ingredients and nutritional values
Nackte Tatsachen (The Bare Facts)
Content: 500 g
Ingredients: naked oats*, flax seeds*, sunflower seeds*
* From organic farming
DE-ÖKO-039
Naked Brunch
Content M: 500 g
Ingredients: naked oats*, spelt*, flax seeds*, sesame*
* From organic farming
DE-ÖKO-039
Buch ohne Weizen (Buck-no-wheat)
Content M: 500 g
Ingredients: buckwheat*, flax seeds*, sunflower seeds*
* From organic farming
DE-ÖKO-039
Average nutritional values per 100 g

YouFlake organic toppings
We have developed three toppings with freeze-dried fruits and berries and a few other ingredients, such as raw cocoa nibs, with which the muesli can be easily garnished. The topping gives our muesli that extra flavor and is made from 100% organic ingredients.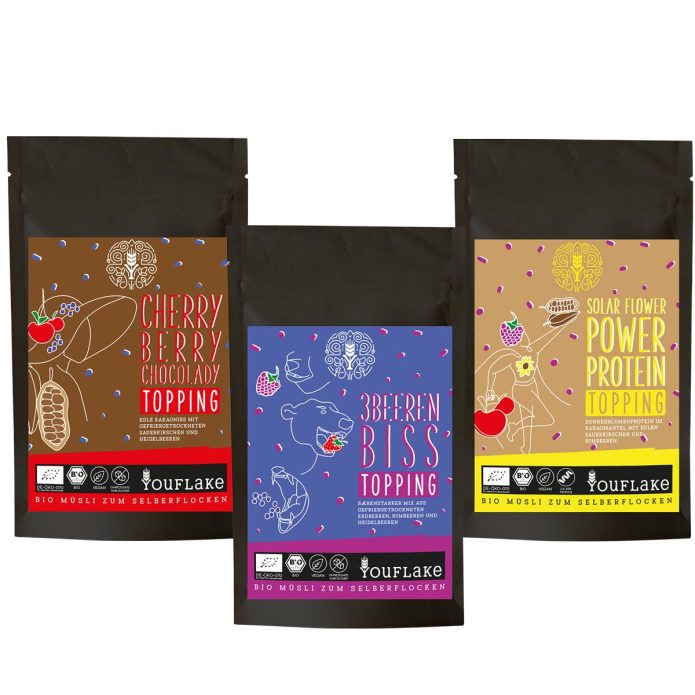 Toppings: Cherry Berry Chocolady | 3BeerenBiss | Solar Flower Power Protein
Toppings: ingredients and nutritional values
3BeerenBiss (3BerryBite)
Contents M / L: 21 / 105 g
Ingredients: Freeze-dried strawberries*, raspberries*, blueberries*
* From organic farming
DE-ÖKO-039
Cherry Berry Chocolady
Contents M / L: 50 / 250 g
Ingredients: raw cocoa nibs*, freeze-dried sour cherries*, blueberries*
* From organic farming
DE-ÖKO-039
Solar Flower Power Protein
Contents M / L: 44 / 220 g
Ingredients: organic sunflower rice crisps* (sunflower protein*, rice flour*, sugar*, cocoa powder*, sea salt, natural vanilla flavor), freeze-dried sour cherries*, raspberries*
* From organic farming
DE-ÖKO-039
Average nutritional values ​​per 100 g

Shipping cost estimates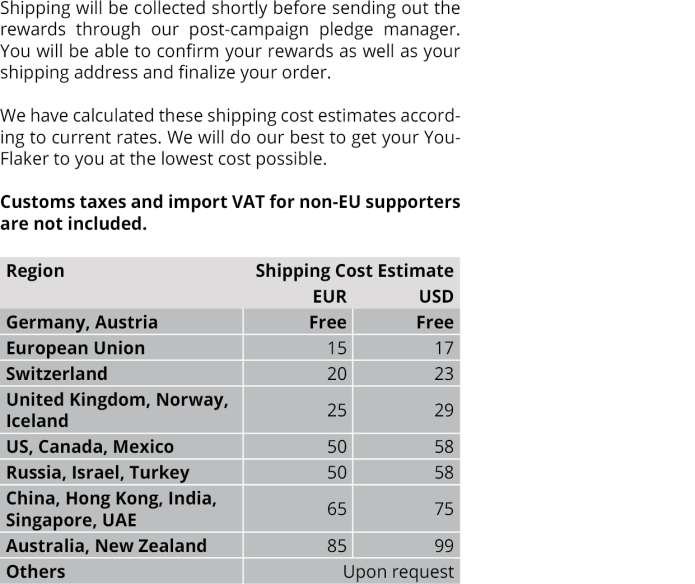 Risks and challenges
In the production of the YouFlaker, we work together with an expert (Wolfgang Mock) who has been building innovative grain mills and grain flakers for 40 years. He has also designed grain mills with a housing made of the Arboblend® material used for this flaker and brought them into mass production. He has the necessary experience to implement and make this project a success. Nevertheless, there are risks that we would like to outline here:
– The global supply chains are still under great strain and there may be temporary bottlenecks or delivery delays in the supply of raw materials or technical components that are beyond our control. With a delivery of the second batch of YouFlakers in February, our schedule is realistic and ambitious at the same time. We assume that this schedule is realistic and that a delivery to our supporters is realistic under normal circumstances. However, in the event of unforeseen delivery bottlenecks and delays, the tight production schedule cannot be fully guaranteed. In this case the delivery would be delayed accordingly. We proactively inform you at all times in the event of delays and provide our supporters with the necessary information.
– The YouFlaker has been developed from scratch and is extensively tested before delivery. The developer Wolfgang Mock has gained experience with similar devices for 40 years. Nevertheless, it is of course possible that technical problems will only become apparent later, precisely because it is a completely new development that has never been available on the market in this form. In such cases, we ask our supporters for the appropriate feedback on the one hand, so that we can react to such problems as quickly as possible. We are always there for you! On the other hand, in the event of technical problems, we will do everything in our power to find a quick solution in order to fix the problem permanently and comprehensively.
Support our project!
With your contribution you support our project by helping us to pre-finance the production. In return, you will be one of the first to receive the brand new YouFlaker – for the best and healthiest muesli every morning!
And pretty soon your kitchen will look something like this every morning…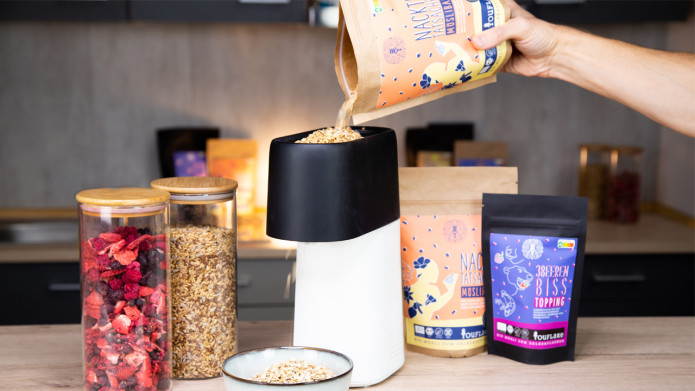 We thank you for your interest and your contribution!

[ Deutsche Version ]
Do-It-Yourself: Bio Haferflocken und Bio Müsli selber machen mit der innovativen elektrischen Flockenquetsche aus nachwachsenden Rohstoffen
Du machst das bessere Müsli
Nämlich ganz frisch und mit allen wertvollen Inhaltsstoffen des ganzen Getreidekorns. Mit der neuen stylischen Flockenquetsche, dem elektrischen YouFlaker.
Wolfgang Mock,
der geniale Getreidemühlenbauer mit 40 Jahren Erfahrung, hat für uns den YouFlaker entwickelt, zusammen mit Designern der Fachhochschule Darmstadt und dem Team, das vor vielen Jahren schon die legendären Hawo's Mühlen und zuletzt die Mockmill Getreidemühlen entwickelt hat.
Wir, David und Philipp von YouFlake aus Berlin,
bieten verschiedene Müsli-Basis-Mischungen und leckere Toppings an – und jetzt endlich auch einen stylischen Flocker (Flockenquetsche) zum Selbermachen eines wirklich gesunden, frischen Müsli-Frühstücks. Es geht schnell und ganz einfach, auf Knopfdruck!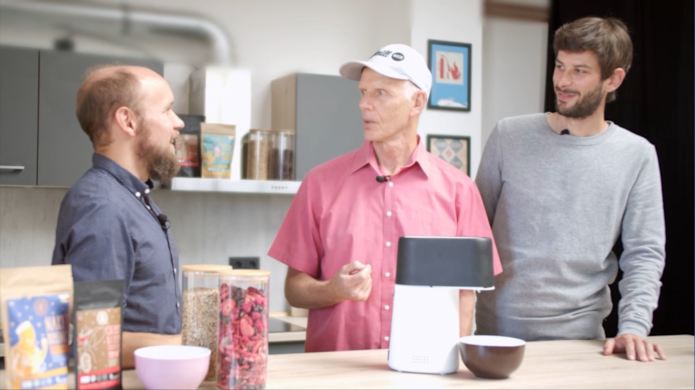 Das Team: David Niermann | Wolfgang Mock | Philipp Roeser
Unser Flocker macht bereits tolle Flocken
Wir haben bereits erfolgreich eine Crowdfunding-Kampagne bei Kickstarter abgeschlossen und die Finanzierung des Projekts ist gesichert. Bisher gibt es ein voll funktionsfähiges, erprobtes Modell mit allen technischen Komponenten, in einem Gehäuse aus dem 3D-Drucker. Die Serienproduktion startet in Kürze, bei der Kosten für die Erstellung der Gusswerkzeuge (zum Gießen des Gehäuses aus nachwachsenden Rohstoffen, siehe unten) und den Aufbau und die Skalierung der Serienproduktion anfallen. Du hilfst uns mit deinem Beitrag, diese Kosten vorzufinanzieren.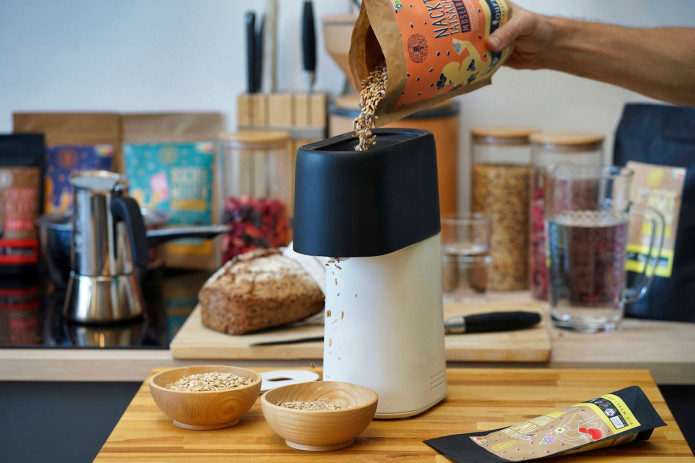 Der Prototyp des YouFlaker aus dem 3D-Drucker beim Flocken unseres Bio Müslis
Videodemo der Funktionalität
Anmerkung: Der Prototyp ist noch etwas kopflastig. Dies wird im Serienprodukt behoben sein durch zwei Gewichte im Fuß.
Doch zuerst: Warum überhaupt selber flocken?
Zuerst eine Analogie, die den meisten direkt einleuchtet:
Wer guten Kaffee trinken will, erwartet zu Recht, dass die Kaffeebohnen frisch gemahlen werden, da die frische Verarbeitung den Kaffee einfach besser schmecken lässt. Die Aromen kommen besser zur Geltung. Daher wird Kaffee in jedem guten Café frisch gemahlen und auch privat mahlen immer mehr Menschen ihren Kaffee selber.
Genau das Gleiche gilt bei Müsli und bei Getreide, die zu Flocken verarbeitet werden. Die Frischearomen des Getreides bleiben bei Zubereitung direkt vor dem Verzehr in bester Qualität erhalten. Die Flocken sind im frischen Zustand deutlich saugfähiger und werden in Flüssigkeit schneller weich. Zusätzlich zu den Geschmacksaromen – und hier liegt ein Unterschied zum Kaffee – bleiben beim frischen Quetschen von Haferflocken außerdem wichtige Nährstoffe in bester Qualität erhalten. Dazu nun mehr…
Wieso also überhaupt Hafer selber zu Haferflocken quetschen, wenn man doch auch Haferflocken in jedem Supermarkt kaufen kann?! Was kaum jemand weiß: Industriell hergestellte Haferflocken werden auf  bis zu 100°C erhitzt. Zuerst wird der Hafer mit heißem Wasserdampf  behandelt, dann gewalzt und anschließend bei starker Hitze wieder  getrocknet (gedarrt). Das macht die Haferflocken zwar sehr lange haltbar, aber beschädigt eben auch viele Nährstoffe, vor allem Enzyme und B-Vitamine. Wir haben das anhand des Enzyms Lipase im Labor untersuchen lassen. Die Lipase zerlegt Fette in Ihre Bestandteile. Nur dank ihr kann der Körper in der Nahrung erhaltene Fette verdauen sowie eigene Fettreserven zur Energiegewinnung verwenden (Quelle: NetDoktor.de). Enzyme sind sehr hitzeempfindlich und werden schon ab ca. 50°C irreversibel zerstört. Umso wichtiger ist also die frische Verarbeitung – ohne Erhitzung zur Haltbarmachung. Das gelingt nur mit einer Flockenquetsche wie dem YouFlaker!
Enzymaktivität des Enzyms Lipase in nkat/g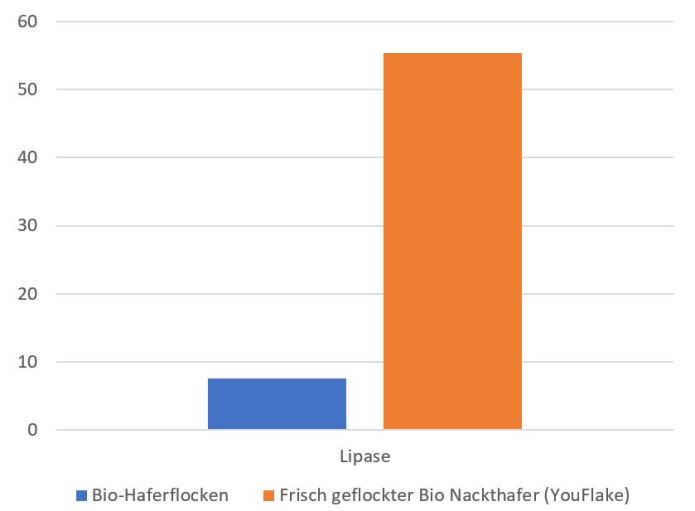 Source: Lab analysis report, bilacon GmbH, 2019/04/05
Ähnlich hitzeempfindlich sind einige der B-Vitamine. Angeschaut haben wir uns die Vitamine B3 (Niacin) und B6 (Pyridoxin). Vitamin B3 ist ein wichtiger Bestandteil der Co-Enzyme NAD und NADH, die dem Körper helfen, Energie für den Stoffwechsel zu gewinnen. Es findet sich in sämtlichen lebenden Zellen des menschlichen Körpers, vor allem in zentralen Organen wie Leber und Nieren und im Fettgewebe. Vitamin B6 spielt ebenfalls eine zentrale Rolle im Stoffwechsel. Es wird vom Körper benötigt, um Eiweiße umzuwandeln und einzubauen, trägt zur Bildung von Neurotransmittern (Botenstoffen in den Nervenzellen) bei und wirkt sich auf das Immunsystem aus.
B-Vitamine B3 und B6 in µg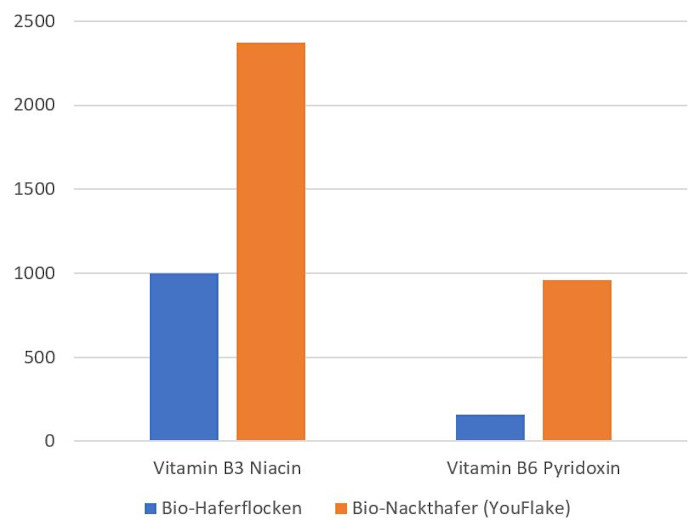 Source: MRI – Bundesforschungsinstitut für Ernährung und Lebensmittel beim Bundeministerium für Ernährung und Landwirtschaft
Das sind die Qualitätsunterschiede, die bereits untersucht worden sind. Vermutlich gibt es noch weitere, denn im Hafer sind neben der Lipase zahlreiche andere Enzyme und Vitalstoffe enthalten. Der Punkt ist: Die Frische macht sich einfach bezahlt! Das merkt man bei den Nährstoffen und vor allem aber auch beim Geschmack. Viele unserer Kunden berichten uns, dass sie nach dem ersten Mal Selberflocken die fertigen Haferflocken aus dem Supermarkt gar nicht mehr essen möchten!
Das betrifft außerdem nicht nur Hafer, sondern natürlich auch andere Getreidearten wie etwa Dinkel oder Roggen. Frische Flocken schmecken einfach besser!
YouFlaker: Gehäuse aus 100% nachwachsenden Rohstoffen
Für das Gehäuse wird das innovative Material Arboblend® der schwäbischen Firma Tecnaro genutzt. Es handelt sich dabei um ein nachhaltiges Material aus 100% nachwachsenden Rohstoffen, das jedoch genauso einfach wie ein Kunststoff in Form gegossen werden kann. Dadurch können günstig und trotzdem nachhaltig auch große Mengen produziert werden. Arboblend® ist nicht nur besonders nachhaltig, sondern ist auch von der optischen wie haptischen Anmutung deutlich hochwertiger als Kunststoff. Zur Herstellung von Arboblend® werden die Lignine aus Pflanzenfasern verwendet. Diese bewirken die Verholzung (Lignifizierung) der Pflanzenzellen, sorgen also für die Festigkeit von Holz. Lignin fällt in der Papierindustrie als "Abfallprodukt" an. Daher steht es ohne weiteren Aufwand kostengünstig in großer Menge zur Verfügung. Das Gehäuse besteht also aus Holz, nur eben in Form gegossen und ohne dass dafür zusätzliches Holz verbraucht wird. Innovativ und ressourcenschonend!
Einfach zu öffnen und zu reinigen
Du kannst das Quetschwerk (mit den beiden Walzen) einfach entnehmen, indem du die obere Abdeckung mit einem Handgriff entfernst und das Quetschwerk anschließend nach vorne herausziehst. Dann kannst du es entweder mit einem Pinsel oder einer kleinen Bürste (zum Beispiel einer Zahnbürste) trocken reinigen. Bei stärkeren Ablagerungen lässt sich das Quetschwerk auch nass unter fließendem Wasser und mit Spülmittel reinigen.
Leistungsfähiger & sparsamer Elektromotor
Der Elektromotor hat mehr als genügend Power um spielerisch sämtliche Getreidearten (außer Mais – zu groß und zu hart) und Ölsaaten wie etwa Leinsamen, Sonnenblumenkernen, Hanfsamen oder Sesam zu quetschen. So werden alle Müslizutaten im Nu frisch gequetscht.
Leise
Das Quetschen geschieht relativ leise. Mit spielerischer Leichtigkeit quetschen die beiden Edelstahlwalzen Getreide und Saaten. Der Motor summt leise und angenehm. Hörbar, aber man kann sich daneben bequem unterhalten. Für die Kenner: Beim Quetschen liegt die Lautstärke in etwa bei 60 dB. Das entspricht in etwa der Lautstärke beim normalen Sprechen in Zimmerlautstärke.
100 Gramm frische Flocken pro Minute
Mit dem YouFlaker stellst du auf Knopfdruck 100 Gramm frische Flocken pro Minute her. Pro Portion mit 50 Gramm dauert es also nur eine halbe Minute bis aus dem ganzen Haferkorn frische Haferflocken geworden sind. Dann noch eines unserer Toppings und je nach Belieben frische Früchte und Beeren sowie (Pflanzen)milch dazugeben – fertig ist das unvergleichlich frische Müsli.
Von der Designstudie…
Vor dem Prototypen aus dem 3D-Drucker und dem fertigen Serienprodukt standen natürlich die Design-Entwürfe auf Papier und am Computer…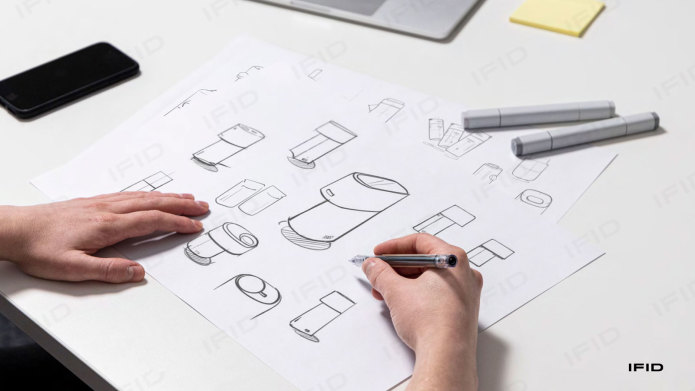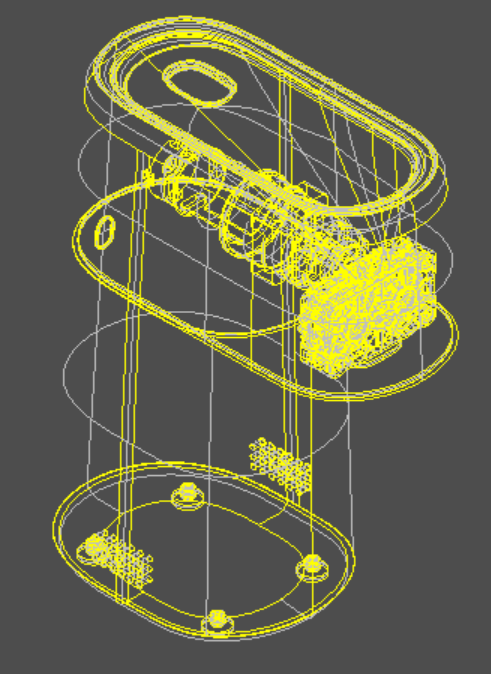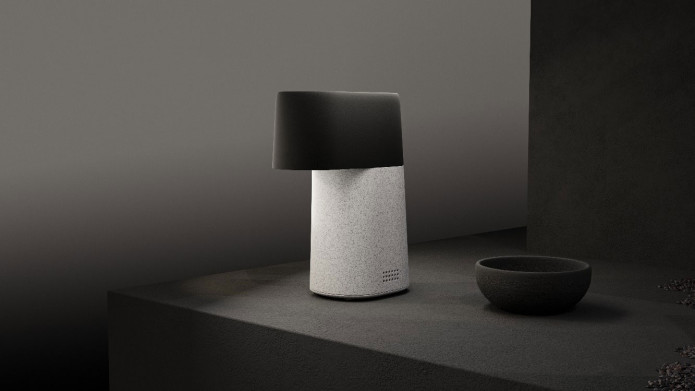 Der Entwurf für den stylisher Flocker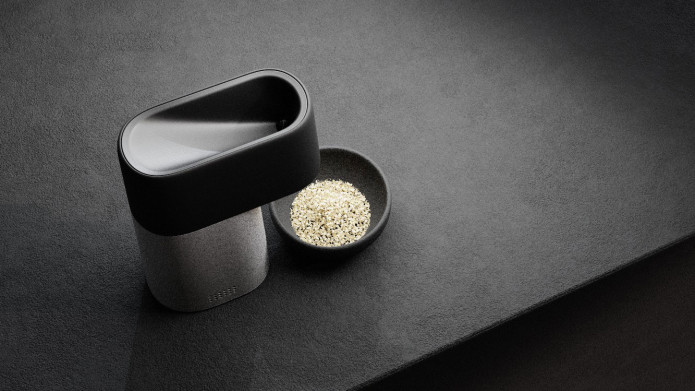 Ansicht von oben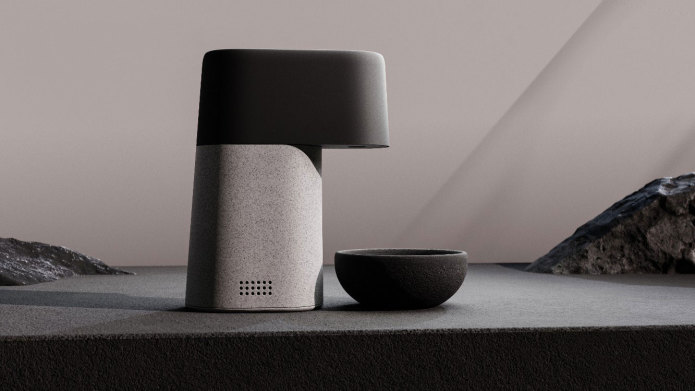 Ansicht von der Seite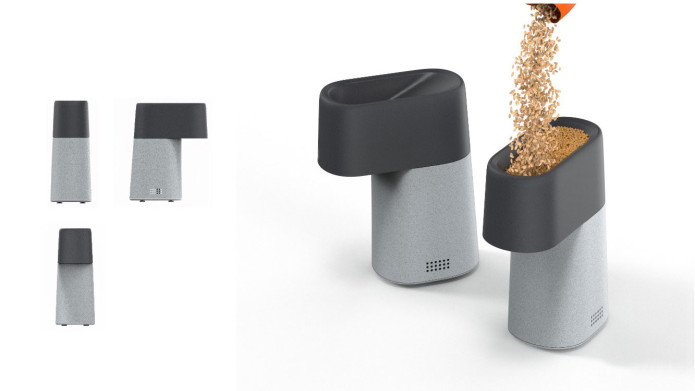 Der YouFlaker wird befüllt
… über den Prototyp aus dem 3D-Drucker…
Alle Fotos sind vom 3D-gedruckten Prototypen gemacht worden. Bei diesem besteht das Gehäuse noch aus "normalem" Kunststoff, da nur bestimmte Kunststoffe beim 3D-Druck genutzt werden können. Der optische wie haptische Eindruck des Geräts wird sich also nochmal geringfügig verändern. Arboblend wirkt etwas weniger glatt als die meisten anderen Kunststoffe, macht einen hochwertigen Eindruck und hat eine angenehme Haptik.

YouFlaker Prototyp: Abheben des Oberteils
… bis hin zum Serienprodukt
Wir werden Bilder vom fertigen Serienprodukt hinzufügen, sobald diese verfügbar sind. In der Zwischenzeit gibt es jedoch schon mal ein paar Bilder der Spritzgusswerkzeuge, die aktuell zu ihrem finalen Bestimmungsort, einer Fabrik in Süddeutschland, transportiert werden…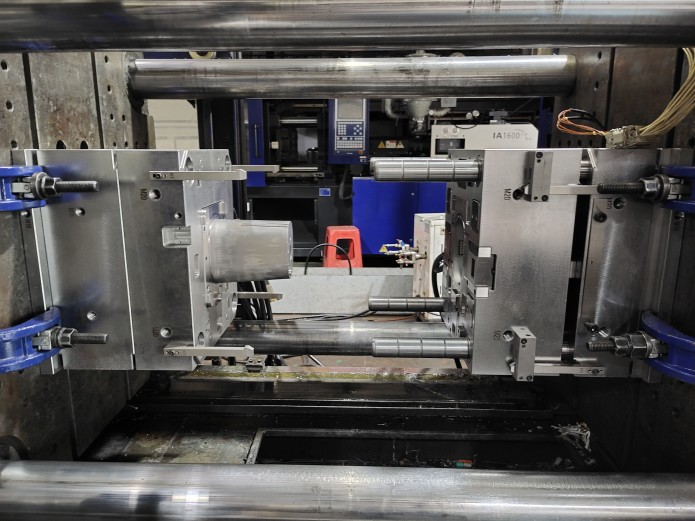 Positiv- und Negativform des Spritzgusswerkzeug aus der Ferne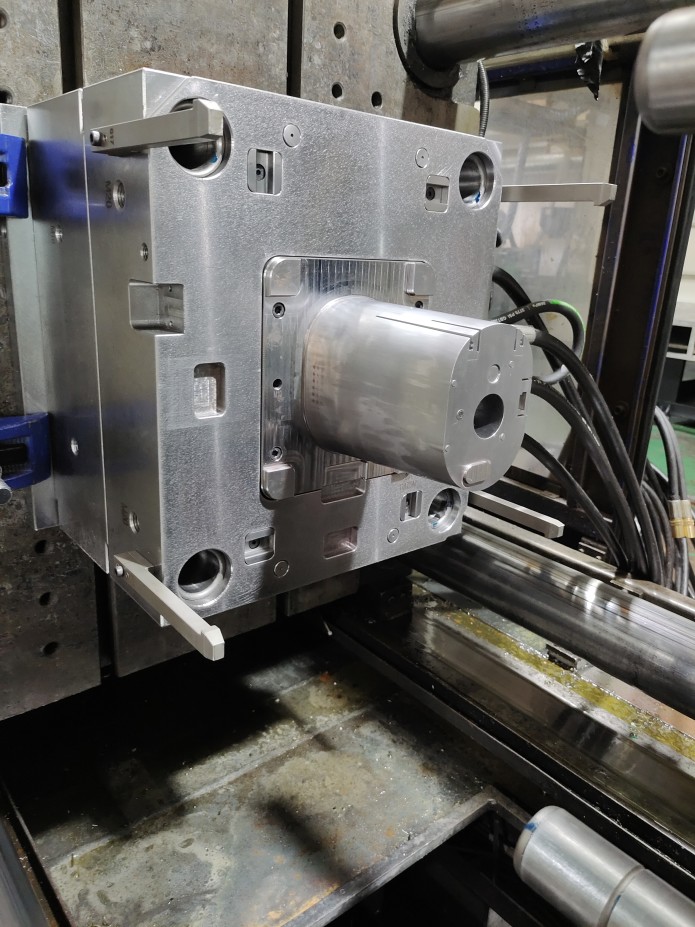 Positivform des Spritzgusswerkzeugs für unten Gehäuseteil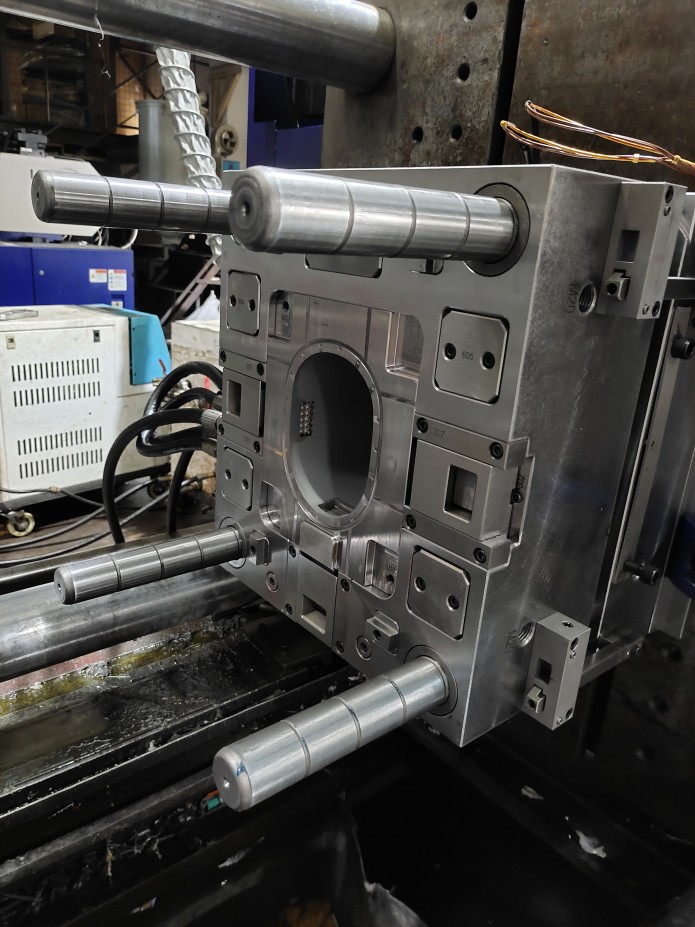 Negativform des Spritzgusswerkzeugs für unten Gehäuseteil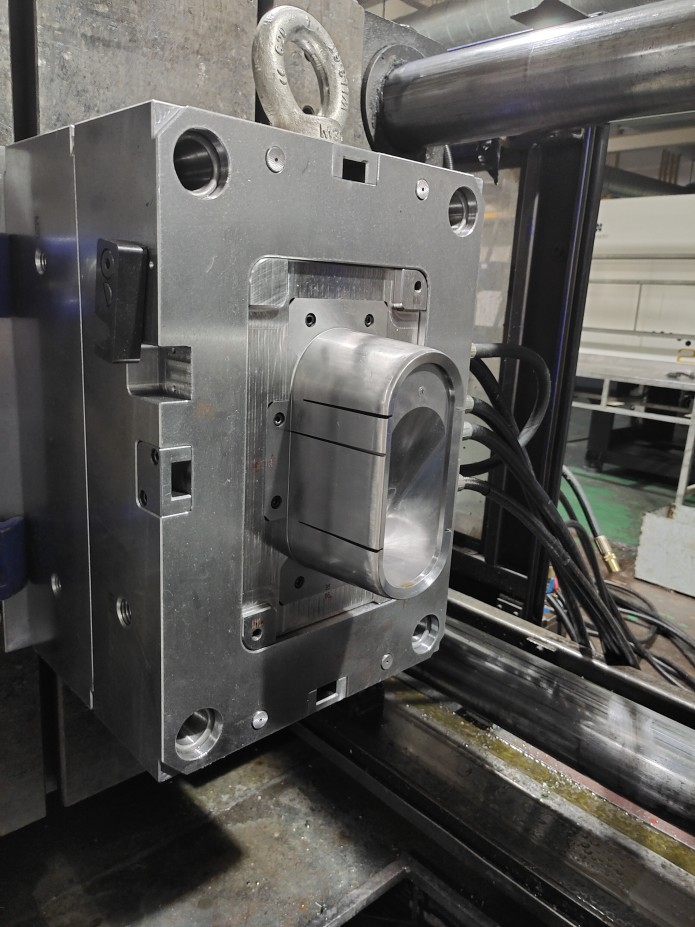 Positivform des Spritzgusswerkzeugs für den Trichter
Technische Daten
Leistung des Motors: 130 W
Spannung: 100-240 V @ 50/60 Hz (funktioniert an jedem Stromnetz überall in der Welt)
Lautstärke: 60 dB
Quetschleistung: 100 g/min frische Flocken
Walzen: Edelstahl (verschleiß- und rostfrei), 35 mm Durchmesser, 12 mm Breite
ADD-ON: Das Bio Müsli zum YouFlaker…
(wegen Importrestriktionen nur für europäische Kunden erhältlich)
Passend zur frischen Verarbeitung mit dem YouFlaker haben wir unsere Müsli Basis mit naturbelassenem Bio Getreide entwickelt. Diese können von dir zusätzlich als Probierpaket (Größe M oder Größe L) hinzugefügt werden. In Kombination mit dem YouFlaker bekommst du unser Probierpaket natürlich besonders günstig – mit rund 10 Euro Preisnachlass. So kannst du direkt losflocken! Es lohnt sich!
YouFlake Bio Müsli Basis
Wir verwenden für unsere Bio Müsli Basis ausschließlich rohe und biologische Getreide (Nackthafer, Dinkel, Buchweizen) und Saaten (Leinsamen, Sonnenblumenkerne, Sesam), die vor dem Verzehr mit einer Flockenquetsche gequetscht werden müssen, um daraus Getreideflocken herzustellen bzw. die Saaten zu quetschen und somit aufzuschließen (ganz wichtig bei Leinsamen!).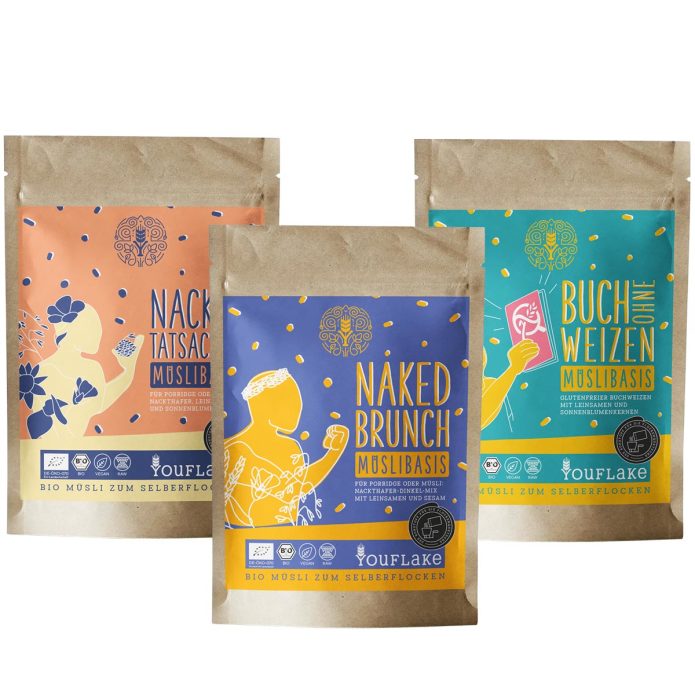 Müsli Basis Sorten: Nackte Tatsachen | Naked Brunch | Buch ohne Weizen
Nackthafer
Wir verwenden als Hafer ausschließlich Bio Nackthafer, da dieser besonders nährstoffreich ist. Im Gegensatz zu gewöhnlichem (Spelz)hafer muss dieser nicht erhitzt werden um den Spelz zu entfernen, was enthaltene Enzyme, Vitamine und Ballaststoffe schont. Wegen des Nackthafers machen wir übrigens auch die ganzen Wortspiele mit Nackte Tatsachen und Naked Brunch…
Müslis Basis: Zutaten und Nährwerte
Nackte Tatsachen
Inhalt: 500 g
Zutaten: Nackthafer*, Leinsamen*, Sonnenblumenkerne*
* Aus biologischer Landwirtschaft.
DE-ÖKO-039
Naked Brunch
Inhalt M: 500 g
Zutaten: Nackthafer*, Dinkel*, Leinsamen*, Sesam*
* Aus biologischer Landwirtschaft.
DE-ÖKO-039
Buch ohne Weizen
Inhalt M: 500 g
Zutaten: Buchweizen*, Leinsamen*, Sonnenblumenkerne*
* Aus biologischer Landwirtschaft.
DE-ÖKO-039
Durchschnittliche Nährwerte je 100 g

YouFlake Bio Toppings
Dazu haben wir drei Toppings mit gefriergetrockneten Früchten und Beeren und einigen anderen Zutaten wie etwa Roh-Kakaonibs entwickelt, mit denen das Müsli ganz einfach garniert werden kann. Das Topping gibt dem Müsli den extra Geschmack und ist ebenfalls weitgehend naturbelassen sowie aus 100% biologischen Zutaten.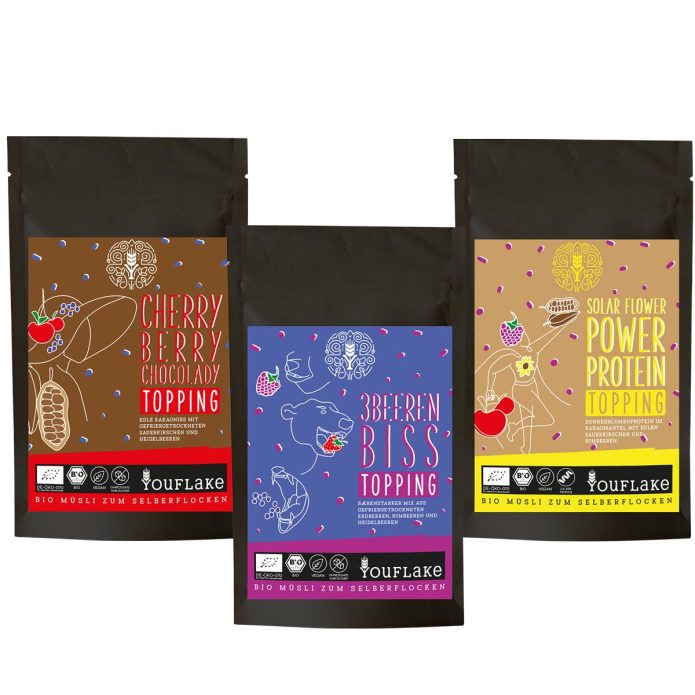 Toppings: Cherry Berry Chocolady | 3BeerenBiss | Solar Flower Power Protein
Toppings: Zutaten und Nährwerte
3BeerenBiss
Inhalt M / L: 21 / 105 g
Zutaten: Gefriergetrocknete Erdbeeren*, Himbeeren*, Heidelbeeren*
* Aus biologischer Landwirtschaft.
DE-ÖKO-039
Cherry Berry Chocolady
Inhalt M / L: 50 / 250 g
Zutaten: Roh-Kakaonibs*, gefriergetrocknete Sauerkirschen*, Heidelbeeren*
* Aus biologischer Landwirtschaft.
DE-ÖKO-039
Solar Flower Power Protein
Inhalt M / L: 44 / 220 g
Zutaten: Bio Sonnenblumen-Reis-Crisps* (Sonnenblumenprotein*, Reismehl*, Zucker*, Kakaopulver*, Meersalz, natürliches Vanillearoma), gefriergetrocknete Sauerkirschen*, Himbeeren*
* Aus biologischer Landwirtschaft.
DE-ÖKO-039
Durchschnittliche Nährwerte je 100 g

Geschätzte Versandkosten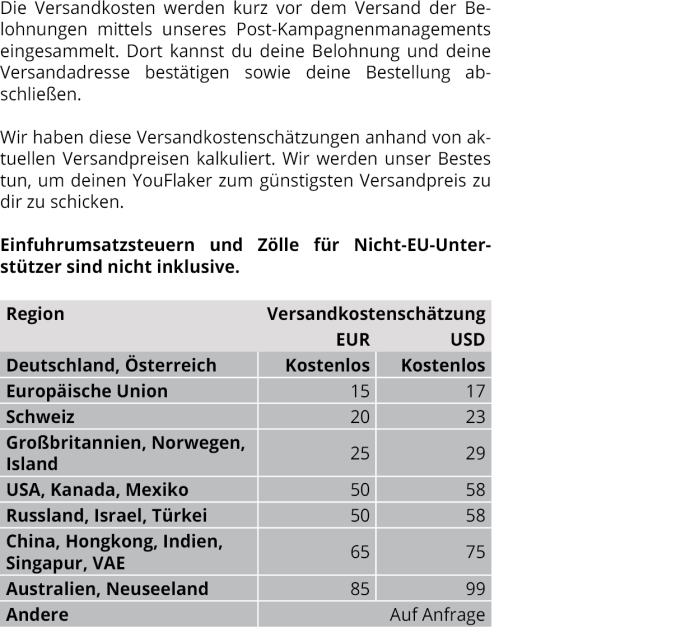 Risiken und Herausforderungen
Wir arbeiten bei der Produktion des YouFlaker mit einem Experten (Wolfgang Mock) zusammen, der seit 40 Jahren innovative Getreidemühlen und Flockenquetschen baut. Dieser hat auch bereits Getreidemühlen mit einem Gehäuse aus dem bei diesem Flocker genutzten Material Arboblend® konstruiert und in die Massenproduktion gebracht. Dieser bringt die notwendige Erfahrung zur Umsetzung und zum Gelingen dieses Projekts daher mit. Trotzdem gibt es natürlich Risiken, die wir hier darlegen möchten:
– Die weltweiten Lieferketten stehen weiterhin unter großer Belastung und es kann bei der Belieferung mit Rohstoffen oder technischen Bauteilen zu zeitweiligen Engpässen oder Lieferverzögerungen kommen, die nicht unserer Kontrolle unterliegen. Unser Zeitplan ist mit einer Auslieferung der zweiten Charge an unsere Unterstützer realistisch und gleichzeitig anspruchsvoll gewählt. Wir gehen davon aus, dass dieser Zeitplan einzuhalten ist und eine Auslieferung im Februar unter normalen Umständen realistisch ist. Jedoch kann es bei unvorhergesehenen Lieferengpässen und -verzögerungen passieren, dass der straffe Zeitplan für die Produktion nicht komplett gewährleistet werden kann. In diesem Falle würde sich die Auslieferung entsprechend verzögern. Wir informieren zu jeder Zeit proaktiv darüber, falls es zu Verzögerungen kommen sollte und stellen unseren Unterstützern die notwendigen Informationen zur Verfügung.
– Der Flocker wurde von Grund auf neu entwickelt und wird vor der Auslieferung umfassend getestet. Der Entwickler Wolfgang Mock hat mit ähnlichen Geräten seit 40 Jahren Erfahrung gesammelt. Trotzdem ist es natürlich möglich, dass technische Probleme erst später offenkundig werden, eben weil es sich um eine komplette Neuentwicklung handelt, die es in der Form noch nie am Markt zu kaufen gab. In solchen Fällen bitten wir zum einen unsere Unterstützer um das entsprechende Feedback, um möglichst schnell auf solche Probleme reagieren zu können. Wir sind immer für euch da! Zum anderen werden wir bei technischen Problemen alles an eine schnelle Lösung setzen, um das Problem dauerhaft und umfassend zu beheben.
Unterstütze unser Projekt!
Mit deinem Beitrag unterstützt du unser Projekt, indem du uns hilfst, die Produktion vorzufinanzieren. Im Gegenzug erhältst du als Erste(r) den brandneuen YouFlaker – für das beste und gesündeste Müsli jeden Morgen!
Und schon bald schaut es bei dir jeden Morgen ungefähr so aus…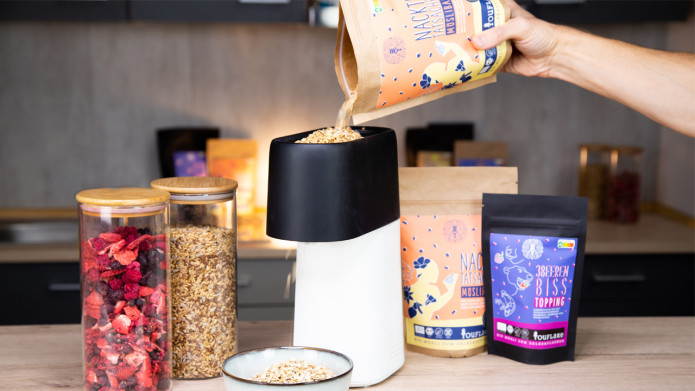 Wir danken dir für dein Interesse und deinen Beitrag!