Zen Pen:Designed in Japan & inspired by Zen Garden | Designed in collaboration with zen monks to write your way to mindfulness w/rich writing experience.


Designed in collaboration with zen monks. Write your way to mindfulness with this rich writing experience.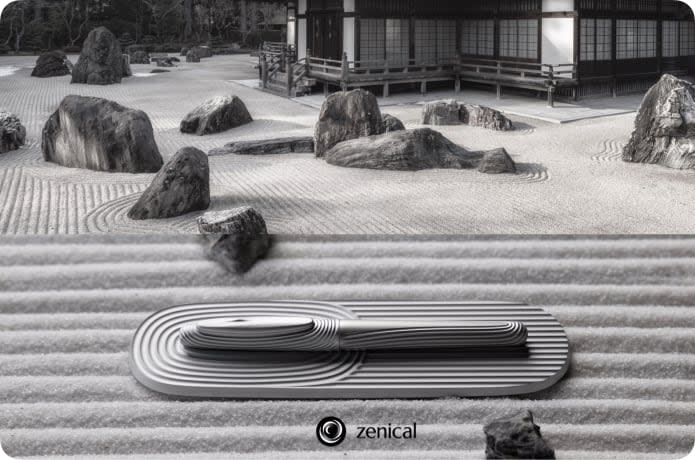 Because we remain in an online state, in which we constantly connect with people and pieces of information, it has become difficult to make the time to think alone quietly. We wanted to create a tool that puts yourself in neutral gear by incorporating the wisdom of Zen in daily life in order to maintain mindfulness. Through collaboration with Zen monks and individuals on the front line of Japanese culture who stand by these concepts, we were able to create a pen that embodies the Zen philosophy.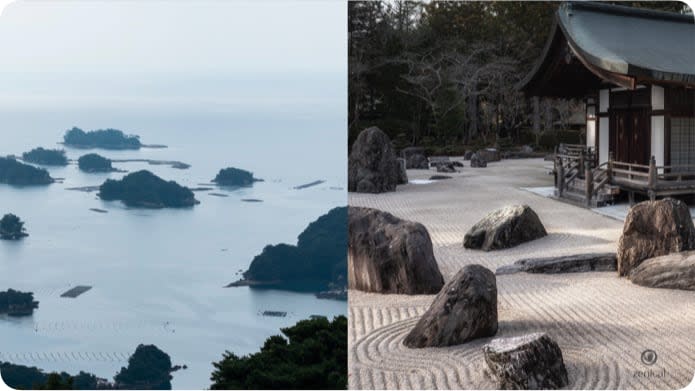 Zen Pen was created based on the design concept of the Zen Garden (karesansui), which is an important place in Buddhist temples where Zen monks meditate. The design of this pen represents a Zen garden and is sure to become a reassuring partner that follows you along every step of the creative process. Use this pen to think offline, as the pen helps you question things deeply. Enhance your aesthetic sense, as it is built by stacking layers of sharpened thought on top of each other, and this sense of beauty will serve as the core for creation.

The complex design of Zen Pen takes shape as a result of combining the latest 3D milling technologies with the handicrafts of skilled Japanese artisans from a long-established maker of writing instruments in Gunma Prefecture in Japan. 
Here you can see the crystallization of the Japanese traditional handicrafts and innovative technologies.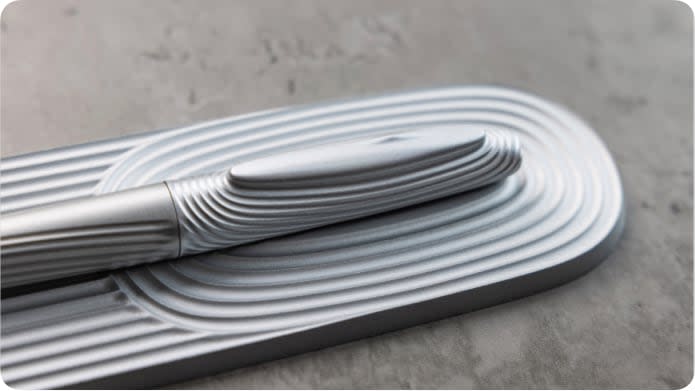 We adopted a specific kind of industrial aluminum used for car bodies and ships, with excellent resistance against corrosion and rust. The intricate beauty of these surfaces will last for many many years to come.


Additionally, for the ink, we selected 0.7mm Jetstream Prime ink, which is the highest-quality offering from Mitsubishi Pencil, the famous Japanese brand of writing instruments. It is oil-based, it offers comfort when writing due to its low viscosity and has a pure black color, explaining why it has won the adoration of ballpoint pen enthusiasts. This ink meets the international ISO 12757-2 G2 standards and is compatible with ink produced by the Parker Pen Company. Since its replacement cartridges can be easily obtained anywhere in the world, this pen can be used for generations.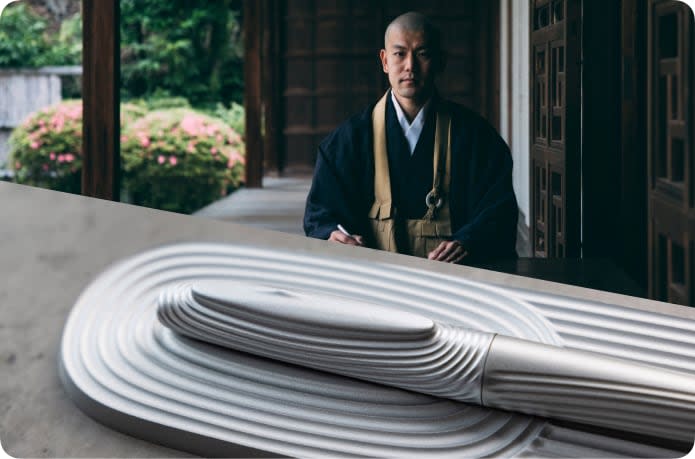 By collaborating with Zen monks, we have created this pen that has a design that embodies Zen. This design is made possible by the combination of modern technology and Japanese artisanal techniques, and the pen is very comfortable to write with.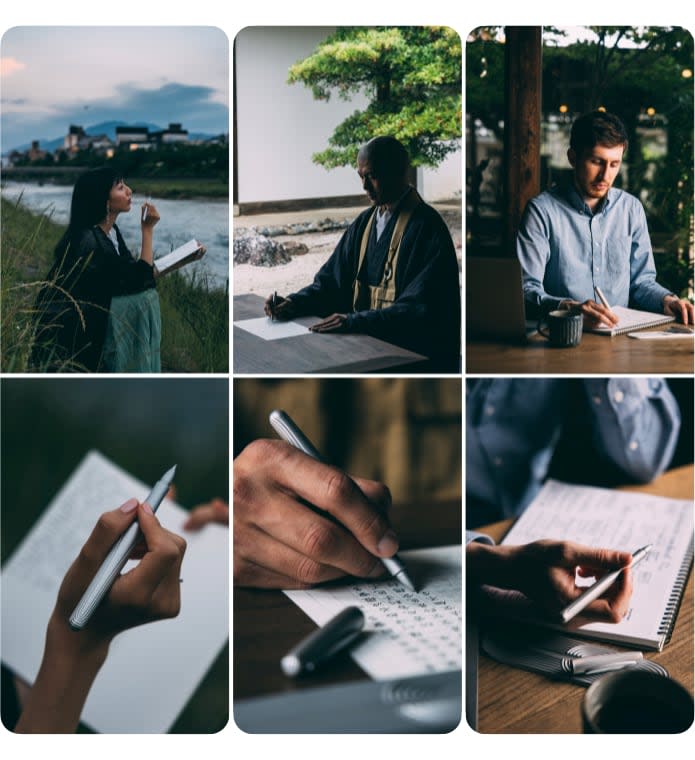 From here, we would like to describe in detail what a Zen garden is and how you can incorporate Zen into your daily life.


The Zen garden, known as 枯山水-Karesansui is a type of Japanese garden created in Zen temples, which inspired the design of our pen. The front-line of Zen is found in the codified Japanese sense of beauty and its spirit.

A Zen garden consists of only rocks, gravel, and pebbles, arranged in a beautiful composition that depicts all the vibrancy of a natural landscape. The teachings of Zen philosophy are put into practice in the making of the Karesansui gardens. Thus it becomes an important spot for the meditative practice of Zen Monks.
 

Based on the image of Zen gardens, Zenical proposes this ballpoint pen to bring the wisdom of Zen philosophy to everyday life.
With a design that interprets several Zen teachings, this pen tries to aid your focus, stimulate a dialog with your inner self, and bring self-reflection into your workflow and free time. 
 


The allure of Zen garden lies in the harmony between contradiction and struggle. For example, a large rock is pierced into the pebbles, which is  an unnatural sight. One day when I was meditating in front of this garden, I had a moment in which I felt warmth and had the impression that the scenery was comforting me in my struggles. I felt as if the contradictions and struggles within me were harmonizing, just like the rock and gravel were together in the garden. We have expressed this harmonization through the deformed element on the cap of the pen, which features a smooth, clean shape "broken" by a little protrusion.  
 



The protrusion on this element is situated outside the central line and breaks the symmetry of the entire pen. Just as there is no optimal point to look at the mountains or the sea, there is no center in a Zen garden. This offset expresses the Japanese sense of beauty. 
 



Everyday there are many small things we do not notice because we are busy with our lives. But it's worth paying attention, like when you enjoy the beauty of a tiny, nameless flower growing in a wide field.
The line design on this pen is connected from cap to body. However, if you simply close the cap of this pen without thought, the lines will become misaligned. By feeling slight discomfort in this and fixing it by hand, you will feel peace of mind even at times when you are extremely busy as this will give you an opportunity for self-reflection.     
 



We made this pen to be your steadfast partner when you are tackling an important issue at work, thinking about new ideas self-reflecting, and thinking about your future. It is a personal and creative time to ask yourself questions and keep on confronting your inner self.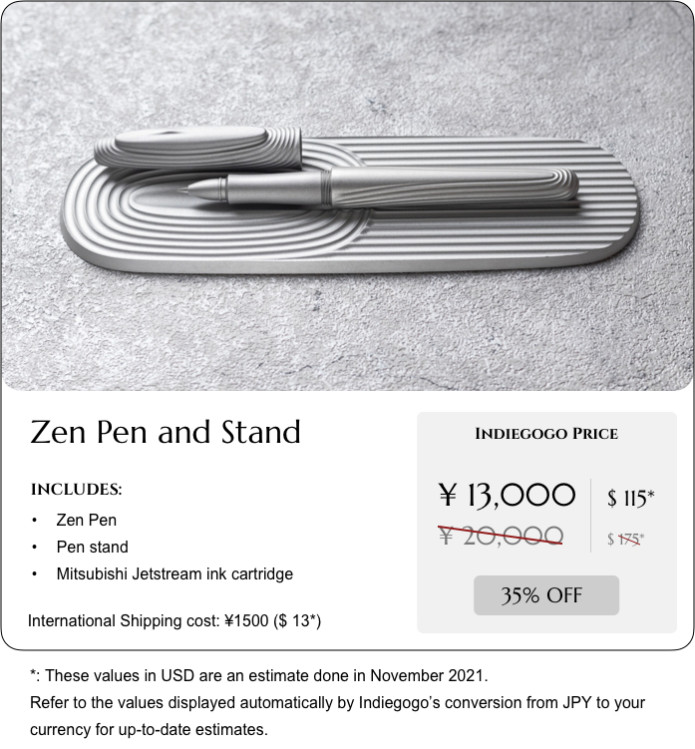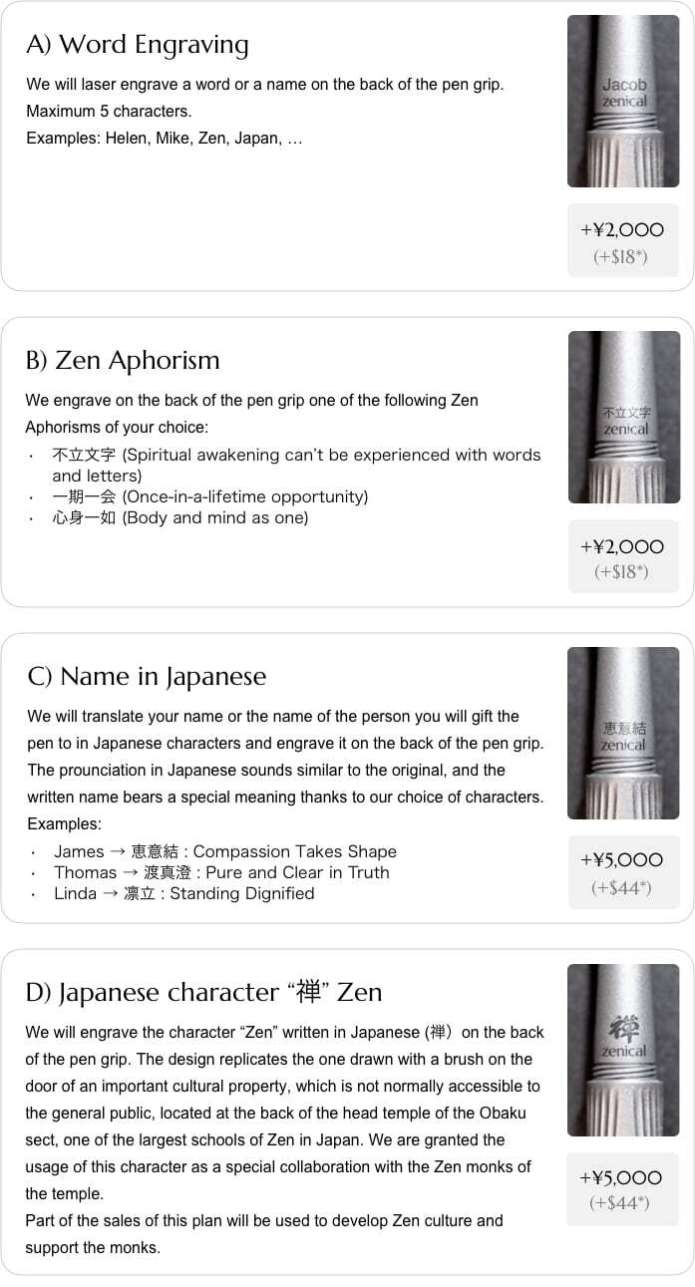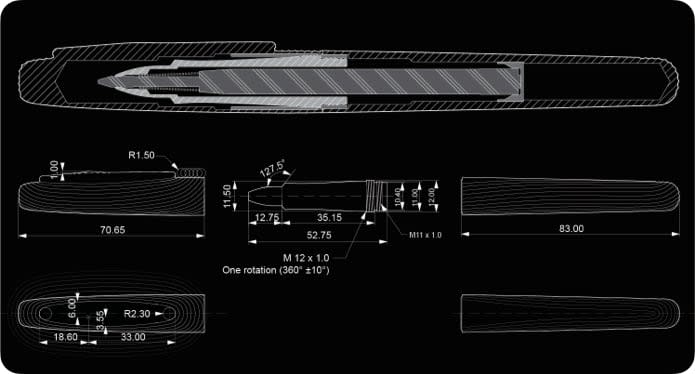 Size:
Length: 15.3 cm / 6 in
Diameter: 1.3 cm / 0.51 in
Grip diameter: 1.2 cm / 0.47 in
Weight: 32 grams / 1.13 oz
The pen comes in anodized aluminum. This material increases corrosion resistance and reduces thermal conductivity by about one-third. Even with sustained usage, it won't heat up with the body heat of your hand, so it is still comfortable to hold.
 
About the Jetstream Ink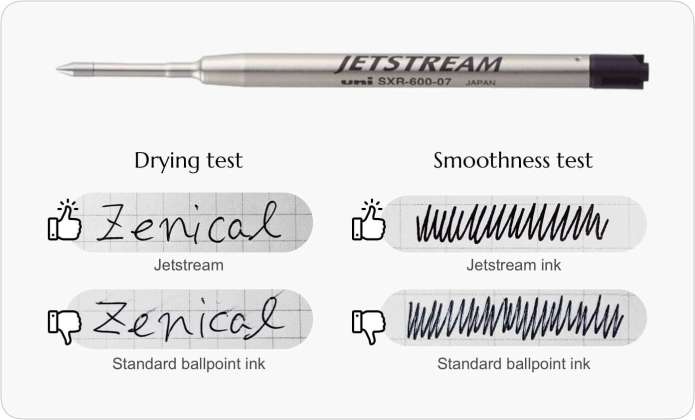 Quick-drying property
With Jetstream, the ink quickly seeps into the paper and dries. Therefore, there you can forget the stress and inconvenience of ink smearing or hands getting dirty after writing.
Smoothness of writing
Jetstream is a revolutionary ink. It's less sticky than ink, and offers a smooth feeling of writing that becomes almost addictive.
Ink leakage resistance
Jetstream cartridges are designed with a spring tip and twin-ball mechanism to avoid blurring of text due to ink leakage. Prevents back-flow of ink by preventing back-flow of air from the tip of the pen.
Firmly Writable 0.7 mm
At 0.7 mm, you can feel the smooth writing feeling of Jetstream. Because the tip of the pen is fairly thick, you can write smoothly but firmly just by moving the pen without putting any force. The 0.7 mm size reduces the burden on your fingers when writing for a long time.
"Zenical" Ink
This ink was originally envisioned by a single creative mind.
After overcoming obstacles and disapproval from within the company, a completely new ink and nib were developed following his idea.
It was a solitary development, where no previous know-how could be infer the design, because it was so innovative.
The ink created by this pioneering spirit has now changed the ballpoint pen market in Japan.
This attitude of believing in one's own voice and giving shape to ideas is what Zenical is aiming for. We want Zen pen users to experience the innovative ink that was brought about by this very zenical approach to creativity.



Zenical cherishes the words "Creative Questioning"
In a world where anyone can be an artist and a creator, the starting point for creation is the personal sense of beauty of each individual. This sense is born through the fight between equally strong feelings of trust and doubt around our choices. To have a sense of beauty means to continuously question yourself.
We want to salute this challenging and lonely way of life.
We have worked for around three years to get to the point where we can reveal our project. Our team is diverse, with members from Japan, the US, and Italy. In the process of bringing the Japanese concept of Zen to life, we had many debates and a long process of trial and error. Precisely because of our diverse backgrounds, we had different interpretations of Zen and this created the trial and error process which led us to create such a beautiful product.
We enjoyed the creative process through debates and deep discussions, always with the greatest respect for each other. This way of proceeding embodies the same idea of "embrace your contradictions" that we want to express through our products.
We sincerely hope that this product will spread widely throughout the world so that through touching these pens everyone will connect with the teachings of Zen that can enrich their daily lives.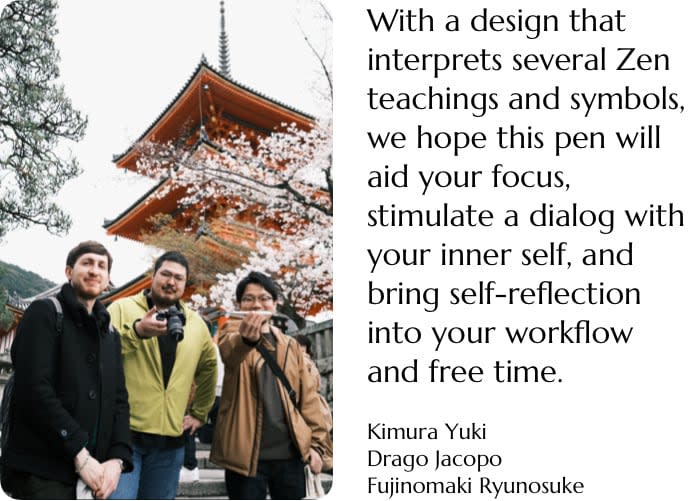 A message from the project leader, Kimura Yuki:
In many education systems, including the Japanese one, when teachers ask a question children are expected to provide a specific and correct answer.
I believe that this approach has some shortcomings. Children need to develop the ability to create questions themselves, and to feel free to ask them out loud.
It is only by having the ability to ask questions that we can build our own sense of values and aesthetic sense.
When I realized that Zen is the art of asking questions, I wanted to incorporate the essence of Zen into my life, in order to gain an ability that had been out of reach for a long time.
Everywhere today, the ability to ask questions is becoming an essential skill and tool to enter certain mindsets such as mindfulness.
I created the Zen pen as a partner that can get us closer to our inner selves through questions.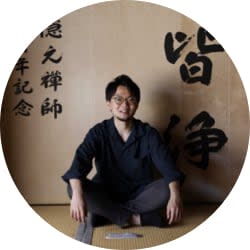 Kimura Yuki
Team:
Yuki Kimura – Project designer
Jacopo Drago – Product designer
Ryunosuke Fujinomaki – Philosophy designer
Special thanks:
Fumiya Enjo – Collaborator
Kohei Takata – Photographer
Lorenzo Drago – CG artist