Zibrio SmartScale: Measure & Improve Your Balance | The world's first balance scale for consumers. Because your health is personal.
Pre-orders now available directly at zibrio.com
When inventing a better way for astronauts to measure their balance on missions, our founders experienced the loss of their grandmothers after fall related injuries. They realized their radical solution could help so many people across the planet. Until now, balance has been tricky to measure, and almost impossible to accurately assess on your own.
Our mission is to democratize balance:
To give everyone the right to know their balance in the comfort of their own home.
To help them understand how to improve it.
To get our SmartScales into every doctor's office so that balance testing is as routine as weight and blood pressure.
To reduce injury & death from poor balance.
What is it?
The SmartScale looks like a bathroom scale (it also measures and tracks your weight). It uses machine learning and artificial intelligence to identify patterns of stability and instability as you simply stand still, with eyes open.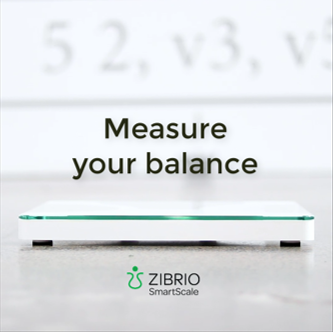 When the test is complete, the scale shows a score of 1-10. A score of 1-3 means poor balance and high risk of falling. Scores of 7 and above are in the 'green zone.' This means good balance.

Balance is highly personal and fluctuates from one day to the next as many things affect it, which is where the Balance Coach app comes in. Think of it as your personal balance assistant: it tracks your balance score, fall history, weight, and guides you through your habits, grading them as helping, hindering or hurting so you can see which ones to keep and which ones need attention.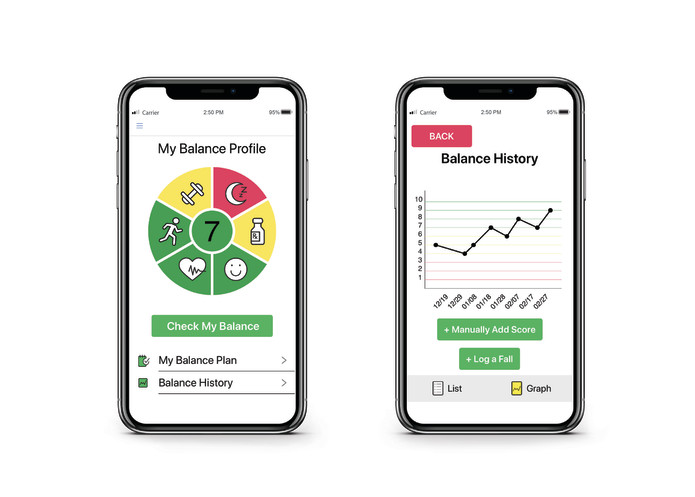 The app and scale contain the distilled knowledge and experience of our multi-generational and international team of engineers, scientists, and mathematicians. We have conducted over 15 years of research into balance, its measurement and improvement, working with some of the fittest and the most frail people.
Our latest clinical trials were conducted in partnership with UT Physicians, Memorial Hermann Hospital and two physical therapy clinics, which validated the Zibrio measure against the gold standard in clinical balance measurement and fall risk assessment.
The Zibrio Balance Coach app is available free for Apple & Android to help people begin to tune into the health factors that affect balance, and the SmartScales will be shipped August 2019.
Impact
The statistics are stark, across the entire population, the risk of serious injury from falling is about the same as for automobile accidents. 28% of those over 65 fall each year. Even now, in 2019, the best way to predict if someone will fall is if they've already fallen. Few people think about sports injury prevention until they're in rehab. So many accidents caused by poor balance.
We think that's unacceptable. There are so many ways to improve balance, at any stage. People shouldn't be kept in the dark about theirs.
What We Need & What You Get
We chose the crowdfunding route because we're passionate about putting the user at the center of everything we do, and this gives us a great opportunity to hear directly from you to make sure you love the product we make for you.
Our experienced manufacturing partners have been fantastic with the technical parts of the design process, and they need a minimum commitment to progress to manufacturing. We need your help to raise $20,000 to purchase the parts we need at better volumes to assemble the first scales and get them to people as quickly as possible.
Please help us. You can buy a scale for yourself, and there is a special bundle price so you can give something meaningful to those difficult-to-buy for friends and family. Bragging rights come with every scale! 
If you'd rather help in another way, we have Zibrio branded bags to help us spread the good news about balance.
Know someone striving for a health goal? Everyone from runners to couch jockeys needs better balance. Help us to reach them by using the share tools at the top of the page.
Risks & Challenges
While we are confident in our working prototypes and our research results, every engineering project can have delays and unforseen costs.
There can be delays in getting some electronics parts – which is why we want to put our orders in as early as possible
The SmartScales are regulated by the FDA as class 1 exempt (lowest risk) and need to be registered with them. We have therefore chosen a manufacturer with experience in this area, and will be submitting our registration early April to give us time to resolve any additional steps before  the product is ready to ship.
Other Ways You Can Help
Help us reach more people by sharing our campaign by clicking the links at the top of the page.
Please also consider following us on Facebook, Instagram, Twitter or LinkedIn.
Tell your friends, email them a link to this page, ask them to back us.