The Ultimate Kitchen Knife | Bring efficiency, creativity, and style to your kitchen.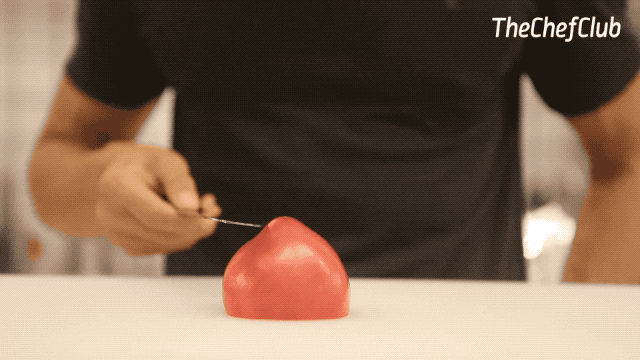 Turn Your Cooking into Play.


Sharp knives are expensive and very high-maintenance. 
And great design? Well, those knives get impractically futuristic. 
We want to change that, so we created a knife that pairs a simple design with advanced metal technology.
Made of powder steel and coated in a titanium mirror-finish, it looks sharp, and it stays sharp.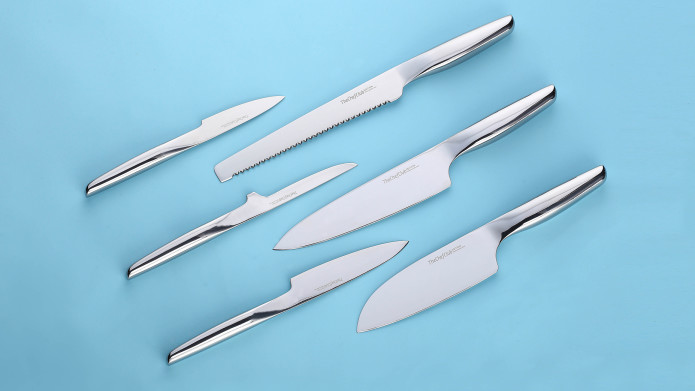 The best part? It doesn't require any special care, and an occasional home sharpening will go a long way, no matter what you put it through (have a look at the sharpness test below). Just show up and do what you do best: cooking. And it will make you and your kitchen look great, too.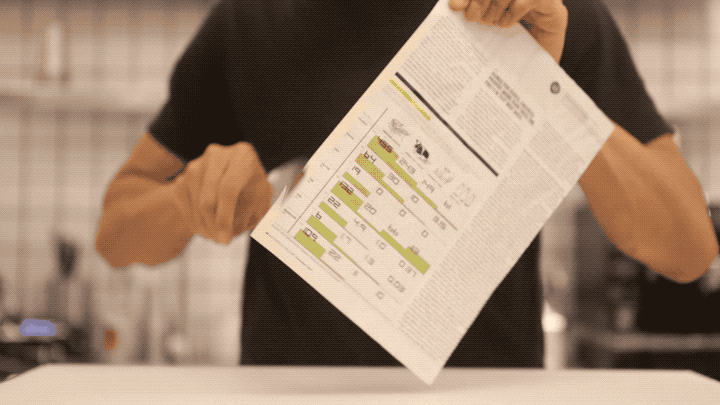 TheChefClub knives are loved and approved by Michelin-starred chefs, as well as everyday home cooks.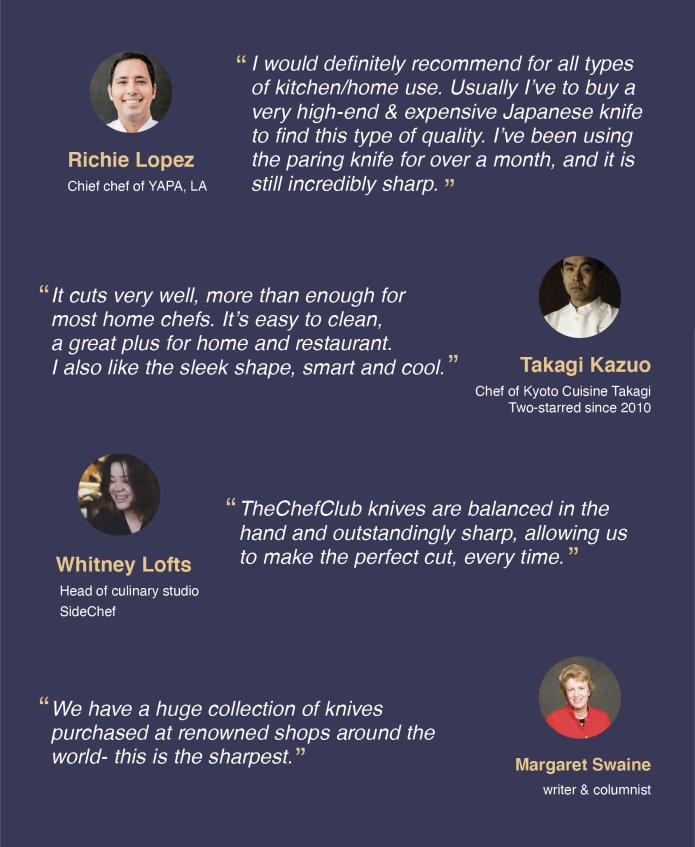 Here's how we combined design and tech to make the first uncompromising knife.

When we started looking for a great knife for my kitchen, we were disappointed: they either looked good OR they performed well, and they were often prohibitively expensive. 
The ones that focused on design, were almost useless in the kitchen, often having uber-futuristic shapes that compromised on handling abilities (as well as the blade's material and sharpness).

That's why our knives are made of Matrix powder steel (similar to SG2 and M390 powder steel). The body is polished and coated in titanium. This gives it a minimal, awe-inspiring look that combines simplicity and raw power.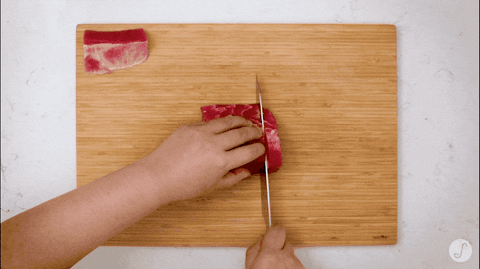 Every detail has been thought out for precise use and playful cooking: from the comfortable extended grip to the round blade tail, keeping the sharp edge further away from your fingers for safer operation.
Easy maintenance and bacteria resistant. Comfortable unibody grip for safety and precision.
We wanted to go back to basics and rethink the knife: reach uncompromising performance while combining great usability and a timeless design.
We stripped away legacy features like the unhygienic wooden handle and created a unibody piece that feels great in your hand and looks great to your eye.
Getting rid of a bulky, high-maintenance wooden handle also meant creating an object that is easier to clean and maintain.
The titanium coating provides antibacterial properties to the knife, while the design removes any receptacle for dirt to get stuck in. And the blade…will stay sharp for a very long time, effortlessly.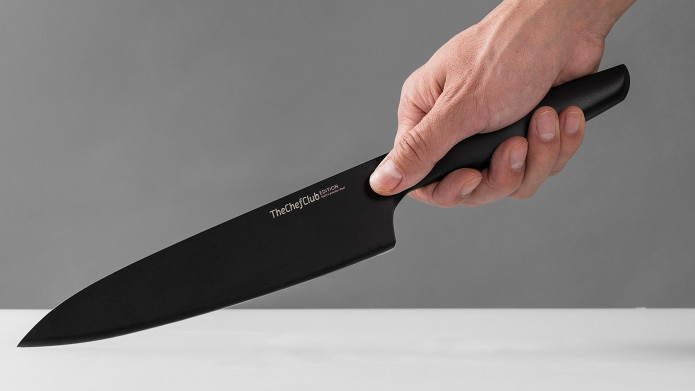 Easy maintenance and bacteria resistant.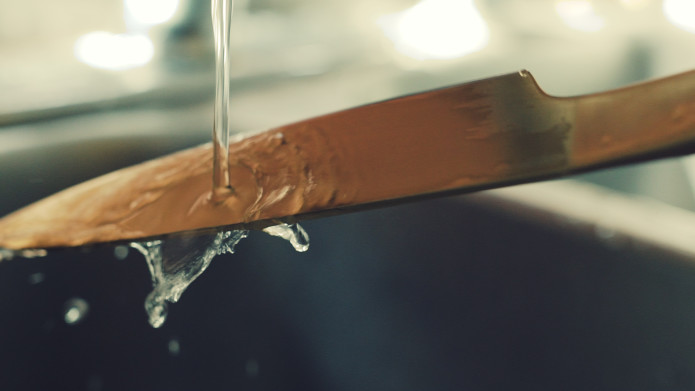 By stripping away unnecessary elements, we created a timeless knife set to celebrate your moments of cooking. 
The soft lines and round finishing give a sense of playfulness that will make cooking a pleasant and recharging moment for yourself (or to share with others).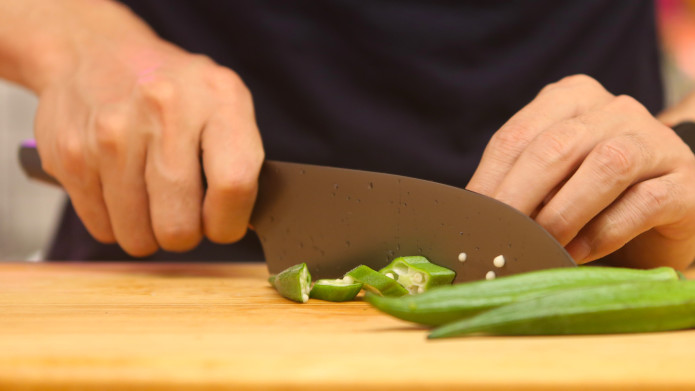 It complements your dishes and complements your kitchen. The smooth and ergonomic shape is pleasant to the eye and extremely comfortable in the hand. 
TheChefClub knives blend in with any kitchen and complement its style, making a statement of your style and creativity.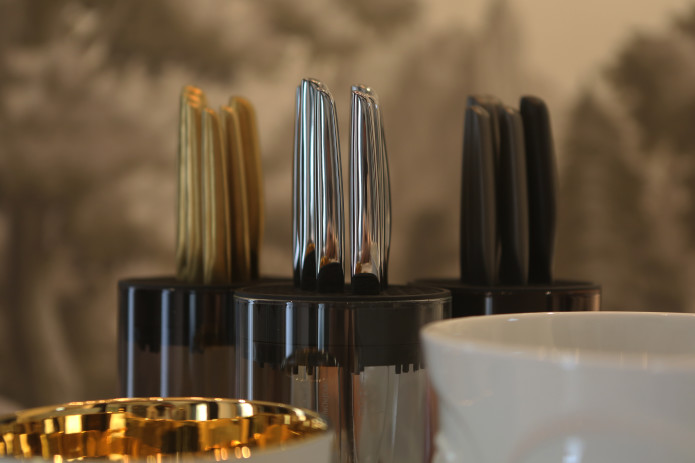 The set includes a paring, utility, chef, Santoku, boning, and bread knife.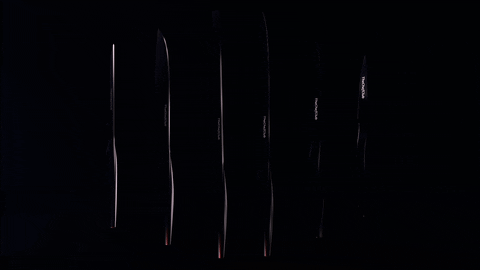 When we set out to create a new kind of knife, that would combine uncompromising performance, minimal maintenance, affordability, and a modern look, we knew we had to start by thinking beyond traditional materials.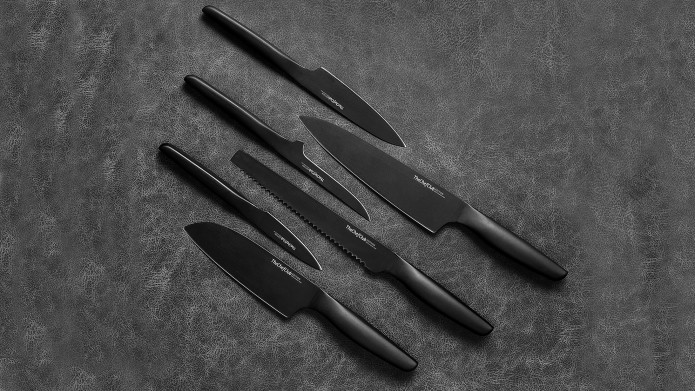 Breaking the sharp vs durable compromise
When it comes to choosing the best steel for a knife, the biggest challenge is to balance higher hardness while maintaining strength: when one goes up, the other goes down, due to the process of steelmaking.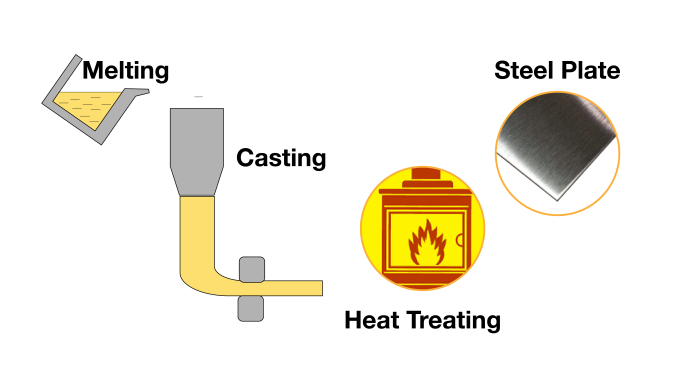 On one hand, top chefs still use high-carbon steel knives: their high hardness (HRC60+) is the key to superior sharpness and great durability. 
Traditionally, this comes at a cost: the sharpest knives are also fragile and brittle, requiring high-maintenance for the blade and special care to deal with the high sensitivity to humidity, acid, and rust. High carbon knives are usually very expensive ($800+). 

On the other hand, consumer knives that use more resistant steel alloys don't require as much special care, are harder, and much more rust-resistant. However, this comes at a cost too: they're never really as sharp as they should be (even just out of the box).
This is why (traditional) steel knives always come at a compromise between sharpness and durability. Until powder steel knives are made, loved by top chefs but very pricy, (A chef knife made of SG2 powder steel costs more than $300.

Powder steel is made in a very different way than casting, a process invented by NASA.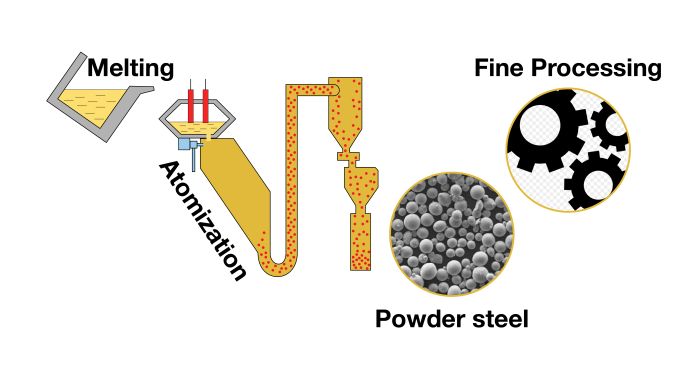 When we set out to create an uncompromising knife for every kitchen, we tested different materials, until we found the perfect one: Matrix powder steel (Similar to SG2). This powder steel combines and balances its different properties, so much so that it is also used to make bearings for modern windmills. Matrix powder steel is specially engineered for a great balance of high hardness (HRC62) and high yield strength.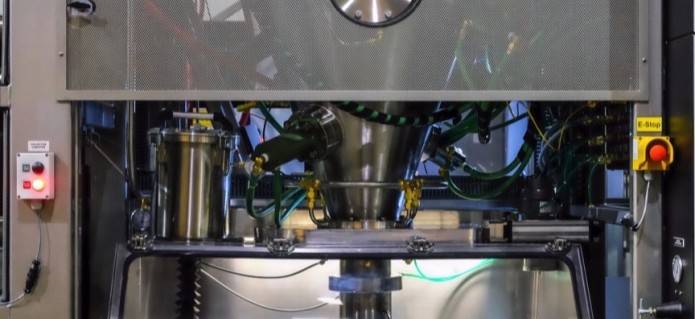 With the state of the art machines and lab-precision engineering (SLS), Matrix powder steel is then combined with stainless steel to form blades of high hardness, high yield strength and great corrosion resistance.  This makes our knives exceptionally sharp, extremely durable, and accessible to every kitchen.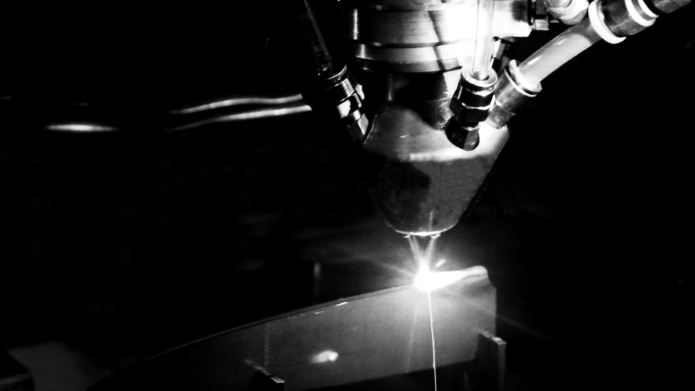 TheChefClub knives are coated with Titanium (PVD coating) for a harder surface, superior resistant to corrosion,anti-bacterial, and…sharp looking.
By using innovative materials and redesigning the knife to make it out of the same single piece, we created an uncompromising knife: sharp in performance, sharp in style, and with very little need for maintenance.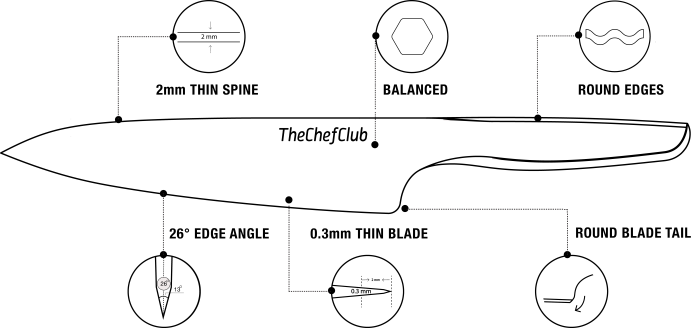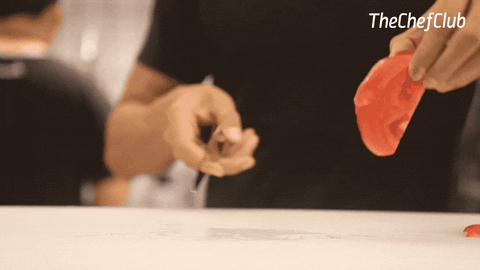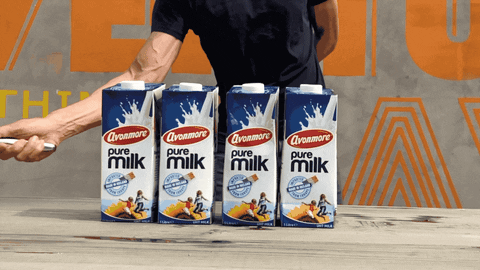 src="https://c1.iggcdn.com/indiegogo-media-prod-cld/…" />
TheChefClub outperforms premium knives over $150.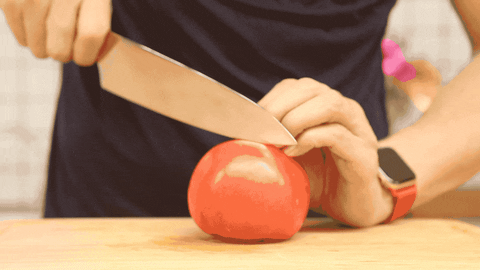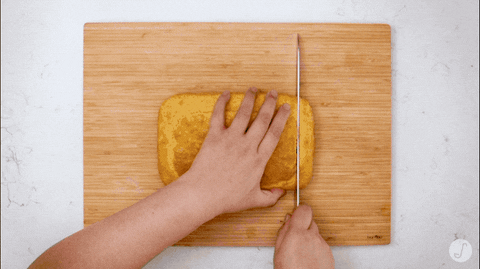 TheChefClub knives are engineered to maintain good sharpness with no need of professional sharpening. 
We take full advantage of Matrix powder steel's ultra hardness (HRC62), high yield strength and flexibility of engineering to make the perfect blades for sensational cutting: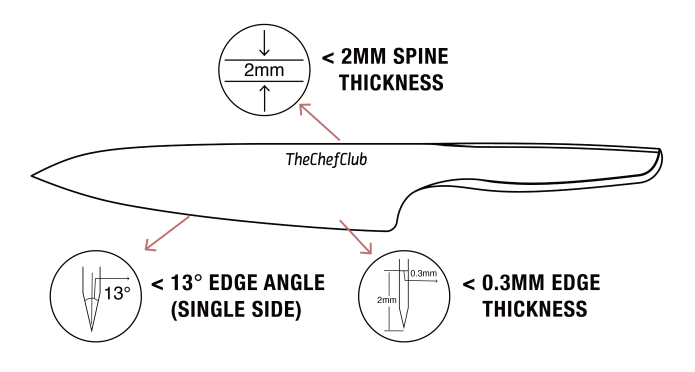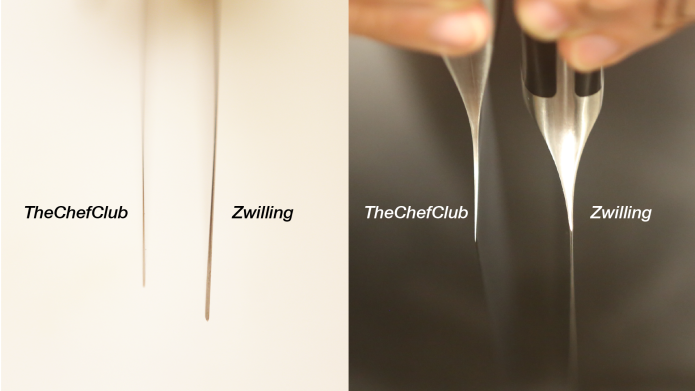 In the Catra test, TheChefClub chef knife is 24% sharper, 37% more durable than SHUN, and 117% more durable than Wusthof.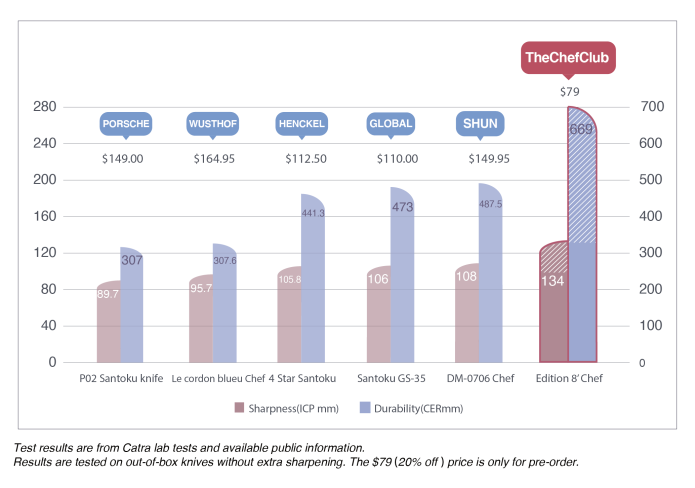 Our chefs love cooking with the knife, but we still wanted to put it to the ultimate test and put it through the extreme dull test: cutting a strong hemp rope. In fact, we put it to the test against a $150 Zwilling knife. Here's what happened:
After 240 cuts, TheChefClub chef knife can still slice a tomato effortlessly.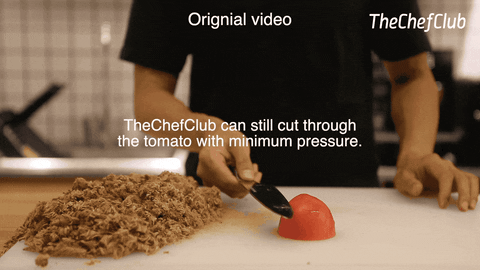 Available in 3 finishes: stainless (matte), stainless (glossy),  black (PVD TI), and gold (PVD TI).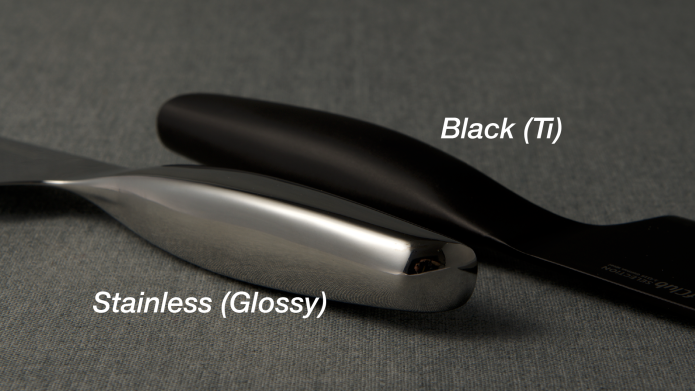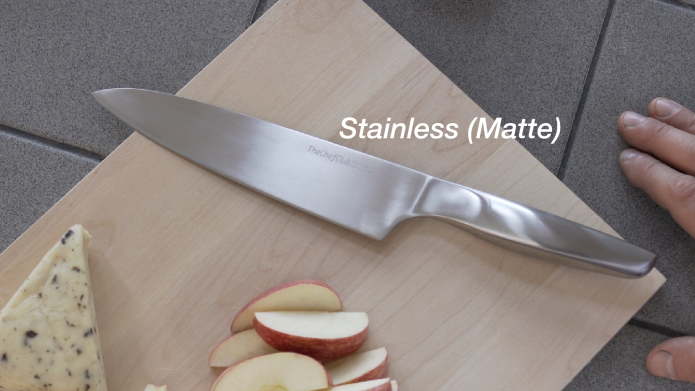 Our full set of knives is made of Matrix powder steel, combining opposing metal properties like high yield strength and ultra hardness, making our knives incredibly sharp and low maintenance at the same time.
Rinse for thorough cleaning: dishwasher-safe for next level hygienic: no odor, stain and fungal. The PVD Titanium coating and fine surface treatment provide extra resistance to corrosion, stains, smells, dirt, and bacteria.
TheChefClub knives are made with a very precise and controlled process. With 3D modeling and strict production control, we are able to adjust the handle's weight to the different blades to achieve the ideal balance.

The extended handle offers extra support, and the smooth ergonomic form makes it extremely comfortable to hold.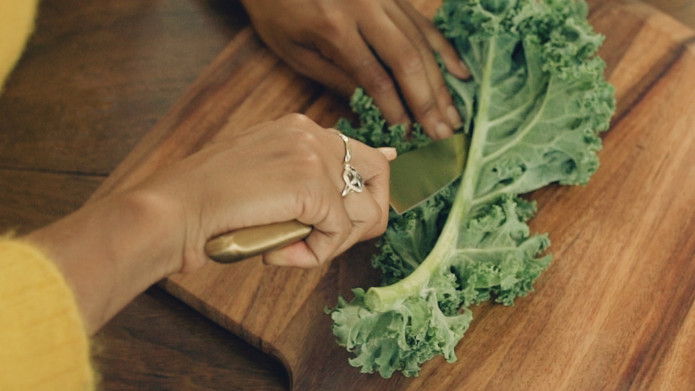 TheChefClub knives are designed with no corners for stains and bacteria to hide. The round blade tail shifts the sharp edge further away for safer operation.
Thanks to a perfected fusion of design and technology, our knives are uncompromising from the way they look and feel, all the way to the way they cut and perform.
Featured by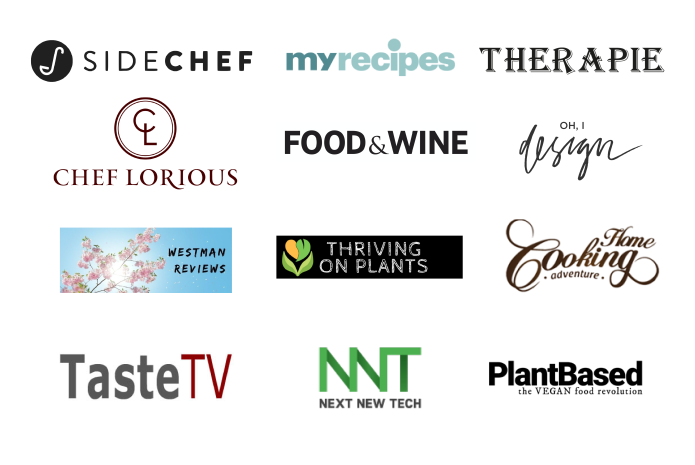 Chef Lorious: "I really like TheChefClub's knives. Great quality, lightweight, modern look, great all-around product."
Loved by chefs and experts.  (All reviews are independent)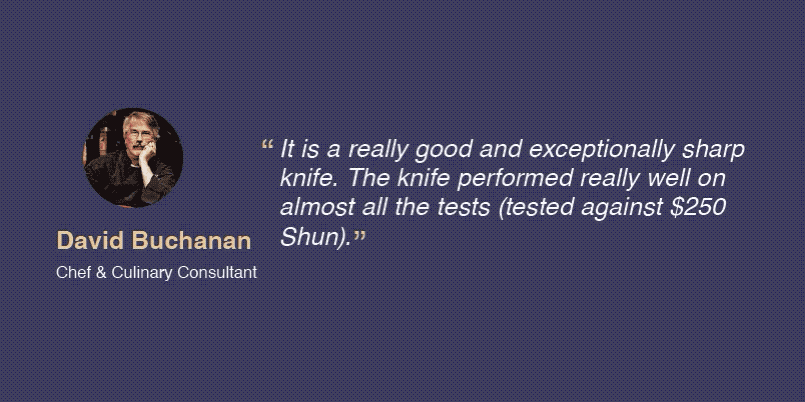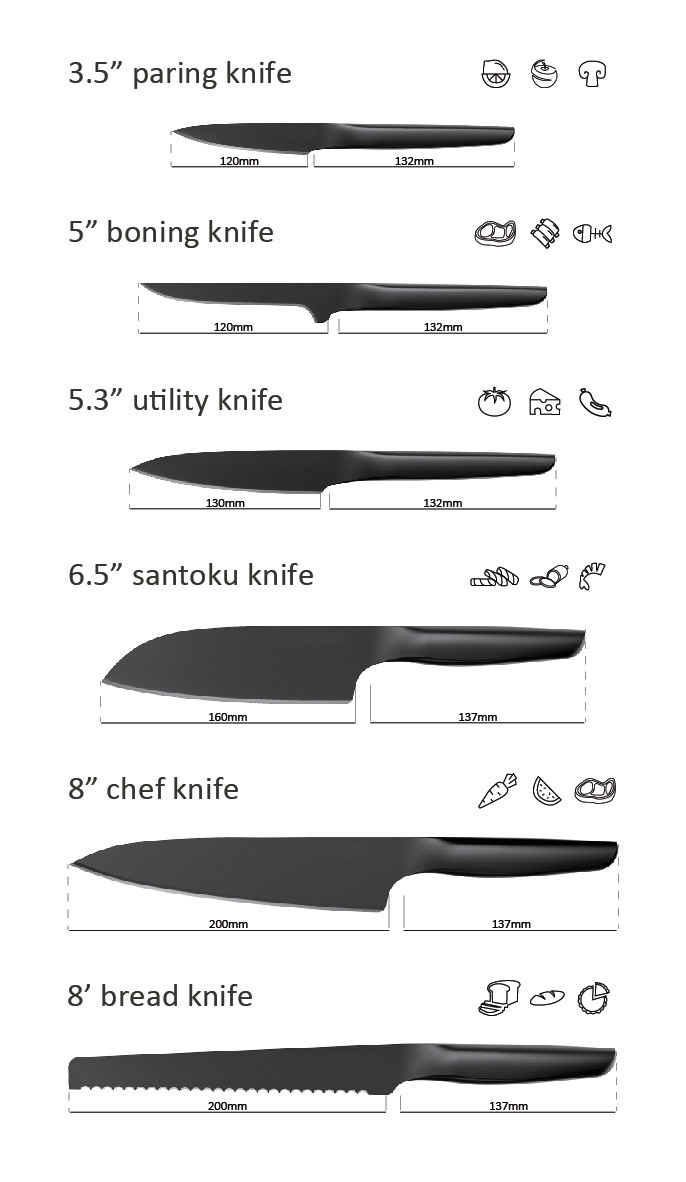 Matte stainless knives:
Chef knife ($99), Bread knife ($129), Santoku knife ($99), Utility knife ($79), Boning knife ($79), Paring knife ($69)
Glossy stainless and black Ti knives:
Chef knife ($199), Bread knife ($149), Santoku knife ($119), Utility knife ($89), Boning knife ($89), Paring knife ($79)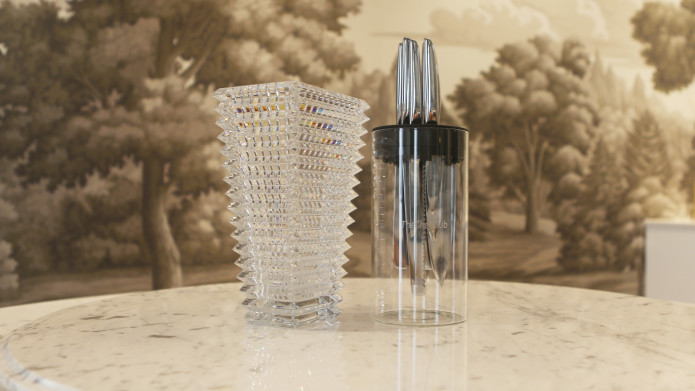 The block is the perfect match for TheChefClub knives: versatile, hygienic, and fitting up to 8 pieces of knives. Unlike most blocks, our glass body is dishwasher safe, compact, and a celebration of your cooking skills.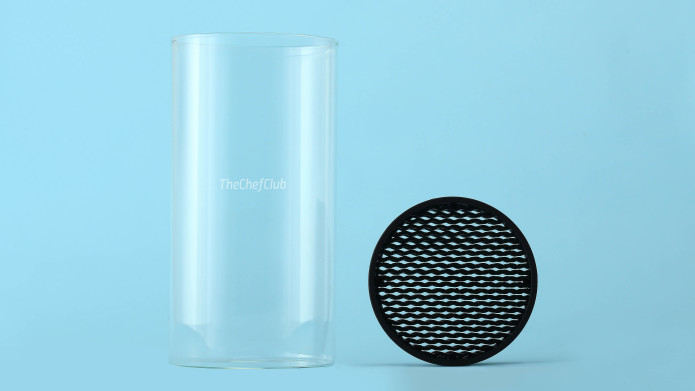 Pledges
LAST CHANCE TO PREORDER WITH UP2 33% OFF




DEVELOPMENT TIMELINE
Today, we are production-ready.
We spent the last 3 years defining and developing TheChefClub knives from scratch. Together with our partners in material development and manufacturing, we tailored a new engineering and production process to fully utilize the design and Matrix powder steel.
By working closely with our manufacturing partners, we have overcome many difficulties caused by the Covid-19 pandemic. We are now wrapping up production and will start delivery in Jun. 2020. 
Here's our timeline so far, and beyond: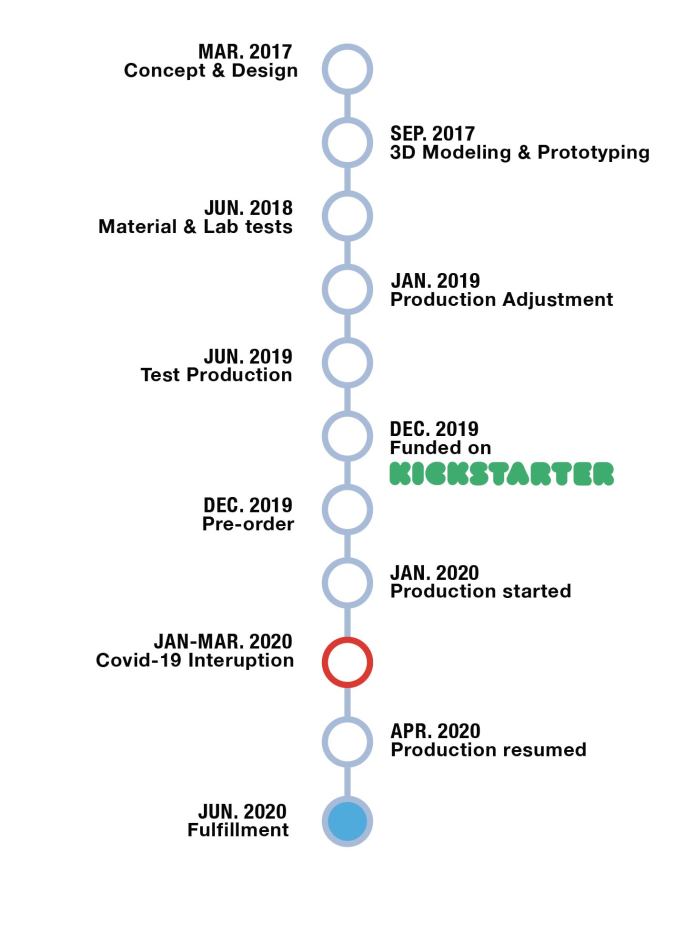 With over a dozen rounds of sample making, lab testing, and small batch production, we have established a step-by-step QC process to make sure all TheChefClub knives are made to our exact standard.
Our team closely manages each step in manufacturing and we have produced over 200 high-quality knives to our exact standards for testing and reviews. TheChefClub knives have impressed professional chefs, culinary experts, and food journalists with our sleek design and outstanding pro-grade performance.
From sketches to refined 3D modeling.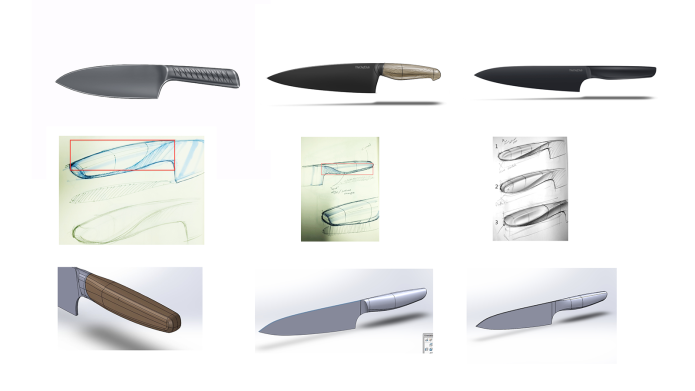 3D models progressions.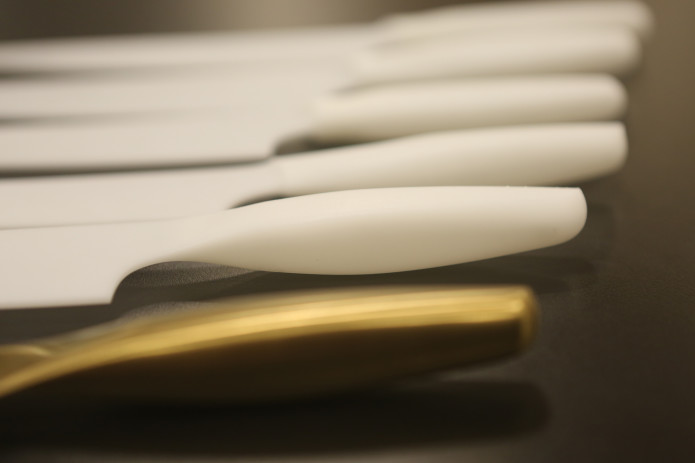 ABOUT US
TheChefClub was founded by Elliot Cao together with a group of passionate entrepreneurs and engineers combining world-class expertise in material technology, engineering, and industrial design.
The team has spent the past 3 years developing the knives. After the initial 3D modeling, we went on to produce over 200 working samples until we perfected the design, engineering, and production of the final product.
Prior to founding TheChefClub, Elliot and the team have been working in cutlery engineering, production solutions, and supply chain management since 2015. Our manufacturing partners have over a decade of experience in manufacturing high-end knives with premium steels, such as VG10, AU10, white-steel and etc.
If you're after more information about the product, design, Matrix power steel, lab test, and technical specifications, you can find it by downloading our press kit here:

Involving users, from top chefs to home cooks, has been a big part of our journey to creating an uncompromising knife: when we created TheChefClub because we want to make knives that will inspire more people to cook more.
We spent the past 3 years transforming a simple idea into timeless knives that have been put to the test (and loved) by even the most demanding professionals and experienced home chefs, despite our unconventional design approach.
Now we need your support to make TheChefClub available to more people who love food and cooking. With your help, we can reach the volume critical to produce and sell the knives at this incredible price without compromising on performance and quality. We also need your help to spread the word of your experience with TheChefClub knives and your passion for cooking.
We believe you will love our products just like many professionals and experienced home chefs who had a chance to try our products first.
We can't wait to have you on board.



Risks & Challenges
We understand the challenges in the production process.
Our team has been managing knife manufacturing for 5 years and our manufacturing partners are among the best in the industry. We have done over a dozen rounds of prototyping and successfully run 2 rounds full test production.
Even though unexpected challenges can occur during a production run, such as machine failure, electricity surge, and mishandling, we have implemented a step-by-step quality control which will allow us to quickly identify any errors and implement a fix. We also promise to give you full transparency into the issues and keep you updated about our progress in solving them.
The Covid-19 pandemic hit our production badly first with factories closed and workers unable to get back to work right after we began production in Jan. 2020. Our production started to resume in early March but with restrained capability. The difficulty of travel also added more complexity in our QC and production management. But now we are in the final steps of production and QC.
We are working with experts for fulfillment and delivery: we will notify you as soon as your order is dispatched, and keep you posted until it's safely delivered to your doorstep. It might take longer time than expected.