ZOS Halo | ZOS Halo is a revolutionary new product that allows you to drink wine on your own terms.
ZOS Halo: Drink Wine Your Way
Fresh off the success of our viral Kickstarter campaign that raised $125,000 (2.5 times our goal) we're making Halo available to wine lovers who missed out during the 30-day Kickstarter campaign.
Share Halo with your friends and don't miss out again. Here's your last chance to get in on special discounted pricing.
Again, a special thank you to our more than 1,100 backers. We can't wait to get Halo in your hands.
Winemakers labor to deliver their special taste and aromatic experience the moment the bottle is opened. But the way we drink wine is inevitably based on the fact that, within hours of opening, that experience begins to change as the wine is exposed to oxygen in the air and bottle. In only a day or two, that delicate taste is spoiled.
In fact, 93% of wine drinkers report that they occasionally or often have to waste wine.
Does this sound like you?
You only keep one bottle of wine open at a time so that it doesn't spoil
You would like a glass every night but that results in poor tasting wine half the time
You aim to finish the bottle, or don't open the next one, because you don't want to waste wine
You and your spouse or partner like different wines but have to choose only one bottle because you can't get through the bottles before the wine loses its pristine taste
How would you drink wine if wine didn't spoil?
Unlike the way we drink wine today, you would probably have several bottles open—your favorite wine with a fish dinner, a different one to pair with steak, and even another different one for your weekend afternoons—for example. You might drink a glass every night, or you might keep a dessert wine or port open for weeks or even months.
You would open and reclose the bottle, pouring a glass at a time. When a bottle was finished, you would open a new one and drink just what you want, when you want it, anywhere you wanted to have a glass. You would never be reluctant to open a great bottle just because you only wanted a glass.
The Perfect Glass of Wine – Anywhere, Anytime
ZOS Halo is the first truly effective wine preserver that enables you to stop the clock and enjoy the taste the winemaker intended by preserving your wine for up to two months after opening.
Our revolutionary wine preserver eliminates 100% of the oxygen that changes the taste and eventually spoils your wine. Within minutes of inserting the Halo wine preserver, all oxygen is removed from the bottle after each pour, perfectly preserving the wine as if the bottle had never been opened. For the first time, you can drink wine by the glass and preserve the wine until you have a reason to drink the rest. And because Halo is a wine-stopper, it is completely portable and may be used anywhere without any bulky equipment.
Rick Tigner, President and CEO of Jackson Family Wines, makers of the famous Kendall Jackson brand is excited about the way this will change how we all drink wine, saying:
"I put Halo through two separate preservation tests with our La Crema Pinot Noir. After one week, two weeks, and even as we drank the last from the same bottle after 18 days, the wine was fresh, almost as if it had not been opened."
Rethinking the Wine You Drink and How You Drink It
No longer will you hesitate to open your favorite wines to enjoy at your leisure over weeks or even months. No longer do your choices need to consider where and when you might want to consume wine. You're free to have multiple bottles open so you can drink a glass of white, red, and dessert wine in one evening and not be concerned that you will be throwing wine away the next day. Even sensitive wines such as organics can be perfectly preserved for enjoyment anytime. With ZOS Halo, you can truly rethink the wines you buy and how you drink them.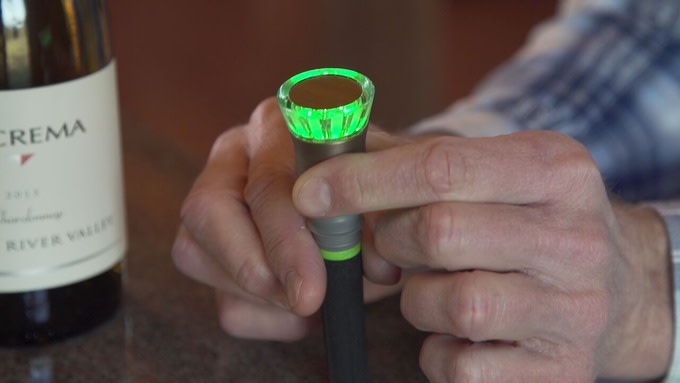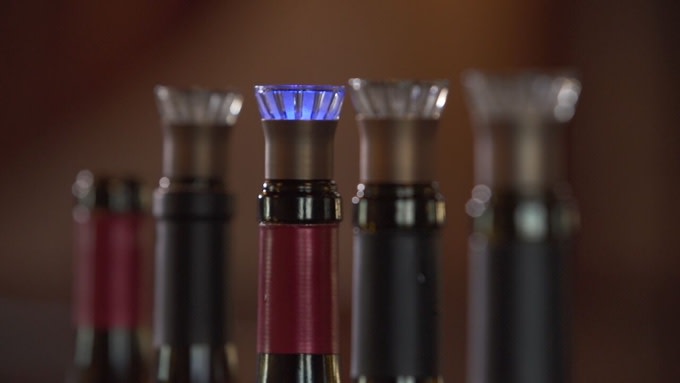 How Long Will Wine Last with ZOS Halo?
For up to two months per bottle, ZOS wine preservers ensure that your wine tastes perfect every time. Powered by the Zero Oxygen Solutions (ZOS) cartridge system, our patent-pending, non-toxic cartridge absorbs all of the oxygen in the bottle. Open your favorite wine, pour a glass, and use ZOS Halo to preserve the wine between pours. Even if you open the bottle, pour a glass and reseal it with ZOS Halo four or five times, the wine will stay fresh. Each cartridge will preserve approximately 15 bottles of wine and, when the lighted Halo indicator turns red, indicating it is no longer effective, simply replace the inexpensive cartridge. There has never been a wine preserver that works as effectively as Halo!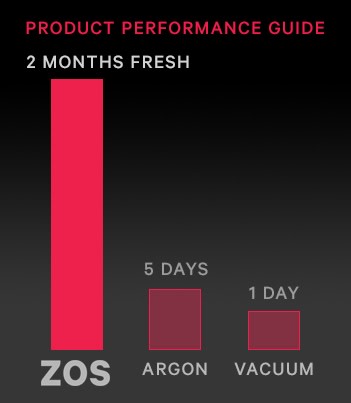 How ZOS Halo Works
Unique ZOS Halo Features
Our patent-pending ZOS wine preservers provide the most effective oxygen eliminating technology to preserve your wine. Only ZOS Halo has all these unique features.
The ZOS cartridge design is at the foundation of the ZOS solution. The cartridge allows oxygen to permeate quickly into the interior of the cartridge where the oxygen absorption takes place. This patented, non-toxic cartridge absorbs all of the oxygen in the bottle after every pour.
ZOS products are the only wine preservers that eliminate oxygen completely using a new technology developed especially for wine. 
ZOS Halo lights up to indicate that your wine is being preserved. You can leave it for a few days, weeks or even months! Move the bottle and the cap will light up blue, visually reminding you that your wine has been preserved correctly.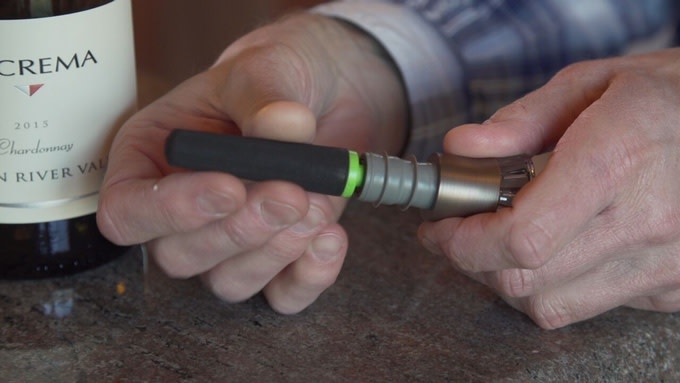 When Should You Use ZOS Halo?
When you only want to have a glass or two of wine but can't finish the whole bottle.
When you have finished a bottle of wine and would like just one more glass. 
When you want to compare two different wines to see which pairs best with your meal. 
When you want to buy that expensive bottle of wine, knowing it can be saved for up to two months risk free.
For bar and restaurant owners and wine enthusiasts, ZOS Halo saves you money! Get more pours than from the unsealed bottle, and expand wine-by-the-glass programs. 

When You're Not Using Halo 
While we expect that your wine consumption behavior will change by using Halo, on those rare occasions when it is not in use, the Halo Countertop Holder beautifully displays your Halo for all to see. Crafted with the same high quality bronze finish as Halo, our Countertop Holder has a timeless design and complements any home, tasting room, wine bar or restaurant. The Halo Countertop Holder will proudly display your Halo and is a beautiful accessory for every Halo.